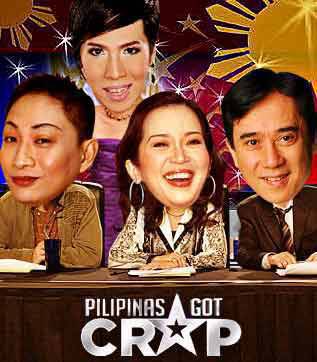 The good news is that the kids have gone back to dancing. Why is it good news? That means there will be fewer and fewer bands. Dancing has become the "hip" thing again. See them dance on hotdog and sanitary napkin commercials.   And here we hope that some of the posers out there drop their guitars or drum sticks or digital cameras and revert to where their hearts truly belong: the dance floor.
And not just any dance floor.   It should have a battery of klieg lights, gigantic plasma backdrops. To the television studios they troop, in costume, all made up, gelled-up Astroboy-Koreanovela hair the color of phlegm. Under the brutal sun they fall in line, limbering up and practicing their rococo moves. Amazing how they can all be so fast and flexible even in asphyxiatingly tight red jeans. Someone once said that dancing is a vertical expression of a horizontal intention, but there is nothing remotely sexual or Valentino-esque about guys doing somersaults or girls being hurled into the air like marionettes.
ADVERTISEMENT - CONTINUE READING BELOW
That and a thousand other stunts-including deft rhyming, fire-breathing, singing of absurdly high-octaved versions of "You'll Never Walk Alone"-is what is currently sweeping over Philippine television. Talent shows doubling as freak shows. With their bombast of lights, colors, and noise, they are one massive karnabal. Don't get me wrong: I love carnivals-they're hallucinations made flesh, plastic, and rusty metal, and for me one of the greatest tragedies of our civilization is the increasing scarcity of the perya where tossing a 25-centavo coin can win you a ceramic mug or a pack of mystery cheese curls. I miss the booth where you hit the bull's eye to dunk the hairy transvestite. I miss the obviously fake mermaid and snake-girl who hiss for a five-peso admission fee. You know it's a scam but you pay anyway. And you don't know what's more depressing: the clumsily glued rubber costume or the sheer desperation behind it all.
But back to the karnabal on your TV screen.
There are at least four talent shows at the moment. It started with TV5's Talentadong Pinoy, which was the network's only highest rating program. Obviously, the idea wasn't original. But when it came out, I became an instant fan. It was like American Idol on acid. Where else would you find singers, orators, and dancers competing with fire-breathing acrobats, strongmen bending iron rods with their necks, magicians, dog trainers, and paraplegics who gangsta-rap?
Channel 2 followed suit with Showtime (which was so brassy that even Willie Revillame felt threatened) and Pilipinas Got Talent. Not wanting to be left looking clueless with their jurassic karaoke shows, GMA 7 came out with Diz Iz It. Of the four, GMA's is the saddest. Maybe it's the texture of the broadcast-pallid, subdued, and unintentionally glum. Not even the screech of its hosts, its loud banners and placards and cross-dressing hostages from comedy bars can lift the thing.   There's a funereal sort of pall hanging over it, like a party on a boat that's about to sink. I wonder when the government-owned station channel 4 would produce one? I think they should, and have Cecile Guidote-Alvarez host the thing (with the image of the Virgin Mary beside her) with her seemingly interminable spiels. And invite NAMCYA winners and NCCA-funded artists to compete. Imagine: a kudyapi player going head-to-head with a soprano singing Verdi. And Alvarez endlessly prattling on about how talented the Filipino is, and how we should all work together to uplift culture for a brighter Philippines blah blah blah.
ADVERTISEMENT - CONTINUE READING BELOW
Recommended Videos
But the more the merrier, right? Maybe.
I know that talent is talent, and that there is that notion that the Philippines is a petri dish for entertainers of all shapes and sizes, whether to supply Broadway or Caribbean cruise ships. And the word "talent" itself should be reassuring, unlike "reality search" which is really nothing but the pointless manufacture of more showbiz perishables. Maybe competition is secondary and the real point is the variety of presentation, the smorgasbord of the genuine, the willing, and the desperate. For all we know, the profusion of such shows may yet produce an entire generation of singers, dancers, and people who can chew razor blades (Enough of the know-nothing cuties, the Big Brothers, the Starstrucks, and all the reality-search products that shall soon be exposed for what they truly are: empty tin cans).
But there's an inherent wrongness, if not injustice, in the whole thing. It's oranges and apples and grapes and jackfruits and lemons. What's the basis of comparison between a ballet dancer and a guy who can husk coconuts open with his teeth? Between a family of high-flying gymnasts and a limbless boy who can paint with his mouth? Between a drum soloist and a guy who makes his poodles dance the hula (Attention, PAWS)? Unless you're exceptionally talented-and there have been exceptions-you'll never stand a chance against an ensemble, with heavy costumes, fancy props, high-decibel performances.
Subtlety, singularity, and suggestion have no place in the Philippine aesthetic. Ours is symbolized by the jeepney: it will not be content to have just one or two horses on the hood; it has to be twelve or more. It will not be content with just the color red; it should be shiny, screaming-for-blood red, with some robots or naked chicks spray-painted on the side. It will not be happy with a regular muffler; it must have the one that sounds like a bazooka installed in an F1 engine. It will not be content with an ordinary "beep-beep." Its horn should honk "haa-ha-haa-haa-ha-ha."
ADVERTISEMENT - CONTINUE READING BELOW
And then there are the judges and the comments. From the four shows, Audie Gemora is hands-down the best judge. Unlike the rest who simply sneer, snicker, and register dumb shock, he takes no one and nothing for granted. Whether it's someone who eats broken glass or a guy who squirts milk through his eyes, Gemora takes pains to briefly deconstruct the performance and even suggest points for improvement. The rest are just condescending snobs. Kala mo naman ang gagaling. What these judges do not know is that every time they say something rude and tactlessly dismissive, not only personal feelings but entire families are hurt. Those contestants are not residents of Forbes Park or Ayala Alabang. Each time someone chews razors and swallows snakes onstage, there's always someone dreaming of getting out of a slum hellhole, or wanting to send their kids to school, or just simply a better, more dignified life.
The next question is: up to when? Like all things in popular culture, they're just all fun in the beginning, then ultimately they hit saturation point. Right now, they are adding up into one noisy, messy, exhausting, retina-burning, teeth-grinding whole. At one point, surfing through the channels has the same effect as listening to your hyperactive little nephew banging on the kitchen pots and metal basins while lighting matches and blowing into a New Year's Eve torotot. Showtime, especially-here is where everyone's screaming, gyrating, somersaulting, getting thrown in the air, set ablaze, writhing on the floor, all wearing frighteningly heavy makeup and costumes of De Millian proportions.
ADVERTISEMENT - CONTINUE READING BELOW
And then you ask yourself: isn't it too early in the day for these things?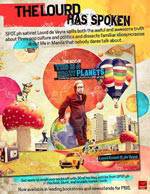 This is a Crazy Planets is available in newsstands, bookstores and supermarkets nationwide for only P195. For more information, click here.
Share this story with your friends!
---
Help us make Spot.ph better!
Take the short survey
Load More Stories