Lourd de Veyra on Willie Revillame: A Lucky Duck
Lourd de Veyra on celebrity and TV host Willie Revillame: "To quote a famous quip: Willie Revillame is a lucky son of a bitch."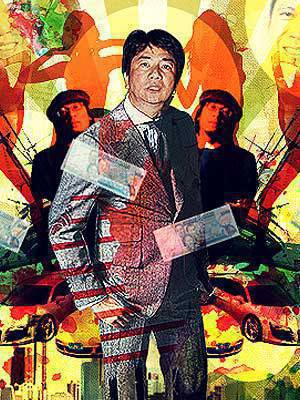 Whom the gods wish to destroy they first make mad. Or provide with a monthly salary of P25 million.
That's how much Willie Revillame allegedly earns for hosting that noontime show. But it seems that the gods have a way of playing cruel tricks: those he rewards with unfathomable riches he also bestows with uncontrollable tempers. Yes, the gods will give you mansions, yachts, and Ferraris. But he'll also give you a fuse shorter than Gabby Concepcion's neck.
Temper is at the heart of this whole hullabaloo between ABS-CBN and Willie Revillame-but it's mostly on his part. It's been more than two weeks since the TV host has been absent from that hysterically loud noontime show, and-unless you're working on your doctoral dissertation on the works of Heidegger-- you all know the details of how this shit started. Since then, it's gotten ugly, with both parties accusing each other of gross ingratitude. Fire Jobert Sucaldito, says Willie or I quit-I'm the one who brings in serious loads of dough to the network. Giant TV network roars back: Shut up, bitch (Well, they didn't actually say "bitch")-- without us, you won't have those mansions, yachts, and Ferraris. Without us, you'll still be carrying Randy Santiago's jacket and makeup case.
Listen, I'm no fan of the show (and I instantly disown relatives in the US who'll ask me if I could score them official Wowowee T-shirts and jackets). I'm not a fan of Willie songs, either-which goes to say that I am similarly not a fan of Lito Camo's compositions. And while I like fancy watching all those women writhing in bikinis, I do not particularly enjoy people screaming and weeping at lunchtime. I still believe that the greatest noontime show ever is not Eat Bulaga! but the now-defunct and sorely missed Chibugan Na and in a perfect world Arnell Ignacio earns P25 million a month.
ADVERTISEMENT - CONTINUE READING BELOW
And I don't know why I'm even writing about this entire tiff in the first place, but unless it turns out that Koala Boy/Bear/Whatever-the-fuck-he-is is none other than Eduardo Ermita himself in costume, it's the most gripping thing on the news this week (Other than Kris Aquino promising to finally trying to shut her trap now that his kuya is Malacanang's next occupant. Operative word: trying).
"Sumbat" is a genuinely deplorable gesture.   While it's estimated he gets P25 million a month, it is said that Willie rakes in P300 million a day for ABS-CBN.   A veteran showbiz scribe cleverly describes the whole sordid affair as "nagkalabasan na ng calculator."
CONTINUE READING BELOW
Recommended Videos
Maybe earning a million pesos every single day can make for an ego the size of Saturn. I am aware of the Filipino masses' overwhelming love for Willie Revillame, and this is not to deny his generosity towards many of our poor brethren, but the fact is that he can sometimes be a dick in the most Gordonian sense of the word: confusing arrogance for assertiveness, mistaking rudeness for perfectionism, and thinking yourself God's gift to humanity on the basis of some degree of achievement   (On an unrelated note and I kid you not: I met a security guard at the Quezon City Circle with the surname "Cupal." He's actually a nice guy. Not a dick at all).
But granting that: in the corporate television food chain, you never ever threaten your boss-no matter how many times you've been named Employee of the Year.
ADVERTISEMENT - CONTINUE READING BELOW
But Willie Revillame is a special celebrity case.
An interesting specimen: he's the host of an insanely popular show, with a gazillion advertisers and product placements. But they will never ever get him as official endorser. It's as if, We trust you, but not quite. We'll all watch your show but we don't like seeing you in commercials. Why is it that Willie never has ads for shampoos, sodas, soaps, ice cream, fastfood hamburgers on the magnitude of Kris Aquino, Aga Muhlach, Sarah Geronimo, Marian Rivera, Manny Pacquiao, Sharon Cuneta, Piolo Pascual, etc? Sure, his perennially smiling standee always greets me every time I walk into a Savemore outlet. But apart from an overpriced watch brand and a skin clinic, his only other major endorsement, to my limited memory, is a local brand of green pea snacks-and the only billboard can be found in an insignificant corner of the North Luzon Expressway. That other billboard saying he makes you laugh while Belo makes you beautiful is now nowhere to be seen. Or it could be that I may just be spending way too much time at home.
I'm sure multinational companies spend a lot on surveys. But speaking of surveys, here's a December 2009 item from the Pulse Asia website based on a survey conducted in late October: "Small to sizable majorities (58 percent to 79 percent) are surely/probably not supporting a presidential bet endorsed by President Gloria Macapagal-Arroyo, former President Joseph Estrada, Mr. Willie Revillame, and People's Champ Manny Pacquiao," Pulse Asia said on its website."   And in May 10, we all know what happened to Manny Villar.
ADVERTISEMENT - CONTINUE READING BELOW
Jobert Sucaldito first rose to national prominence in the mid-'90s when he exposed talent manager Jojo Veloso's penchant for, uhm, aiding young, nubile male models with their underwear adjustments. Suffice it to say that Veloso's career was never the same. Which brings us to a point that may sound silly. There's also the observation that Sucaldito seems to have possess this uncanny power: anyone he gets entangled with soon find themselves floating in career limbo. And it's not because he's a demolition press master. Maybe he just possesses some strange voodoo that puts a curse on every foe. Look at Rose Flamiano and Gabby Concepcion, whose attempts at a comeback have been tragically met with yawns. Will that juju also work on Willie Revillame?
It's been written that Willie Revillame's greatest enemy is his own temper.
In the ABS-CBN foodchain, Jobert Sucaldito is small fry. In scale of importance, not only are Sucaldito and Revillame on different levels; they don't even share the same dimension. But anger-especially one buttressed by a sense of entitlement and a monthly salary of P25 million-- makes us say and do stupid things-especially on national television. Sucaldito does not endorse presidential candidates and wristwatches. He does not own a fleet of European luxury cars nor does he sail a freakin' yacht. A Jobert Sucaldito criticizing the show on radio merely on the basis of one silly portion will not bring down that entire empire. And that's just the opinion of one person. Willie Revillame picking on the showbiz reporter is like going after a mosquito with an Abrams tank. And you don't especially test your boss'patience by saying stuff like, "Bakit ako matatakot mawalan ng trabaho? Bakit... sila lang ba ang network?" But then again, anger makes you do stupid things.
ADVERTISEMENT - CONTINUE READING BELOW
The thing is, Willie Revillame has done this way too many times, starting from all those suspensions during the Magandang Tanghali Bayan days for cracking vulgar jokes. He survived a lot of things from the Ultra stampede to allegations of spousal abuse to sexual harassment to the allegations of a rigged contest segment. He survived that quip during the Cory funeral by a hairline. The word "hubris" has often been used each time something like this comes up. His apologists have propped up a variety of excuses: the temper, of course, the unhappy childhood, the street-smart instincts, blah blah blah. At this point, I'd like to rephrase Albay governor Joey Salceda's famous quip: Willie Revillame is a lucky son of a bitch.
Somehow, sooner or later you knew he'll implode. Sooner or later, he'll be sucked straight into a miasma of controversy, more often than not, of his own making. It's not just a matter of character. It's destiny. The other major ABS-CBN celebrity with a similar predilection, despite her with oligarchic pedigree, is....nah, forget about it.
ABS-CBN's relationship with Willie Revillame is akin to that of a woman who staying in an abusive relationship. She will hate him, and profess to leave him only to return to his loving arms as if nothing happened. The hope of him changing his ways seems to hover at the back of her head. After the abuse, she'll kick him out but he'll come back again with soft, tender puppy dog eyes and they'll be happy again. After half a year he'll give her another diamond ring-and a black eye.
ADVERTISEMENT - CONTINUE READING BELOW
And I will not be surprised if the damn show returns to status quo. The fact that there's a 38-storey Wil Tower condominium mall being constructed just right across the ABS-CBN Studios means that Willie will have to swallow his pride. By the way, that building is a joint venture with his losing candidate, Manny Villar. Let us hope that said tower does not remind the TV host of the limits of his powers, that while he may successfully cheap entertainment and hopes and dreams, there are some things he cannot sell. Let us also hope that the Wil Tower doesn't end up being another Manuela or Starmall (If you had three million pesos, would you live in a place where Willie Revillame's face is plastered all over?)
So: status quo, perhaps. Then we just wait until he says something offensive and does something outrageous again. At this point, it no longer appears as if choice and free will are factors.   The actions of Willie seem like they have been long inscribed in the book of his remorseless fate.
As   of this writing, Robin Padilla is pinch-hitting for Willie Revillame as Wowowee host. Bad news for Willie: Robin Padilla isn't just pleasing to the eyes. Goddamnit, Robin Padilla also knows how to treat a woman.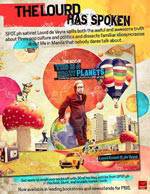 ADVERTISEMENT - CONTINUE READING BELOW
This is a Crazy Planets is available in newsstands, bookstores and supermarkets nationwide for only P195. For more information, click here.
Artwork by Warren Espejo.
---
Help us make Spot.ph better!
Take the short survey
Load More Stories