Lourd de Veyra to GMA: "We will miss you, O Great Leader!"
Our SPOT.ph blogger can't wait for Independence Day-independence from nine long years of Gloria Macapagal Arroyo, <em>sa totoo lang!</em>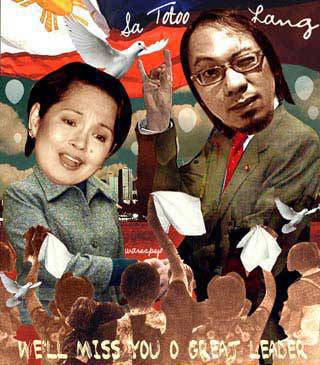 WE WILL MISS YOU, O GREAT LEADER
(It's hard to let go when you won't say goodbye)
Barring any surprise coup attempts, assassination plots, and calculated outbreaks of urban terrorism and sabotage on a scale wider than Aiko Melendez's waistline, on June 12, Gloria Macapagal Arroyo marks her final Independence Day celebration. The sheer thought-and the glissando of the word "final"-brings tears to my eyes. The nation has every right to eat, get ridiculously drunk, and do cartwheels to the tune of Kool & The Gang's "Celebration." Or "Auld Lang Syne" set to a cheesy but fun synthesized disco beat. She steps down on June 30, but each day, very minute, every seeming infinite second toward it plods like a painful European art house movie. You know-the kind where absolutely nothing happens for vast stretches of time, and the ugly protagonist simply stares into the gray, empty distance, where you can hear eternity dropping with each arctic raindrop, over every solitary acre of wheat, over... ah punyeta. Basta, ang tagal.
ADVERTISEMENT - CONTINUE READING BELOW
Right now there are television ads trumpeting her achievements, which are mostly centered around the phantasms of infrastructure and development. And it ends with the triumphant declaration that GMA has built more bridges, highways, that sort of shit than all three previous presidents combined.
"Sa totoo lang" TV ads trumpeting GMA's achievements.
Sa totoo lang: for someone who's on the defensive, for someone who has to uphold her honor, it's remarkably... lame. For someone who needs to prove her legitimacy and worth, it's not really trying hard. It has none of the grave desperation of that Manny Villar ad featuring his weeping mother. It feels like a compendium of low-resolution stock footage from the Philippine Information Agency.
We will miss the voice. That voice, which contains about the same grace and elegance as scissors biting into through rusty metal sheets. If the spirit of patriotism and hope is a triumphantly priapic erection, her voice one effectively deflates it.
ADVERTISEMENT - CONTINUE READING BELOW
Which is what's noticeably missing from those ads. Note that those "Legacy" ads do not even contain a millisecond's worth of her voice? Her image appears only two exact seconds-- just before the ad ends. As if it were an afterthought. Maybe the makers of the ad were wise: the point of any TVC is to sell something, and in the case of Little Miss Philippines Popularity 2001-2010, her virtual absence is definitely a virtue. None of the familiar images we've grown so quite disgustingly familiar for the past nine years: no speeches, no scenes of her wearing a hard hart, no clips of her kissing babies or sitting in front of a call-center computer. It's a lose-lose situation. Hence, the footage of trains, boats, highways, and flyovers get more airtime in that mercifully short ad. It's a bitch of problem when you have an undesirable product and an even more undesirable endorser. But it's not merely a case of people not wanting the product, like those ads for fighting-cock feeds and livestock supplies on Sunday on IBC 13.   There's a big difference between simple indifference and pure, unmitigated loathing.
ADVERTISEMENT - CONTINUE READING BELOW
Nine years is a long time, especially for a supremely unpopular leader. Nine years is almost a generation. A child nine years of age is already expected to know certain things, like watch violent cartoons, demand his PSP when bored, and sing lyrics from Glee and that stupid Villar jingle.
I know there's just two more weeks to go but the excitement is killing me. Afternoon of June 12 at the Quirino Grandstand will see Gloria Macapagal Arroyo mouthing off a roll-call of her achievements-to the tune of P10 million. It's Independence Day, all right. Independence-from her.
In contrast, the Aquino-Binay proclamation in Congress earlier this week beamed with so much hope and optimism-- the kind rarely heard in that chamber unless encouraged by bagfuls of cash. There was such collective excitement and glow, and it's not just reflected off the heads of Noynoy and Boy Abunda.
Here are some of the things we will miss:
ADVERTISEMENT - CONTINUE READING BELOW
The mole: Psychedelic experiment: Take five hundred milligrams of LSD and stare closely at Gloria's nunal.
The voice. If we are to believe that saying about the human voice as proof of the existence of God, then the world is fucked.
Did I mention the voice? Do not attempt to listen to it while attempting aforementioned psychedelic experimentation.
The height-or lack thereof. You'd think that in nine years we'd all be so blasé about this thing. But we can't help it. That's always the glaring element you notice when she's on TV.
The befuddled, confused, and belligerent spokespersons and press secretaries. Everyone from Bunye to the late Serge to Lorelei to the Gary Olivar, GMA's own rottweiler. When the shit hits the fan, the thrill lies in watching them defend the boss with straight faces that make you want to ask, "How painful was it when the doctor removed your sense of shame?"
ADVERTISEMENT - CONTINUE READING BELOW
The lame, self-serving pronouncements. To be found in almost every corner of the country that has a road, a bridge, an electric post and wire, and just about anything with a surface. "Salamat, Presidente Gloria para sa footbridge na ito" is just one of these endearing signs. This is not to mention the blown-up posters on the walls of the LRT and the MRT as well as on the plastic tickets.
The scandals, the controversies. The Arroyo administration has given birth to entire   cottage industries of commentators and gadflies, the way the Bush administration became a goldmine for late-show writers and standup comedians in the US.   As one beerhouse favorite rhapsodizes: "How will live without you/ I want to know..."

The art of dedma. An artform she has perfected. It is the fine art of letting all the ZTE-NBN and fertilizer fund scams slide over her like fried egg over Teflon.
ADVERTISEMENT - CONTINUE READING BELOW
The rallies. Against her, of course. In the course of nine years, militant groups have been saved up gargantuan supplies of anti-GMA paraphernalia. What happens now to those cute but flammable   papier-machie effigies with the oversized overbites and exaggerated nunals?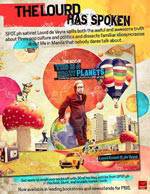 This is a Crazy Planets is available in newsstands, bookstores and supermarkets nationwide for only P195. For more information, click here.
ADVERTISEMENT - CONTINUE READING BELOW
Art by Warren Espejo.
Recommended Videos
Load More Stories