The Most Bloodcurdling Showbiz Expressions, Part 1
SPOT.ph blogger Lourd de Veyra on stock showbiz answers...and what he'd like to do with them.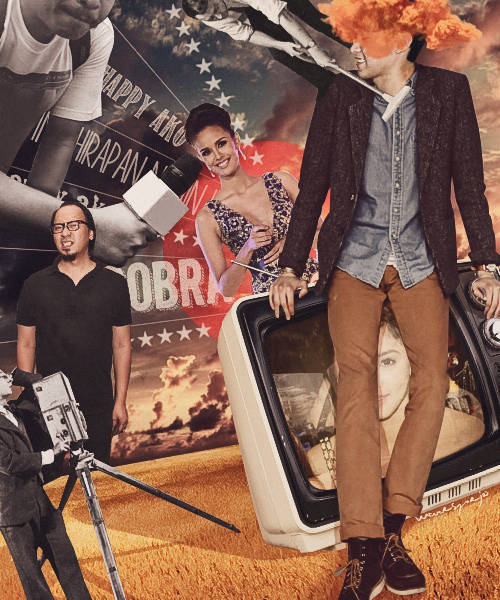 (SPOT.ph) While it is hoped that Megan Young's "I treasure a core value of humanity" would signal a quantum leap in Pinoy beauty-pageant syntax and diction (a vast improvement from "First of all, thank you for that wonderful question" and the panicky references to God and family), the entertainment world generally remains immune to the charms of an enriched vocabulary.
1. "Pinaghirapan namin ito." - But since when, you ask, has the notion of hard work become so offensive? The answer is, when did the idea of doing your job and doing it well become a Nobel Prize-worthy assertion? You get paid millions to work your ass off, you idiot. Dapat lang talagang paghirapan mo 'yan, tanga! What becomes an even bigger affront is when the movie turns out to be absolute crap.
2. "Sobra." As in "sobrang enjoy katrabaho," "sobrang bonding kami sa set," "sobrang thankful sa support ng management," and all the other terrifying variations thereof. Sobrang annoying.
3. "Sa ngayon, ine-enjoy ko lang ang friendship namin." - A far more verbose evolution of the Jurassic Inday Badiday-era cliché "Friends lang talaga kami, Ate Luds." I'm sorry, but with crap replies like this, I don't think our friendship can be an enjoyable one.
4. "Nakaka-proud."- But what other options are there? Is "It makes me feel proud" or "I feel proud" too verbose, too...pretentious? Too complex for certain neural systems? Or given the verbal environment by which stars operate, "nakaka-proud" rolls naturally off the tongue. The feeling, however, may not be mutual as far as high school language teachers are concerned.
ADVERTISEMENT - CONTINUE READING BELOW
5. "Nafi-feel ko..." - We also feel your absolute disdain for education.
6. "Totoong tao siya." - The typically lazy, thoughtless reply to the query: "Kumusta naman siya katrabaho?" Aside from functioning as a more lyrical equivalent to "modest," "honest," "frank," "unpretentious," "and "down-to-earth," this might pose a grave danger of confusing the tragically literal-minded among us. "Totoong tao siya?" As opposed to?
a.)    A cyborg, a Blade Runner-type replicant
b.)   The lovechild of Bella and Edward Cullen
c.)    An alien
d.)   A Japanese-made sex doll
e.)    Kim Chiu
7. "Happy ako." - Why you happy? Because literal ignorance - or partial illiteracy- can be bliss?
CONTINUE READING BELOW
Recommended Videos
8. "Looking forward ako/kami"- E.g. "Looking forward kami sa Holy Week vacation sa Boracay." "Looking forward na makatrabaho ko si Direk Erik," etc. We're looking forward to hitting your head with a blunt object.
9. "Okay naman." - The all-purpose, one-size fits-all stock reply to any question ranging from "Kumusta na kayo ng ex mo?" to "Nahirapan ka ba sa role mo sa series na ito?" No, it's not okay.
10. "Humbling" - A certified malapropism, usually used upon recognition of a worthy effort. But why should anyone be "humbled" by an award? "Humbled" refers to an element of defeat or humiliation, or instances of a lowering of rank, status, or a sense of self-worth. "Humbling?" Why, what's inscribed on your trophy? "Best Idiot?"
(To be continued)
Share this story with your friends!
---
Help us make Spot.ph better!
Take the short survey
Load More Stories