Tacloban
SPOT.ph blogger Lourd de Veyra takes a look back at the city of his childhood.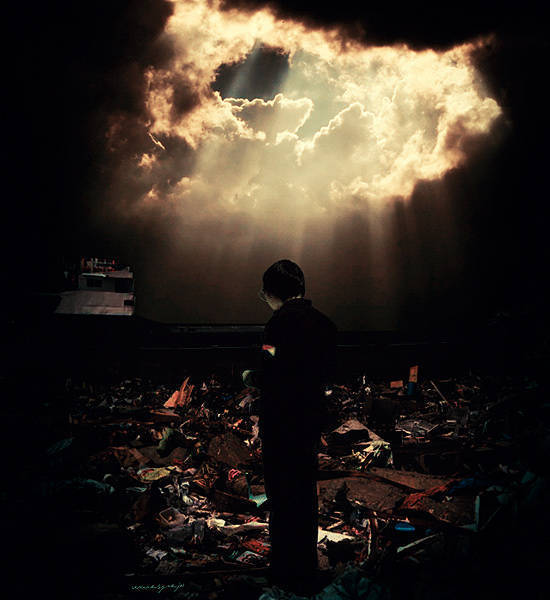 (SPOT.ph) You never forget a smell. Every place has a distinct odor, although description always defies accuracy (like writing about music). It is also believed that the olfactory sense is the one closest to memory.
But did Tacloban really have a smell? Maybe. But perhaps in this case, it's intensely personal.
The smell of bulad (dried fish) in the frying pan. On weekends, the smell of a whole pig roasting on a spit, occasionally slathered with Sprite, soy sauce, and oil. The whiff that enveloped your senses upon opening a can of roscas and sugary torta from Carigara, and the smell of plates larded by three-day old humba. The reek of sisi and the bewildering assortment of ginamos dissolving in hot rice. The odor of popcorn and peanuts in front of Sto. Niño Church. The smell of moist earth, firewood, smoke from the woodlands of Tigaon. I was told that Tiagon became an approximation of some parts of Tondo but, you know, some old memories are meant to be preserved. Several years later I saw Shake, Rattle, and Roll I and the "Manananggal" episode almost made me piss in my pants. That jungle looked exactly like Tigaon, where my grandmother used to keep a pigpen (that's another major olfactory memory altogether). We used to walk home from there at dusk, under the eeriely fading light, and in the movie, it's about that time when the twerpy Herbert Bautista returns home and begins his harrowing descent into terror: for the rest of the episode, he is chased by a winged half-body creature. I said to myself, "That is fucking Tigaon." I also remember the smell of the seawater whenever we approached San Juanico Bridge.
ADVERTISEMENT - CONTINUE READING BELOW
There's a saying: "The more things change, the more they stay the same." With the exception of a few malls and billboards, I, in the few times that I had returned to visit, did not really think Tacloban or Leyte ever changed. The mercado's façade appeared unchanged-only smaller, or lower. Hey, if you were a five-year-old, everything tended to loom large. Ditto with the surrounding downtown areas. With the exception of streamers and posters of cellular phone companies, as well as the brand-spanking new SUVs, you'd have thought it was still 1981.
Prior to Yolanda, it remained a slow town. Pardon the use of the word but it still didn't feel like a city in the most exasperatingly modern sense of the word. There was a certain lethargy to its rhythm, a kind of small-village vibe that prevailed. It felt like nobody was really rushing from one side of the city to another.  If it's any indication, the Daniel Romualdez Airport was also a reflection of its fascinating refusal to move entirely into the 21st Century. You could hardly see vast structures with dominant glass panels and gleaming metal balustrades. The downtown buildings remained smeared with the grime of the past. Don't get me wrong. There was a loving charm in its sense of obstinacy, intended or not. Unlike Cebu, Tacloban was thankfully unburdened by traffic jams and ugly skyscrapers. It was still a city that could breathe, with lots of open spaces and vast expanses of green and bucolic brown. It was a place that did not tax your attention, and consequently, your sanity.
ADVERTISEMENT - CONTINUE READING BELOW
*
I had spent my early childhood in Tacloban, in a "subdivision" called V&G. I use quotation marks because when I arrived in Metro Manila in 1981, the subdivisions I saw were nothing like V&G. Subdivisions in Manila did not have pigs and chickens in their backyard. They seldom had vast patches of earth and mud. They did not have geckos growing out of their wooden posts. V&G did not have security guards.  Nor sidewalks. Wait, I'm not even sure it was a subdivision. Was it?
Tacloban, however, or the rest of Southern Leyte for that matter, never really left me. Even if we moved. If there's one element in life that situates you mentally, it's language. It's like perpetual music, evoking memories of bulad and ginamos-with which we were still fed, by the way. At home in Quezon City we grew with my mother and the househelp speaking Visayan, with an unapologetic Boholano strain ("Ninja ray.... Mupatay ninjo!" "Ajaw jaga-jagaon!"). Language is culture. That had also been the case in the Tacloban of my early childhood (we spoke both Visayan and Waray).
ADVERTISEMENT - CONTINUE READING BELOW
Weekends were spent driving to the Red Beach. An early memory: my cousins and I playing on the sand till a group of Japanese tourists arrived bearing candy and bubble gum. Of course, in hindsight, I thought that it would have made for such a symbolic photograph. Who knew-certainly not us five-six-year-olds-of the savagery of their soldiers several decades before? But my young overactive imagination had fun with that beach. My folks had told me that a huge war broke out on this coast: battleships, airplanes, bombs-"Like the ones you see on TV." So every time I'd see some piece of wood or metal floating, I'd pick it up and imagine it as some broken relic of some equipment from World War II (which it probably is). On the way home, I'd imagine Camp Itik as some sort of heavily armed military fortress and on the other side of the mountain lurks the New People's Army, if not the Japanese (Hey, I was watching Rudy Fernandez and Lito Lapid movies). Restless flights of the imagination, the child's disquiet mind. The pleasures of the pre-Internet and cable TV-era. We could only get channel nine, which was playing mostly reruns of Zimatar and Champoy. The idle mind was not usually the Devil's playground, contrary to St. Augustine's claim. Sometimes it's a fertile Petri dish for daydreams. I don't really know what I've become now that I'm 38. But maybe everything began in sleepy old Tacloban. Or maybe not. But some wise old man once said that there are no accidents in life.
ADVERTISEMENT - CONTINUE READING BELOW
"Waray ka pala!" is the usual response I get upon volunteering information about my regional provenance. I don't know what that usually means. I think only people of a previous, older generation give much substance to family names and provinces of origin. You know who they are:  they're the type who'll light up with a glimmer of recognition upon hearing your surname, ready to volunteer the name of the province or region and potential acquiantances, trying to find certain commonalities. Poor, old suckers. Nowadays, all we have to do is just Facebook.
Or maybe those old-timers know something we don't. Like how this sense of locus and root actually matters. Somebody once said that a sense of nationalism begins with regional identity. Does the fact that we lived near the beach make us entirely different from people who grew up in the Cordilleras? That they have to work doubly hard in the North because of the unforgiving terrain and weather?
ADVERTISEMENT - CONTINUE READING BELOW
They say that Warays are fun-loving people, which is probably a myth-just as every other regional stereotype is a myth. Like Kapampangans are ostentatious and arrogant. Or all Ilocanos are frugal and industrious. That all Cagayanons in the north are dark-skinned and perpetually sunbaked. That Muslims are lazy and violent and like to peddle DVDs. Maybe there is truth to the charge that we are lovers of the Good Life. And what is so wrong with that? So we love our rhum and our tuba. Can't we say that the Northerners are mad about basi? Or the Kapampangans have produced Gloria Macapagal Arroyo and Lito Lapid? Warays have also produced Imelda Marcos and Boy Abunda, but that's another issue altogether.
What then are the cliches about Warays perpetuated by popular culture? That we're war-freaks, thanks to that Sylvia La Torre song ("Waray-waray / hindi tatakas / Waray-waray / Hanggang matodas"). Not all Ilocanas look like Gloria Romero chomping away on a rolled-up native cigar. My friend and fellow Waray Rico Blanco said that Warays can't live without music, which in their case usually has stains of alcohol. Whenever two or three are gathered in the name of rhum or palm wine, there is bound be a guitar, or a karaoke machine, depending on the budget. Considering that some of my uncles are gulity of such, maybe Rico's right. We love life. We love our tuba and our sisi. We liked our moron and our binagol and whatever it was they made in Samar and Carigara. And we didn't ever have to apologize.
ADVERTISEMENT - CONTINUE READING BELOW
We are, after all, Waray- ironically, the same word for "nothing."
Last year, upon the invitation of a local lifestyle magazine called 8, I made another trip to the land of my happily unburdened youth-the third (or is it the fourth) since leaving for Manila in 1981. Tacloban was where I had always taken such opportunities to gather new memories. I found out that, still, nothing much had changed. Which was good, because I had liked tranquil Tacloban just the way it was.  A new attraction had recently opened in the guise of the San Juanico Golf and Country Club. I was just surprised to see more nightspots-the last time I had visited, everyone here was still flocking to the reggae-stained environs of the Astrodome, where I had once surreptitiously urinated in the water.
At that time, all the parties gravitated toward the feet of the Leyte Park Hotel. For the second time, I stayed at the said hotel and saw the so-called "Super Moon" from a heartbreakingly beautiful vantage point. It was extraordinarily bigger and brighter, since it was nearest to the Earth on that night. Leyte Gulf shimmered, as if some frivolous god had scattered lunar fragments across the sea surface.
ADVERTISEMENT - CONTINUE READING BELOW
*
That Astrodome was where 5,000 residents sought shelter as early as two days before the typhoon struck-the exact same Astrodome where they used to hold cockfights and basketball games, and the same one that faced the sea.
The editor-in-chief of the aforementioned magazine lost his parents in the wake of Yolanda. I did not hear that from him (I had been texting him to no avail days after November 8). I saw it in the lifestyle section of a broadsheet, in a feature on Facebook posts and messages by survivors. It was a note addressed to his brother, written on stationery with a car manufacturer's logo. It was stark and simple. On the upper part of the page were several phone numbers. Below it were the words: "Kuya, patay na sila Nanay at Tatay."
This is a piece that is unsure of what it wants to say. For whatever purposes, including attempts at meditations on grief, let it be said that no words will ever suffice. There will always be the purest discomfort of writing in the past tense. I am not sure if those odors will still be there upon my return, or just memories. There are times when all one must do is remain silent.
ADVERTISEMENT - CONTINUE READING BELOW
CONTINUE READING BELOW
Recommended Videos
Share this story with your friends!
---
Help us make Spot.ph better!
Take the short survey
Load More Stories