So Help Me God, Putangina Niyo Lahat
Rodrigo Duterte's imaginary inaugural address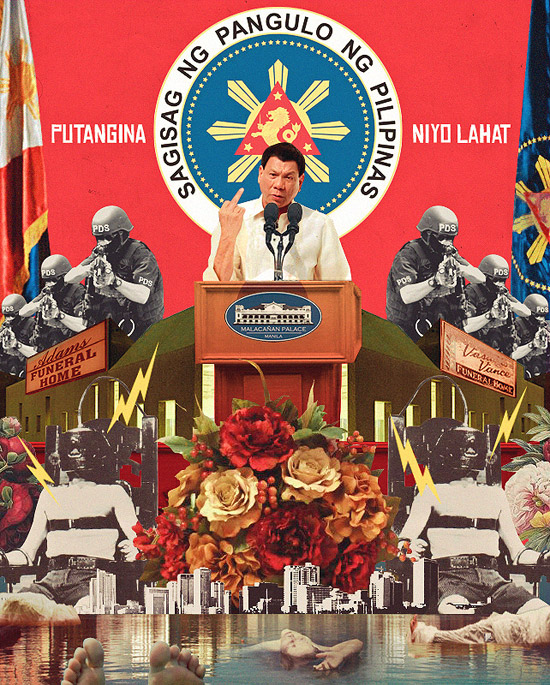 (SPOT.ph) If fresh surveys are to be believed, Davao City Mayor Rodrigo Duterte will become the 16th president of the Philippine Republic. Here, we imagine his inaugural speech. To save on expenses, he has vowed to break tradition by holding his inauguration in Malacañang instead of Luneta.
"Wisdom without eloquence does little for the good of the states..." – Marcus Tullius Cicero
My dearest countrymen, you have spoken. I have listened.
You have laid in front of me the challenge. I have accepted.
There were those who doubted. They questioned our character, ability, and our morality. They questioned all the surveys. But, putanginang 'yan, we have triumphed and now we stand, on the verge of a new era.
It has been a bruising electoral race. Emotions have raged like fire across slums in summer. With the viciousness of blades, harsh words have been exchanged. Our people have come to a point of despair. Now is the time for healing. The clarion call of unity must be heeded.
No nation has achieved greatness without discipline.
We must transcend our petty little fucking selves and our petty little motives. We must devote ourselves to a greater cause. To echo the words of a dead president that I want buried in the Libingan ng mga Bayani, we can make this nation great again.
You have given me this privilege. Now I ask of you one thing that discipline cannot exist without: sacrifice.
The problem with this country is that it has too much democracy and not enough discipline. All I ask is for you—mga putangina niyo lahat—to sacrifice some of your freedoms for the greater good. Let us all face the truth, mga gago: for the longest time, we have all been spoiled brats whining for undue privileges.
ADVERTISEMENT - CONTINUE READING BELOW
What is freedom, anyway? Is it the freedom to drive drunk at three in the morning? The freedom to use guns to settle traffic altercations? The freedom to sell drugs? The freedom to spread lung cancer to other people? The freedom to roam the streets so you can rob your neighbor? The freedom to rape your daughter and granddaughter? Mga putangina niyo, your days are numbered.
I have promised to rid this country of criminality in 60 days. Let us now beat our swords not into ploughshares but into shovels that we will use to bury the bodies of those who dare disturb our peace. It is a time to bury hatchets—in the backs of lawbreakers.
CONTINUE READING BELOW
Recommended Videos
The Davao Death Squad shall be no more. From now on it shall take on a more dynamic national character. The Davao Death Squad shall now be known as the Philippine Death Squad, with the most dynamic, experienced assassins trained by the police and the military. The Philippine Death Squad shall operate as an entirely independent department with its own budget, with the option to coordinate with the PNP and the AFP. Every province, every city, every municipality will have its own death squad.
Under my reign let a thousand funeral parlors bloom like wreaths. As I have warned before, prepare yourselves for the sight of a Manila Bay choking with corpses. To make omelettes, we must first break some eggs. I have declared many times before that I will insist on a revolutionary government. And remember that a Chinese leader had once said that a revolution is not a picnic.
ADVERTISEMENT - CONTINUE READING BELOW
And on the subject of picnics, with all those dead bodies, what a feast it will be for worms. I see a bright future for vermiculture in the Philippines. I also see a bright future for the funeral business. I will order the release of P50 billion from the Department of Budget and Management to fasttrack the construction and operations of funeral parlors in every barangay.
If one of my predecessors had once warned, "Huwag niyo akong subukan," putangina niyong mga drug lord at mga smuggler, I dare you: just try me. If my predecessor's proved to be an empty threat, I assure you, under my reign...We shall fertilize the countryside with their blood.
Government and Church need not debate on the reproductive health issue. In our campaign against crime, we will reduce the population by a fourth—of course, that goes without saying, that is the worthless, thieving, scheming, corrupt that do not deserve to share the same breathing space with the decent and law-abiding.
Efficiency and progress shall be the hallmarks of my government.
For instance, there is no worse metaphor for the state of justice in the Philippines than the luxurious lives of convicted slime in Bilibid.
Instead of routinely complaining about the scandalous excesses in Bilibid's maximum security compound, we will settle this problem once and for all with mankind's eternal friend and foe: fire. Before my 60-day deadline ends, we will flood with kerosene that incorrigibly evil part of Bilibid and torch it during the wee small hours. We will put to an end this hopeless dilemma of jail guards and penitentiary officers being bribed by rich and powerful scum. All of them will exit this world in one glorious conflagration.
ADVERTISEMENT - CONTINUE READING BELOW
We will fight corruption. And it begins with the abolition of Congress.
Like a cancerous tumor, this piece-of-shit branch of government has been gnawing away at our body politic for decades. From now on, absences, tardiness, and the perennial problems of quorum shall no longer be a concern.
It has been said that we should be a nation of laws and not of men.
This we already know: we have too many laws. The problem is that we do not follow them. This country also has way too many men. The tragedy is that many of them do not follow the law. And the tragedy is that many of them are legislators, by my defintion, the ones who make laws so they can break them. My countrymen, why do we fucking do this to ourselves?
The surgical abolition of Congress alone will save us a minimum of 30 billion pesos every year. The Batasang Pambansa complex shall be converted into a housing facility for the nearby squatters of Payatas.
Like the Romans and all other great civilizations, I believe in violence as a cleansing agent of society. We must use violence to maintain peace.
Human rights are only for those who can be considered humans. There should be no human rights for those who violate the rights of others. All these fucking bleeding-heart organizations—especially those from Western countries, like Amnesty International—how dare they talk about rights when the governments of their own countries are the number-one oppressors of the Third World! Putangina! Those bleeding hearts? From now on, if these groups become a hindrance to justice, if they are unwilling to be deported, we shall make their hearts bleed...literally.
ADVERTISEMENT - CONTINUE READING BELOW
As I have promised in my campaign, I shall revive the death penalty and we shall witness weekly executions. It is also imperative that these executions must be live and televised, on primetime: on Eat Bulaga and Showtime, and on TV Patrol and 24 Oras. As a Chinese revolutionary once said, we must kill the chicken in order to scare the monkey.
The Church, which shall not hinder me from my objectives, shall be rid of the slime of pederasty. No longer shall the young servants of the Lord serve the altar in fear. Clerics who are nothing but lurid vampires of tender flesh have no place in purported houses of God. I shall also order the justice department to organize an independent body to investigate these crimes, which deserve no less than the punishment of death.
This I have promised: What I have done to my beloved Davao I shall do to the rest of the Philippines. Actions speak louder than words. If I have triumphed it is not because of fancy TV commercials, nor is it because of expensive endorsers devoid of principled conviction.
Putangina, you the Filipino people have spoken. Vox populi, vox fucking dei. You have made it known to the world: You do not like stupid R&B sung by mediocre, brown-skinned dual citizens set to jaundiced music videos.
Putangina nila. The only fistbumping that you will see me doing are ones that land on the skulls of thieves, especially those who have plundered the nation's coffers for their campaign. But I have promised to slap that Mar Roxas should I run into him. As a man I know it is not the height of charity to slap losers. But, putangina niya. I am a man of my words. I shall fistbump that fucking wimp...in the face. There will be no body-bumping, only body-dumping.
ADVERTISEMENT - CONTINUE READING BELOW
God bless us all. God bless the Philippines. At putangina niyo lahat.
---
Help us make Spot.ph better!
Take the short survey
Load More Stories