(SPOT.ph) For many people, hearing the word "art" might conjure up mental images of Leonardo da Vinci's "Mona Lisa," Juan Luna's "Spoliarium," and Vincent Van Gogh's "The Starry Night." These days though, it's impossible to restrict art to traditional mediums like painting and sculpture. Art now comes in a variety of unconventional and sometimes even immaterial forms, such as sound art, video art, and digital art. These forms present new challenges for artists, curators, and cultural workers alike when thinking about how and where to display these works beyond the standard white walls of galleries and museums, so that they may be properly understood and appreciated.
Curare Art Space presents a modern solution to a modern problem. The recently launched art gallery does not have a physical space, instead it manifests as a website. Curare's founder and curator John Alexis Balaguer knows the limits of physical spaces well, having worked for both Archivo 1984 and Ayala Museum.
ADVERTISEMENT - CONTINUE READING BELOW
In an interview with SPOT.ph, he explains his intentions for the gallery in detail: "Curare aims to accommodate most forms of art not solely visual, such as music, video or film, literature, and performance. Writers and performers have shown interest in exhibiting at the space, for example. I am hoping Curare can be a space for emerging artists to find a platform for new ways of sharing their personal projects."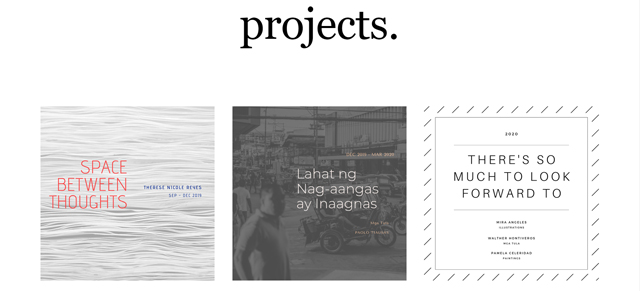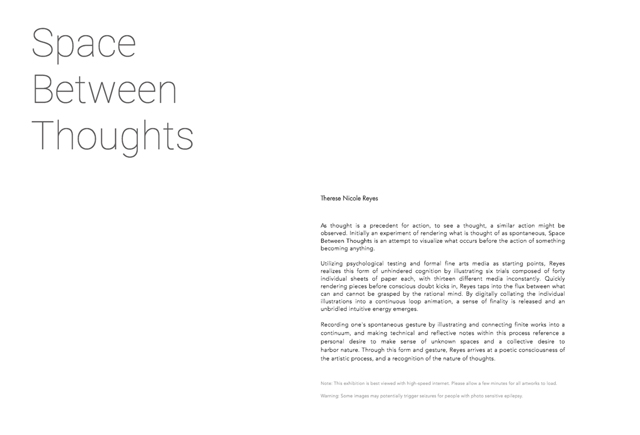 Curare's inaugural exhibition, Space Between Thoughts, is in collaboration with visual artist Therese Nicole Reyes. The exhibition can be accessed on the gallery's website from October 5 to December 30, but it may still remain online and accessible even after this period. (Nothing gets really deleted on the Internet, after all.) Although the works in the exhibit are initially produced using traditional mediums like paper, oil pastels, and colored pencils, they are presented on the website in the form of animated GIFs and supplemented with a PDF of the artist's research and notes. 
ADVERTISEMENT - CONTINUE READING BELOW
Reyes, who has a background in psychology and fine arts, makes use of the creative freedom provided by Curare to "visualize what occurs before the action of something becoming anything". Essentially, as the exhibits title suggests, the artist seeks to materialize the short interval of time that exists just before we form a thought. Reyes does this by spontaneously and liberally illustrating on 40 individual sheets of paper, switching between thirteen different mediums, and only stopping when her conscious doubt surfaces. What is presented in the exhibit are the results of six trials of this very process.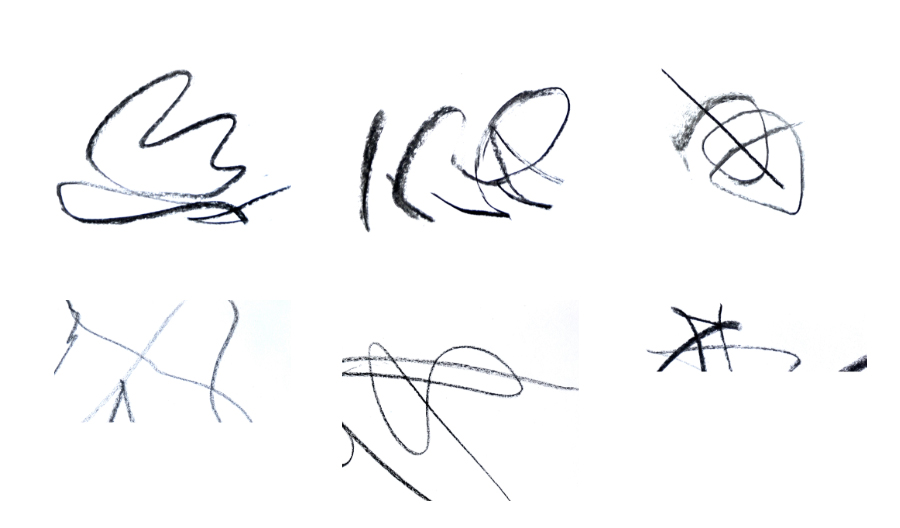 ADVERTISEMENT - CONTINUE READING BELOW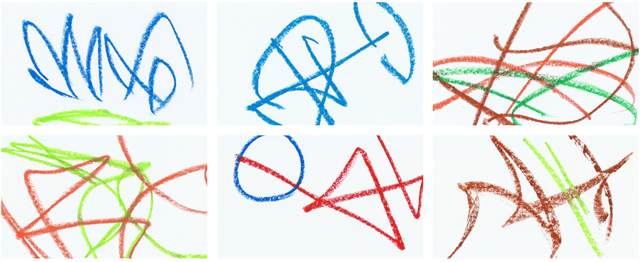 It's difficult to envision a traditional, physical exhibit communicating the artist's attempts to extract something so intangible and difficult to grasp as effectively as Curare's platform does. But as creatively liberating as the gallery is, it isn't without its own troubles. Balaguer mentions that "there is the problem of not having access to reliable Internet. Our current exhibition for example is heavily dependent on high-speed Internet because they are in GIF animation format. For some viewers, the exhibition might take some time to fully load. Also, the space adapts to the device the viewer sees the exhibition from—so I have to curate the show for both desktop and mobile platforms."
ADVERTISEMENT - CONTINUE READING BELOW
Scrolling through the online exhibit, it's easy to see how someone without the appropriate bandwidth and Internet speed might not be able to appreciate the show in its entirety. The exhibit features plenty of dizzying looped GIF animations collating hundreds of sheets of paper filled from corner to corner with messy, erratic squiggles of varying textures, colors, and sizes.
In these haphazard scribbles, Reyes inadvertently captures something that is comparable to the illegible notes produced from hurriedly trying to recall and write down a dream immediately after waking up. If you've ever tried to keep a dream journal, you're probably familiar with these kinds of unreadable, slapdash documents. They might not make much logical sense, but they distill that pure moment between sleep and being fully conscious and awake. It's this similar fleeting point in time that she is attempting to seize in her work.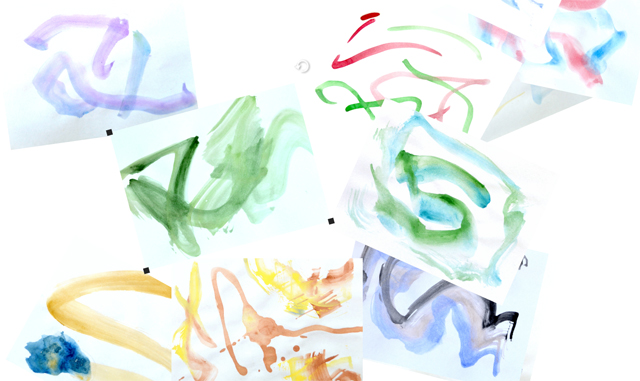 ADVERTISEMENT - CONTINUE READING BELOW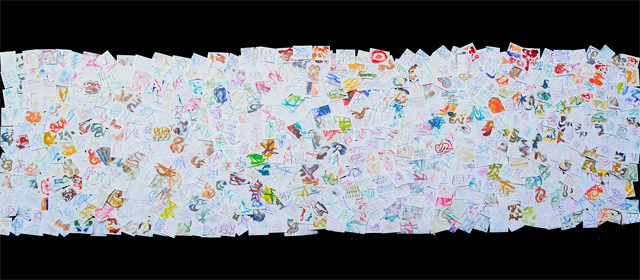 However, the artist recognizes that her attempts might ultimately prove futile. She observes in her artist's notes that "it's impossible to completely escape our thoughts while being aware of doing so, let alone actively record it. The result then is a collection of fragments that can only be contained by its impossibility." The slightly ambiguous, almost unfinished nature of the exhibition might not fly with other galleries or museums, but it is exactly this kind of project that Balaguer seeks to nurture through his space.
ADVERTISEMENT - CONTINUE READING BELOW
In discussing how he chooses what gets exhibited at Curare, Balaguer says, "Curare means to 'take care' so the art space aims [to] bring the stories of artists to the forefront, including topics they are passionate about, their personal processes of making art, and the human connections these artworks evoke to those who view them." He adds, "Unlike a museum or gallery show, I work closely in collaboration with the artists to make their exhibitions more intimate and see their development of the project similarly as important as their completed works. In fact, artworks need not necessarily be 'finished'—they can be projects-in-development, or even artistic experiments, and that's what makes the site a space where artists can "take care" of what is important to them."
In the midst of short life cycles of memes and even shorter attention spans, when every square inch of virtual real estate on the Internet is constantly vying for our attention, it's quite comforting to see a space that "takes care" of what it's putting out into the virtual ether. Space Between Thoughts serves as a proper introduction to Curare Art Space seeing as the nature of its themes communicate the necessity of these kinds of unconventional and immaterial spaces. Space Between Thoughts is a personal meditation on the artistic process that invites us to slow down, to lose ourselves in a momentary stupor before we have to face the disorder of everyday life.
ADVERTISEMENT - CONTINUE READING BELOW
It is just one of many insightful shows on Curare's roster, and Balaguer is more than excited to see what the future holds for the gallery. "Right now, I am collaborating with Filipino poet Paolo Tiausas for early 2020 to feature his collection in the site." Balaguer is also developing new programs, specifically other publication formats that could be implemented on the site. 
"In the future, there will be a specific gallery solely for digital art, for example. Hopefully, Curare can be a space for education, where emerging artists can do artist talks online, upload podcasts, recordings of interviews, or archival materials related to their exhibition. The exhibition does not end, literally. There's so much to look forward to."
Space Between Thoughts runs until December 30 at Curare Art Space.
Share this story with your friends!
---
Help us make Spot.ph better!
Take the short survey
More Videos You Can Watch
Load More Stories