(SPOT.ph) Bacolod City, a.k.a. the City of Smiles, is known for its heritage houses, sweets, and the festive MassKara Festival. But the capital of Negros Occidental also has a thriving art scene. If you happen to fly to the island before the year ends, there's an ongoing exhibition at Block17 Art Space, which is at the center of Bacolod's Art District—a complex of art galleries, artist-run cafés, and a microcinema. Dirty Laundry, as the group show is called, features contemporary fabric art by artists from Iloilo, Cebu, Manila, and Bacolod. It runs until December 6.
The exhibition focuses on textile as material and goes beyond its designated practical and domestic function. Among the most intriguing works in the exhibition is Greys Lockhart's "White Lies," where several trimmings of cotton appear to be tied together on a piece of gauze and dyed using the Japanese shibori technique. Through this ancient dyeing process, the fabric is shaped to secure patterns made from the folds of the cloth. Lockhart's work zooms in on the gray area produced by the process, and compares it to the metaphorical gray area where lies and truths are blurred. The layers of cotton trimmings represent the walls that we build to shut out other people. In doing so, we usually end up trapping ourselves in the process.               
ADVERTISEMENT - CONTINUE READING BELOW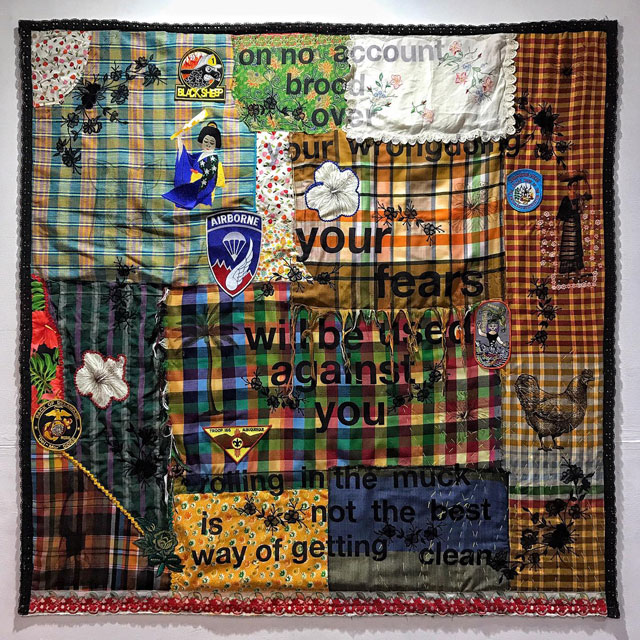 In Olive Gloria's "Warning: 'Free To Kill' Order," images that hint at imperialism, colonialism, and militarization are stitched on a quilt. Printed on it is a line from Aldous Huxley's Brave New World that talks about chronic remorse: "Rolling in the muck is not the best way of getting clean." Gloria, whose creations were among the highlights of the VIVA Excon Biennale in 2018, primarily works with textile in her practice and considers it a material of culture, heritage, and tradition. Her pieces often include images charged with narratives on violent parts of our country's history.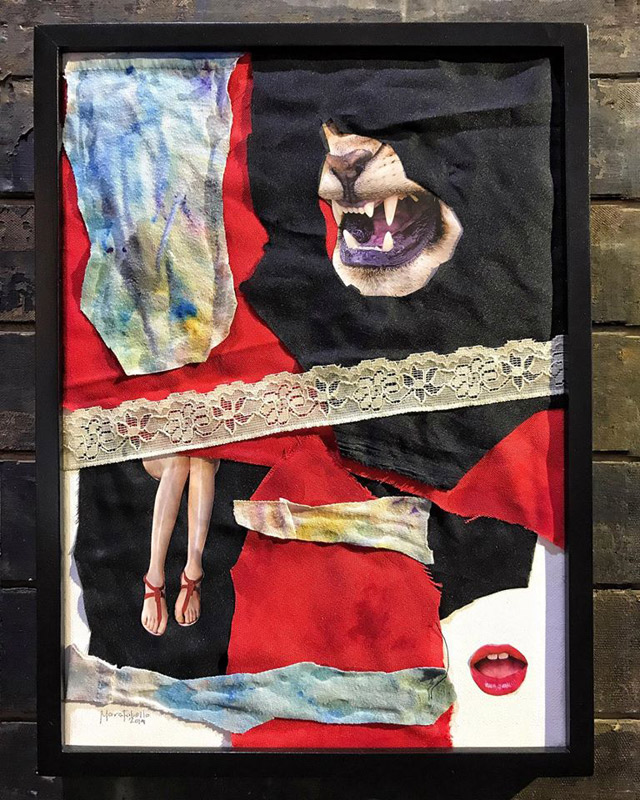 Combining textile and collage, Mara Fabella's "Like A Lady" reflects on feminist sentiments. Revolving on subjects that show the female sexuality, she examines society's perception of the sexual liberation of women as being taboo. "Like A Lady" questions the standards unjustly placed on women as society sticks to gender stereotypes.
On the other hand, Maia San Diego's equally liberating work "Ander de Saya" features the form of the male genitals shaped in the softness of fabric. The work brings to the fore subjects such as hidden desires, concealed sexuality, and veiled identities.
While Dirty Laundry is an exhibition that simply wants to put an emphasis on textile as material, it somehow also stands as an inquiry into how we give weight and look at the history of textile in our culture as we respond to new meanings and contexts in contemporary art. After seeing this exhibition, one should take a look at our country's textile history as it merges with the political and economic structures that remain present today. In looking at art, we should also become involved with the origins and contexts of its material, more than the images that they hold.
ADVERTISEMENT - CONTINUE READING BELOW
Dirty Laundry also features works by Andrei Venal, Bunny Luz, Caleb Ampadu, Camille Cabatingan, Elwah Gonzales, Ginoe, Hermo Bensi, Jan Sunday, Jao San Pedro, Jay Nathan Jore, Madhu Liebscher, Quatro Hapimeel, Remus Pediengco, Shireen Co, Willar Mateo, and Zeelah Aquilizan. It is the first exhibition by Sachet Projects, an art-and-design initiative based in Silay City, Negros Occidental.
Dirty Laundry runs until December 6 at Block 17 Art Space, Lopue's Annex Building, Bacolod, Negros Oriental. For more information, follow Block 17 Art Space on Facebook.
Main photo from Block 17 Art Space
Share this story with your friends!
---
Help us make Spot.ph better!
Take the short survey
More Videos You Can Watch
Load More Stories