(SPOT.ph) Known as the "Seafood Capital of the Philippines," Roxas City in Capiz is one of the most awarded localities in the country for its environment-friendly programs and advocacies that merge tourism with arts and culture. For 2018, it was the host of the longest-running art biennale in the Philippines (yes, it was around even before there was Art Fair Philippines and Manila Biennale!): the Visayas Islands Visual Arts Exhibition and Conference. Held every other year, the conference ran from November 9 to 11, while exhibits are on display until January 31, 2019.
Initiated in 1990 by Bacolod-based Black Artists in Asia, Visayas Islands Visual Arts Exhibition and Conference (VIVA EXCON) strives to bridge the gaps among art communities in through exchanges that involve local and international artists. Pioneers include distinguished contemporary artists Nunelucio Alvarado, Norberto Roldan, and Charlie Co.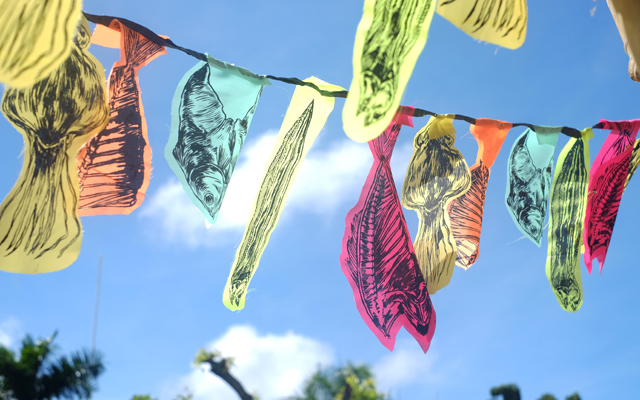 ADVERTISEMENT - CONTINUE READING BELOW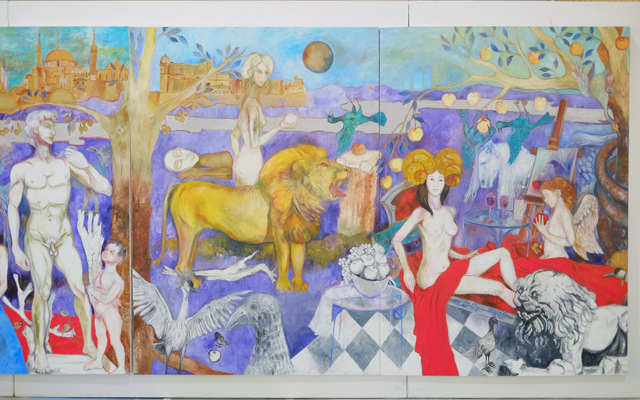 "Don't even bring water (Bisan tubig di magbalon)"
This year's curatorial direction was inspired by a line from "Dandansoy" (a Visayan folk song about returning home). All exhibitions and programs throughout the biennale dealt with the idea of going back home amidst geographical, economic, or socio-political challenges through various forms of art.
Appropriately, international artists with Visayan roots were there for VIVA EXCON. This includes Paul Pfeiffer, an installation artist who was born in Hawaii but lived in Dumaguete in his teenage years; Martha Atienza, who shuttles to and from her two homes in the Netherlands and Cebu; Dumaguete-born Maria Taniguchi, who studied in London but now lives and works in Manila; and Bacolod-born Manny Montelibano, whose works have been shown in galleries all over the world.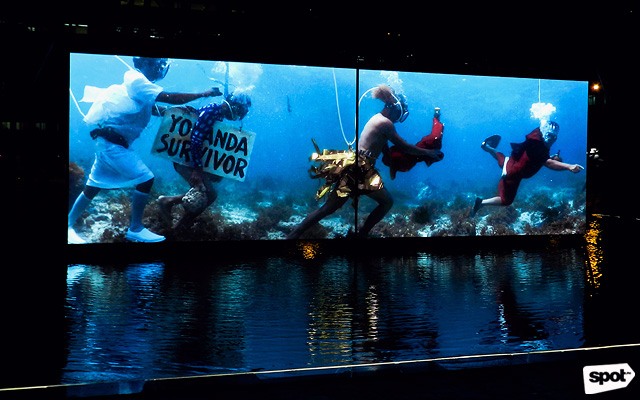 ADVERTISEMENT - CONTINUE READING BELOW
On display right in front of Roxas City Hall, "Our Islands" by Martha Atienza is a video installation that features divers and fishermen from her hometown on Bantayan Island in Cebu, dressed as priests or politicians and holding up placards underwater to protest the destruction of our seas. Current and past national issues are also apparent in her work: one man holds a piece of cardboard that says "Yolanda Survivor" and another holds a sign that says "Drug Lord Ako, Wag Tularan." The same video by the Dutch-Filipino artist was awarded the Baloise Art Prize at the Art Basel 2017 in Switzerland, and was on display at the Makati Stock Exchange during Art Fair Philippines' 10 Days of Art in February.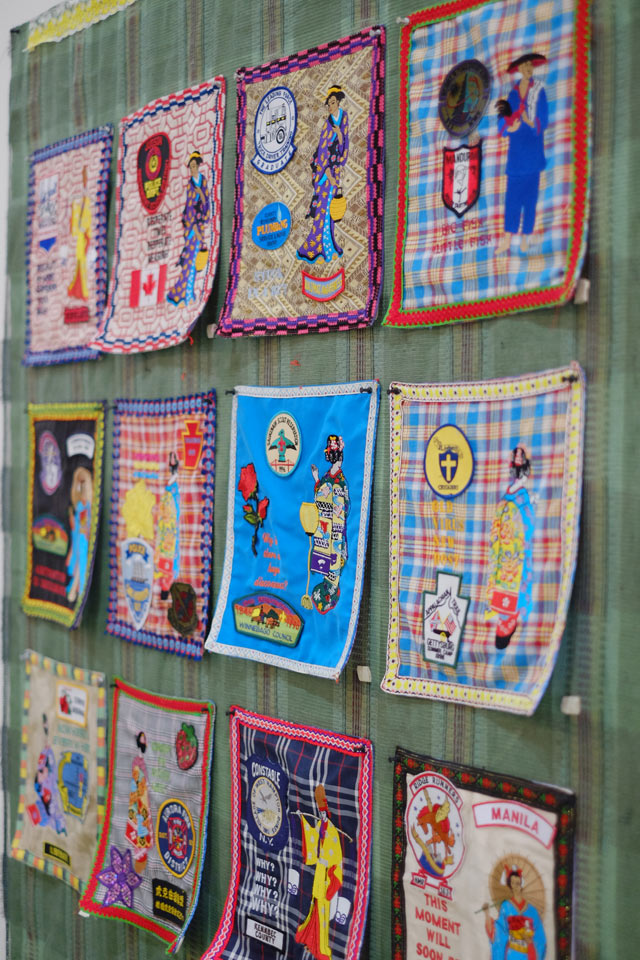 ADVERTISEMENT - CONTINUE READING BELOW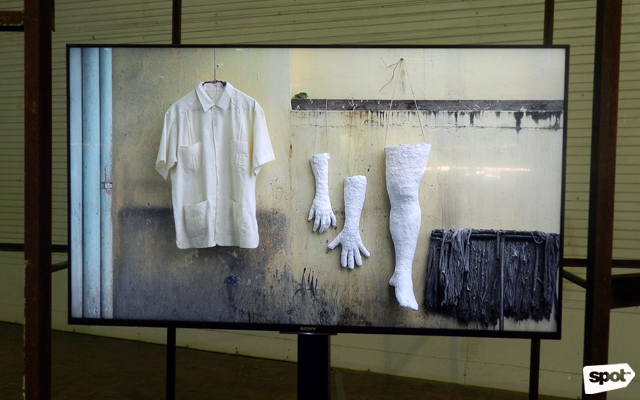 Berlin-based artists Lizza May David and Gabriel Rossell Santillàn investigate the possible pre-colonial relationship between Mexico and the Visayas through an art installation titled "How Many Seas Will You Swim?" It was in 1517 when F. Hernández de Córdoba landed in Yucatan; a couple of years later, Hernan Cortes conquered the Aztec empire. By 1521, Mexico City—formerly Tenochtitlan, the Aztec capital—was the center of colonial rule. Incidentally, it was also in 1521 when Ferdinand Magellan arrived on the islands of the Visayas. Both the regions' archipelagic topography were instrumental in the Spaniards' colonization.
ADVERTISEMENT - CONTINUE READING BELOW
One of the most interesting exhibitions is Libby Limoso's "Sugidanon Contemplations: Conjunction of Meaning and Place" where various mythologies from Panay Island are explored. These legends of the deities are narrated by a tribesman through a video projected on fishnets inside the city's Water Tank Museum. In one myth, there's a speaking dog that assists hunters in the forest; in another, there's a man said to be made of gold who turns into a sea turtle.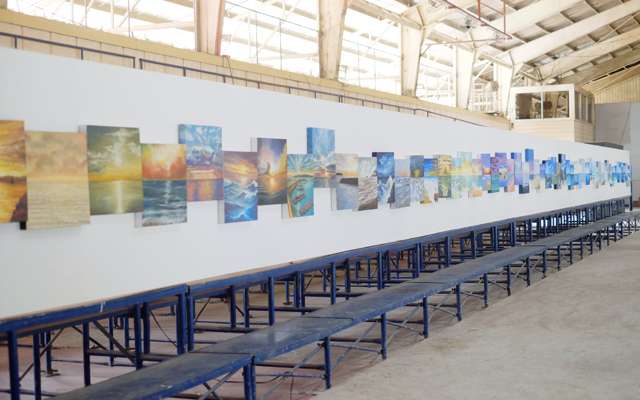 ADVERTISEMENT - CONTINUE READING BELOW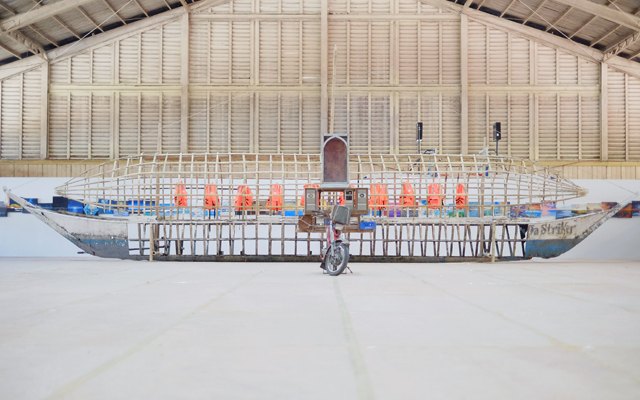 Aswangs, haciendas, island reports
Part of the biennale is a three-day series of lectures: one dealt with the legend of the aswang and its significance in Spanish colonization. In another, a lecture called "The Island Reports," representatives from the provinces discussed socio-political issues like land reform and lack of spaces for contemporary art.
ADVERTISEMENT - CONTINUE READING BELOW
The 2020 VIVA EXCON will be hosted by Bacolod City. This will coincide with the biennale's 30th founding anniversary.
Works from the Visayas Islands Visual Arts Exhibition and Conference are on display until January 31, 2019 at various venues in Roxas City, Capiz. For more information, visit VIVA EXCON 2018's website.
Share this story with your friends!
---
Help us make Spot.ph better!
Take the short survey
More Videos You Can Watch
Load More Stories