(SPOT.ph) While the National Museum of the Philippines reopened to the public in October 2021 following a pandemic-induced hiatus, the National Museum of Anthropology temporarily closed its doors once again in July of this year. Its main Marble Hall was draped with huge curtains, hinting at just how massive an upcoming exhibit will be. Finally, after months of waiting, the museum is unveiling INDIO-GENIUS: 500 Taon ng Labanang Kultural (1521-2021) by National Artist for Film Kidlat Tahimik on Saturday, October 22.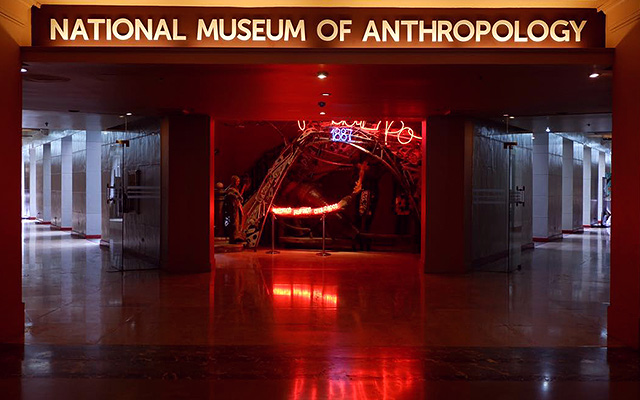 ADVERTISEMENT - CONTINUE READING BELOW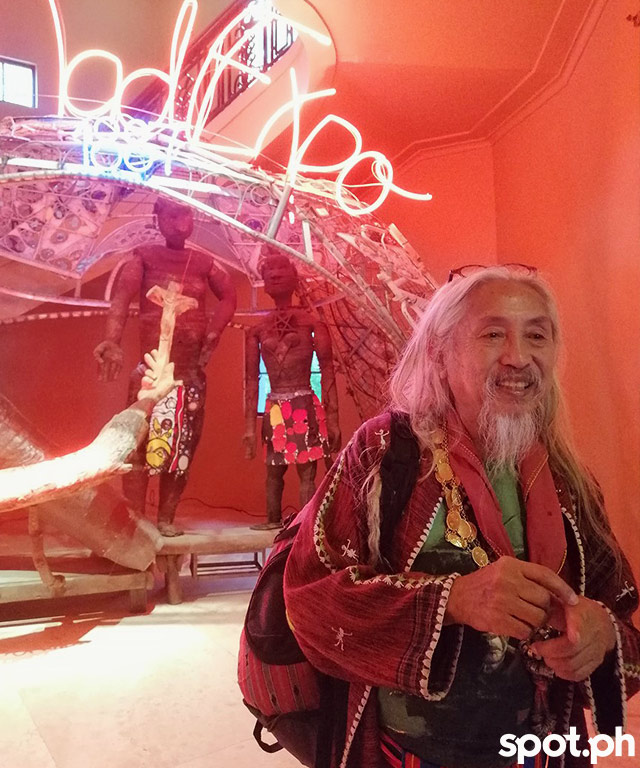 This enormous exhibit was originally created by Kidlat at the Palacio de Cristal in Madrid, Spain, earlier this year and was previously called Magellan, Marilyn, Mickey, and Fray Damaso: 500 Years of RockStar Conquistadors. Composed of various components including sculptures of wood and rattan by Ifugao artists, his son's paintings, fishermen's boats, and found objects, the exhibit occupies the museum's entrance, its marble hall, and the grand stairway leading to the southeast façade. 
SPOT.ph caught up with the energetic 80-year-old National Artist, who took us on a special tour of the exhibit that ended with a private reception at the museum's courtyard.
Kidlat Tahimik's MAD Exposition
The INDIO-GENIUS exhibit begins at the bottom of the staircase of the main entrance of the museum, where a group of indigenous men in rattan is framed by a dome with the words "MAD EXPO" in neon lights. Kidlat explains that the title and installation not only refer to the Madrid Exposition he exhibited in, but are also a sly nod to the General Exhibition of Philippine Islands in Madrid in 1887, which had a live exhibit of Igorots that predated the St. Louis Exposition in 1907—that other notorious expo that also exploited the tribesmen.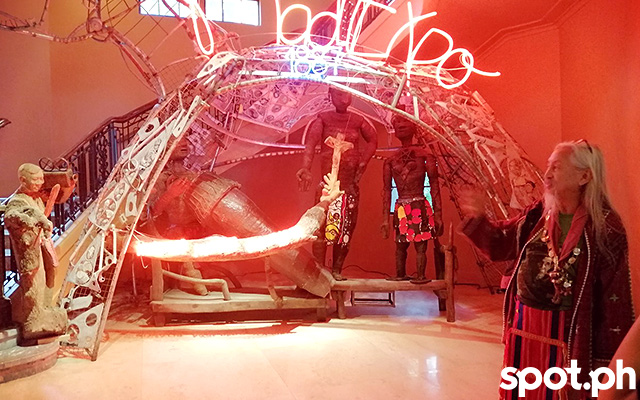 ADVERTISEMENT - CONTINUE READING BELOW
"Ang pinaka-significant na nangyari sa exposition ay nagalit si Rizal," Tahimik says. "Rizal heard of the exploitation and nadagdagan ang passion and hatred niya sa Spaniards. He wrote a letter to Blumentritt that said, 'Why are you treating us like a human zoo?'" In the same installation, Kidlat portrays our National Hero as an intrepid filmmaker wearing a bahag. "I was thinking that if Rizal was a filmmaker, he would have been a very good documentarian of this expo, documenting the abuses of the colonialists."
A Colonizer's Trojan Horse
One of Kidlat's biggest challenges in installing INDIO-GENIUS at the National Museum of Anthropology was that the original exhibit formerly occupied the glass-domed Palacio de Cristal, which was sprawling enough to accommodate the huge installation. This time, the artist had to divide the exhibit into different areas of the museum, but this in turn created various narratives to complete his epic story.
ADVERTISEMENT - CONTINUE READING BELOW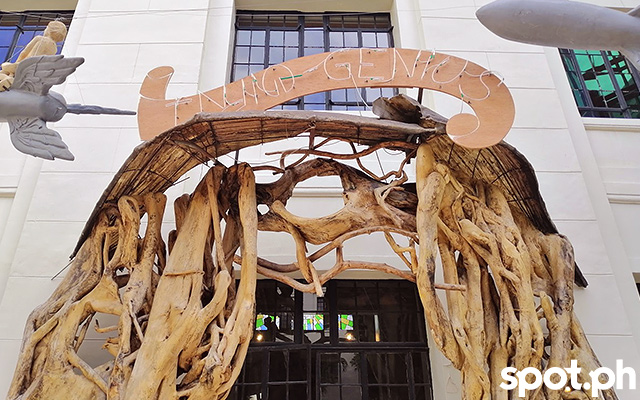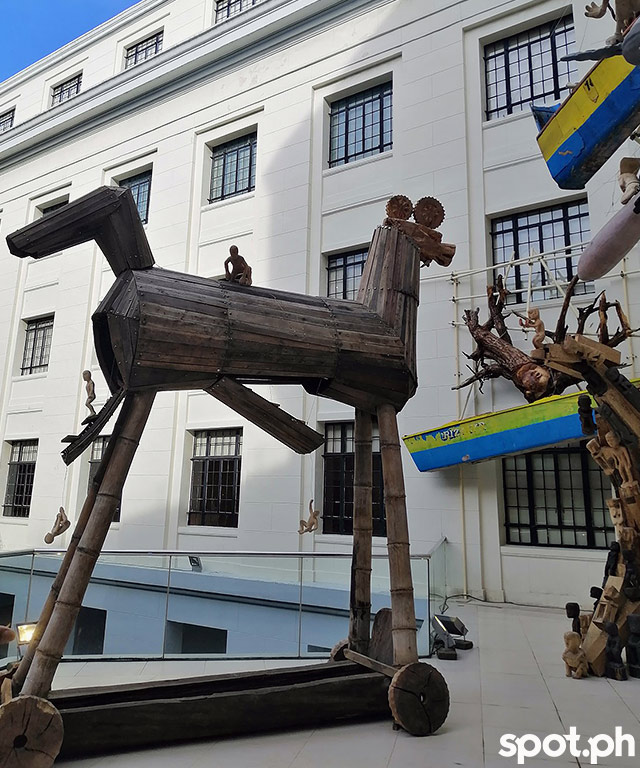 ADVERTISEMENT - CONTINUE READING BELOW
The exhibit continues onto the open-air garden courtyard where the focal point is a giant trojan horse sculpture located at the top of the courtyard's grand staircase; the horse is surrounded by modern-day pop and Hollywood icons. "The Westerners, they always feel they have to fight, they have to exploit, they have to tame those wild savages," Kidlat says. "I think we are indigenous people who know how to deal with that energy." 
An Indigenous Genius
Upon entering the main marble hall from the grand staircase, visitors are greeted by a massive replica of the Victoria, one of the four ships that Magellan sailed to the Philippines. At the mast of the ship is a sculpture of Enrique de Malacca, the Malayan slave of Magellan; Kidlat always refers to Enrique as his "idol" and as one he would rather recognize as the first circumnavigator of the world.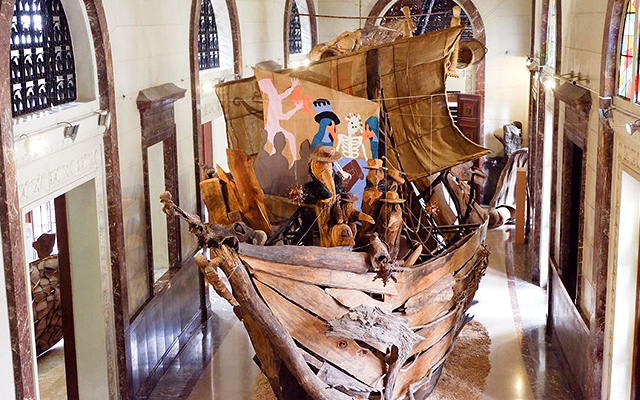 ADVERTISEMENT - CONTINUE READING BELOW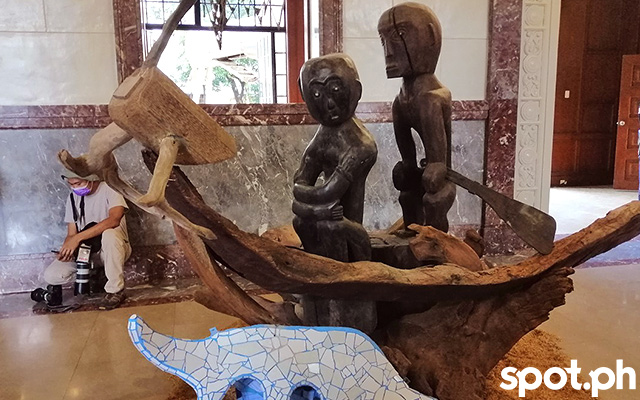 It is here that Kidlat reveals the source of his exhibit title. "My best friend was also my mentor and an elder from Ifugao, Lopes Na-Uyac. He always mispronounced the word 'indigenous.' He'd say, 'We the indi-genius people, we are always taken for granted. We must fight for our indi-genius culture!' Sabi ko, ay ang ganda! He combined 'genius' and 'indigenous' in one word, which says it all! There's still a lot of genius sa katutubo." 
ADVERTISEMENT - CONTINUE READING BELOW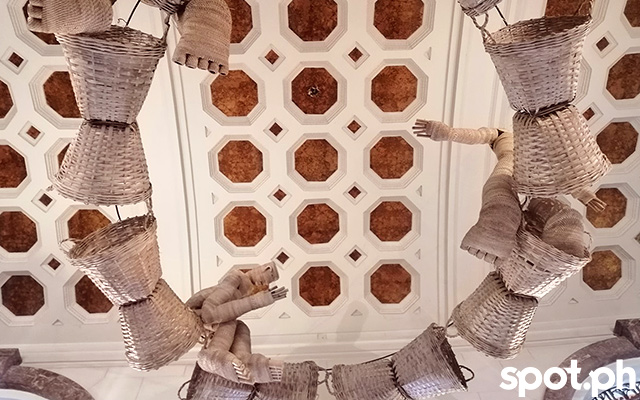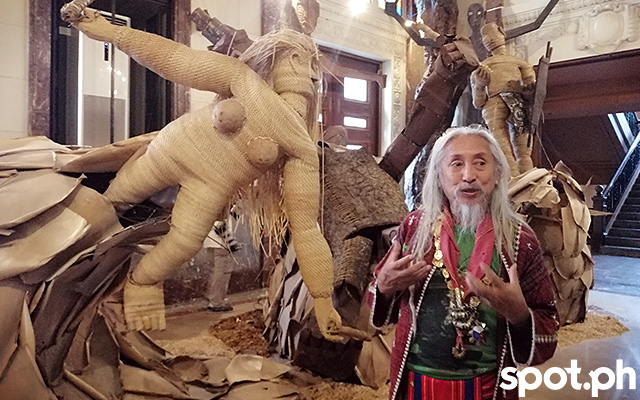 ADVERTISEMENT - CONTINUE READING BELOW
On one end of this installation is Kidlat's portrayal of Bulakna, Lapu-Lapu's wife, deep in battle with a Spanish soldier. "Bulakna is known to be a princess but she was second-in-command; she was a beauty, a warrior, she was also a makata and a babaylan; almost all of the qualities you'd want in a leader," Kidlat relates, citing that his portrayal of Bulakna is to add gender sensitivity to a historical battle that is usually portrayed as all-male, even though there was a possibility that there were female warriors as well. 
A Family Tribute
This exhibit ends with "Archiving Tribal Memories" in an audio-visual room, where Kidlat's famous films, including Perfumed Nightmare, are shown on loop. The installations represent the visual archiving of our culture and history, and the last one is composed of the works of Kidlat's three sons; Kawayan, Kabunyan, and the late Kidlat de Guia, who passed earlier this year.
ADVERTISEMENT - CONTINUE READING BELOW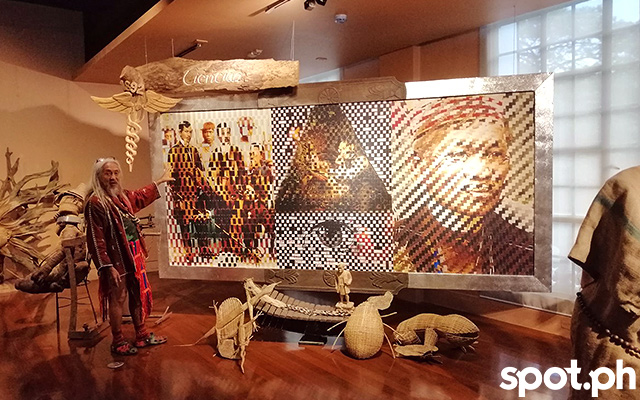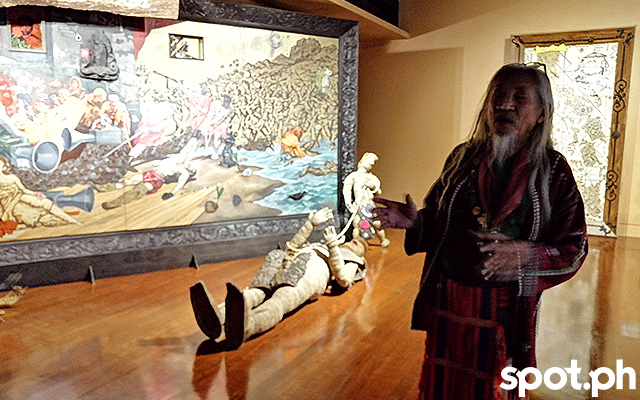 ADVERTISEMENT - CONTINUE READING BELOW
The culminating work in the room is a rendition of "The Spoliarium" by Kawayan de Guia, which rounds up an exhibit orchestrated by the National Artist and created by his family and his own community of indigenous artists. The story-telling installation as a whole could be about rediscovering one's culture after centuries of colonization; and it could also be about staying true to our culture, even in the face of modern-day globalization. 
"'Indio' is what colonists always call their colonized," Kidlat says. "But even if we've been 'indio-nized', the genius of our indigenous culture still survives!"
INDIO-GENIUS: 500 Taon ng Labanang Kultural (1521-2021) opens on October 22 at the National Museum of Anthropology, Finance Road, Ermita, Manila. The exhibit will run for six months. 
Share this story with your friends!
---
Help us make Spot.ph better!
Take the short survey
More Videos You Can Watch
Load More Stories