Art for Artists: Liv Vinluan's 10 Favorite Works
From a Filipino masterpiece to an otherworldly piece of installation art.
(SPOT.ph) Liv Vinluan is known for her three-dimensional paintings on folded boards or rolled-out paper. We saw how she pulled off a 10-meter painting held up by stilts and suspended by strings in her exhibition space as one of the featured artists for Art Fair Philippines 2019. This inclination towards narrative-driven creations is rooted in the various works of art that she has seen through years of exploring museums and galleries in the Metro and beyond.
Also read:
Art for Artists: Kristoffer Ardeña's 10 Favorite Works
Below, Vinluan talks about her favorite pieces of art in no particular order:
"Bit of a challenge to narrow it down to 10, but then again this list changes and evolves throughout an artist's life."
"Psychogenic Fugue" by Patricia Perez Eustaquio (2008)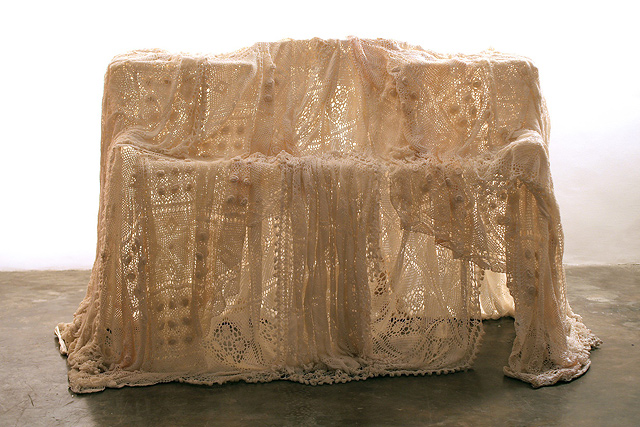 ADVERTISEMENT - CONTINUE READING BELOW
"An important work from an important show. 'Psychogenic Fugue' is from [Eustaquio]'s 2008 SLab show, Death to the Viva Major Minor. As a then-21-year-old, the work had taught me that both fragility and power can coexist in a work, that delicacy and force can create a tug of war in an entity, that a transparent fleeting idea can be, quite literally and figuratively, be solidified like a rock. Like a beautiful, ethereal ghost that comes to haunt you from your memory (or your past), it's that type of artwork that you will always remember."
"Spoliarium" by Juan Luna (1884)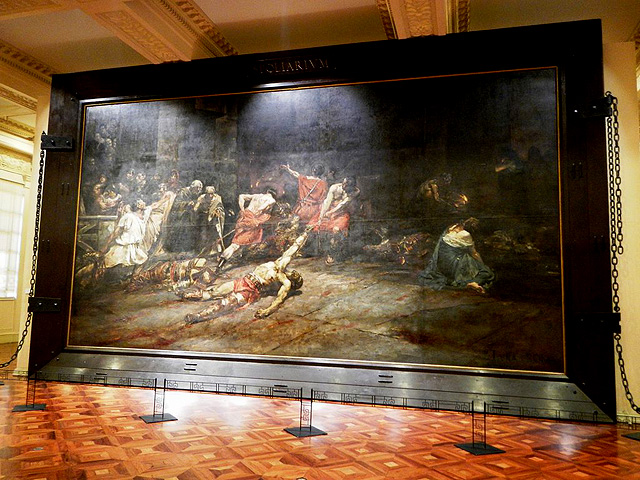 ADVERTISEMENT - CONTINUE READING BELOW
"I first saw this as a 12-year-old on a sixth grade National Museum field trip. Years later, when my father started working for the National Museum board, I would tag along with him and beg that we see the 'Spoliarium' before the long drive home. I have never been as flabbergasted, awe-struck, or moved by any artwork as [I was by this]. I imagine it has done the same to [many others] as well."
"V" by Li Hui (2009)
"V" by Li Hui (2009) at the Orange County Museum of Art (Video by Eric Minh Swenson)
"Imagine pushing open a heavy, massive door, crossing its threshold, then [being] greeted and engulfed by absolute darkness. Your eyes adjust to the pitch-black blanket of nothingness in the room, and you realize that there is a massive mirrored block and bright red laser beams searing and piercing through puffs of carefully timed smoke from a smoke machine hidden in the room. Li Hui's 'V' was installed in the old chapel wing in the complex which Singapore Art Museum was built on, and whether one is religious or not, the experience of the work is almost spiritual. I saw it more than five years ago at SAM's Chimera: The Collector's Show and have never forgotten it ever since."
ADVERTISEMENT - CONTINUE READING BELOW
"The Weather Project" by Olafur Eliassion (2003)
"The Weather Project" by Olafur Eliassion (2003) at Tate Modern (Video by Ola Moller)
"I can go on and wax lyrical about my reverence for Olafur Eliasson, his atelier and his work, but since space is limited, I will go [ahead] and pluck out 'The Weather Project' from his oeuvre. Commissioned by Tate Modern for [their] Turbine Hall, the installation transformed the cavernous space into one permeated by an unexplainable, hazy mist, and what seems to be a representation of a hypnotic big yellow sun at the end of the hall. One can only wish, and dream, that it would be restaged in the Tate, for a new generation to bask in and experience [such] magnificence.
"Christina's World" by Andrew Wyeth (1948)
"Christina's World" by Andrew Wyeth (1948) (Video by American Masters PBS)
"[This sort of imagery] has informed my visual aesthetic for as long as I [can] remember. Direct foreground is a limping woman in a pale pink-gray frock, background is an aging clapboard house in the distance. Almost all of Andrew Wyeth's paintings feature people, places and scenery from the Wyeth family estate in Maine, and all done in the excruciatingly difficult medium of tempera. 'Christina's World' is actually based on a real Christina—a real life neighbor of Wyeth in Cushing, Maine, who had a degenerative muscular disorder and could not walk, but would often be seen crawling around her surroundings. Wyeth was struck with this extraordinary determination, and thus set out to paint one of the most iconic paintings in American art."
ADVERTISEMENT - CONTINUE READING BELOW
"Wheatfield with Crows" by Vincent van Gogh (1890)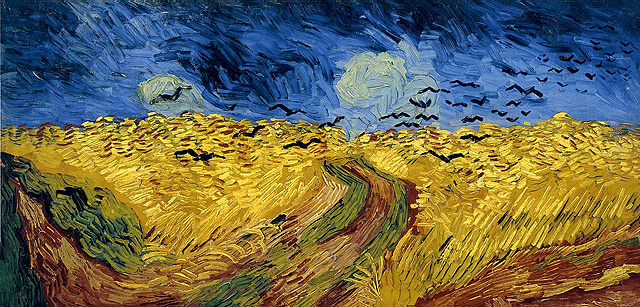 "If you have seen Akira Kurosawa's Dreams, then you would instantly recognize this very painting as the closing scene for the 'Crows' segment of the director's movie, where Vincent van Gogh was—surprise, surprise—played by Martin Scorsese. While there are many other van Goghs one can single out, this too is considered to be one of his greatest, and it has always struck me as an almost meditative piece, wherein stretches and stretches of wheat fields under a heavy blue (is that ultramarine?) sky convey a near-perfect sense of desolation...you can almost hear the wind and the crows on this one."
ADVERTISEMENT - CONTINUE READING BELOW
"Marca Demonio" (Ginebra San Miguel logo) by Fernando Amorsolo (1917)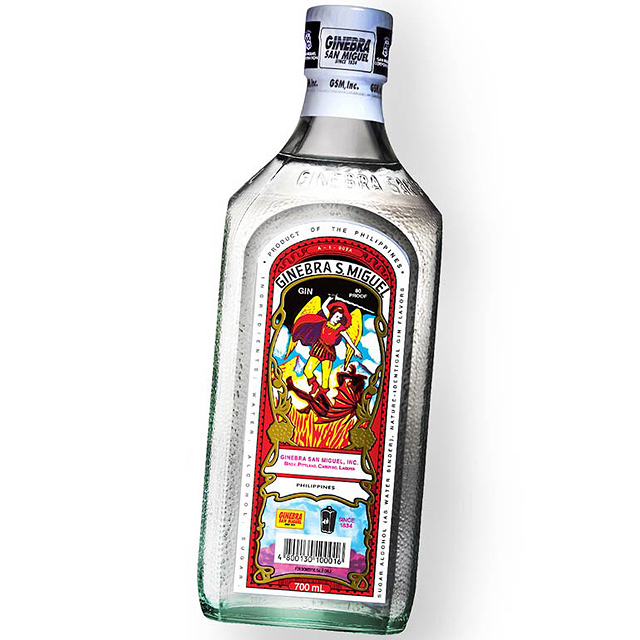 "There is possibly none more iconic and more ubiquitous than the Ginebra San Miguel logo.  Slapped on every single, gin bilog bottle, 'Marca Demonio' (as it was entitled) depicts the archangel Michael vanquishing the devil, in a battle between good and evil. Small and strangely perfect in every way possible, I have always loved this picture as it possesses an unexplainable mystique to me."
ADVERTISEMENT - CONTINUE READING BELOW
"Here, There, Everywhere: Project Another Country" by Isabel and Alfredo Aquilizan (2018)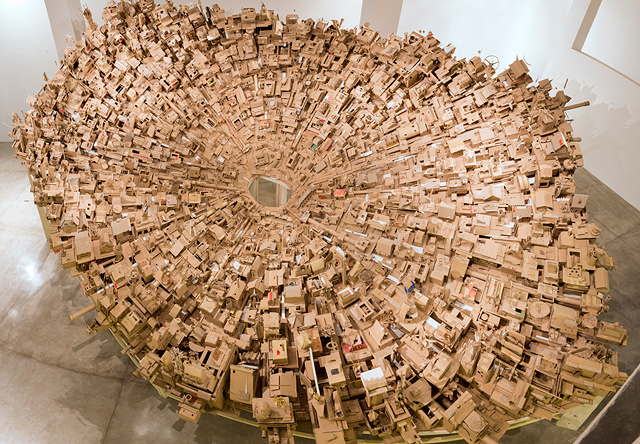 "I had the opportunity to help out in assisting in the preparation and installation of this massive cardboard metropolis. It had taken shape after weeks of labor, and I remember everyone at Museum and Contemporary Art and Design just standing back, staring at the work—eyes wide, mouths agape. The experience (and the work) has taught me the sheer power of imagination, of pushing the idea of scope to the limits and what dreams and a community can do."
ADVERTISEMENT - CONTINUE READING BELOW
"Falling Bough" by Walton Ford (2002)
School of Visual Arts Contemporary Perspectives Lecture with Walton Ford (Video by Boston University)
"To be able to make watercolor epic is a task and an undertaking that certainly proves unwieldy to do. I fell in love with Walton Ford's body of work years ago, when my brother graciously lent me an Art21 DVD. The astounding 'Falling Bough' is a 60-inch-by-119-inch masterpiece in watercolor, gouache, ink and pencil that shows an almost violent, swirling cacophony of birds in mid-flight, lifting what is suggested to be a staggeringly heavy burden of a falling tree branch."
"Boschbrand (Forest Fire)" by Raden Saleh (1849)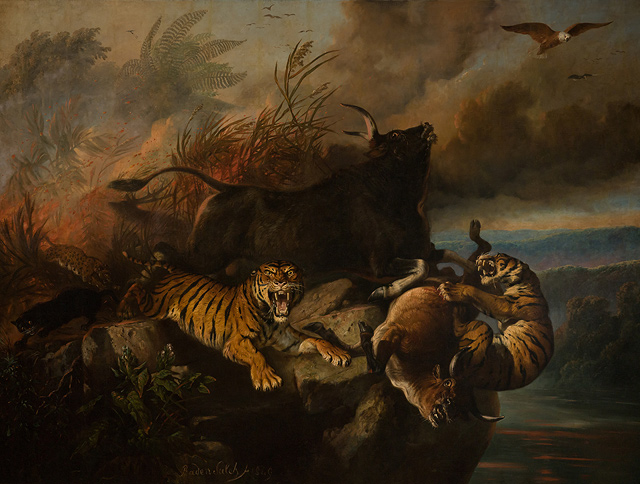 ADVERTISEMENT - CONTINUE READING BELOW
"Heralded as a pioneering figure and the first 'modern' Indonesian painter, Raden Saleh was born in Java in 1811, with a body of work rooted in Romanticism. 'Forest Fire' is a monumental painting that depicts wild animals being chased by fire to the edge of a cliff, and I have long admired its ambitious and complicated composition. There is a lot to take in that scene, and your eye trails from the flames to the left, following a violent tumble and tangle of animals and suspending that moment in time right before they plunge into their inevitable fall (and death) to what one can only imagine to be a ravine far below."
Recommended Videos
Load More Stories