(SPOT.ph) For the first time in its still brief history, Art Fair Philippines will have a dedicated film component for the 2020 edition. "It was the right time," says Dindin Araneta, who, along with Trickie C. Lopa and Lisa O. Periquet, founded the annual art fair in 2013. "We are celebrating the 100th anniversary of Philippine cinema this year, so it made sense."
Dalagang Bukid, directed by Jose Nepomuceno, is recognized as the first Filipino-produced film. Starring the great Atang de la Rama, it premiered on September 12, 1919; to mark this achievement, Proclamation No. 622 was signed into law by President Rodrigo Duterte, honoring the Centennial Year of Philippine Cinema, spanning September 12, 2019 to September 11, 2020.
The film program of Art Fair Philippines is not only meant to celebrate this milestone, but to propose the possibilities for the future of the local film industry. Curating it are the film critic Philbert Dy, the award-winning writer, editor, and film composer Erwin Romulo, and the respected film archivist and historian Teddy Co.
ADVERTISEMENT - CONTINUE READING BELOW
"We might be showing more Filipino films—old and new—over the course of the art fair than some cinemas show in an entire year," says Dy, who remains shocked by the project's scope and ambition.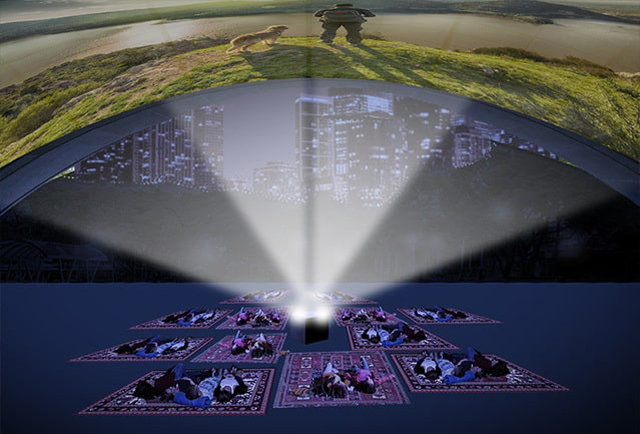 Sponsored by Globe Platinum, the first component of this showcase of Filipino films gets underway on February 14 at the Ayala Triangle Gardens in Makati. There, attendees will be treated to an unusual movie-going experience. Instead of using a normal screen, films will be projected on the ceiling of Ayala Tower One's fountain area. "We'll be covering the water feature and laying down carpets and lots of pillows," says Dy.  
But what will be screened? "We were told we could kick off '10 Days of Art'—a series of events culminating with the art fair—on Valentine's Day," says Romulo. "So, given this date, we said, what about One More Chance?"
The 2007 film starring John Lloyd Cruz and Bea Alonzo was a critical and commercial smash, and is considered among the most influential Philippine movies in recent memory. "It basically established the Star Cinema formula, it's what established John Lloyd and Bea as a love team. It inspired a whole generation of writers and directors to make rom-coms," says Dy. Following its scheduled 6 p.m. screening, the curators are mounting an indie favorite, That Thing Called Tadhana, at 8 p.m. The next day's shows include QCinema Shorts, Sunday Beauty Queen, and Never Not Love You.
ADVERTISEMENT - CONTINUE READING BELOW
"Part of the idea of The Unconfined Cinema is it's almost a rebellion against the traditional form of what we think of as cinema. We romanticize the darkened theater, but they're all spaces controlled by these 'gatekeepers' who may not particularly value Philippine cinema," says Dy.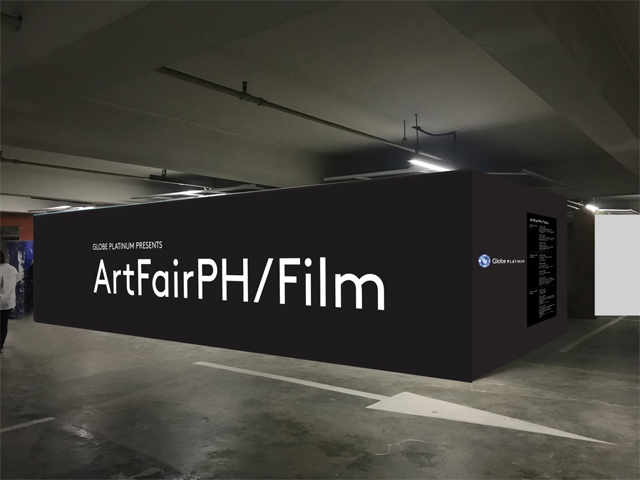 ADVERTISEMENT - CONTINUE READING BELOW
During the Art Fair proper, viewings will be inside a large booth at The Link, the fair's home since 2013. Alongside traditional films, more experimental screenings will take place at this more intimate venue. "Do you know what a film triptych is?" asks Dy before explaining the concept's similarity to triptychs in art, where the visual is spread out across three panels. "Until I had this conversation with Teddy Co, I had no idea that the Philippines has produced around 10 or 11 of these triptych films, and I'm a film critic."
Apparently, most of them ended up in galleries in Singapore and Europe. For the first time, they will be screened together at one place during the art fair. Curated by Co, films by John Torres, Manny Montelibano, Butch Perez, and Martha Atienza, among others, are expected to be shown using a three-projector setup, casting moving images on three separate walls.
ADVERTISEMENT - CONTINUE READING BELOW
Getting Filipino films recognized as a genuine art form has long been a dream of Romulo's; if he had his way, the film program would have been added in 2019, 10 years after the film critics Alexis Tioseco and Nika Bohinc were brutally murdered. "Alexis was the direct inspiration for this whole thing. The reason I'm doing this, in a way, is because we have to continue what he started many years since he passed away."
What made Tioseco "special" as a film critic, says Romulo, is that he didn't set out to put anyone down. "He didn't want to do this. You can see it everywhere online, people are so great at dissing stuff. It's so easy to make people feel bad. It's the easy way to critique any kind of creative endeavor." Tioseco went against that grain. In a July 2008 Rogue magazine essay that every film lover must read, he wrote, "The first impulse of any good film critic, and to this I think you would agree, must be of love."
ADVERTISEMENT - CONTINUE READING BELOW
Dy says, "You actually risk a lot more by saying you love something."
"Alexis never really liked writing negative reviews of anything. But not because he was coward about it, far from it," adds Romulo. "He just didn't want to waste his time, or anyone else's time, because at that time, Philippine cinema was nowhere as popular as where it is now, or as widely renowned abroad. He said he'd use 'every bit of space I can put to promote the best, rather than just put down the usual thing that you see in the theaters.'" 
Even though the public may not realize it as they walk through Art Fair Philippines' doors, it is in part an homage to Tioseco and his contributions leading to the resurgence of Filipino cinema, now experiencing its third (or fourth, depending on whom you ask) Golden Age. "That's why we're here," says Romulo, "and showing people the things we love."
ADVERTISEMENT - CONTINUE READING BELOW
10 Days of Art opens with an outdoor screening of One More Chance on February 14, 6 p.m. at the fountain area of Tower One and Exchange Plaza, Ayala Avenue, Makati City. Art Fair Philippines 2020 runs from February 21 to 23 at The Link, Parkway Drive, Ayala Center, Makati City. Tickets, priced at P350, are available through Art Fair Philippines' website.
Update (February 13, 10 a.m.): This article was originally published with a reference to a project by cinematographer Lyle Sacris, which is no longer pushing through. The article has been edited to reflect that change.
Share this story with your friends!
---
Help us make Spot.ph better!
Take the short survey
More Videos You Can Watch
Load More Stories