10 Things You Need to See at ALT Philippines 2020
It opens tomorrow!
(SPOT.ph) It's almost Valentine's weekend, which means two things: couples will be out and about exchanging sweet nothings; and, more importantly, ALT Philippines 2020—the newest art festival in town—is finally happening. Ten Metro Manila galleries and more than 150 artists are coming together for this three-day event, which runs from February 14 to 16 at the SMX Convention Center at SM Aura Premier. Tickets will go for P250 and as most art fairs go, it's going to be a satisfyingly overwhelming mix of art pieces in which to immerse yourself.
Also read:
Everything You Need to Know About ALT Philippines 2020
Make sure to check out these 10 things at ALT Philippines 2020:
"Apollo and Daphne, Forever but Never" by Liv Vinluan (Finale Art File)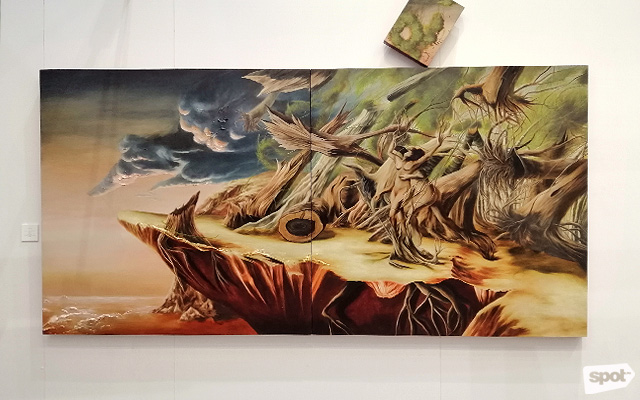 Liv Vinluan is known for experimenting with an otherwise two-dimensional medium, which is to say folding, pleating, and rolling a whole strip of vellum paper to add another dimension to her work. For ALT Philippines 2020, she does this differently: a canvas that measures 48 by 96 inches, with a smaller piece right beside it. Vinluan renders through an oil painting the mythology of the great warrior Apollo and the river nymph Daphne. The two figures are caught in a moment of what seems to be the end of times: trees being uprooted, the underworld being overturned, and—outside the canvas—a patch of green being blown away.
ADVERTISEMENT - CONTINUE READING BELOW
"Blur Lichtenstein 1" by Alvin Villaruel (Undergound)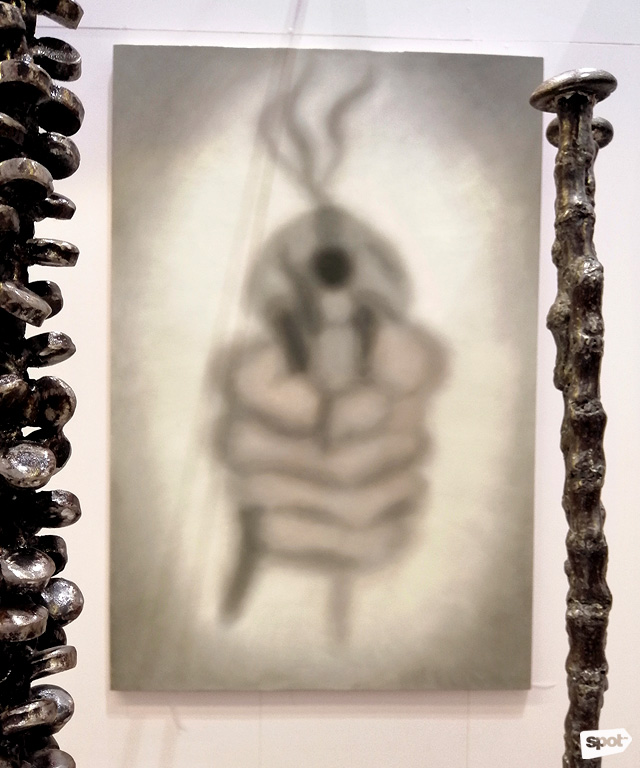 CONTINUE READING BELOW
Recommended Videos
Just behind Pete Jimenez's steel works is a blurry image of a hand holding a gun that just went off. With Alvin Villaruel's title "Blur Lichtenstein 1," what comes to mind is a reference to American pop artist Roy Lichtenstein's 1964 piece "Pistol," a 1968 screenprint on acetate called "Gun in America," and other variations. While the pop-art legend created a commentary on America's gun laws, one can only surmise Villaruel's thoughts on guns and violence, the laws that surround it apparently blurry in today's society.
"Vignettes of a Semi-Feudal, Semi-Colonial Society" by Cian Dayrit (1335 Mabini)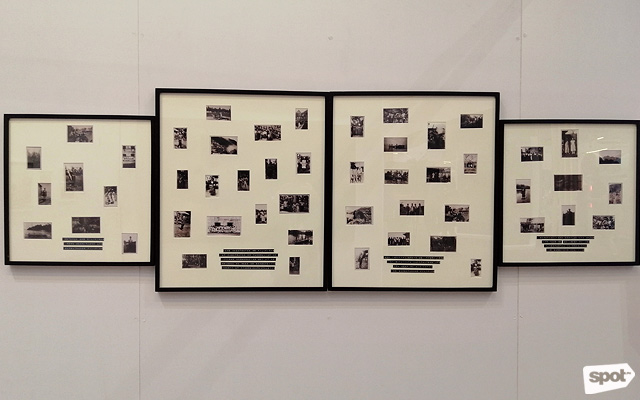 ADVERTISEMENT - CONTINUE READING BELOW
Through archival and black-and-white images of Filipino ethnolinguistic groups, Cian Dayrit exposes themes of feudalism and colonialism that continue to affect society. His statement couldn't be louder than the labels on each of the frames: "Mayaman ang Pilipinas pero naghihirap ang sambayanang Pilipino," "Ang kasaysayan ng Pilipinas ay kasaysayan ng tunggalian ng iilang naghaharing uri at ng malawak na masa ng sambayanang inaapi at pinagsasamantahalan," "Ang imperyalismong U.S., pyudalismo, at burukrata kapitalismo ang mga ugat ng kahirapan ng sambayang Pilipino," "Demokratikong rebolusyong bayan ang tanging soluyson sa mga pundamental na problema ng sambayanang Pilipino."
"The Golden Hour" by Brave Singh (Blanc Gallery)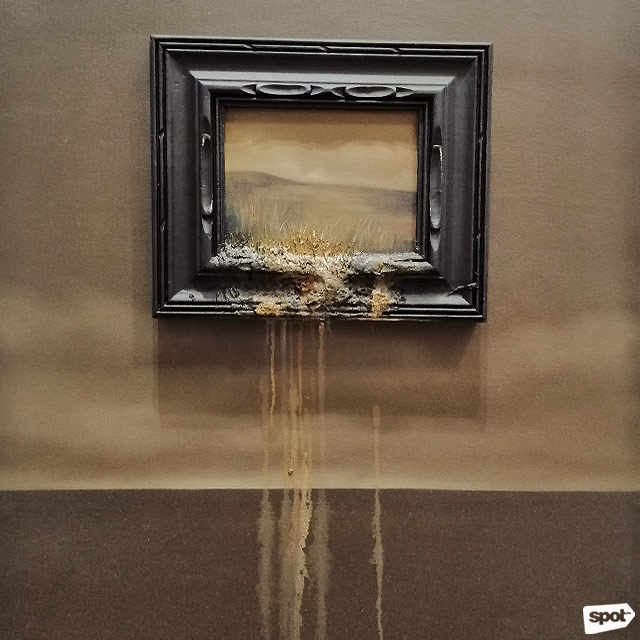 Brave Singh reverses what we think of the "golden hour," that time of the day—after sunrise or before sunset—when natural light is at just the right hue and tone. In "The Golden Hour," we see a framed photo melting away.
ADVERTISEMENT - CONTINUE READING BELOW
Untitled work by Jose Santos (The Drawing Room)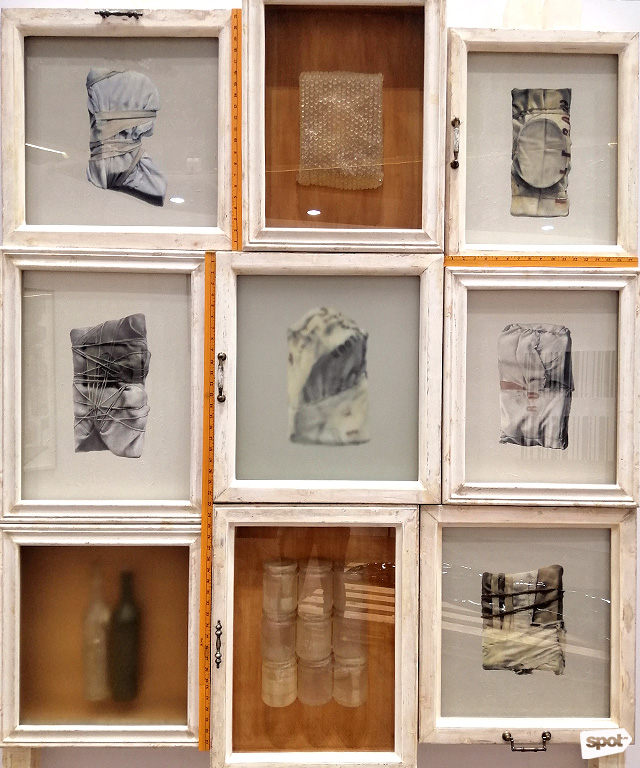 In his installation, Jose Santos puts together found objects, such as jars, bottles, and bubble wrap, all typically used to contain everyday objects. Alongside them are images evoking restraint and containment.
"Lot 1" and "Perpetually Sporadic Series" by Ella Mendoza (ArtInformal)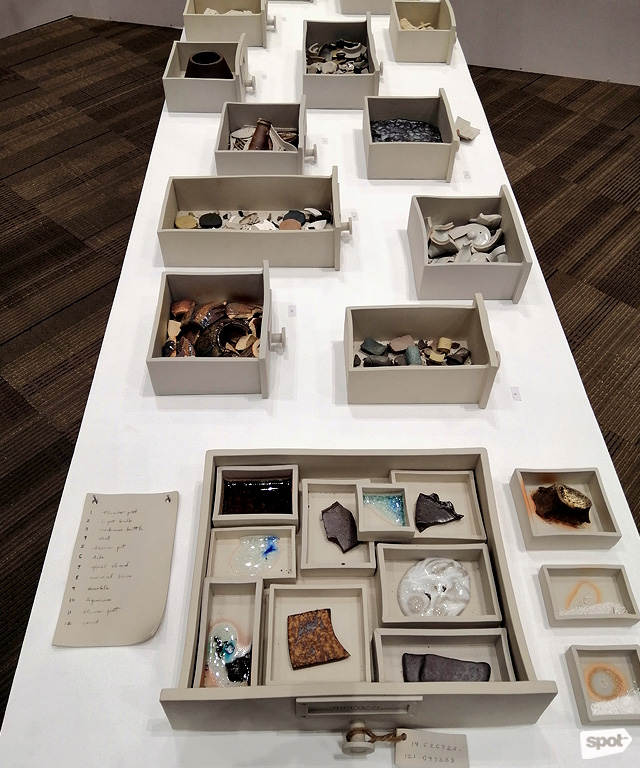 ADVERTISEMENT - CONTINUE READING BELOW
Spread out on a table are unhinged cabinet drawers that are actually gas-fired  stoneware pieces containing found objects. "Lot 1" contains pieces of ceramic, each with a label—indicating that they are or were part of something. "Perpetually Sporadic Series" groups together various items, a seemingly ironic look at randomness and categorization.
Works by Rocky Cajigan (Galleria Duemila)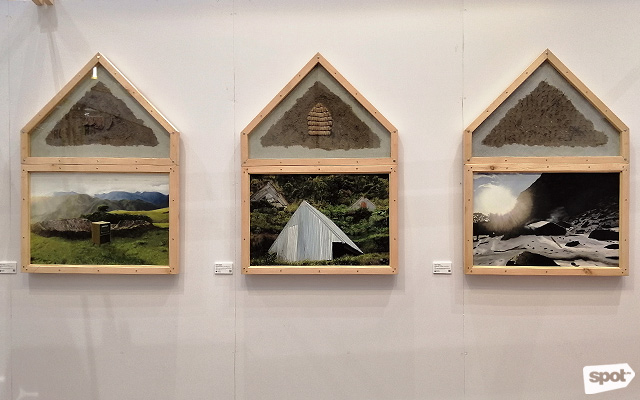 Rocky Cajigan, who hails from the Mountain Province, draws inspiration from his place of origin. "Chata, Bontoc Ili, Bontoc Mountain Province, 2616 Philippines" (leftmost) shows a view of Mount Chata—and, curiously, a television set in the center. This is matched by pieces of copper tube above the canvas. "Dalican, Bontoc, Mountain Province, 2616 Philippines" shows roofs made of metal, a representation of the growing population in that rural area. Lastly, "Tinjure, Tehrathum, Province No. 1 (Koshi), 57103 Nepal" represents one of the most popular trekking destinations in Nepal.
ADVERTISEMENT - CONTINUE READING BELOW
"Puzzled" by Christina Quisimbing Ramilo (MO_Space)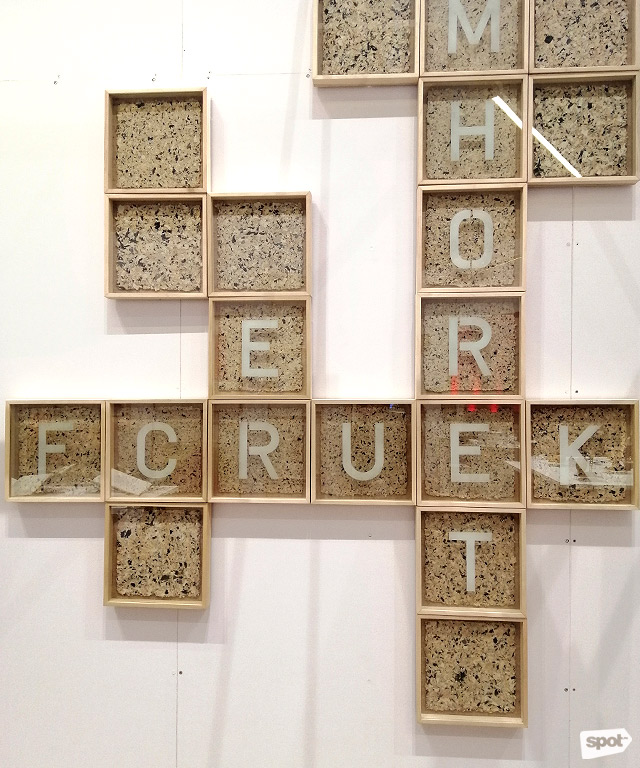 For "Puzzled," Christina Quisimbing Ramilo used discarded materials from an exhibition by Tomas Vu and Rirkrit Tiravanjia at the UP Vargas Museum in 2017. She collected the torn posters from the walls, recycled them as pieces of handmade paper—which still show traces of ink—and framed them in a crossword-style layout. And yes, you guessed it right: the letters can easily be scrambled to spell out "motherfucker," a word which was used by Tiravanjia in his series "Up Against the Wall, Motherfuckers." This work by the Thai artist is a response to police brutality against Rodney King and the 1992 LA riots. With the same intent of making a statement against police brutality, Ramilo appropriates an old piece and makes it her own.
"If Only These Hands Could Speak" by Archie Oclos (Vinyl on Vinyl)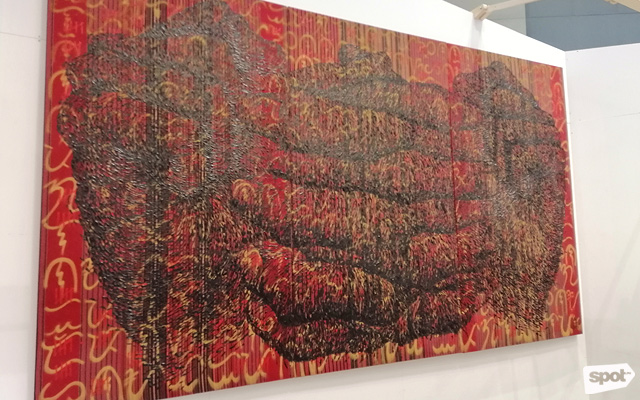 ADVERTISEMENT - CONTINUE READING BELOW
Archie Oclos' is known for drawing portraits of people from Philippine tribes to raise awareness about indigenous communities. In "If Only These Hands Could Speak," he hopes to recognize Filipinos who make their living through hard labor and make the audience aware of the continuous exploitation that enslaves them.
"Heart, Stand, Rain" by Raffy T. Napay (West Gallery)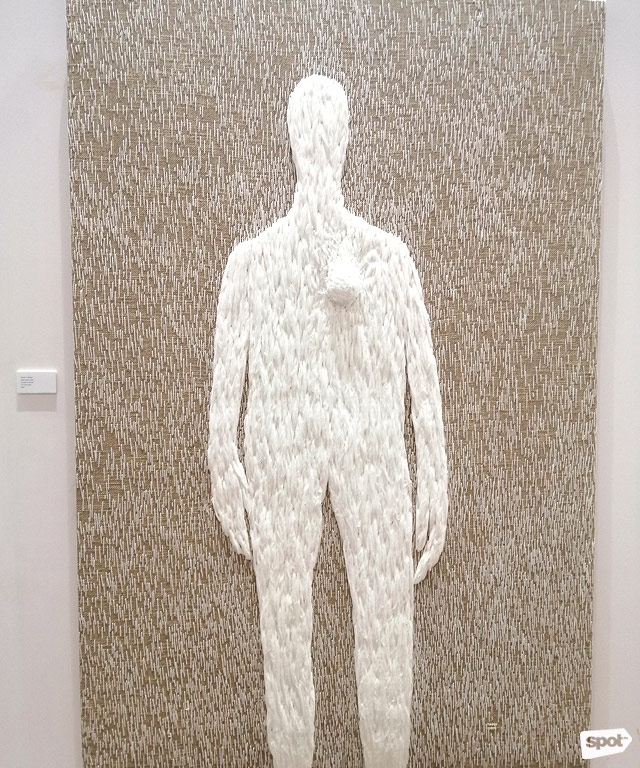 Raffy Napay once again made something out of needle and thread for ALT. In "Heart, Stand, Rain," he conjures a standing human figure with heart exposed, standing in what looks like heavy rainfall.
ALT Philippines 2020 runs from February 14 to 16, from 11 a.m. to 8 p.m. at SMX Convention Center, 3/F SM Aura Premier, 26th Street corner McKinley Parkway, Bonifacio Global City. Tickets, priced at P250, are available through SM Tickets or at the on-site ticket booth. For more information, visit ALT Philippines' website.
ADVERTISEMENT - CONTINUE READING BELOW
Share this story with your friends!
---
Help us make Spot.ph better!
Take the short survey
Load More Stories