These On-Point Political Cartoons Prove Art Is Always Relevant
They drop some serious truth bombs.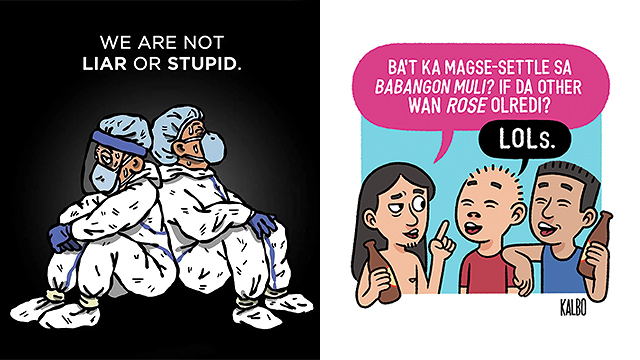 (SPOT.ph) Back when broadsheets were still huge, you'd often find a large-sized cartoon on the opinion page of a newspaper. It's drawn in the style of a caricature, where subjects are sketched in an exaggerated way to make a point; and typically feature a satirical scenario in the context of the current political climate. Who can forget editorial sketches of Fidel V. Ramos with a huge cigar when he was still president, the image of former U.S. President Donald Trump with his hair, and other symbols and images that say a lot about national issues?
History of Political Cartoons in the Philippines
But political or editorial cartoons are nothing new. The Philippines' history with this journalistic tradition dates all the way back to the time of Jose Rizal. In 1886 England, he adapted and published the Filipino folktale The Monkey and the Tortoise with a cartoon—actually a commentary against the Spaniards. During the early American occupation, a number of magazines—including Philippines Free Press—used political cartoons to poke fun (while revealing truths) at the United States' benevolent assimilation policy, corruption in the colonizer's government, and other issues in U.S.-Philippine relations.
ADVERTISEMENT - CONTINUE READING BELOW
According to a peer-reviewed journal article by John A. Lent in a 1998 issue of Philippine Studies by Ateneo de Manila University, editorial cartooning continued to thrive in the Philippines, at least until the Marcos dictatorship. "Editorial cartooning was severely subdued," he wrote.
On September 22, 1972, former dictator Ferdinand Marcos Sr. issued Letter of Instruction No. 1,  which authorized the military to take over privately owned media outlets nationwide.  "Freedom of the press came to a very abrupt end," wrote David A. Rosenberg in a 1974 issue of Pacific Affairs, which was published by the University of British Columbia.
Perhaps the most popular editorial cartoon in more contemporary times is Pugad Baboy (1988) as politicians and public figures serve as the butt of Pol Medina Jr.'s jokes. As one of the comic strip series that emerged post-Martial Law, one of the main characters is a communist rebel, who hangs out with a chauvinistic soldier. His political insights are evident in sarcastic and loaded remarks in every panel of Pugad Baboy.
Fast forward to the present when the Philippines finds itself at yet another political crossroad, cartoonists are using the power of the pen (or, in this case, digital pen) to throw easily understandable commentaries and satires that hit close to home. 
Also read: 10 Relatable Webcomics That Are Both Funny...and Not
Here are local political cartoons you can follow online: 
Tarantadong Kalbo
CONTINUE READING BELOW
Recommended Videos
Tarantadong Kalbo, which was started in July 2019 by Filipino artist Kevin Eric Raymundo, touches on the many national issues that upset Filipinos on a daily basis. "P*t*nginang balita 'yan," says one panel—and we can all relate. Its most recent commentary include a brilliant workaround on COMELEC's tarpaulin rule, slogans of presidential candidates, and a possible local scenario of zombie film All of Us Are Dead. In July 2021, Raymundo started an unintended, impromptu collaboration with Filipino artists. Tumindig became an online trend where people created their own fist-shaped avatars in solidarity; standing up for the truth amid rows of anthropomorphic fists bowing down in obedience to their idol. 
Cartoonist Zach 
Self-described as a "satirist from the Philippines," Cartoonist Zach uses a lot of symbolism in their illustrations. Don't mistake the cartoons as solely entertainment- or humor-driven, as there are a lot of truth bombs in most panels. In one cartoon, for example, Lady Justice's sword and balance are taken hostage by a political leader.
ADVERTISEMENT - CONTINUE READING BELOW
Kapitan Tambay
Portraying the common Filipino, Kapitan Tambay doesn't pull any punches when it comes to satirical storylines. Expect to see how some of the politicians' arguments can be very ridiculous, especially when appropriated in daily conversation. Take for example a child who's asked to buy vinegar from the store, but doesn't reveal that he still has change to spare. The comics have been on Facebook since 2017.
Isang Tasang Kape
ADVERTISEMENT - CONTINUE READING BELOW
Isang Tasang Kape, whose artist is described as a "social commentator/satirist," has been on Facebook since April 2020. The illustrations often use anthropomorphic figures, such as a lamp with feet shedding some light on the ill-gotten wealth, a turtle with a "conflict of schedule," and a laptop with fangs.
Marian Hukom 
Using vibrant colors, Marian Hukom's art may seem innocent at first glance. But don't be fooled by the cute curves, as the panels offer heartwarming scenarios in the Philippines that are hard to forget (and even harder to turn a blind eye to).
We are now on Quento! Download the app and enjoy more articles and videos from SPOT.ph and other Summit Media websites.
Share this story with your friends!
---
Help us make Spot.ph better!
Take the short survey
Load More Stories