(SPOT.ph) There's nothing sweeter than nostalgia except for those sweets that we grew up with and have slowly been being pulled from shelves in favor of more modern innovations. Today, we're looking back at 10 candies that made us the overly active, sugar-rushed children that we are were.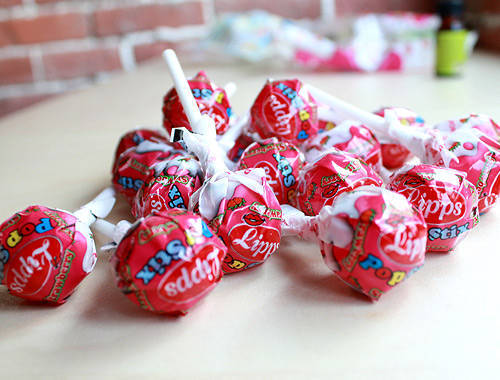 Lipps
Who needs lipstick when you have Lipps? The sugary-sweet, er, sweet that gives your puckers that much-coveted Angelina Jolie pout for a minute fraction of the cost of Botox. This instant lipstain is the instant cosmetic for little  girls who are too young for the real thing. Boys can wear it, too.
P19.25 for a pack of 20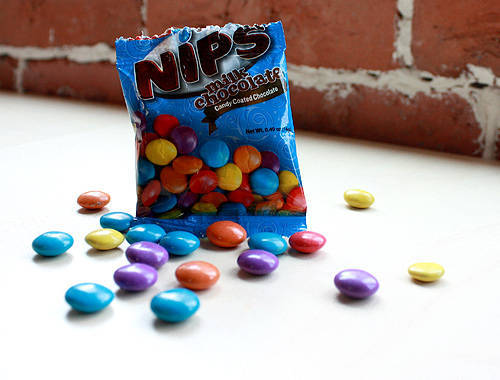 ADVERTISEMENT - CONTINUE READING BELOW
Nips
And when there's Lipps, there's Nips. A local counterpart of M&Ms, these candy-coated droplets of heaven are so good they'll make you burst into song. Everybody now: "You wanna see what happens in a bag of Nips? What goes on before they touch my lips? They make a rainbow..."
P36 for a pack of 12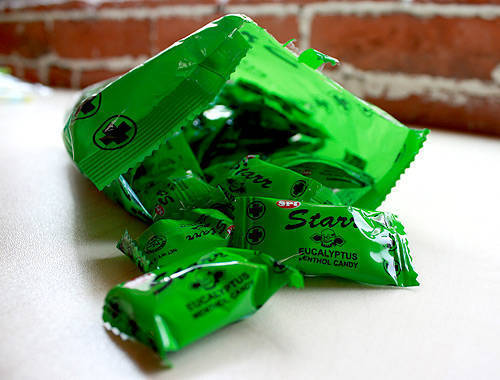 Storck/Starr
Nothing like a good old name change to turn things around. The formerly popular menthol candy once ran circles around the competition with its refreshing blast of mouth-to-throat mintiness. In 1996, however, the Los Angeles Times published an article saying that Storck was dangerous for the health as its iconic green wrapper contained  high levels of lead. Several years later, Storck was revived as Starr but still featuring that same good-feeling mintiness inside the same green packaging (now in pillow-shaped form), which is hopefully now lead-free.
P26.75 for a pack of 50

CONTINUE READING BELOW
Recommended Videos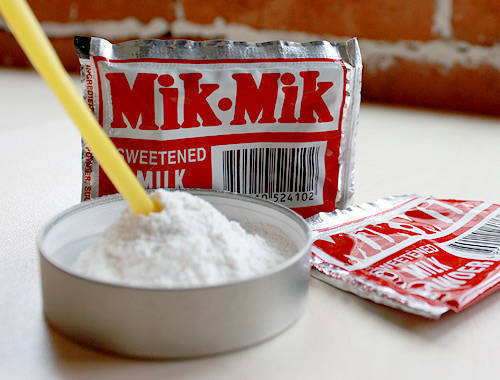 Mik-mik
Amusingly enough, the fine white grains of milk remind us of a different, more notorious white powder and the effects are similar too: an addicting type of sweet bliss that'll make you oblivious to the rest of the cruel world. You won't even realize that you've gone through a whole packet, too. No to drugs, yes to Mik-mik.
P11.50 for a pack of 22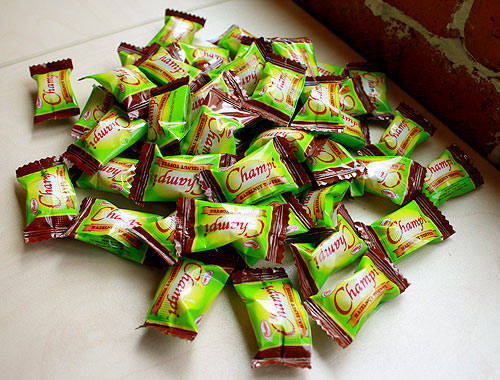 ADVERTISEMENT - CONTINUE READING BELOW
Benson's
Back then, if you were feeling rich, you'd buy the P2 Benson Eclair instead of the other "cheap" P1 offerings in the  sari-sari store. Benson's redefines the eclair by turning it into a chewy, toffee-flavored confection known as the "sosi" candy. We used to eat them with our pinkies sticking out.
It's no longer available locally, but you can try Champi which is P27.75 for a pack of 50.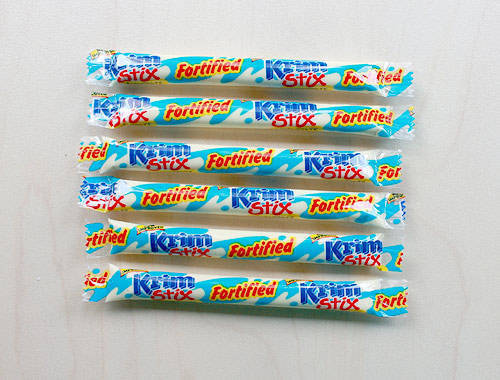 Choki Choki
There's an art to eating this tube of chocolate cream, an art which we, by the way, perfected after years of gumming the stuff in the '90s. You tear off the top with your teeth before proceeding to gingerly press through the tube to get that gooey chocolatey goodness. Once you're done, that's when you really have to put some teeth into it. Don't deny it, we know you did it too when you were a kid: putting the whole wrapper in your mouth, clamping it tightly with your lips, then pulling the exposed end just to make sure you've sucked out all of it. That's how good it was. You really had to the take the bit between your teeth.
ADVERTISEMENT - CONTINUE READING BELOW
We see it in stores every now and then, but we find that the rival (and equally luscious) Krimstix is more commercially available at P24.50 for 25.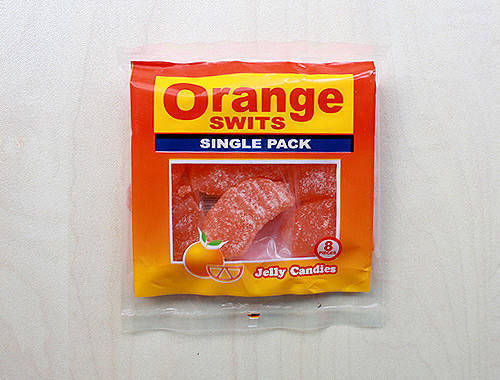 Orange Swits
Before Potchi was even conceptualized, we had Orange Swits, the purveyor of local sugar-coated jelly treats in the country. Better brush your teeth after, though. They're a little clingy.
P6.50 for a solo pack and P33.95 for a pack of 50.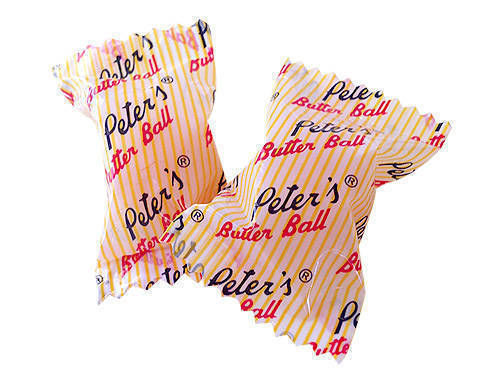 ADVERTISEMENT - CONTINUE READING BELOW
Butter Ball
Imagine the rich, salty, unctuousness of butter rolling around your tongue, massaging your palate with its luscious indulgence. Or you can just have a Peter's Butter Ball.
Free at Stacy's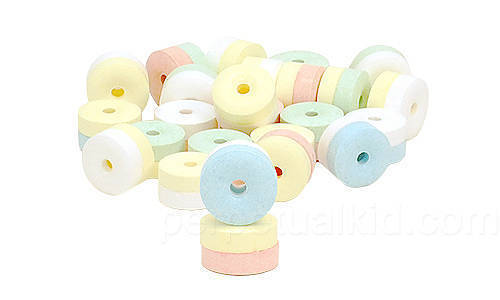 Photo from www.perpetualkid.com
Whistle Polo
God's gift to those without the gift to whistle, these half-white, half-orange sweet (which are, by the way, not associated with the trademarked "mint with a hole") makes making music with our mouths much easier with its shrewd design. The actual candy, on the other hand, we didn't really care for.
Available in sari-sari stores for P5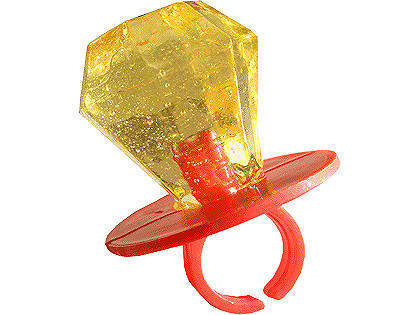 ADVERTISEMENT - CONTINUE READING BELOW
Photo from weddingbells.ca
Ring Pops with kiamoy
Back then, when girls were easily dazzed by a a shining rock of sugar with a hidden gem of kiamoy inside, this ring candy was all the rage. The challenge was to reach the plum within the 20-minute time frame of recess.
Ring Pops are an international brand, but we haven't seen one with a plum inside in years.
Photos by Sasha Lim Uy (except Whistle Candy and Ring Pop)
Share this story with your friends!
---
Help us make Spot.ph better!
Take the short survey
Load More Stories