(SPOT.ph) If you don't already know, here at SPOT.ph, we love food. You need it to live, but we find that there are some dishes that go well past the virtue of necessity. While others content themselves with a deep fryer and the usual salt and pepper, there are some who make-or at least try to make-an art out of it, with delicious displays and even yummier flavors. We believe those that go above and beyond their duty deserve necessary recognition. Our top picks among the dishes we ate throughout March: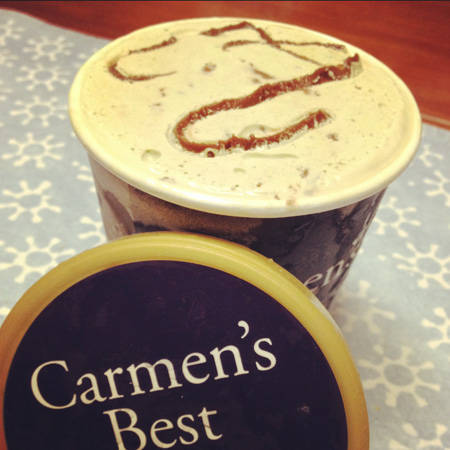 ADVERTISEMENT - CONTINUE READING BELOW
1. Pistachio with Almond Fudge Ice Cream by Carmen's Best
For one, it's by Carmen's Best, SPOT.ph's No. 1 Homemade Ice Cream, so it's good just as expected. No question about that. No one makes pistachio ice cream quite like owner and master churner Paco Magsaysay. For P420 a pint, you're paying for a distinct, nutty flavor that's neither too intense that you feel like it's unnatural nor too faint that you feel cheated. Like their other flavors, this one is just right. Streaks of chocolate and dots fudgy almonds break the bold creaminess with a welcome bite.
For orders, contact Carmen's Best at 809-2042, 0916-623-5956. Carmen's Best also have pocket shops around the city.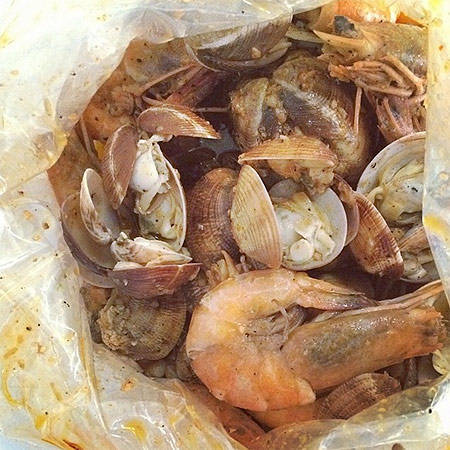 ADVERTISEMENT - CONTINUE READING BELOW
Recommended Videos
2. Bag O' Mama Assorted Seafood Bag at Bag O' Shrimps
Spicy, sweet, savory, this bag hits your every seafood craving for a little less than P500. Every piece of shrimp, clam, and crab is coated in that deliciously zingy, fiery sauce specially concocted by part owner Princess Sunga. Go on, add some sausage and corn in there, too. The mildly hot blend shines great against the plush simplicity of rice. Best of all, we love that we can eat it with our hands.
Bag O' Shrimps is at Tuscany, McKinley Hill, Bonifacio Global City.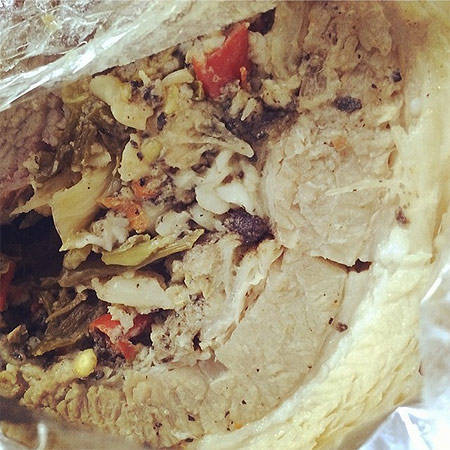 ADVERTISEMENT - CONTINUE READING BELOW
3. Chili Garlic Porchetta from Wabu
This delicious log of rolled, stuffed, roasted pork belly is spicy. A daring, peppery kind of heat that's nonetheless pleasant to the palate. The flavors of Wabu's porchetta come to the palate in layers: brine from the crispy, golden skin; savory juiciness from that lean meat. Carefully, that wonderful fiery flavor builds up as you make your way to the chilies and spices in the middle. It's like a slow love affair that suddently bursts into uncontrollable passion.
For orders, contact Wabu at 0917-598-4440.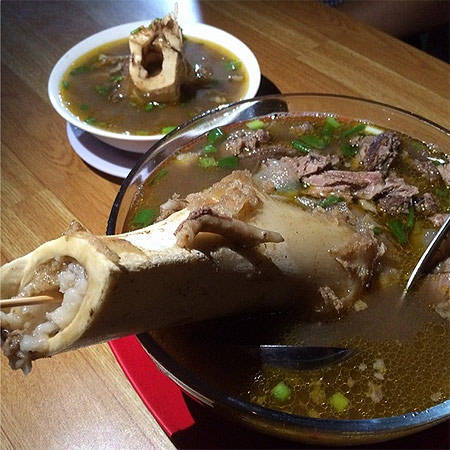 ADVERTISEMENT - CONTINUE READING BELOW
4. Super Bulalo from Digong's Super Bulalo
The beef (or the lack of it) is an oversight, but the broth has delicious lipsmacking flavors, rich and deep in that beefy savoriness highlighted by the freshness of scallions. Lovers of bone marrow will surely enjoy picking at the fathomless core with a barbecue stick. It gives a natural buttery goodness to rice or, if you're on a "diet," to the soup.
Digong's Super Bulalo is at V. Luna Extension, Diliman, Sikatuna Village, Quezon City.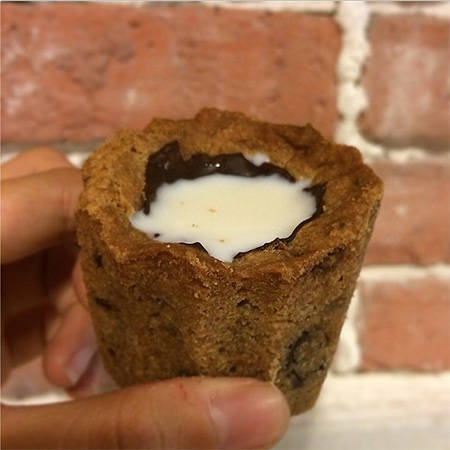 ADVERTISEMENT - CONTINUE READING BELOW
5. Cookie Shots from Cookie Bar Manila
A home-based enterprise famous for their cookie cups and filled cookies, it was only a matter of time before Cookie Bar's Ivorie Acosta did this long-9GAGged dessert dream. Dominique Ansel did it first, but we weren't too far behind. Cookie Bar's is different in the sense that Acosta adds a lining of dark chocolate to save the cookie from soaking through. The traditional milk-and-cookie pair is always acceptable, but take it up a notch with coffee or Kahlua. A box of eight is P320, but trust us when we say that a "glass" is surprisingly filling.
Cookie Bar Manila is at 83 East Capitol Drive, Kapitolyo, Pasig City. Cookie shot orders must be placed four days in advance (depending on availability).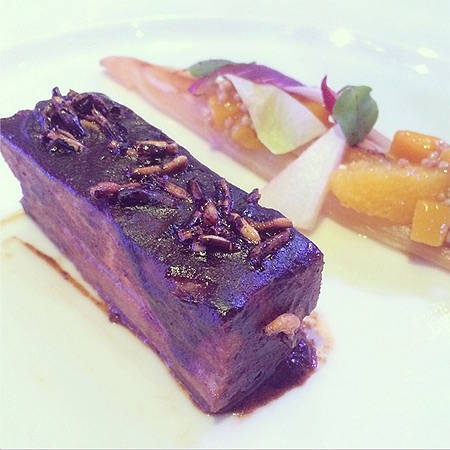 ADVERTISEMENT - CONTINUE READING BELOW
6. Geoffrey Zakarian's Adobo Spiced Pork Belly
It's not something we'll likely have again. This version of adobo was crafted by Iron Chef and Michelin-starred restaurateur Geoffrey Zakarian specially for the Feast of Colours benefit to aid Philippine disaster relief operations. The pork is cooked in a combi over for 18 hours, creating a soft, juicy spectacle spiced with tomato, cider vinegar, cloves, cumin, and chili to create that sweet-tangy adobo effect. To honor a Filipino tradition, Zakarian also sprinkled some toasted rice for extra crunch on top.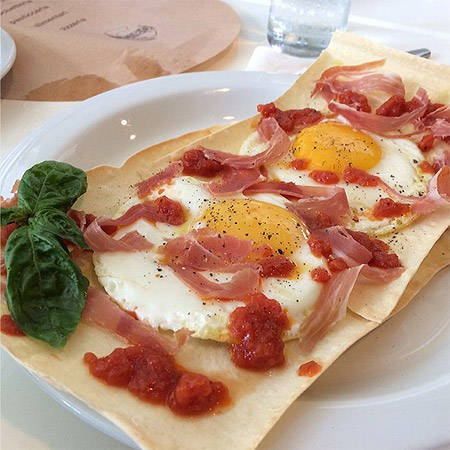 ADVERTISEMENT - CONTINUE READING BELOW
7. Il Sardo at CIBO Ristorante
These P200 delicious flatbreads are part of CIBO's relatively new, relatively unsung Brunch menu. Of all of Gaita Fores' egg-y breakfast concoctions, this is the one that will have anyone hooked. The Il Sardo is done the Sardinian way, with a crust that's paper-thin but unyielding. It's a beautiful canvas to the homemade tomato paste, sunny side-up eggs, and prosciutto. Sprinkle some pepper for a touch of heat.
Click here for a list of CIBO branches.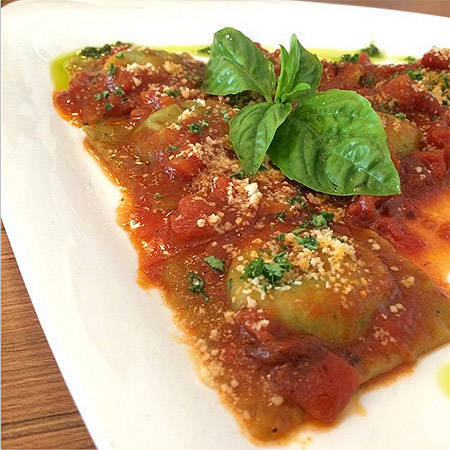 ADVERTISEMENT - CONTINUE READING BELOW
8. Ravioli Con Spinaci at Benassi Ristorante
It's a rich, herbacious balance of spinach-stuffed pillows topped with a zesty sauce of fresh tomatoes and the bitter savor of garlic. Authentic Italian flavors are tempered to be friendlier to the Filipino palate and we love the consideration. The result is stunning contrasts that fit like pieces of a puzzle.
Benassi Ristorante is at the Exchange Regency, Ortigas, Pasig City.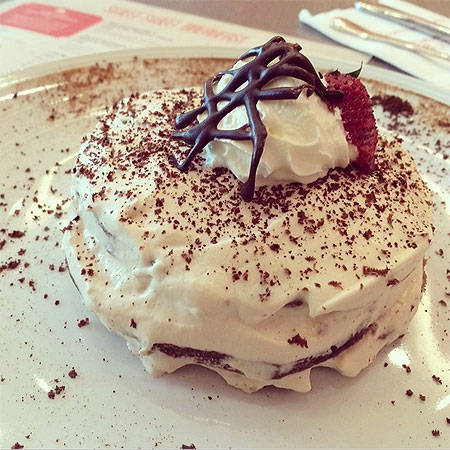 ADVERTISEMENT - CONTINUE READING BELOW
9. Tiramisu Pancakes at Early Bird Breakfast Club
These pancakes aren't served fresh from the griddle. They're chilled, with a velvety texture made extra luscious by the cream in between. Thick of it as a stacked cake, but with pancakes instead. There's that subtle bittersweetness from coffee and chocolate that makes this breakfast-cum-dessert so delectable.
Early Bird Breakfast Club has branches at The Fort Strip, Bonifacio Global City and Century City Mall, Makati City. An Eastwood branch is also in the works.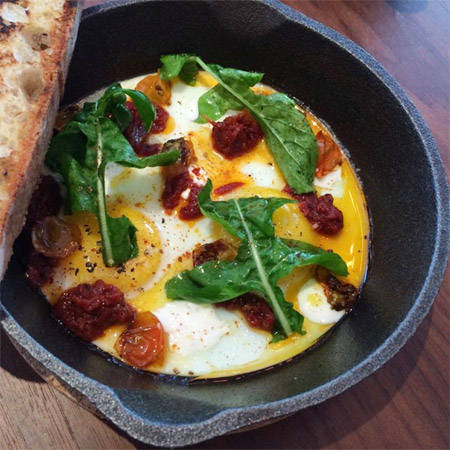 ADVERTISEMENT - CONTINUE READING BELOW
10. Baked Eggs at Toby's Estate
This dish (as well as Toby's Estate's other dishes) are so new, they're not being offered yet. In fact, we're not sure how they'll be officially labeled on the menu. Two eggs are baked on a cast-iron skillet just enough to keep the yolks runny and topped with tomato compote, wilted arugula, and a dash of pepper. Simple, but inspired. You'll definitely want to keep digging into it with that side treat of brioche. Watch for our full article next week.
Toby's Estate is at V Corporate Center, Leviste Street, Makati City.
Share this story with your friends!
---
Help us make Spot.ph better!
Take the short survey
Load More Stories