10 Filipino Restaurants Around the World
A taste of home no matter what country you're in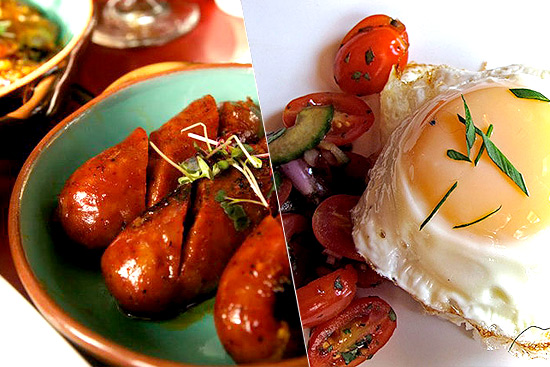 (SPOT.ph) Filipinos have been all over of the planet long before Zagat deemed our food "an emerging cuisine" in 2013. No one ever had to look too far for a taste of home. We listed 10 Filipino restaurants around the world that make the country a little bit closer to Pinoys worldwide while introducing things like adobo and biko to a global audience.
With the exception of the United States, we only chose one Filipino restaurant per country. Chains like Jollibee, Max's, and Goldilocks were not considered. SPOT.ph recognizes that there are more than 10 Filipino restaurants around the world. This list is not ranked.
ALSO READ:
10 Best Filipino Restaurants in Manila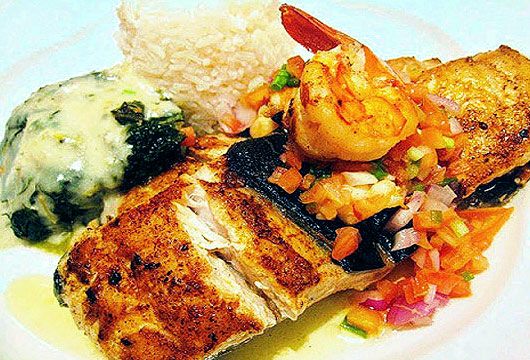 Photo from The Best Singapore
1. Bonifacio
35 Kreta Ayer Road Chinatown, Singapore
Bonifacio, named for the revolutionary founder of Katipunan, is a five-year-old restaurant born of the partnership between one Filipino and three Singaporeans who love the culture. The restaurant is simple, highlighting Filipino homecooked classics. The interiors are basic enough for a Sunday lunch habit, yet refined enough for celebrations. Just like many restaurants here, Bonifacio has a wall covered with celebrity visitors-Filipino and otherwise. One must-try is the Bayan Ko which is like their version of tortang talong.
ADVERTISEMENT - CONTINUE READING BELOW
Other Filipino restaurants in Singapore: 7,107 Flavours, Mang Kiko's, Kabayan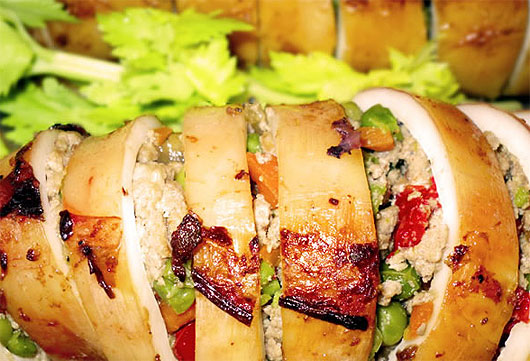 CONTINUE READING BELOW
Recommended Videos
Photo from Rice Terraces website
2. Rice Terraces
93 St. Leonard's Street, Edinburgh, Scotland
After the success of fine-dining concept Philippine Islands comes this casual sit-down that takes pride not only in the worldly flavors of Filipino cuisine, but also in one of the man-made wonders of the world, located in the Mt. Province. With a sign in shamrock green under the blue and red Filipino flag, Rice Terraces offers an extensive selection of Filipino staples from tinolang manok to San Miguel Beer. To really create that authentic ambiance, this restaurant also offers a "kamayan" setup where guests can eat with their hands. This, on top of catering, wholesale, and delivery services.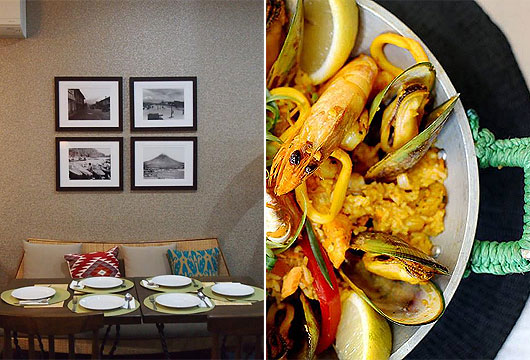 ADVERTISEMENT - CONTINUE READING BELOW
Photo from La Mesa website
3. La Mesa
19 Goulburn Street, Haymarket, Sydney, Australia
La Mesa looks like one of those upscale, intimate restaurants we see in the Philippines: dim lighting, rattan lanterns, woodwork. The décor is "native" without being naïve-as if to quietly usher in Australians to the mighty flavors of Filipino food. A loyal clientele and word of mouth slowly built up La Mesa's reputation, and now new customers come in regularly.  Dishes are classic, such as bagnet, pinakbet, chicken adobo, cassava, and biko, with options for ala carte or banquet-sized servings.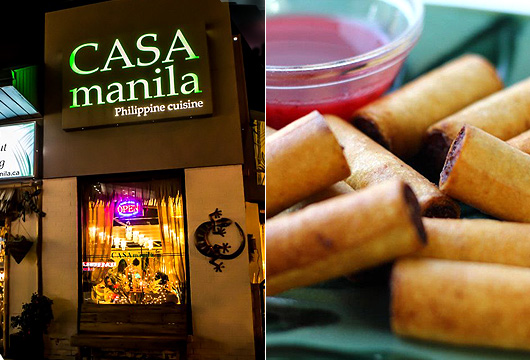 Photo from Casa Manila website
4. Casa Manila
879 York Mills Road, Toronto, Ontario, Canada
This just in: Casa Manila is making suckling pig a part of their special Easter offerings. Zoom us to Canada right now. This restaurant describes their version of Filipino fare as "unique, delicious, and healthy." While we can't think about that last adjective without imagining a roasted pig with an apple in its mouth, this award-winning locale knows their Pinoy flavors well: lumpia, ensalada, kaldereta, bangus, and more. The décor takes inspiration from the tropics, with bamboo fences, nipa fringes, and white lattices that make you feel you're seaside.
ADVERTISEMENT - CONTINUE READING BELOW
Other Filipino restaurants in Toronto: Lamesa Filipino Kitchen, Sampaguita Village, Tocino Boys, Jollytops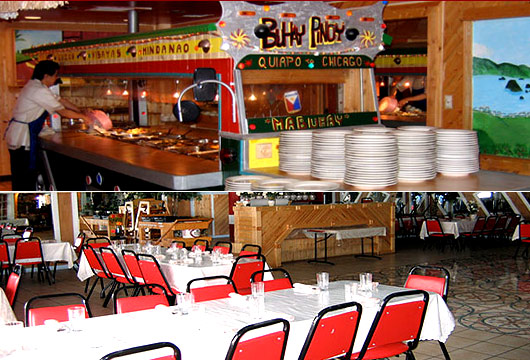 Photo from Little Quiapo Restaurant website
5. Little Quiapo
6259 N. McCormick Avenue, Chicago, Illinois, USA
Little Quiapo was established in 1979 to give Filipinos in Chicago a good taste of home. It's known for consistency as well as a buffet from Tuesday to Sunday served on a jeep-turned-smorgasbord. Little Quiapo has bilao-sized servings perfect for big family celebrations-how very Filipino, we must say. The place can get pretty crowded, especially during the weekends. Their large space, decked in wooden lattices and red chairs, can also accommodate a banquet for 150 people with two smaller function rooms for more intimate affairs. They also offer whole lechon available for ordering in advance.
Other Filipino restaurants in Chicago: Isla Pilipina, Uncle Mike's, Ruby's Fast Food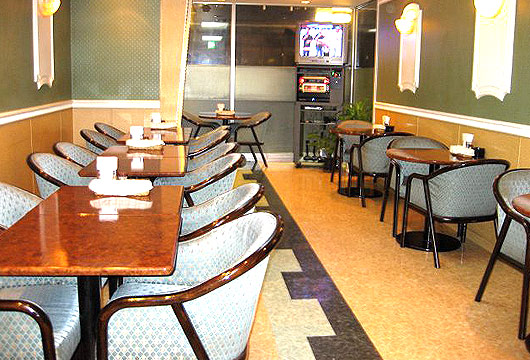 ADVERTISEMENT - CONTINUE READING BELOW
Photo from Tambayan Kinishicho Facebook page
6. Tambayan Kinishicho
4-13-13 Kotobashi, Sumida-ku, Tokyo, Japan
This nook takes pride in being one of the longest-running Filipino restaurants in Japan. It's small, just a short stretch of restaurant with two rows of tables installed on both sides. But this joint expresses Filipino hospitality like no other. Despite the tight space, Tambayan makes guests comfortable with cushioned booths and chairs, and occasional all-you-can-eat specials. With strong a catering and baking arm, it's great for Filipino celebrations.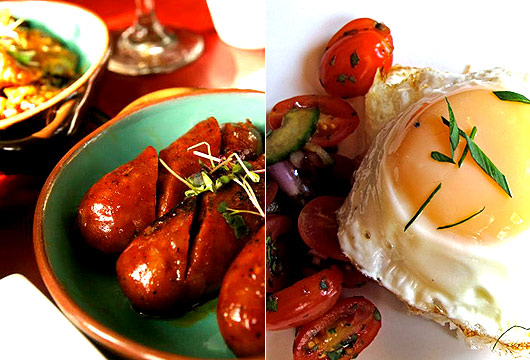 Photo from Maharlika NYC website
7. Maharlika and Jeepney
111 First Avenue corner 7th Street, New York, New York, USA (Maharlika)
201 First Avenue corner 12th Street, New York, New York, USA (Jeepney)
It's impossible to separate these two restaurants. Maharlika is one of those places that put Filipino cuisine on the map-and in bustling New York, that's not an easy feat. Unlike other Filipino restaurants, Maharlika doesn't pretend to imitate your mother's home-cooked meals. Here, tradition is innovated upon and dishes come out looking more like a showcase of reinvented Filipino food that serves as a gateway for those unacquainted with the cuisine.
ADVERTISEMENT - CONTINUE READING BELOW
Jeepney is Maharlika's livelier, more relaxed, more colorful younger sister, also featuring updated Filipino dishes.
Other Filipino restaurants in New York: Purple Yam, Cendrillon, Talde, Pig and Khao, Ugly Kitchen, Pan de Sal (their pan de sal costs $2.50 a piece)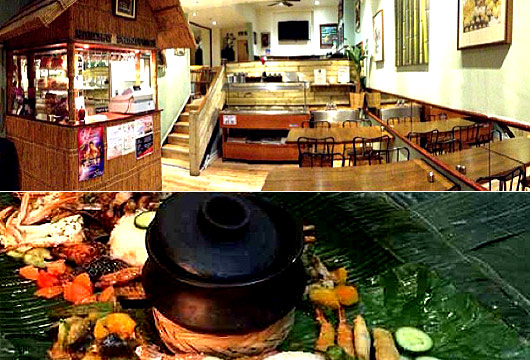 Photo from Lutong Pinoy UK website
8. Lutong Pinoy
10 Kenway Road, London, United Kingdom
This cozy joint was founded by a small London-based family in 1996. Simple home cooking is the premise. In typical Filipino fashion, the menu is huge, varied, and affordable. We love how they put special emphasis on Gina juices, a brand which has become widely popular in its own right. On Wednesdays, they only eat kamayan-style, complete with banana-leaf table covers and palayoks.
Other Filipino restaurants in London: Josephine's, Kusinang Munti, Kabayan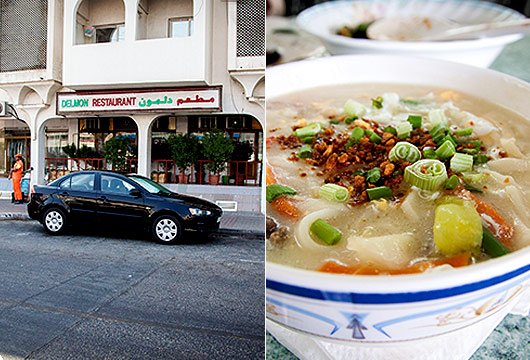 ADVERTISEMENT - CONTINUE READING BELOW
Photo from www.iliveinafryingpan.com
9. Delmon
Karama, Dubai, United Arab Emirates
Delmon is one of those no-frills hole-in-the-wall types. It's not about being spectacular or novel or outstanding. Rather, it's a reliable little place for a good bowl of sinigang or goto. The tapa is delightfully tangy, the sinangag is generously garlicky, the adobong manok is juicy and perfect. Delmon isn't always a crowd-pleaser to the most discerning of palates, but it's always a consistent place for cheap comfort.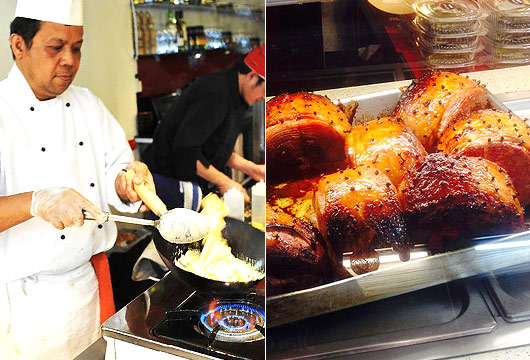 Photo from Cafe Manila website
10. Café Manila
74 Middle Abbey Street, Dublin, Ireland
Filipino is considered exotic in Ireland and Café Manila's eclectic roster of sizzling sisigs and kare-kare introduces a different kind of flavor profile compared to black pudding. Apart from setting up Filipino flavors to Ireland, Café Manila also presents a certain kind of cultural experience-karaoke nights and beauty pageantry (there's one called Bb. Ireland and another called Ginoong Filipino).
ALSO READ:
ADVERTISEMENT - CONTINUE READING BELOW
Share this story with your friends!
---
Help us make Spot.ph better!
Take the short survey
Load More Stories