(SPOT.ph) There's no doubt that food plays a big role in the lives of many Filipinos. Big celebrations such as weddings and family reunions are never complete without dishes like pancit, lechon, lumpia, and many more. It's safe to say that food is the main love language of Filipinos, so much so that rather than greeting you with the words hello, most Filipinos will instead greet you with the question, "Kumain ka na ba?"  The cuisine is a vast one with a long history and many different influences. Covering it in its entirety is no easy task—but here's your essential overview of how it came to be, the popular dishes today, and the best places to sate your Filipino cravings in Manila. Note that this is far from being all there is to the cuisine, but these are the fast facts you've gotta know.
Also read: The Restaurants to Hit Up When You Need Great Filipino Food Delivered
ADVERTISEMENT - CONTINUE READING BELOW
Here's what you should know about Filipino food at a glance:
About Filipino Food
Just look around you and you'll definitely agree that Filipinos love to eat. The cuisine of the Philippines is especially vast given the diversity of their people's own culture. Just about every part of the country has its own set of signature dishes, general flavor profiles, and ingredients native to that area.
The origins of Filipino food
Filipino food's history is as rich as some of its most famous dishes. Touted as a melting pot cuisine thanks in part to our colonial history, Filipino food has influences of Spanish, Chinese, and Western cooking.
Contrary to popular belief, Filipino food didn't start when Ferdinand Magellan came to our shores in 1521. Even before Spanish colonization, our ancestors were already trading spices with neighbors like China, India, and Malaysia. Then the Spanish came, introducing us to things like lechon, adobo, and leche flan. Then the Americans and with them came the invention of sweet Pinoy-style spaghetti, hot dogs, and burgers.
ADVERTISEMENT - CONTINUE READING BELOW
Recommended Videos
Each of the Philippines' regions have their own types of cuisine too. Luzon is known for dishes like Kapampangan sisig and spicy Bicol express, Visayas for Cebu-style lechon and Bacolod chicken inasal, and Mindanao for grilled tuna from Davao and piyanggang manok or blackened coconut grilled chicken from Zamboanga.
Like most of its Asian neighbors, Filipino food isn't complete without rice. Rice is eaten for almost every meal, whether it be breakfast, lunch, or dinner. Heck, rice even comes in the form of a snack or dessert, thanks to kakanin, or native rice cakes, like biko, puto, and bibingka.
One distinctive thing about Filipino food though is how we actually get it from our plates into our mouths. You can either forgo utensils completely and just eat kamayan style by using your hands or you can use a spoon and fork and use a spoon to shovel both your rice and ulam.
ADVERTISEMENT - CONTINUE READING BELOW
Popular Filipino dishes
You can't really talk about Filipino food without mentioning adobo. Everyone and their mom has their own version of adobo but at its core, adobo is usually a protein (pork, chicken, beef, tofu, et cetera) stewed in a tart and salty sauce made up of vinegar, soy sauce, garlic, bay leaves, and peppercorns. Each region of the Philippines has its own version of adobo. Cavite likes their adobo with turmeric and Bicol likes theirs with coconut milk and chilies. Some parts of the Visayas even forgo the soy sauce to create a version made with just vinegar called adobong puti.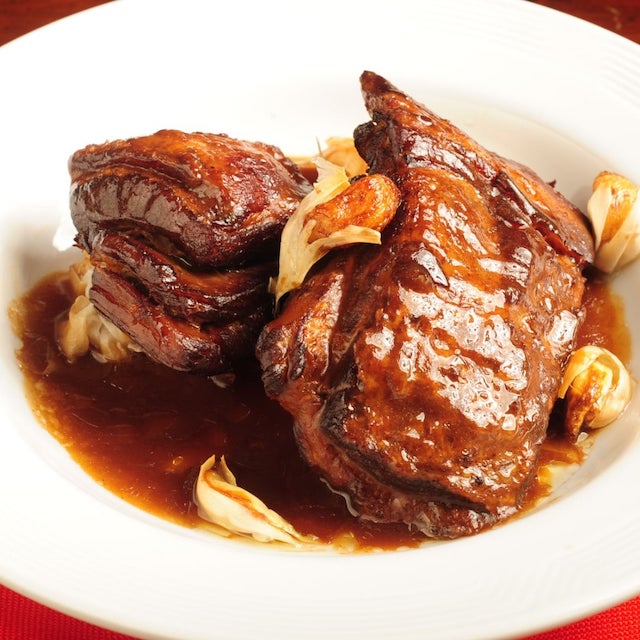 ADVERTISEMENT - CONTINUE READING BELOW
Dubbed as the unofficial national dish, sinigang is also another staple on most Filipino families' dinner tables. Characterized by its strong sour flavor, this soup is already a meal by itself. It usually comes with a protein, with pork, shrimp, and bangus being favorites, as well as a medley of vegetables. Sinigang gets its unique flavor from souring agents like tamarind and kamias, but other places have also experimented with getting sourness from strawberries, watermelons, and guava.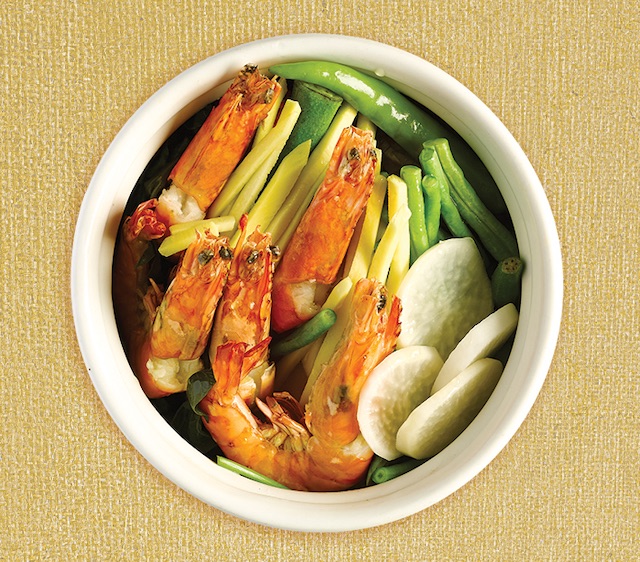 ADVERTISEMENT - CONTINUE READING BELOW
Even though it's a perennial party favorite, lumpia can be quite controversial sometimes. There's the debate of whether or not this spring roll-like dish should be representing Filipino food abroad after it was named as the top Filipino dish by one publication. There's also the eternal debate of what filling makes the best lumpia. There's lumpiang togue for those who like their vegetables, lumpiang shanghai for the meat lovers, and lumpiang sariwa for those who prefer their wrapper to be fresh and not deep fried. That being said though, lumpia will definitely not be disappearing from our parties anytime soon.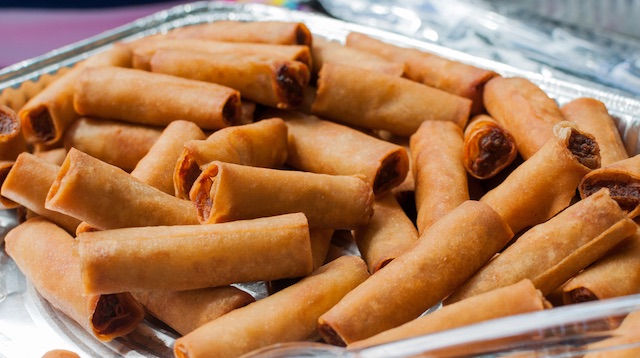 ADVERTISEMENT - CONTINUE READING BELOW
Dubbed as the Pinoy's answer to British black pudding, dinuguan is a savory stew made up of pork offal (that's basically organs like intestines, kidneys, et cetera) cooked in a rich gravy made up of pig's blood, vinegar, garlic, and chilies. Its distinctive ingredient list aside, it's a popular comfort food among Filipinos, usually eaten as a midday snack with puto.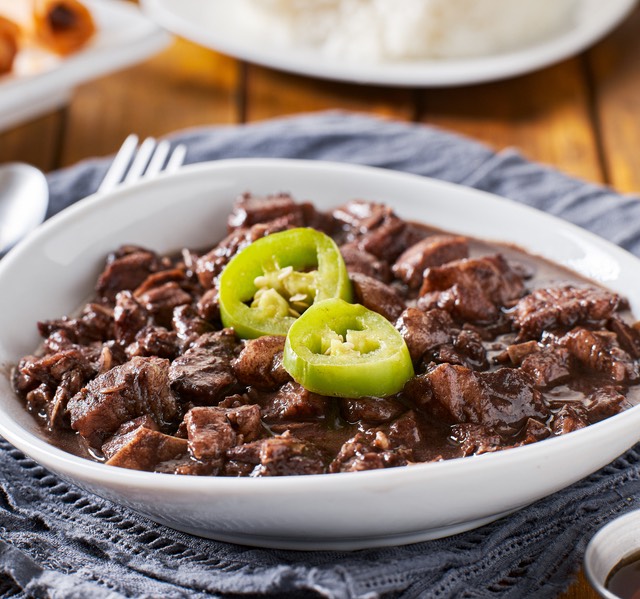 ADVERTISEMENT - CONTINUE READING BELOW
The Filipino take on curry, meanwhile, is more savory than spicy. Kare-kare is best known for its thick sauce made of peanuts, garlic, and annatto (which gives kare-kare its unique orange color). It's usually eaten with bagoong or fermented shrimp paste to help balance flavors.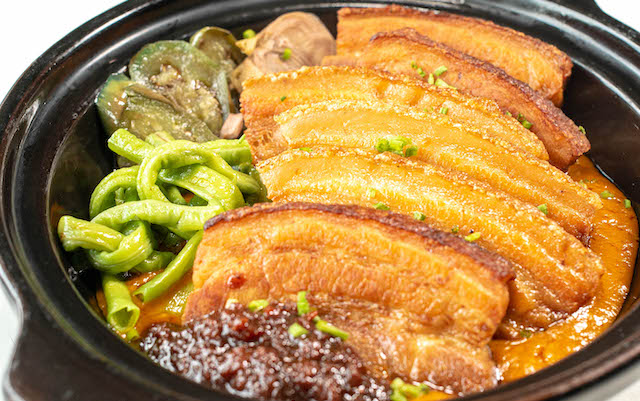 At the centerpiece of every Filipino celebration is lechon. Luzon's version comes with less frills, with the pig being seasoned simply with salt and pepper and roasted over an open pit until the skin is crispy. Lechon sauce is a must for this kind of roast pig. Visayas lechon, on the other hand, is a bit more extravagant, being stuffed with all kinds of aromatics like lemongrass, green onions, and garlic. Sauce isn't needed (and is in fact considered as sacrilegious if you ask for a bottle of Mang Tomas!), but vinegar is encouraged to help cut down on the pig's saltiness.
ADVERTISEMENT - CONTINUE READING BELOW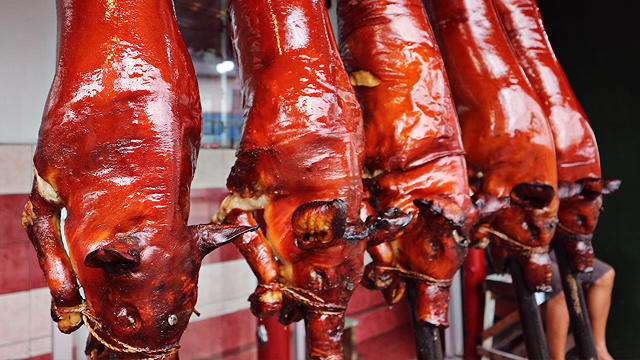 Another party favorite is pancit. This noodle dish has numerous versions, depending on the type of noodle used, the type of cooking method, and the type of ingredients. Most are familiar with pancit canton, which is made with egg noodles and different types of protein and vegetables. There are also more colorful versions like pancit malabon and pancit palabok, both of which come with a very distinct orange color.
ADVERTISEMENT - CONTINUE READING BELOW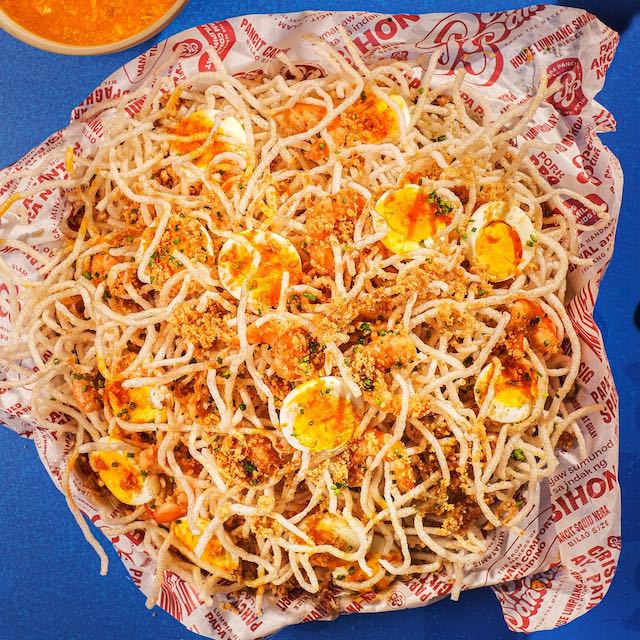 Nothing goes to waste in a Filipino kitchen and sisig is a prime example of that. This famous pulutan or bar chow is usually made of pig's face, ears, and belly, but other versions have been known to use tuna belly, chicken, and even tofu. One thing that ties them all together though is that sisig is almost always served on a sizzling plate.
ADVERTISEMENT - CONTINUE READING BELOW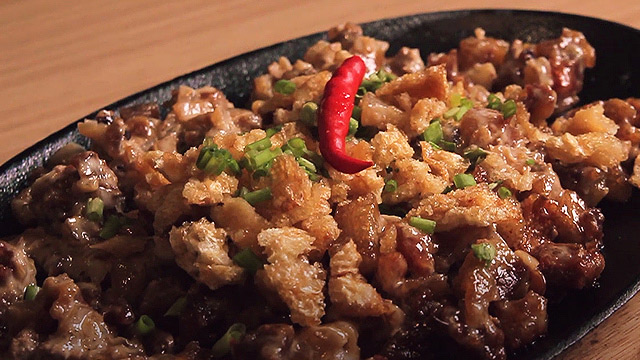 Named as the best egg dish in the world by Taste Atlas, tortang talong is made of beaten eggs and grilled eggplants. Sometimes it comes with other ingredients like ground pork or beef and vegetables like carrots. Tortang talong is definitely easy to make and can be eaten for breakfast, lunch, or dinner with a hefty side of banana ketchup.
ADVERTISEMENT - CONTINUE READING BELOW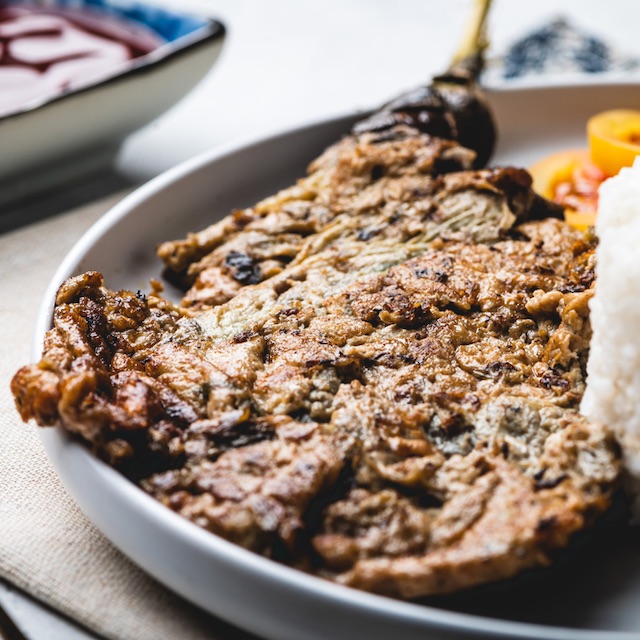 From the Tausugs of Mindanao comes chicken pianggang. This chicken dish has a distinct blackened appearance from being marinated in a sauce with blackened coconut—which lends it a rich, smoky flavor profile.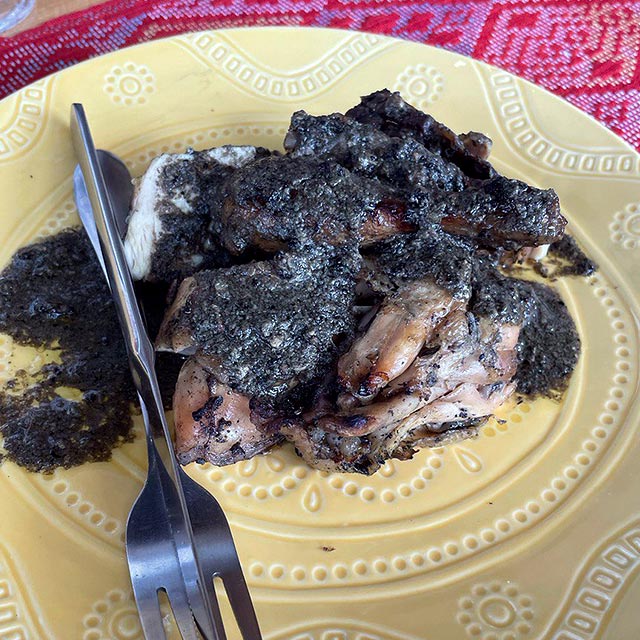 ADVERTISEMENT - CONTINUE READING BELOW
Did you know that halo-halo traces its origins to the Japanese dessert, kakigori? The original halo-halo was created by Japanese-Filipinos, with monggo beans being substituted for red adzuki beans. Later on, more toppings like leche flan, nata de coco, gulaman, and ice cream were added, leading to the creation of the modern halo-halo as we know it today.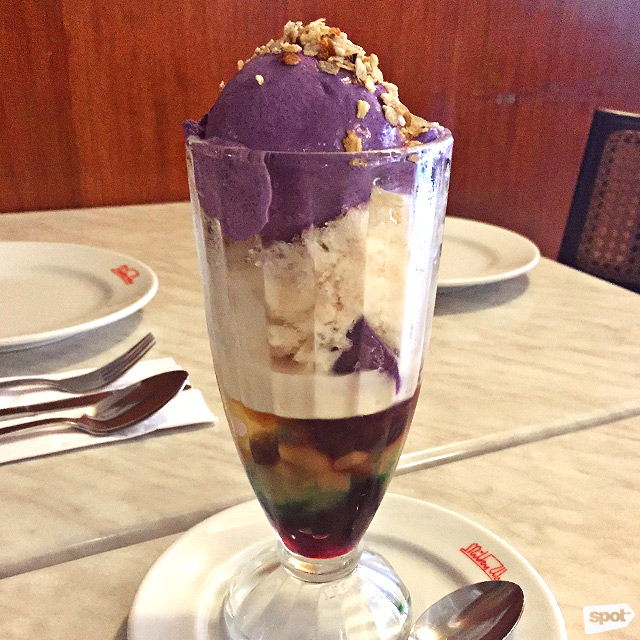 ADVERTISEMENT - CONTINUE READING BELOW
All Things Sawsawan
A Filipino dish isn't complete without sawsawan. After all, what's Luzon-style lechon without Mang Tomas or kare-kare without bagoong?
Vinegar is one of the classic choices for sawsawan, with its sour taste serving as a nice contrast to dishes like fried fish, grilled meat, and more. It can also serve as a nice base for other sawsawan combinations, such as with toyo or soy sauce and calamansi.
Many would turn their nose at patis or fish sauce, but Filipinos are known to love this fishy stuff, so much so that essays have been written about it. Not only is it a key ingredient in most local dishes, but it's also a very popular sawsawan especially when combined with other dipping sauces like vinegar and toyo.
Bagoong is a by-product of patis production, but it arguably stands on its own as a sawsawan. This fermented sauce is usually made of anchovy or shrimp, and is usually served alongside more creamy and rich dishes such as kare-kare and pinakbet, as well as fruits like green mango.
ADVERTISEMENT - CONTINUE READING BELOW
Another fermented dipping sauce is buro, which is made from rice porridge and seafood like bangus, hito (catfish), or shrimp. Its acidity serves as a nice contrast to fatty dishes like crispy pata and fried fish.
Banana ketchup is also another distinctly Filipino invention. Created in the 1940s due to a lack of tomatoes, banana ketchup is known to be sweeter than its tomato counterpart. It serves as a key ingredient in Filipino-style spaghetti, but it can also be used as a condiment for hamburgers, fried chicken, and of course, tortang talong.
Filipino Food in Popular Culture
With Filipinos being almost everywhere in the world, it should come as no surprise that Filipino cuisine is also making a big splash globally. There's Kasama in Chicago, which recently made news as being the first Filipino restaurant to earn the coveted Michelin star. Food publication Food & Wine also recently highlighted Filipino food, listing down all the best places to get Pinoy cuisine in every state in the US. Even celebrities and tv shows are getting in on the action, with Selena Gomez cooking adobo on her show earlier this year, and cartoons like Steven Universe and Craig of the Creek making animated versions of classics like sinigang, tortang talong, and ube cake.
ADVERTISEMENT - CONTINUE READING BELOW
Popular Filipino Food Places in Metro Manila
Manam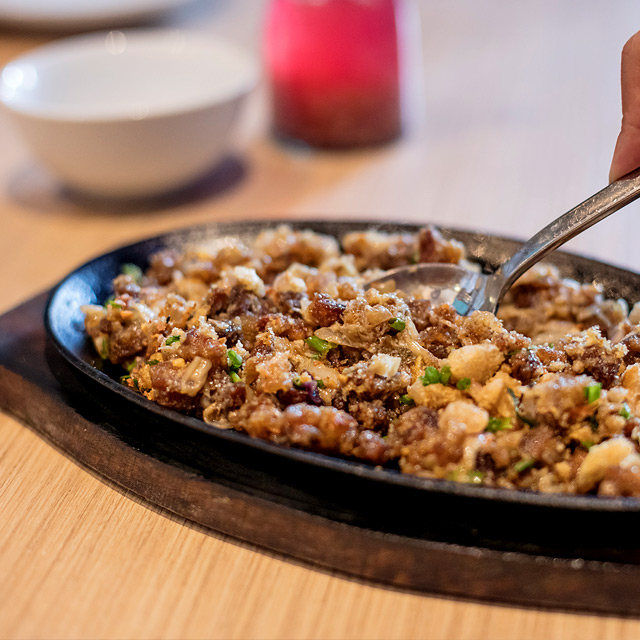 If you're looking for a place that offers both modern and classic takes on Filipino cuisine, look no further than Manam. Their menu features both traditional takes and modern twists on Filipino dishes. There's the classic Sinigang na Baboy sa Sampaloc and the more playful Sinigang na Short Beef & Watermelon, the Instagram-favorite Crispy Pancit Palabok, and of course, their bestselling House Crispy Sisig.
ADVERTISEMENT - CONTINUE READING BELOW
See a list of Manam branches.
Milky Way Café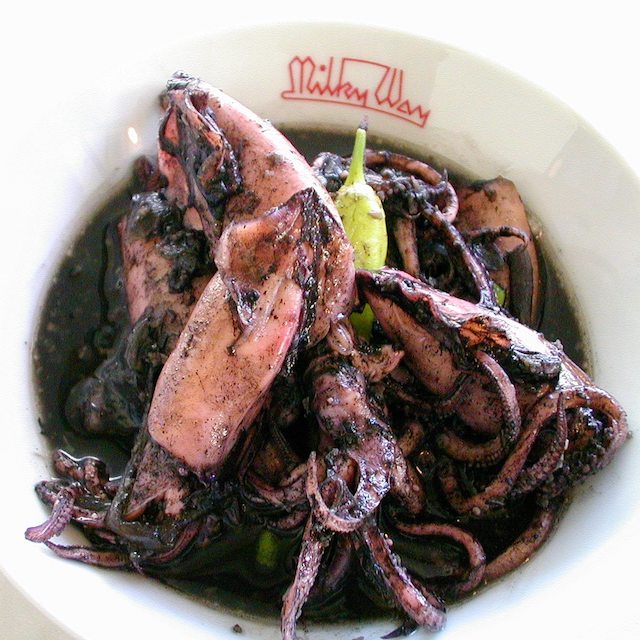 Milky Way Café traces its origins all the way back to the 1950s, first starting off as a dairy bar. Its menu has since evolved and has become the go-to place for family reunions and celebrations. Not to be missed are their takes on Sinigang, their Pork Binagoongan, and Dinuguan at Puto. Make sure to leave some room for their famous Halo-Halo!
ADVERTISEMENT - CONTINUE READING BELOW
Milky Way Café is at 900 Antonio Arnaiz Avenue, Makati City and L/P1, Power Plant Mall, Rockwell Drive, Makati City.
Romulo Café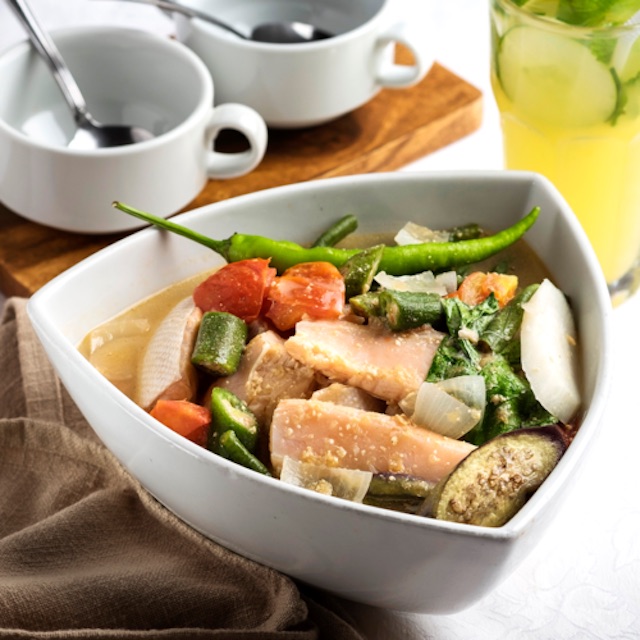 Built as a tribute to Filipino diplomat Carlos P. Romulo, Romulo Café serves up the signature Filipino dishes that Romulo and his wife served at the Philippine Embassy during their stay in the United States and at their family home in Forbes Park. There's Lola Virgina's Chicken Relleno, named after Romulo's' wife, and Tito Greg's Kare-Kare, another heirloom recipe.
ADVERTISEMENT - CONTINUE READING BELOW
See a list of Romulo Café branches.
Sarsa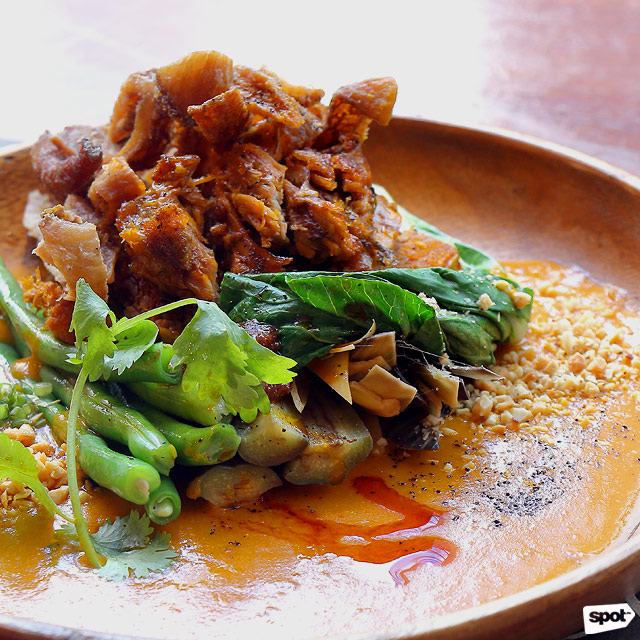 Sarsa is Chef JP Anglo's love letter to Negrense cuisine. The menu features Illongo classics like the Chicken Inasal, Batchoy Special and Beef Kansi, as well as more playful inventions such as the Sinigang Chicken Wings, Paksiw na Crispy Pata, and Inasal Sisig Pancit Canton.
ADVERTISEMENT - CONTINUE READING BELOW
See a list of Sarsa branches.
Sawsaw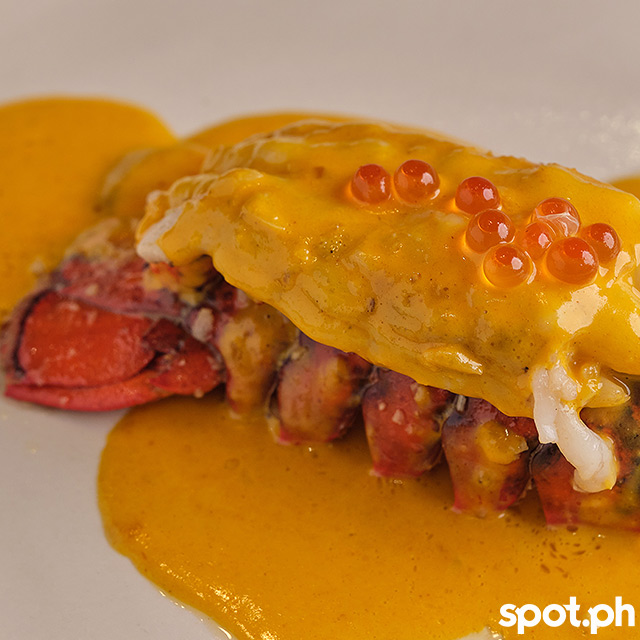 Helmed by award-winning Chef Sau del Rosario, Sawsaw marries traditional Filipino cuisine with modern techniques. The restaurant's version of Crispy Pata, for example, is cooked sous-vide for 24 hours, resulting in fall-off-the-bone tender meat. True to its name, Sawsaw also features a wide array of sawsawan, including a homemade banana ketchup that's the perfect combination of sweet and sour.
ADVERTISEMENT - CONTINUE READING BELOW
Sawsaw is at 8491 Kalayaan Avenue, Makati City.
Toyo Eatery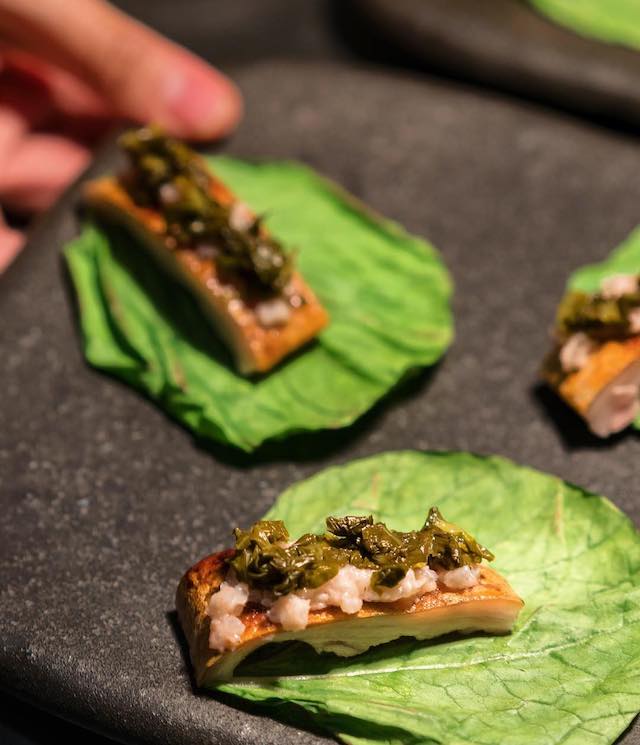 A staple on Asia's 50 Best Restaurants list, Toyo Eatery in Makati doesn't feature classics like sinigang and adobo. Instead, Chef Jordy Navarra and team has reimagined Filipino food in a whole new way. Think lugaw made with crab roe and burnt squash, silog made with free-range eggs and tuna roe, and the song Bahay Kubo transformed into a vegetable dish.
ADVERTISEMENT - CONTINUE READING BELOW
Toyo Eatery is at 2316 Chino Roces Avenue, Makati City.
Sentro 1771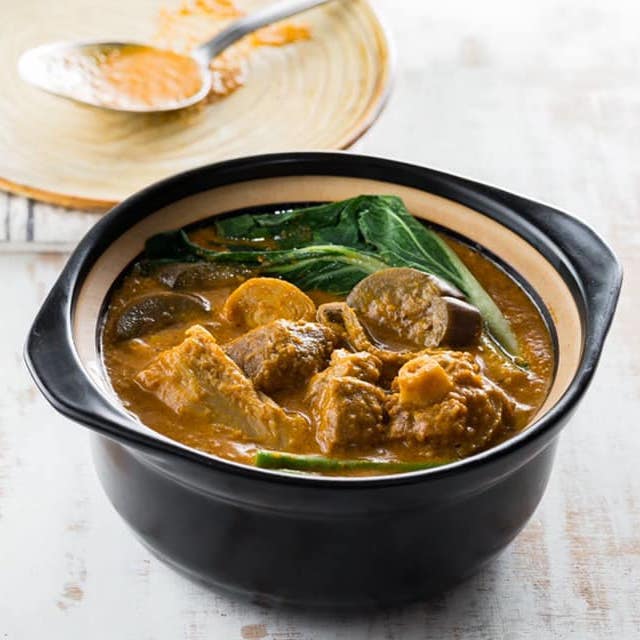 Touting itself as the first restaurant to offer modern Filipino cuisine, Sentro 1771 is known for trading classic ingredients for more unique ones. There's the Corned Beef Sinigang, which uses a new protein rather than the usual pork or seafood, the Beef Ribs Adobo, which is finished off with oyster sauce and Japanese soy sauce for a richer and deeper flavor, and Dinuguan sa Sampalok, which uses tamarind instead of vinegar as its souring agent.
ADVERTISEMENT - CONTINUE READING BELOW
See a list of Sentro 1771 branches.
Mesa
Mesa has long been a local favorite thanks to its consistent and unique take on Filipino food. The restaurant features twists like the Sinigang na Baboy sa Pinya at Bayabas, a tangy and sweeter version of the classic sinigang, the Crispchon, an Asian-style wrap featuring lechon and a wide array of dipping sauces, and the Laing Fried Rice, which is topped with crispy adobo flakes and fragrant spring onions.
See a list of Mesa branches.
Abe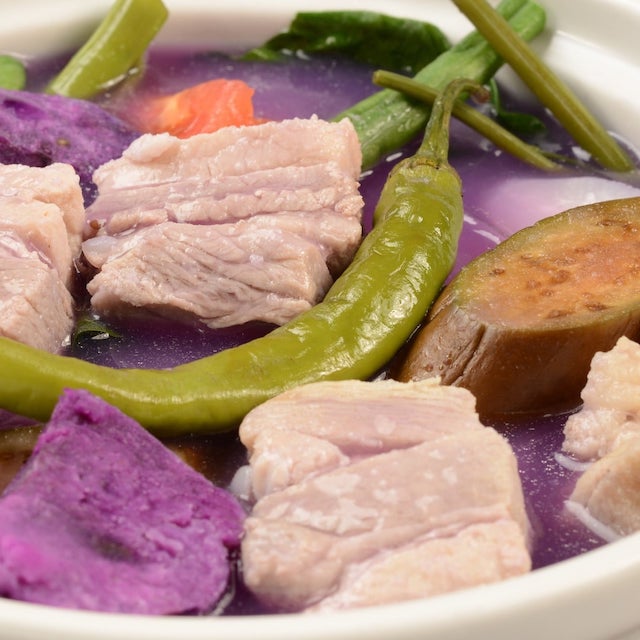 ADVERTISEMENT - CONTINUE READING BELOW
Another local institution on this list, Abe is known for serving some of the best Kapampangan food in the Metro. Favorites include the melt-in-your-mouth Crispy Pork Adobo ni Lola Ising, the rich and thick Sinigang sa Ube, and the incredibly crisp and aptly named Knockout Knuckles.
See a list of Abe branches.
XO 46 Heritage Bistro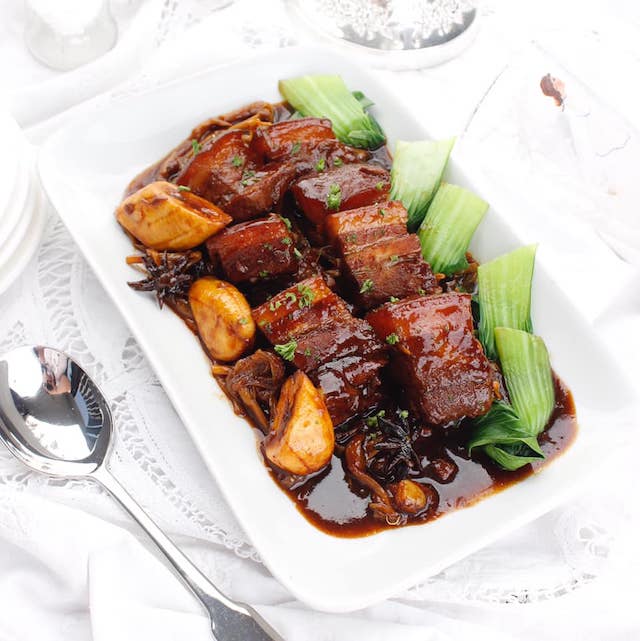 ADVERTISEMENT - CONTINUE READING BELOW
XO 46 Heritage Bistro pays tribute to all things Filipino culture–from their Colonial Manila-inspired interiors to their staff donning traditional baro't saya and barong Tagalog and taking your orders in pure Filipino. Their menu also pays its respects to different regions of the country, featuring dishes like the Humba ng Tacloban, Pancit Pusit ng Cavite, and Sisig Kapampangan.
See a list of XO 46 Heritage Bistro branches.
Hey, Spotters! Check us out on Viber to join our Community and subscribe to our Chatbot.
Share this story with your friends!
---
Help us make Spot.ph better!
Take the short survey
Load More Stories