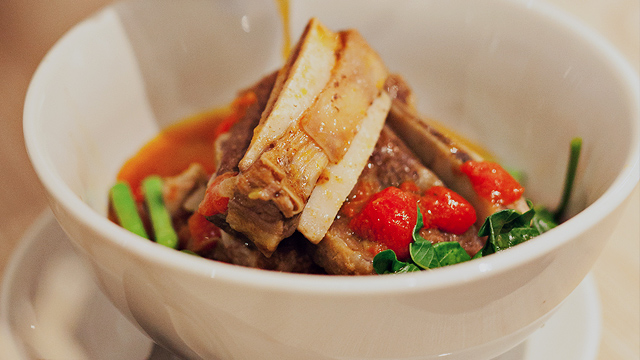 (SPOT.ph) When it comes to places for the best Filipino food, nothing beats home—but Manam Comfort Filipino could be a close second. It's a reliable crowd-pleaser, whether you're treating balikbayans who are looking for a taste of home or introducing foreigner friends to the flavors of Pinoy cooking. Even if you regularly have adobo and sinigang at home, your palate will still welcome their modern twists on classic Filipino dishes. 
Ever since they first opened in 2013—then known as NamNam—Manam has always offered both traditional homestyle cooking and their own creative versions of these classics. Their menu is divided into Classics and Twists, which makes it pretty lengthy, but regulars have their favorites. Don't know what to pick? We got the intel on the 10 most ordered dishes at Manam.
Note: This list is not ranked.
Also read:
The 10 Most Popular Dishes at Din Tai Fung in Manila
The 10 Most Popular Dishes at Cibo in Manila
The 10 Most Popular Dishes at Pancake House in Manila
ADVERTISEMENT - CONTINUE READING BELOW
Here are the 10 most popular dishes at Manam in Manila:
House Crispy Sisig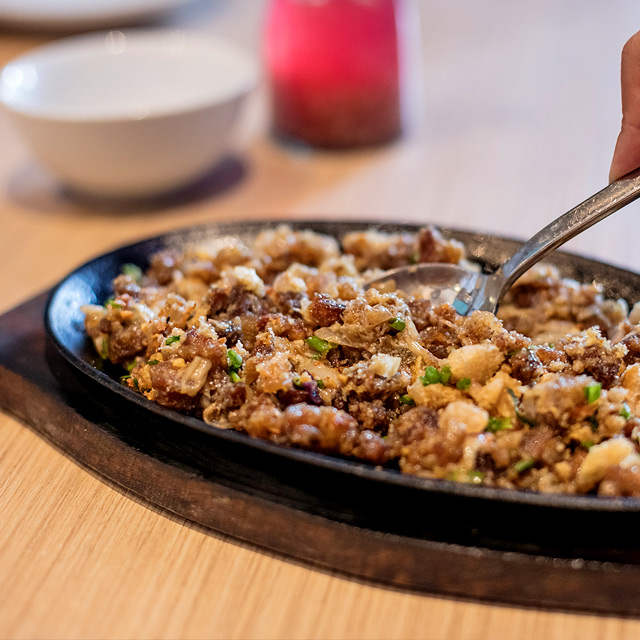 If Manam were Leonardo da Vinci, then the House Crispy Sisig would be their "Mona Lisa" (or a more apt analogy: The "Spoliarium" to their Juan Luna). It's impossible to mention the restaurant without their signature sisig—and for good reason. Consistently named as SPOT.ph's top sisig in Metro Manila, the sinful dish is a mix of creamy, crunchy, savory, and all-around tasty. A generous sprinkling of chicharon adds a necessary crunch to the rich, creamy mix of pork jowls and bits. You'll look for ice-cold beer—but rice is more than enough.
Gising Gising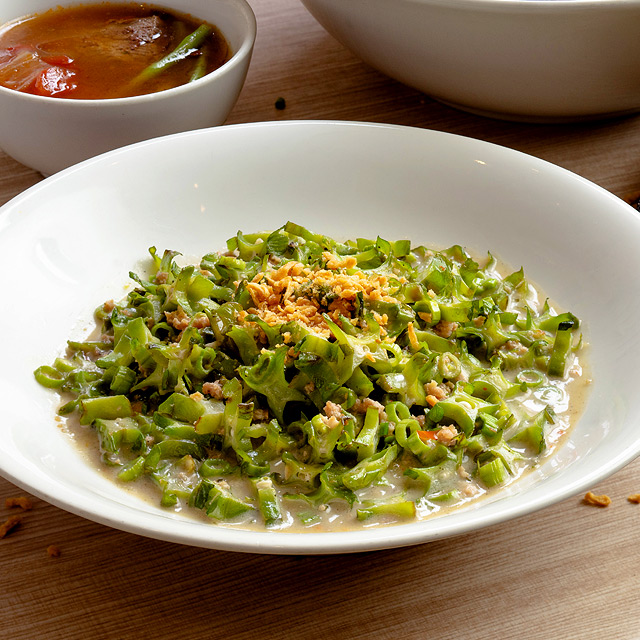 ADVERTISEMENT - CONTINUE READING BELOW
Recommended Videos
You might think that not many folks would willingly order a vegetable dish when dining out, but Gising Gising's inclusion on this list proves you wrong. We're not even mad because once you've had this creamy-spicy dish of sigarilyas, kangkong, chili, pork chunks, bagoong, and coconut cream, you won't be able to overlook it again. You can also think of this vegetable dish as a healthy counter to Manam's sisig—hey, at least you're trying.
Crispy Pancit Palabok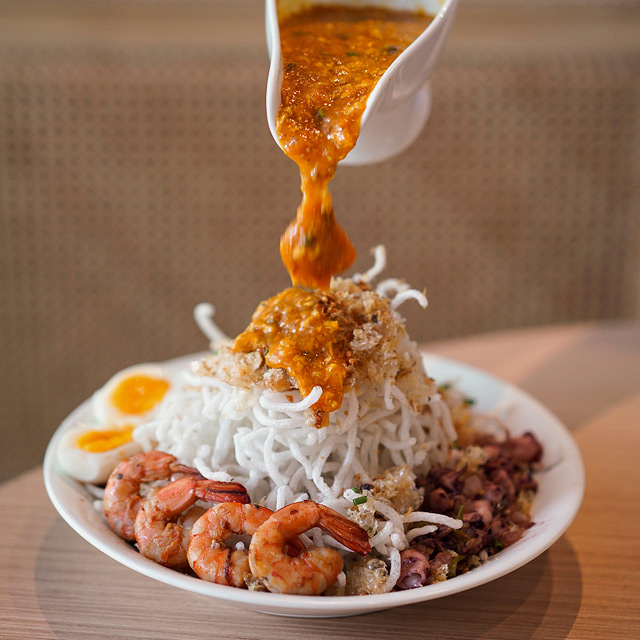 If you don't have an Instagram Story of a waiter pouring orange sauce over a mountain of crispy palabok noodles, did you even go to Manam? This restaurant turns the classic Pinoy noodle dish into a spectacle. It's not all bells and whistles, though: This dish has crunchy noodles turned delightfully chewy by the thick, savory, subtly briny sauce with tender shrimp and hard-boiled egg slices. You'll want to be generous in squeezing the calamansi.
ADVERTISEMENT - CONTINUE READING BELOW
Ube + Sago Pampalamig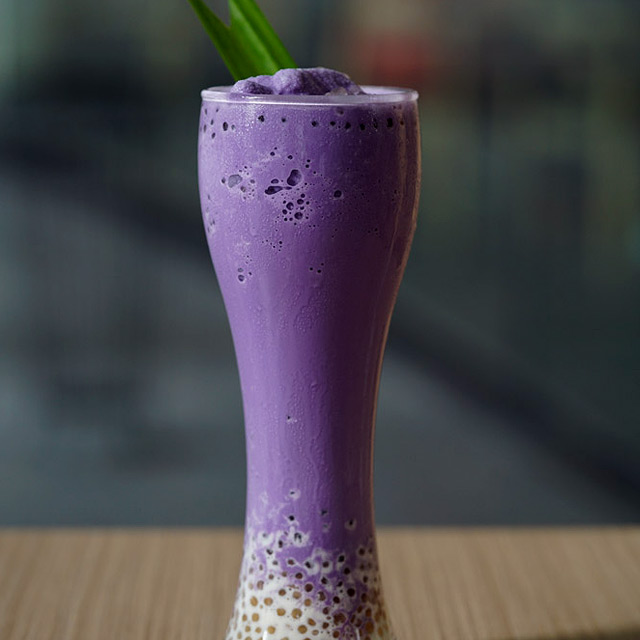 Drop by Manam on a busy day (which is, frankly, all hours) and you're likely to find a tall, purple drink at almost every table. Ube fans are more than satisfied with the earthy-sweet flavors of this refresher, which has ube and coconut cream. Chewy tapioca balls make for a lovely textural complement. 
Puto Bumbong with Muscovado Butter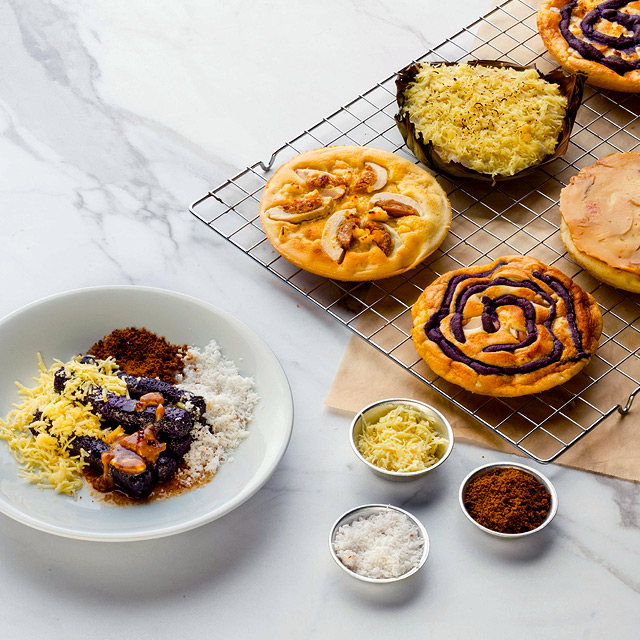 ADVERTISEMENT - CONTINUE READING BELOW
You don't have to wait for December to have puto bumbong with Manam's version of the seasonal delicacy. The deep caramel-like sweetness of muscovado butter elevates this earthy-sweet, chewy rice cake. Pro tip: Get this with Manam's Hot Tsokolate.
Sizzling Corned Beef Belly Kansi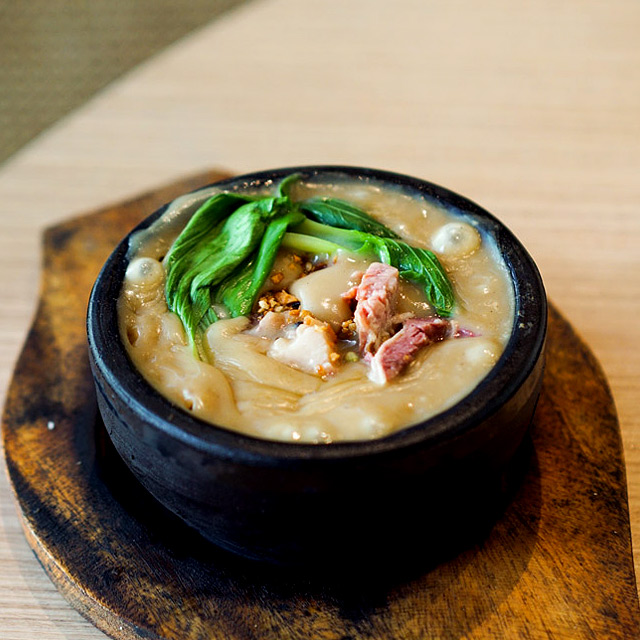 Manam's Sizzling Corned Beef Belly Kansi is proof that sometimes a modern reinvention is better than the original (just don't have any folks from Bacolod within earshot). While Manam does offer the classic Bone Marrow Kansi, we recommend having this instead. The thick, gravy-like soup has a sharp sourness to it that just begs for more rice, while the thick corned-beef chunks give the soup a salty kick.
Crispy Pata with Garlic Chili Bits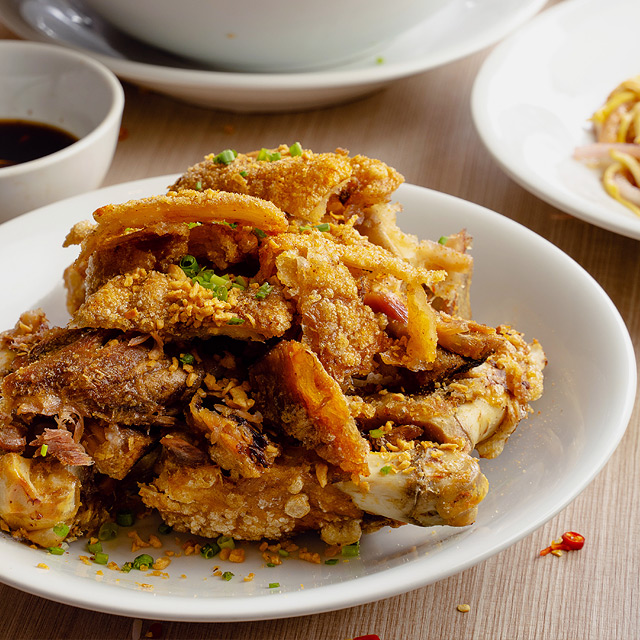 ADVERTISEMENT - CONTINUE READING BELOW
Crispy pata is always a crowd-pleaser, so we're not surprised to find this on the list. The lowkey bestseller has golden-brown crispy pork knuckles—Manam makes it even better by adding crunchy garlic-chili bits for extra spice. Need more heat? Be sure to dip your pork in the soy-sauce-vinegar with chili.
Crispy Beef Tadyang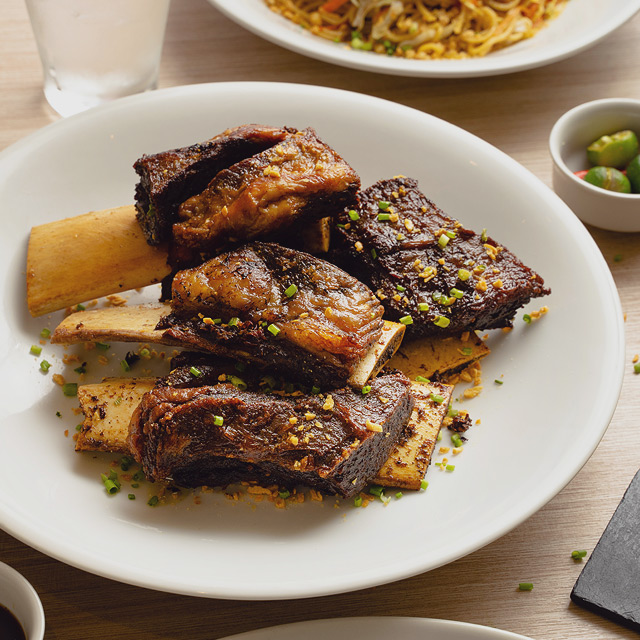 Manam only opened their spin-off, Manam Café, in October 2018, but the restaurant quickly gained its own following. Once an exclusive menu item at the café, the Crispy Beef Tadyang quickly became popular enough to be offered at all Manam branches. It's easy to get addicted to the tender beef ribs, which are glazed with a lip-smacking, sticky, sweet-savory sauce.
Calamansi Tart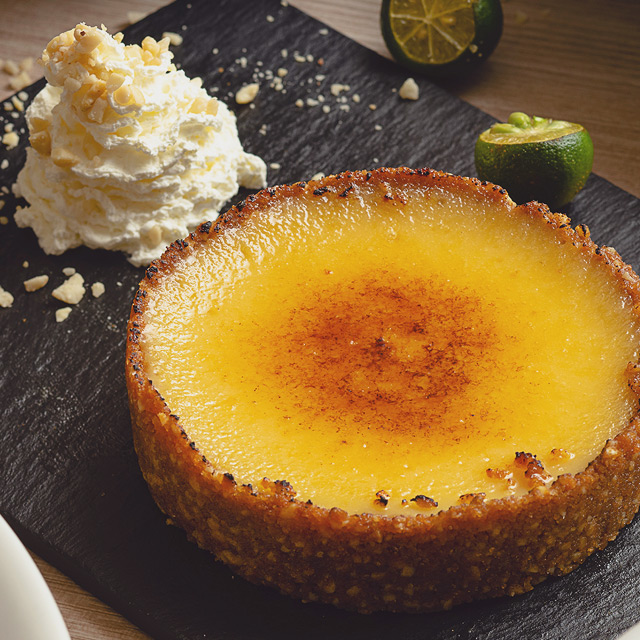 ADVERTISEMENT - CONTINUE READING BELOW
Another Manam Café exclusive before being offered at all Manam branches, the Calamansi Tart easily became a standout on Manam Café's expanded dessert menu. This tart has a bright, gooey center with enough bright acidity to excite the palate. Add a sweet graham crunch, and a crunchy brûléed top, and you have a winning dessert. This pairs well with coffee, too.
Sinigang na Beef Short Rib and Watermelon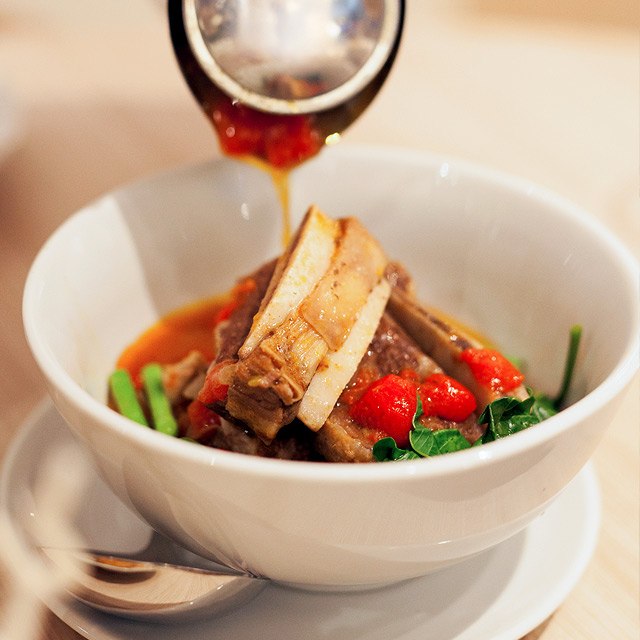 When NamNam first opened in 2013, the Sinigang na Beef Short Rib and Watermelon was one of their signature dishes. They've since kept this twist on the classic sinigang on the menu even when they changed their name to Manam—a testament to just how popular (and tasty!) this dish is. In a previous interview with SPOT.ph, The Moment Group co-owner Eli Antonino shares that this sinigang, based on her lola's recipe, is "a blend of all the sinigangs" she's loved throughout her life. Manam's version uses watermelon to give their sinigang broth not just a sour tang but a fruity sweetness to round it out—and a distinctive red hue, too.
ADVERTISEMENT - CONTINUE READING BELOW
See a list of Manam branches.
Share this story with your friends!
---
Help us make Spot.ph better!
Take the short survey
Load More Stories