Top 10 Margherita Pizzas in Manila
Margherita Pizza, boring? Think again!
(SPOT.ph) Margherita is a Neapolitan pizza variation made with a trio of flavors to represent the colors of the Italian flag-red (tomatoes), green (basil), and white (mozzarella cheese). It's named after Queen Margherita of Savoy, who allegedly preferred this pizza over the two others Raffaele Esposito baked for her in the palace kitchen while she was visiting Naples in 1889. A traditional Margherita pizza uses hand-kneaded dough topped with first-rate ingredients: pureed San Marzano tomatoes (with salt as its seasoning), mozzarella cheese made from cow's milk (fior di latte), fresh basil, and extra virgin olive oil.
Despite this rather important piece of culinary history, the Margherita tends to be overlooked in most pizza menus, the eyes naturally lingering to the ones bombarded with various toppings (read: meat). This classic may be simple, but that doesn't necessarily translate to boring. Considering the basic ingredients, it's challenging to find the best-tasting Margherita, but we based it on the following: a perfectly crafted dough (sturdy, not too soft, but not too crunchy), balanced flavors (no one ingredient overpowering the others), and creativity (purists would go wild, but any adjustments or addition to the original variation is a breath of fresh air).
If you've made some sort of pledge to eat healthier this year, and the Margherita pizza might be just one of your first steps in making healthier food choices. Who are we kidding? We even added a pasta dish that best complements those classic flavors. All hail the queen of pizzas!
ADVERTISEMENT - CONTINUE READING BELOW
All SPOT.ph Top 10 lists are researched, paid for, tested, and selected by the writers and editors. They are discreetly conducted without any notice made to the restaurants or their owners.
Also read:
Top 10 Cheese Pizzas
10 Must-Try Gourmet Pizza Flavors
SPOT.ph Round-Up: Where to Get Giant Pizzas in Manila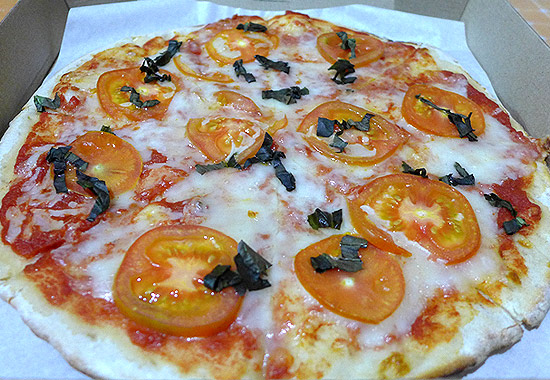 10. Margherita (P175) from Bobo's Pizzeria
The price doesn't make you expect too much (also, the more popular Friuli Trattoria is just around the corner), but their Margherita pizza definitely satisfies in terms of taste. It features the basic ingredients such as tomato sauce and mozzarella cheese, but it generously polishes the crush off with slices of fresh tomatoes and basil chiffonade. It could be a tad crispier, but for a quick Margherita fix, this conveys enough of those tangy and fresh flavors.
Pasta Partner: Bobo's Pasta (P155)
Bobo's is at 84 Maginhawa Street, Teachers Village, Quezon City (374-0098).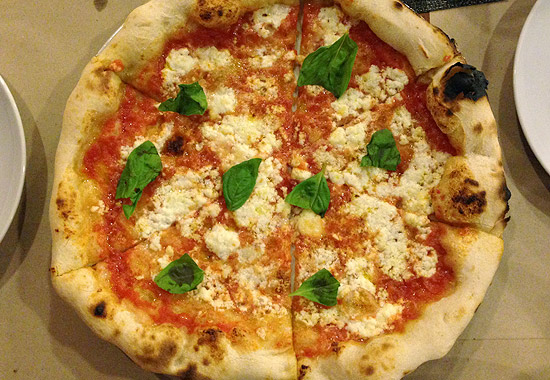 ADVERTISEMENT - CONTINUE READING BELOW
9. Margherita (P295) from Gino's Brick Oven Pizza
Gino's Brick Oven Pizza produces Neapolitan-style pizza with their own personal flair: It's cooked via their signature wood-fired oven, developing a crispy crust with smoky charred edges. Instead of the standard mozzarella, they integrate local flavor with kesong puti. Like all Gino's pizzas, it's best eaten fresh from the kitchen because that cracker-like crust is what makes this interpretation stand out.
Pasta Partner: Bacon Sausage Pasta (P215)
Click here for a list of Gino's Brick Oven Pizza branches.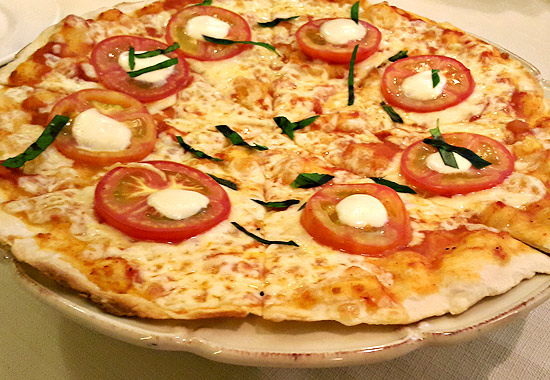 8. Mona Lisa Ristorante's Margherita (P385)
Mona Lisa Ristorante's Margherita is as traditional as it gets-a thin-crust pizza with mozzarella cheese, fresh basil, and tomato sauce-with the added pleasure of extra decadence. Instead of just tomato sauce and everyday cheese, Mona Lisa adds thick tomato slices and a generous layer of melted bocconcini (bite-size mounds of mozzarella cheese). Each bite is juicier, richer, and much more sinful. This is an amplified version of a true classic.
ADVERTISEMENT - CONTINUE READING BELOW
Pasta Partner: Pollo Pizzimente (P560)
Click here for a list of Mona Lisa Ristorante branches.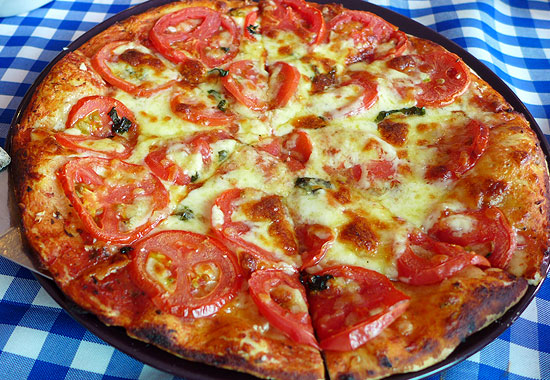 7. Friuli Trattoria's Margherita (P190)
While most pizza-making strategies involve spreading the mozzarella cheese evenly and generously, Friuli puts two layers of cheese over the pizza base and stops short an inch or so going to the edge of the crust. What we really like about their rendition is the additional thinly sliced fresh tomato toppings for that extra acidic zing. Budget doesn't have to mean scrimping on taste, and this is an offer you can't refuse.
Pasta Partner: Pesto (P150)
Friuli Trattoria is at 79-A Maginhawa Street, Teachers Village, Quezon City (434-1416).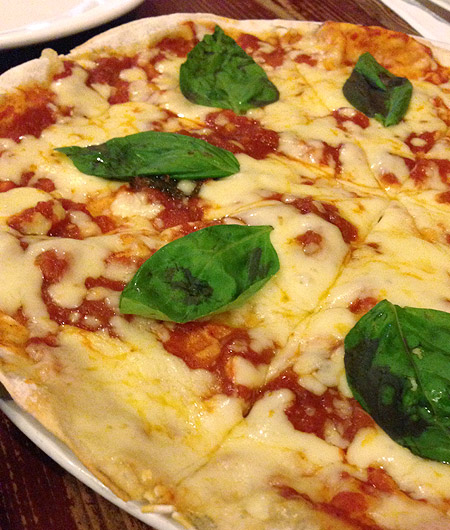 ADVERTISEMENT - CONTINUE READING BELOW
6. Mama Lou's Pizza Margherita (P260 at 12", P375 at 16")
This thin-crust pizza starts out crunchy-that is, if you eat the Diether Ocampo way (that's starting from the crust, to those who weren't born in the '90s)-but it gradually becomes softer towards the center. It might be better to have it sliced in long, rectangular slices (panizza-style) because we're able to get a more well-rounded taste of those flavors when it's rolled. Take a bite from the triangular tip, laden with mozzarella and tomato sauce up until the crust, and it's still enjoyable. However you decide to eat it, remember to sprinkle arugula and alfalfa sprouts on top!
Pasta Partner: Spaghetti Seafood Olio (P315)
Click here for a list of branches.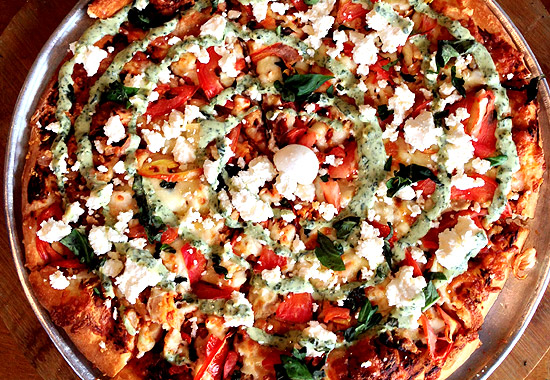 5. Steveston Pizza's Margarite Two (P499)
The toppings defy what the Associazone Verace Pizza Napoletana requires for an authentic Neapolitan Margherita pizza. It's a sight that's visually overwhelming: a medley of feta cheese, pesto drizzle, chicken, tomato, and basil. The cheese doesn't end there though-it's hard to miss the bocconcini conveniently in the middle of the pizza. Like most Steveston pizzas, this can get a little too decadent, so it works well with some hot sauce. Most people who would order a Margherita would probably prefer a simple pizza with minimal ingredients, but if you're especially hungry (yes, you definitely need a fork and knife), then this is your best bet.
ADVERTISEMENT - CONTINUE READING BELOW
Pasta Partner: Steveston doesn't like divided attention. They only have pizza!
Steveston has branches at G/F UP Town Center, Katipunan Avenue, Diliman, Quezon City (955-2273); and Tomas Morato Avenue, Quezon City.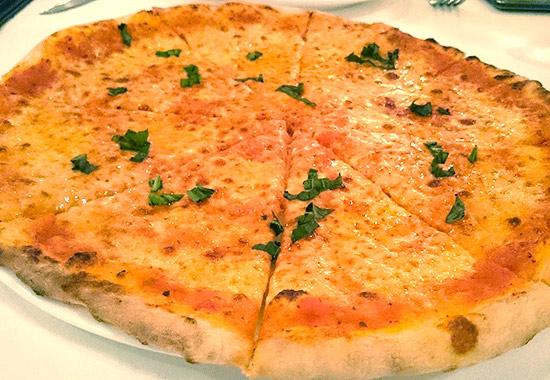 4. Caruso Ristorante's Margherita (P630)
Don't let the bistro ambience intimidate you, especially since pizza is best eaten in a light-hearted and casual setting (you know, in shorts). Their Margherita version is the epitome of perfect proportions-not too much tomato sauce, not too much mozzarella cheese, and not too much basil. Cooked in a wood-fire oven, the pizza pie is flat and even, unlike the others on this list where the crusts rise and become bumpy. The price is on the steep side, but there's a good dose of flavor there.
Pasta Partner: Bucatini Alla Amatriciana (P530)
Caruso is at 210 Nicanor Garcia Street (formerly Reposo Street) Bel-Air Village, Makati City (895-2451).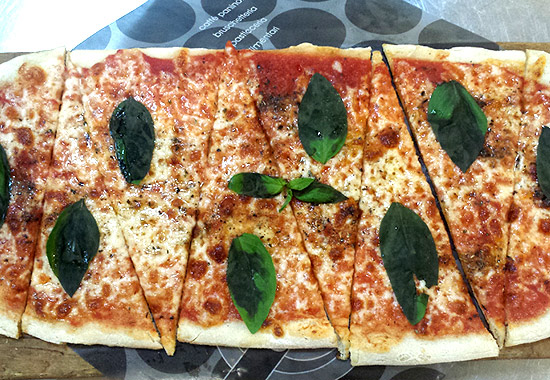 ADVERTISEMENT - CONTINUE READING BELOW
3. CIBO's Margherita (P350)
CIBO is still a solid option for non-fast-food pizzas, and their version of Margherita does not disappoint.  With its oval-shaped flat bread baked to a crisp, you're bound to finish it down to the last crunchy bite without any trouble. The fresh tomato sauce especially highlights the eating experience-it's a celebration of flavors, marrying the acidity from the tomatoes and punch from the herbs.
Pasta Partner: Penne All Amado (P245/small; P430/family)
Click here for a list of CIBO branches.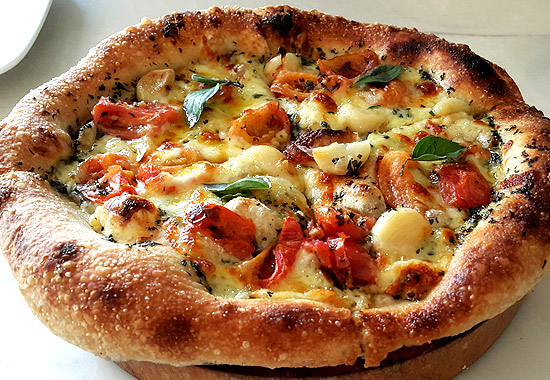 2. Stella Wood Fired Bistro's Roasted Tomato "Margherita Rustica" (P375)
A lot of people like to leave out the plain crust when eating pizza, but Stella's gorgeously baked bread will have you shoveling even the crumbs. The exposed edges of Margherita Rustica's crust is coated with a thin crisp layer before breaking off to reveal a moist and cloud-like baked core. It's this amazing canvas that really sets the stage for this pizza. The roasted garlic confit is a deviation from tradition, but it's nevertheless a pleasant addition for its rich flavor. Stella's comes in four slices, so it's perfect for a solo diner or with a plate of pasta when with a friend. Just don't get carried away with the tender garlic morsels when you're on a date.
ADVERTISEMENT - CONTINUE READING BELOW
Pasta Partner: Roasted Seafood "Firecracker" Fusilli (P395)
Stella Wood Fired Bistro is at GF/L Bonifacio High Street Central, Bonifacio Global City (621-3222).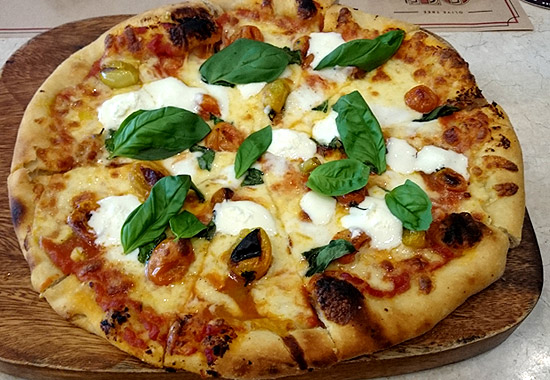 1. Olive Tree Kitchen & Bar's Margherita (P419)
OTKB's Margherita is highlighted by the milky-white patches of buffalo mozzarella (bufala campana) spread evenly over the pizza. The crust is slightly bumpy, and the cooked dough is a bit chewy. Their tomato representation is in the form of a thick and creamy sauce, which the kitchen cooks with basil, giving it a delightful hint of that sweet and minty flavor, but they add fresh leaves on the pizza itself. It gives each rich bite a little blast of freshness that really keeps this pizza interesting-up until you've finished an entire round.
Pasta Partner: Sunday Gravy Spaghetti (P495)
Olive Tree Kitchen & Bar is at G/F B3, Bonifacio High Street, Bonifacio Global City (823-0366).
Also read:
Top 10 Cheese Pizzas
10 Must-Try Gourmet Pizza Flavors
SPOT.ph Round-Up: Where to Get Giant Pizzas in Manila
ADVERTISEMENT - CONTINUE READING BELOW
Load More Stories