Food Crawl: Tried and Tested Places to Eat in Binondo, Manila
Lion dance your way into one of the world's oldest Chinatowns.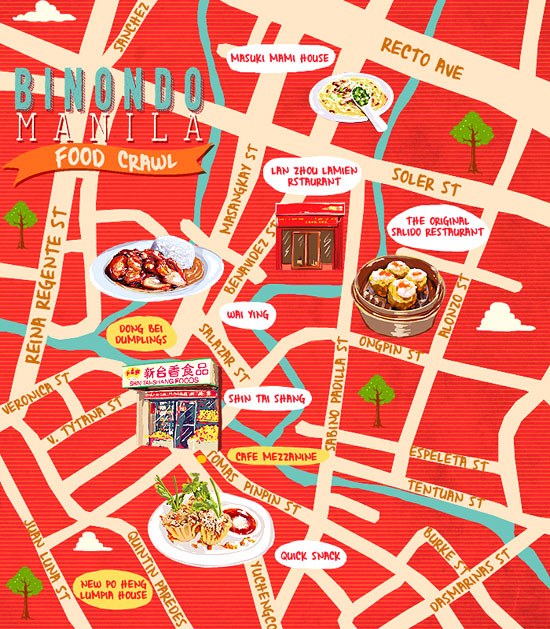 (SPOT.ph) Binondo's rich history adds to its vibrant character; it is a maze of once-glorious architecture, retail shops, new developments, and family-run businesses. They say that traveling is best on foot, but in this Chinatown (the first in the world, by the way), it is also best to explore through your stomach. The food scene is definitely alive, where each street has its share of eateries serving delights that successfully recreate comforting and familiar food from distant memories.
It is a plethora of both discovered and yet-to-be-discovered wonders, but for starters, we're bringing you the classic favorites located in the must-visit streets. Get lost in Binondo's chaotic mess and see: There's no place quite like it.
Also read:
10 Must-Visit Food Streets in Binondo
Binondo Round up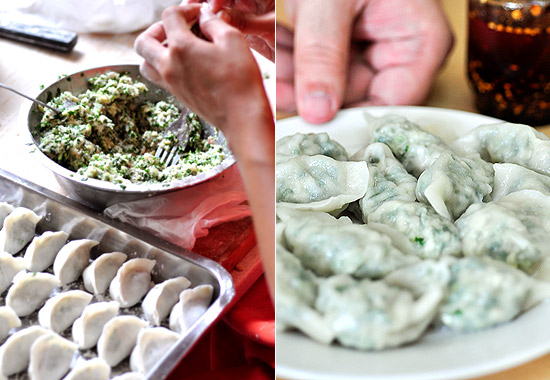 Dong Bei Dumpling
642 Yuchengco corner V. Tytana Street
Contact: 241-8912
Open daily from 9 a.m. to 8 p.m.
Dong Bei is as simple as it gets-a dumpling workstation, a dining area for the eager customers, and a kitchen to cook the orders all rolled into one modest space. This place isn't for everyone-especially if you are meticulous in terms of personal space and food preparation.  Nevertheless, it's a spectacle watching the staff's nimble hands as they fold the flat dough into pleats around the pork filling. The dumplings are the popular choice in Dong Bei, but they also have other items in their menu such as Fried Pancake (P120), Sotanghon with Bean Sprouts (P120) and Fried Chicken Sinjang (P270).
Must-tries: Xiao Long Bao (P200/15 pieces), Pork Dumplings (P120/14 pieces)
Binondo Hack: We really mean it when we said "modest space"-it can only hold 16 to 20 people at a time, so it's best to troop down here during off-peak hours.  Brunch or merienda is an ideal time.
Dong Bei has also been featured in 10 Dim Sum Places to Try in Metro Manila and Top 10 Xiao Long Bao (2011 Edition).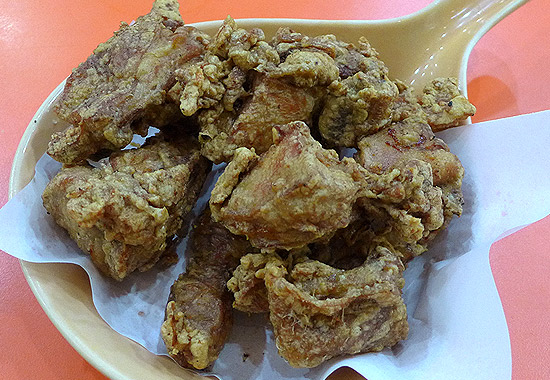 Sincerity Café and Restaurant
497 Yuchengco Street
Contact: 241-9991, 241-9990
Open daily from 10 a.m. to 10 p.m.
It sounds like a joke when you go home from Binondo and you tell your friends that one of the things you've eaten there is fried chicken. It's not the quintessential Chinese food, but at Sincerity, it's a dish you can't miss. We're willing to bet your lunch money that it's for the win.
Must-tries: Sincerity Fried Chicken (P150/half, P300/whole), Fried Oyster Cake (P140/small, P200/big), 8 Treasures Machang (P100)
ADVERTISEMENT - CONTINUE READING BELOW
Binondo Hack: The restaurant has two floors, but as much as possible, get a table at the ground floor.  There are times that the upper floor is undermanned, and you may not be able to order immediately.
Sincerity has also been featured in 10 Best Pinoy-Style Fried Chicken in The Metro.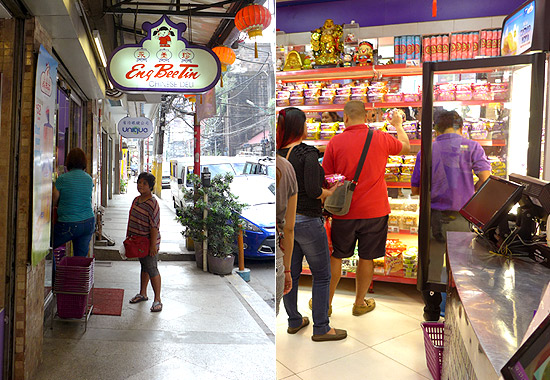 Café Mezzanine, Chuan Kee Fastfood, and Eng Bee Tin
650 Ongpin corner Yuchengco Street
Contact: 288-8888
Café Mezzanine is open daily from 8 a.m. to 10 p.m.; Chuan Kee Fastfood is open daily from 6 a.m. to 10 p.m.; Eng Bee Tin is open daily from 7:30 a.m. to 8:30 p.m.
Acquired by the Eng Bee Tin bakery, Chuan Kee has been revamped since to keep up with the changing times-but it's still the same old turo-turo everybody loves. Beside it is the Eng Bee Tin Chinese Deli, where you can see an array of hopia incarnations (Hopia Mochaccino? Ube Langka Hopia?  Hopia Long Life? You name it!) in bright foil packaging.  Upstairs is Café Mezzanine, the electric-purple Fireman's Coffee Shop dedicated to donate all its revenue to the Binondo Paco Fire Search and Rescue Brigade.You'll be pleased on the gastronomic discoveries you're about to unfold.
Must-tries: For Café Mezzanine: Gokong (P160), Soup No. 5 (P250); For Chuan Kee Fastfood: Kiam Pong (P42), Pork Maki (P105); For Eng Bee Tin:  Custard Hopia (P48); Hopia Ube (P46)
Binondo Hack: While both Chuan Kee and Café Mezzanine serve delightful Chinese fare, we suggest choosing only one of them. You can always try the other when you go back to Binondo the next time (you know there's always a next time).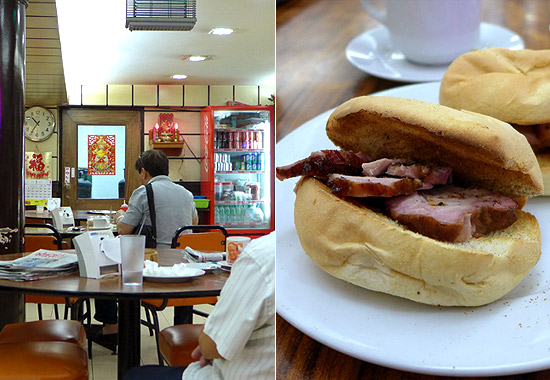 The Original SaLido Restaurant
2/F 839 Ongpin Street
Contact: 521-3333
Open daily from 6 a.m. to 9 p.m.
A charming aspect about SaLido is its clientele, which is predominantly the older crowd-they'll remind you of your grandparents and you'll feel like giving them a hug. At first it may feel like intruding into a gentleman's club meeting, but you'll settle in just fine when you take a seat and let the aroma of coffee seize your senses.  A hot cup of good coffee knows no age-whether you're in your 20s, 30s, and so on, you're sure to enjoy SaLido's caffeine fix.
Must-tries: Brewed Coffee (P65), Chami (P190), Roasted Pork Asado (P235)
Binondo Hack: It's a struggle to wake up early, but if you can muster enough strength to drag yourself out to Binondo in the morning, come here for a hearty breakfast.
ADVERTISEMENT - CONTINUE READING BELOW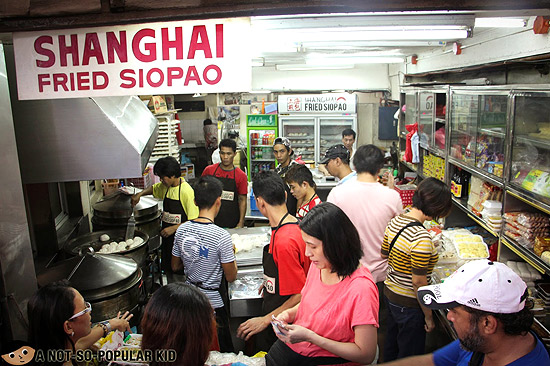 Photo from A Not So Popular Kid
Shanghai Fried Siopao
Ongpin corner Bahamas Street
Open daily from 8 a.m. to 10 p.m.

Brace yourself: It's a siopao with an identity crisis. It's still the traditional steamed pork-filled bun (plus points if you're into the bola-bola kind)-but what makes it "fried" is actually just the bottom part of the mantou, golden brown and slightly crispy. Shanghai Fried Siopao is nothing more than an unassuming food stall, but siopao-crazed folks are more than willing to line up for these cloud-like buns.
Must-try: Hands down, the Fried Siopao (P18)
Binondo Hack: When left inside its plastic for long, the moisture makes the fried siopao too soggy for your taste.  It is best consumed immediately, so dig in!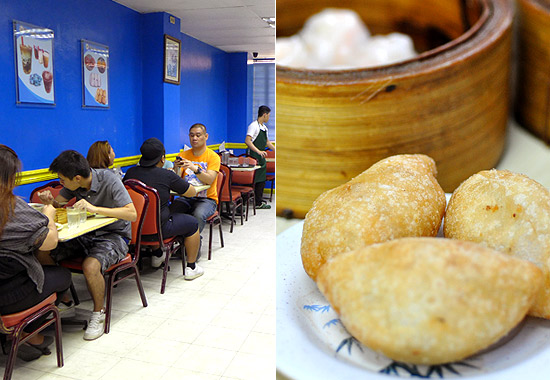 Wai Ying Fastfood
810 Benavidez Street
Contact: 243-6665; 242-0310
Open daily from 7 a.m. to 2 a.m.
Wai Ying has proven throughout the years that people don't need to shell out a lot to enjoy delicious dim sum.  The two-storey building has royal-blue walls that add vibrance to the rather stark interiors. Channel your inner Anthony Bourdain as you sample one bamboo basket of dim sum after another, and marvel at the flavors in every bite.
Must-tries: Hakaw (P80), Curry Beef Siomai (P70), Roast Duck Mami (P190), Egg Tart (P70), Cold HK Milk Tea (P55)
Binondo Hack: Wai Ying is affordable and worth every piso you shell out, but don't go crazy with ordering several items all at once.  The famed dim sum parlor is sufficiently air-conditioned, and it might cool your meals sooner than you think.  Order instead in intervals-it's a good thing the staff is efficient and very attentive, so you'll get your additional orders in no time.
Wai Ying has been featured in Top 10 Mami in Metro Manila, 10 Dim Sum Places to Try in Metro Manila, and Top 10 Egg Tarts in Manila.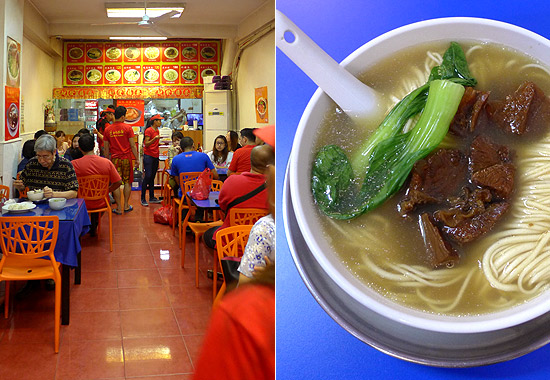 Lan Zhou La Mien
818 Benavidez Street
Contact: 244-5365
Open daily from 8 a.m. to 9 p.m.
While Lan Zhou La Mien is definitely not a secret among Binondo foodies, its signage (emblazoned with Chinese characters on a red background; English words used sparingly) seems to scream exclusivity-unless you understand the language.The restaurant prides itself in producing hand-pulled noodles, Lanzhou style.  This style entails stretching a lump of dough at arm's length and folding it repeatedly to produce long strands of noodle (these mey be the real birthday noodles!).  A bowl of their lamien, with bokchoy stalks and tender chunks of the meat-of-your-choice, can feed two to three people. Don't worry though: The broth is refillable.
ADVERTISEMENT - CONTINUE READING BELOW
Must-tries: Beef Lamien (P120), Lamien Guisado (P120), Fried Dumpling (P180)
Binondo Hack: Lamien (or lamian, in other variations) isn't called longevity noodles for nothing- request for scissors to be able to cut it into manageable strands.  Otherwise you'll spend a lot of time making prolonged slurping sounds.
Lan Zhou La Mien is also featured in Top 10 Mami in Metro Manila.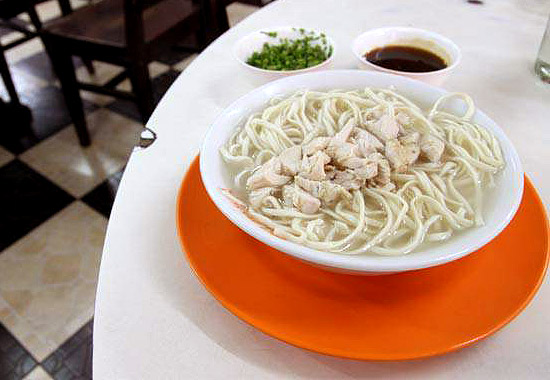 Ma Su Ki
931 Benavidez Street
Contact: 243-2674; 244-0745
Open daily from 7 a.m. to 10:30 p.m.
Despite being a spin-off of from the mami pioneer Ma Mon Luk, Ma Su Ki opted to continue tradition by serving old-time favorites, only adding a variety of meat to their popular mami.  The strong aroma emanating from its broth makes or breaks your eating experience-either you love it or you hate it. Ma Su Ki's no-frills setup retains the Ma Mon Luk nostalgic layout, with its familiar white formica tables, wooden chairs and glass-paneled shelves housing the mami bowls. As for the unfortunate siomeow legend it has inherited from its predecessor? Definitely untrue-we checked, the siomai tasted absolutely of pork.
Must-tries: Chicken Mami (P120/regular; P130/special), Beef Mami (P170/regular; P180/special), Asado Siopao (P55/regular; P85/special), Pork Siomai (P35/piece)
Binondo Hack: A bowl of regular mami already has hefty servings, so you and your friends should be fine sharing. This way there'll be plenty of stomach space for the other items in the Ma Su Ki menu, or for the other restaurants along Benavidez Street.
Ma Su Ki is also featured in Top 10 Mami in Metro Manila, Top 10 Siomai Under P100 (2013 Edition), and Top 10 Siopao in Manila.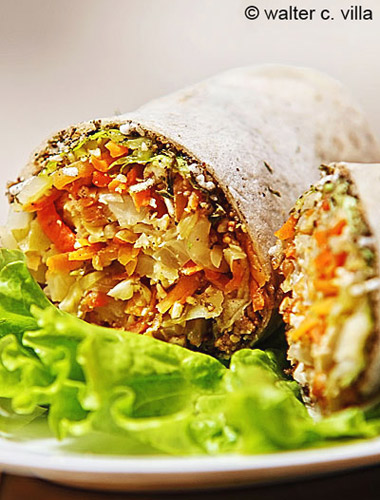 Photo by Walter C. Villa for Tomabogchi Recipes
New Po Heng Lumpia House
Uy Su Bin Building, 531 Quintin Paredes Street
Contact: 241-8789
Open daily from 7 a.m. to 7 p.m.
The filling lumpia makes up for the difficulty in locating this not-so secret nook. When you do find it, you'll feel like you're transported to another Chinatown universe-the pink Uy Su Bin Building is an Art Deco structure. As you are led to this family-run eatery, you'll be welcomed by a courtyard with potted plants and a dainty Roman fountain. It's nothing fancy, but it's an interesting al fresco dining experience (okay, not really-it's an open canteen) tucked away from the hustle and bustle of Binondo.
Must-try: Fresh Lumpia (P50)
Binondo Hack: The fresh lumpia is a fat roll filled with vegetables, tokwa, ground peanuts, seaweed and fried bihon bits-plenty enough for three! You can also buy a roll for take-out, but make sure to eat it within the day.
ADVERTISEMENT - CONTINUE READING BELOW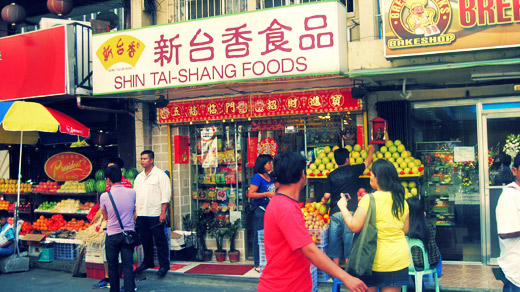 Photo from The Creative Dork
Shin Tai Shang
815 Salazar Street
Contact: 244-0325
Open daily from 8 a.m. to 8 p.m.
Shin Tai Shang brings a taste of Taiwan to Manila, and most of the notable items are classic snacks reminiscent of your baon from elementary days (we won't ask you what year it was).  It's a mini-grocery, but one can easily get lost among the shelves and shelves of goods ranging from Hello Kitty instant noodles to kitschy maneki-neko figures.
Must-tries: Green Tea and Plum Cake (P40), Chicken Curry Pie (P45), Taro Mochi Cake (P40)
Binondo Hack: Want your pasalubong to be anything but hopia?  Choose from a variety of Taiwanese goodies at Shin Tai Shang and, if possible, make this as the last pitstop before going home so you won't have to carry bags of snacks from one restaurant to the next.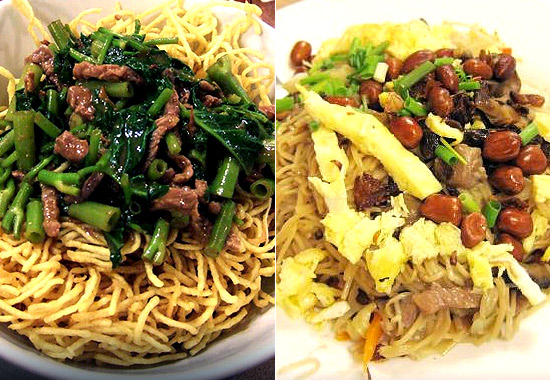 Photos from Trip Advisor
Quick Snack
637 Carvajal Street
Contact: 242-9572; 242-9589
Open daily from 9 a.m. to 6:30 p.m.
Drop by Quick Snack in the middle of Carvajal Street, which houses a long stretch of stalls also worth checking out.  This nondescript eatery is a favorite among locals since 1968, and their signature dishes give off that warm, fuzzy feeling you get from home-cooked meals.
Must-tries: Kuchay Ah (P40), Beef Mi (P110), Indonesian Tauhu (P75)
Binondo Hack: We recommend you order light meals because this is very near Sincerity Café and Restaurant; and you're probably headed that way.
Photos by Ryan Ong (Wai Ying, Dong Bei), Lio Mangubat (Ma Su Ki), Anson Yu (Lan Zhou La Mien, Ma Su Ki); and courtesy of A Not So Popular Kid, Tomabogchi Recipes, The Creative Dork, and Trip Advisor.
Load More Stories