(SPOT.ph) "I like the stress of it—the pressure of working in the kitchen."
It's been 10 years since Quenee Vilar first dipped her toes in Manila's culinary scene, and she still hasn't tired from the literal and figurative heat of the kitchen. If anything, the delicious and sometimes pleasurable strain of working with food has only spurred her creativity and motivation, keeping her career thriving and constantly expanding.
Quenee's name is synonymous with flavorful Asian (in particular, Southeast Asian) dishes as well as dynamic food concepts. Many people know her as collaborator to Chef Nicco Santos; and others know her from her past stints with Legaspi Village neighborhood staple Your Local and former BGC haunt Hey Handsome. During the pandemic, she and Nicco launched pickup and delivery fave Sambar, and also came in as consultants for Standard Hospitality Group's Elephant Grounds. Most recently, the pair has been behind the standout Asian eats at the newly launched Café Aurora in Makati.
ADVERTISEMENT - CONTINUE READING BELOW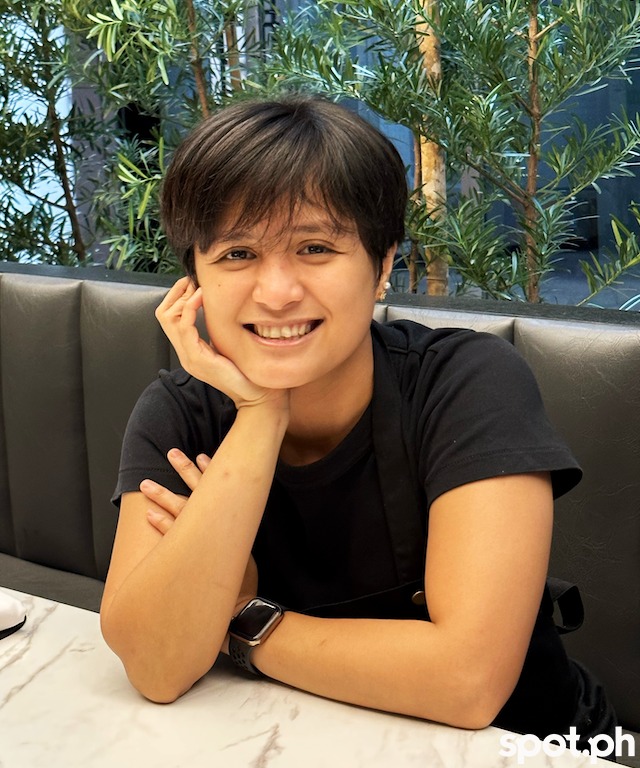 Also read: Café Aurora Lets Us in on the Streamlined Side of Chefs Nicco Santos and Quenee Vilar
Filipina chef Quenee Vilar shares her story and thoughts on being a woman in the professional kitchen:
Falling in Love With Cooking
Food is in Quenee's blood—something that she actively wanted to separate herself from as a child growing up. "I wanted to be a doctor or a vet when I was young," she confesses. "But my family was into food. In my dad's side of the family, sobrang sarap nila magluto. And my mom's side of the family had a lot of ventures in the restaurant scene."
"Hindi naman sila 'foodies,'" she explains. "But my family generally liked the way food brought people together. They liked the live band [plus] food scene," she says, referring to a resto they owned that had live music performances. "And I didn't want any of that because at the back of my mind, I always equated food with my parents. It was their job."
On Quenee's junior year in Colegio de San Agustin, she and her friends took a career test to help them with their college applications and she was convinced that her interest in medicine would take precedence. "All my answers pointed to me working in culinary," she laughed. She spent her final year of high school on that career track and it was then that she realized, as a teenager, that she enjoyed working with food. "Masaya pala! I discovered that I really liked getting my hands dirty."
ADVERTISEMENT - CONTINUE READING BELOW
Quenee moved on to take her degree in culinary arts at the College of Saint Benilde, which then led to an internship in Florida. "They actually wanted me to stay there and work, but I wanted to go home to graduate," she says. There was an existential moment in her work experience in the U.S. "I had to question myself, 'Is this it? Is this what my life is going to be like?'" Quenee wanted more than just the rudimentary day to day of working in the kitchen. Perhaps a part of her knew that she could strive for a better sense of professional fulfillment—that what her family enjoyed so much about working in the food scene. She left the States to get her diploma and officially graduate and dove right into work.
She recalls how she worked at a top hotel buffet restaurant in Ortigas on her first year back—and experienced that niggling feeling that there had to be more to working with food than what her experience there had to offer. "I stayed because I wanted the experience, but I was also physically drained. Pagod ka. I wanted to be in a less structured environment—a place where I could speak up and give my input. I knew that if I stayed working at a hotel, that my mind wouldn't open up to creativity."
ADVERTISEMENT - CONTINUE READING BELOW
Quenee appreciated the baptism of fire that hotel work gave her, but she wanted to expand further. In 2014, she came across Nicco Santos through a mutual acquaintance. He was then looking for people to staff Your Local and Quenee signed on as a line cook. "It was so laidback," she recalls. "We had proper eight-hour morning and evening shifts, and Nicco always gave us the freedom to give our input—something that goes with my personality because sobrang pabida ako!," she laughs. "I'm the type of person who's always looking for what's next and is pushing for more."
Restaurant life was a better fit for Quenee, who thrived because the working environment Nicco had established was incredibly friendly. "Hindi ako nag-adjust nang matagal. Over there, I could just be myself," she adds.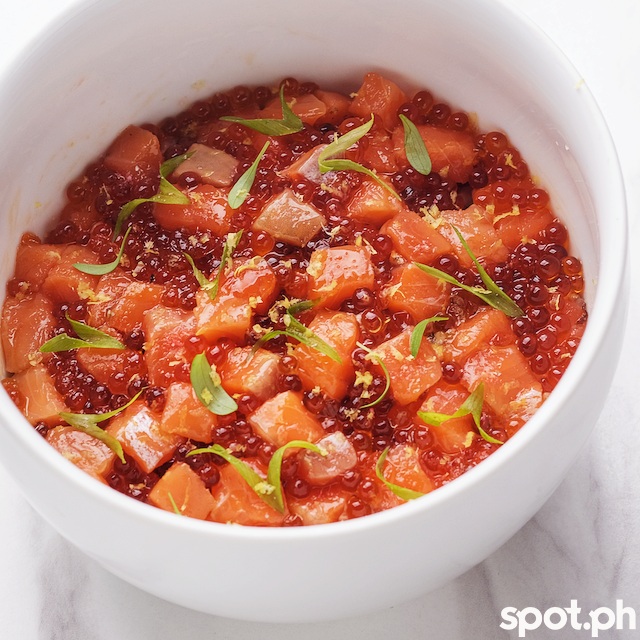 ADVERTISEMENT - CONTINUE READING BELOW
Where Chef Quenee Gets Inspiration
Known for distinctly Southeast Asian flavors in her dishes and concepts, Quenee confesses that the food she typically goes for is Western food ("but I don't like cooking it!") and comfort food from her childhood. "I love Pancake House because it reminds me of bonding time with my mom who's now gone," she recounts. "Dinuguan is another one—something I remember from my lola on my father's side. It was her favorite dish to cook and I remember eating it for seven days straight."
Quenee ties memory with food, which is why all her favorites are from her childhood. She loves the sentimentality and nostalgia that a single bite can provide—a unique sensory experience she hopes to capture in the food she prepares for others.
"I don't cook at home because my dad instituted this rule na, ''wag na ikaw ang magluto sa bahay!'" she shares. The rule comes as a relief because Quenee explains that their ate at home can't be beat when it comes to her home-cooked meals. "Sobrang galing niya magluto."
ADVERTISEMENT - CONTINUE READING BELOW
She does like to pull up her chef's hat for friends, especially when they give her leeway to experiment. "I love to grill on the spot for friends—no rules, just the type of thing where I can look into their refrigerators and see what ingredients I can mix up." And because of her distinctive appreciation for nostalgia and flavor, Quenee also likes to use her friends' stories to try to capture food they've tried in the past to hopefully bring back a certain feeling or memory.
Also read: Wonder Women: The Filipina Chefs You Should Know by Now
On Being a Female Chef
"Is it hard to be a woman working in the kitchen?" Quenee reflects on the question but doesn't take long to give a hard and fast answer. "No."
"In fact, I'm happy that we've got so many women working here," she continues, musing on the current make-up of Café Aurora, her latest venture with Nicco, situated at the Ground Floor of Pacific Star Building in Makati. "Nicco and I talk a lot about how it's a beautiful thing—having women as our front of house just because their movements and interactions in the restaurant space are so graceful."
ADVERTISEMENT - CONTINUE READING BELOW
Quenee also believes that women are essential to the culinary scene because of their great eye for detail. "This isn't me being sexist, but in the kitchen, we always say na 'pag may kailangan hanapin, yung babae ang mas makakahanap." The trait isn't something taught, but ingrained in how women naturally move and operate.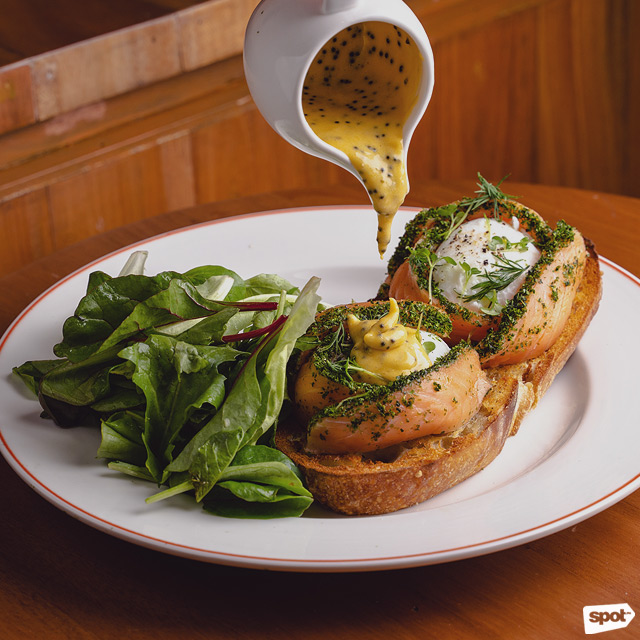 ADVERTISEMENT - CONTINUE READING BELOW
"We're cleaner in the kitchen, too!" she points out. "I keep reminding everyone here that we're clean here—we're organized. When we find a spot that's disorganized in the kitchen, I always say that it has to be a woman who comes in and arranges everything. When the chiller is magulo, babae dapat mag-ayos."
Grace is a word that crops up often as Quenee tries to describe the distinctive touch that women bring to the scene. "Women are also built to be great leaders in the kitchen because we have the ability to multi-task—it's something that guys have come to depend on," she says. "Karapat-dapat na leaders ang babae."
It comes as no surprise that Quenee thinks of women in her industry so highly—it's because she was always treated as an equal in her partnership with Nicco. "He's not just my partner, he's also a mentor," she says. "He never hesitated when it came to teaching me, giving me challenges to deal with, and pushing me—telling me, 'Kaya mo 'yan.'"
ADVERTISEMENT - CONTINUE READING BELOW
"I'm so blessed that my growth in this industry has been so fast—nagugulat din ako," she muses. "From being line cook to supervisor to heading the kitchen to heading the whole restaurant. That happened because Nicco saw my potential. I don't take this privilege for granted and I'm thankful that he continues to challenge me."
"At work, they call me Mother Q, which I think is so funny kasi hindi naman ako nanay nila," she laughs. "But I think the nickname reflects how everyone in the restaurant feels well taken care of here. If you think about it, we're all family," she adds.
ADVERTISEMENT - CONTINUE READING BELOW
It's the same grace that Quenee pointed out—a quality so distinct in women working in the restaurant scene—that keeps the connection between everyone in their professional environment respectful, nurturing, and happy. "I always hope they enjoy working here because I know this will eventually resonate and come out in the way they treat our guests."
It took a while for Quenee to reestablish herself as her staff's boss in the kitchen. "Imagine, I had to transition from being a line cook to supervisor. It was hard because we were all friends and that was something I had to overcome," she shares. "Umiiyak ako noon because hindi ko alam paano ako mag-aadjust. Paano mag-utos? I knew I had to delegate tasks because I'd also end up failing without delegating to people."
Eventually Quenee learned to strike the proper balance, although overthinking and second guessing herself would sometimes kick in. "When I used to tell people to do things, I'd start off by saying 'Sorry…' 'Sorry, puwede mo ba 'to gawin?'" The chef wonders whether the initial propensity to apologize before delegating tasks is something women internalize.
ADVERTISEMENT - CONTINUE READING BELOW
"But I have learned to become more straight—firm and frank, but not pasigaw. Good manners are always important and we're not the type of people who shout at each other in the restaurant."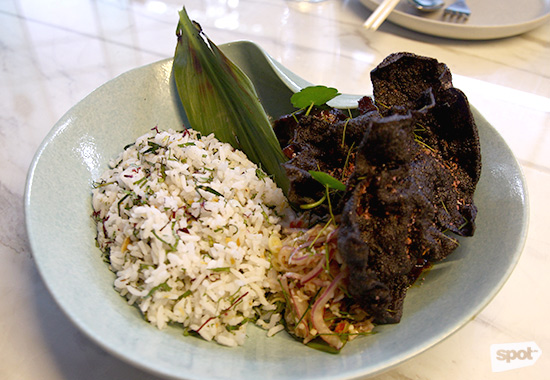 Quenee's consultancy work paved the way for her to become more sure of herself and more decisive when it comes to what she wants implemented in her restaurants. "It was something I overcame with Elephant Grounds, because Nicco and I came in last minute, just when all the food was already set up. We had to change everything and it was important for us to show a strong front," she points out.
ADVERTISEMENT - CONTINUE READING BELOW
"In our previous experiences, Nicco and I were always used to building things up slowly and building up our own brand. With Elephant Grounds, everything was already set and everyone was already there when we came in. I had to wonder if people thought, 'sino 'tong pumasok bigla?'"
"But we were so lucky because the systems they had were so good and the people there were mabait. It helped that Nicco and I were able to show that we knew what we were doing. It became a way for me to practice being frank with the people I work with."
She points out that one of the perks of being a woman working in the kitchen is one's unique voice. "Pag may sinabi ka, kahit firm and straight, may love. There's a certain malumanay-ness that comes with being a woman that doesn't make you offensive to others. It's something that helps when you're ineracting with people. They know that love and care comes even when you're correcting them or pointing out something unpleasant."
ADVERTISEMENT - CONTINUE READING BELOW
Beyond the challenges that come with being a woman in a demanding profession, Quenee also has to consider the obstacles that come with running a restaurant.
"The biggest struggle that comes with working in this industry is wondering if people will like our food—that's always the number one question. Magugustuhan ba nila?" she says. "As a chef, you always want to evolve; but you also have to think, kaya na ba ng market natin to evolve as well?" Quenee and Nicco's restaurants have always been known for the way they pushed boundaries with flavors and concepts. Hey Handsome, in particular, gave them a chance to educate people.
"In Your Local, I would say were were still learning," says Quenee, tracing the timeline of her decade-long professional life. "Hey Handsome was our chance to be paarte. And now with Café Aurora, I think we're leaning into our confidence. Our maturity is seen in how we focus on flavor." The white plates used in the restaurant are every bit as intentional as the menu Quenee and Nicco put together. "We wanted our skill to be the highlight. With white plates, there is no hiding anymore. No arte, no sugarcoating or nothing too flowery. We also wanted to set up a place that would be service-forward."
ADVERTISEMENT - CONTINUE READING BELOW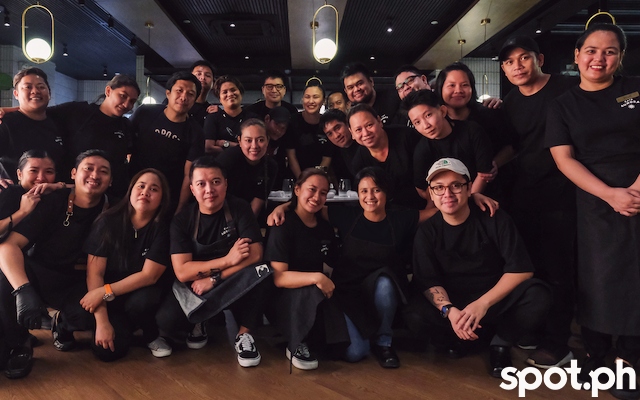 Quenee's rise in the Manila food scene has been a joy for her guests and kitchen cohorts to watch. The evolution of her tastes and flavors has also helped her open up hundreds of people to new ways of enjoying food, of capturing memories, and of reliving life's most pleasurable moments. As someone working in what may be perceived to be a male-dominated field, Quenee proves that it's grace that ultimately allows women to rise above the heat and stand out.
ADVERTISEMENT - CONTINUE READING BELOW
Hey, Spotters! Check us out on Viber to join our Community and subscribe to our Chatbot.
Share this story with your friends!
---
Help us make Spot.ph better!
Take the short survey
More Videos You Can Watch
Load More Stories