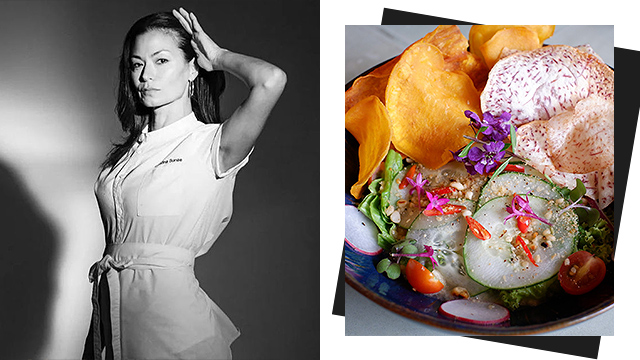 (SPOT.ph) Food and culture are practically inseparable, and every culture has their own distinct cuisine that sets them apart. But—if the birth of dishes like Pinoy spaghetti (a Filipino interpretation of Italian pasta), omurice (a Western-style Japanese dish), or even chili con carne (dubbed a quintessential Tex-Mex creation) are any indication—you'll see how truly spectacular the results can be when you blur the cultural lines and embrace experimentation between influences in the kitchen. One restaurant that does this masterfully is Sunae Asian Cantina in BGC—where Asian dishes and flavors are given refreshing interpretations, resulting in a slew of signatures that you'd be hard-pressed to find anywhere else. And behind the restaurant is Chef Christina Sunae—whose background is as diverse and multifaceted as the restaurant's signature dishes.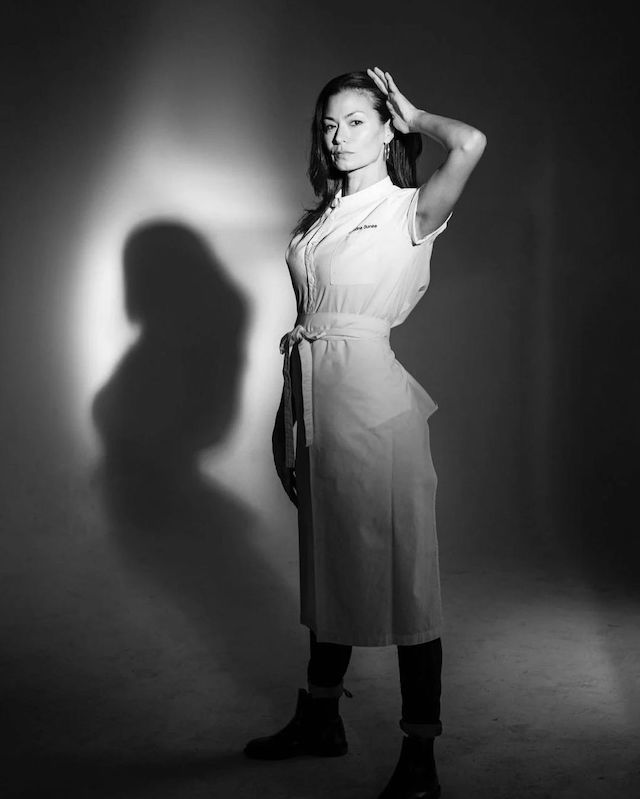 ADVERTISEMENT - CONTINUE READING BELOW
Get to know Chef Christina Sunae of Sunae Asian Cantina—and the dishes you can't miss at their BGC outpost:
The Brain Behind Sunae Asian Cantina
The story of Sunae, of course, begins with the eponymous Christina Sunae. The Buenos Aires-based chef was born to a Korean mother and an American father, who soon remarried to a Filipina from Pampanga. And though she was born in the U.S., she moved to the Philippines at the age of seven—and stayed for a number of years after.
The fact that her time in the Philippines happened during her formative years made an impact on how she viewed the world—and herself. "As a kid I kinda had an identity problem," she admits, saying she "didn't know" who she was at the time. "I was like, okay I'm half-Korean blood, I was born in the U.S.—but I grew up with Filipino culture." The people around her, Sunae shares, would say she's Korean—to which she would go, "But I'm not."
Even her parents, she shares, were "confused." Sunae would ask her dad for advice on what to tell people about her identity—to which he'd reply that she's American. "I'm like, 'Yeah I guess I was born in the US, but Americans look at me as an Asian person," she relays. "[Meanwhile] in the Philippines they saw an American person… [it was] very confusing."
Today, however, the chef embraces her diverse background. "I embrace being different and I work with it," Sunae says. "I use it for my benefit."
One of the ways that background comes forth, of course, is through food.
Chef Christina Sunae's Cooking Journey
Sunae would eat Filipino food "every day" when she moved to the Philippines, as her family hailed from Pampanga. "Kapampangans are very proud people [regarding] their cuisine, and they love to eat." More than that, both her parents were cooks and had worked side jobs at restaurants in the U.S.—and they passed that love onto her as she learned to cook with her family. "They taught me how to make lumpia right away… [and] I've been making rice since I was 10 years old!"
Much of what Sunae cooked—just like what she ate—was Filipino food. Though she never trained professionally in cooking school, Sunae also has experience working in restaurants—we're talking just about every position available, from bartender to host to the manager and so on. But it was when she moved to Argentina that Sunae "officially" started cooking, as she would host dinners in her own home under the closed-door restaurant Cocina Sunae. And with her background of living in the Philippines and knowledge and love of Filipino cuisine, she would often cook Filipino dishes—which were uncommon in the area at the time.
ADVERTISEMENT - CONTINUE READING BELOW
"Filipino cuisine didn't exist here [in Argentina]… there were some older Filipino women that had a place where they sold Filipino food, but it was like mixed Chinese Filipino," she explains. "But officially Filipino food here… I was the first person to start cooking [it]... [through] these dinners, in my home." Sunae shares that she would cook what she "wanted to make"—which included Filipino dishes, along with "a little bit of Thai." "It was like, okay, I'm gonna make food that I like to eat. I'll just share it with them but I'll present it restaurant-style." Her clients—which included locals as well as expats—loved it.
Soon she opened the original Argentinian leg of Sunae Asian Cantina in 2015, as well as her other restaurant Apu Nena in 2019, both in Buenos Aires. By 2020 Sunae brought her star food and cooking to our shores with the opening of Sunae Asian Cantina in BGC—which focuses on Asian dishes, as seen through the lens (and as expressed through the culinary hands) of Chef Christina Sunae herself.
The Must-Tries at Sunae Asian Cantina in BGC
Some dishes stay fairly true to tradition albeit with upgraded ingredients or elements, as in the use of juicy, meaty prawns over "bird's nest" of veggies in the Ukoy (P380). Light and crisp, these crispy prawn fritters are best given a drizzle or dip into its accompanying sauce of garlic rice vinegar. But she's also not shy about incorporating flavors and other elements from other cultures where apt; for instance, Japanese shiso makes for a subtle yet distinct hint of a citrusy note, as it joins the party of lapu-lapu, cucumbers, pomegranate, ginger, dill, coconut milk, and garlic peanuts in the Kinilaw sa Pipinu (P380).
ADVERTISEMENT - CONTINUE READING BELOW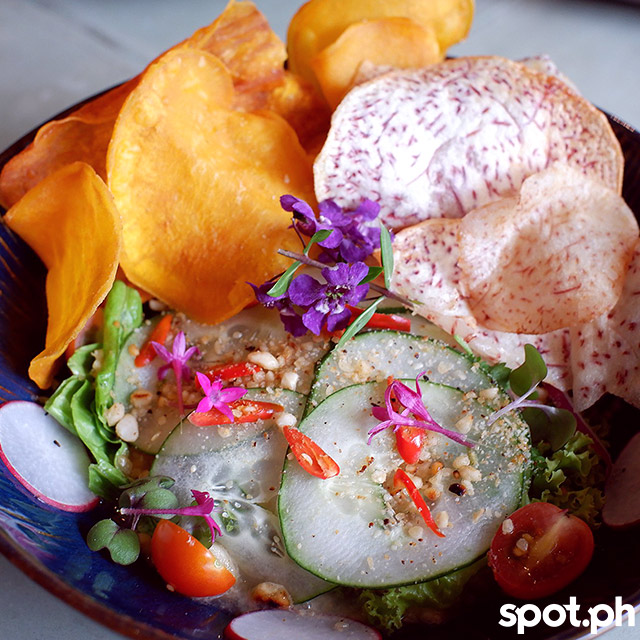 It's worth noting how Sunae pays attention to balancing out heavier or heartier elements with brighter accents. Take the Burnt Coconut Curry (P1,200) for example—Sunae's interpretation of the Mindanao dish tiyula itum. "That was taught to me by a friend of mine who's from the Muslim community," Sunae explains. This stellar dish is stick-to-your-ribs and meaty with its use of braised beef ribs in a spiced, aromatic burnt-coconut sauce (the aroma of which Sunae says is "so Filipino") yet overall balanced with its topping of cucumbers, red onions, and parsley for a splash of color and zing.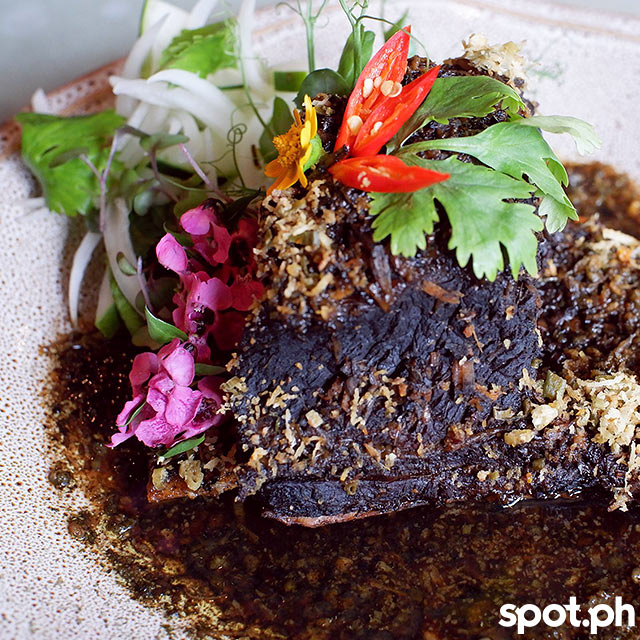 Though a good number of the dishes at Sunae are from the Philippines, you'll also find signatures from the cuisines of Thailand, Malaysia, China, and more. There's the Khao Soi (P450), for one—Sunae's take on the Thai classic, with free-range chicken and crispy egg noodles in a spiced coconut-milk soup that delivers soulful flavors with every sip. Another must-order is the Rendang Pao (P350)—bao buns (they make their own from scratch, using a recipe Chef Sunae has been making "since I was a kid") with a feisty filling of beef brisket flavored a la rendang, plus aioli, peanuts, cilantro, and chili oil.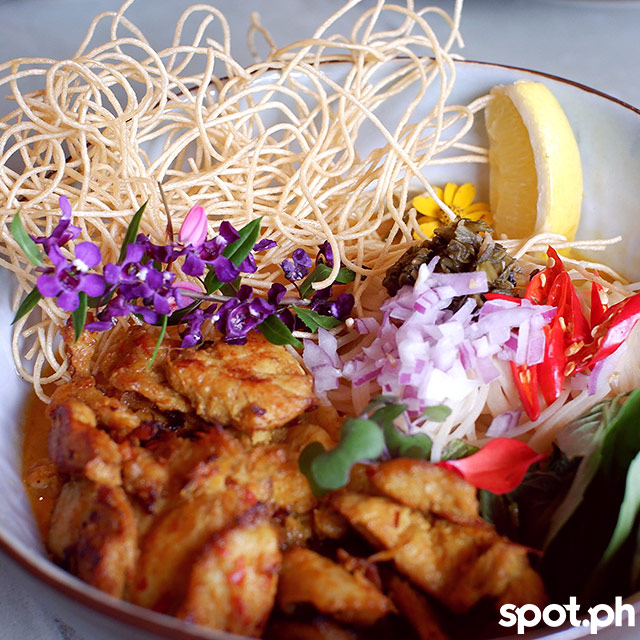 ADVERTISEMENT - CONTINUE READING BELOW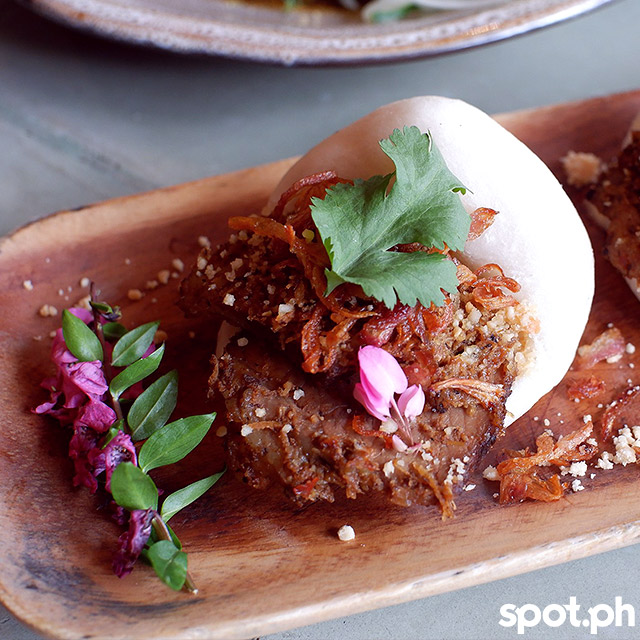 Chef Sunae also made it a point to make subtle adjustments to better cater to the BGC crowd, which consists of both Filipinos and foreigners. For instance: her take on sisig, aptly called the Sunae Sisig (P365), goes for a fattier mix of meats compared to the version she makes in Argentina (where she shares locals "don't like to eat so much fat"). Still, food at the BGC outpost delivers all the lively and vibrant Asian flavors her cooking is known for, with the occasional Latin influence here and there—such as using sweetbreads, a popular offal in Argentina, in her take on Mee Krob (P195).
Even their dessert range showcases the multiplex nature of Chef Sunae's cooking style, with various influences mingling with one another to form a distinct (and delish) whole. Exemplifying this very point is the Not Your Ordinary Halo-Halo (P420). True to its name it goes for a contemporary combo of melon granita, Thai tea and kamote ice creams, orange, pandan meringue, ginger cookie, passionfruit, and nata de coco—and with the way it bridges creamy, refreshing, and vibrant-tasting worlds it'll let you see halo-halo in a novel light.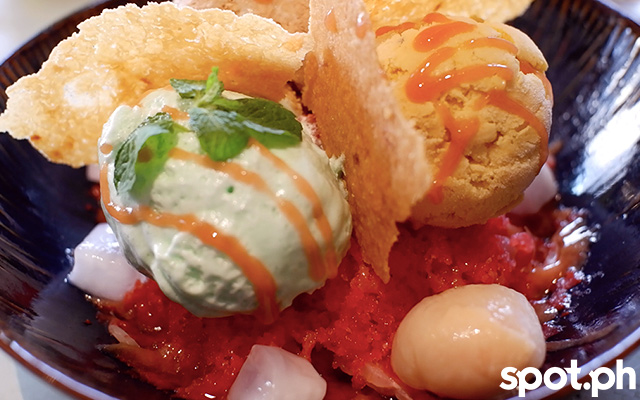 Sunae Asian Cantina opened in March of 2020—yup, just about a week before the pandemic hit, which definitely brought on challenges. They're thankfully back and kicking it, with a stream of regulars and eye-opening dishes well worth trooping over (and coming back) for.
Asked about her philosophy in the kitchen, Chef Sunae laughs. "My philosophy here in Argentina is creating delicious dishes using local products. Always Asian food," she says. "Always using the basis and techniques I learned at home." Still, Sunae realizes that this does not fully encapsulate her cooking—especially when you take into account how the Philippine context changes things.
ADVERTISEMENT - CONTINUE READING BELOW
She ponders. "The dish has to be something that I really like to eat . . . it just has to be really good." In general they try to use local ingredients as much as possible, "unless there's an ingredient that's better quality from somewhere else!", and go for stunning and eye-catching presentations with a rainbow of colors. "You eat with your eyes, so you have to present it well."
Given the multitude of influences it's easy to categorize Sunae's food under the ever-polarizing genre of 'fusion'—but this isn't something the chef identifies with, as the mingling of cuisines in her cooking is a natural byproduct of her background. To illustrate this point she brings up the concept of Filipino cuisine. "You go to the Philippines and you have local ingredients, you have influences from Spain [and] China [and] Malaysia [and so on]," she explains. "But you don't call Filipino food 'fusion' food. It's Filipino food." In that same vein, Chef Sunae doesn't consider her food fusion. "My food is Asian—always with the Filipino background, of course."
Sunae Asian Cantina is at  2/F View Deck, One Bonifacio High Street Mall, Bonifacio Global City. For more information, check out Sunae Asian Cantina PH's Facebook page.
Hey, Spotters! Check us out on Viber to join our Community and subscribe to our Chatbot.
Share this story with your friends!
---
Help us make Spot.ph better!
Take the short survey
More Videos You Can Watch
Load More Stories