From Plates to Plates: How One of Asia's Best Chefs Went From Engineering to a Michelin Star
DeAille Tam of Obscura Shanghai talks about her Asian roots and food.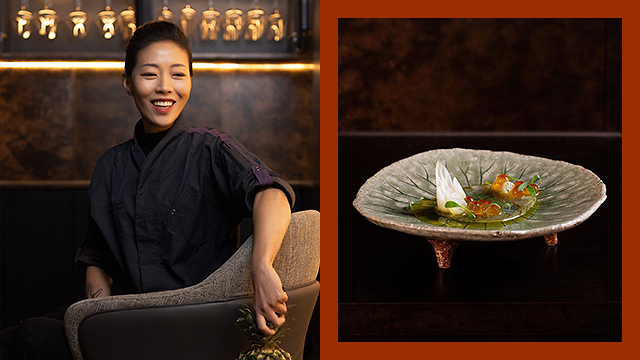 (SPOT.ph) Over in Shanghai are hundreds of must-visit destinations—and if it's a riveting adventure for the palate you seek, Obscura is the place to go. The one-Michelin star restaurant is famed for how they tackle Chinese cuisine in contemporary and ingenious ways, combining traditional elements with modern sensibilities to come up with eye-opening plates like a Dragon Well Shrimp with longjing tea and caviar, or Hunan Bacon and Pepper with wagyu and shishito pepper.
At the helm of Obscura's kitchen is Chef DeAille Tam, the first female chef in mainland China to earn a Michelin star as the co-head chef of Bo Shanghai in 2018; she was also named Asia's Best Female Chef in 2021. Recently, Tam was selected to be part of Shangri-La's ongoing #WithHeart campaign for their 50th anniversary in 2021. Having grown up on the opposite side of the globe over in Canada, though, the journey wasn't simple—and in a virtual interview hosted by Shangri-La, we sat down with the renowned chef about how she delved into her Asian side, and how she brought that element into her food.
ADVERTISEMENT - CONTINUE READING BELOW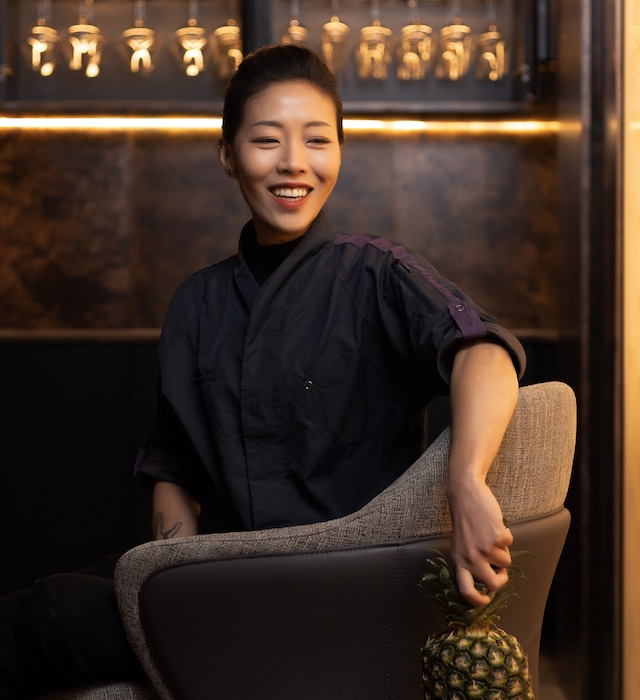 Chef DeAille Tam shares her story, her thoughts on the link between science and food, and musings on being Asian:
DeAille Tam's Background
Though Tam was born in Hong Kong, she moved to Canada with her family at a young age. "Before I was 10!" she tells us. All her schooling from that point took place there—including pursuing a degree in engineering before shifting directions in her last year to follow her heart and go the culinary route instead. (More on that later.)
Though her family still made efforts to fortify their Chinese heritage, making sure she learned the language and ate Chinese food at home, she nevertheless felt different from the locals as she visited Hong Kong when she grew older. "In terms of the lifestyle of Hong Kong, that was very different to me.... even when I was there, people [would] look at me and [be] like, 'oh, you're not really a Hong Kong person,'" Tam relays. "And then I [would] come to China and people would see me also [with] a foreigner perspective."
CONTINUE READING BELOW
Recommended Videos
Shifting Gears
Tam describes her decision to go from engineering into food as a "passion… it came from a love factor." Though she hails from a family with "a little bit of a cooking background," she didn't quite grow up dabbling in the kitchen herself—that is, until she had to cook for herself during her time living in the university's residential area. While Tam was primarily in the engineering field, on the side, she was delving deeper into the world of cooking—and falling more and more in love with the craft along the way.
"I was pondering a lot about how I loved to spend my time doing cooking and making food for people around me, more so than really learning more about what my job was supposed to be—the engineering aspect," Tam shares. "[In] the end I figured, why not do something… following my heart [and] following my passion [and do] something I actually feel that can motivate myself to wake up every morning and… [look] forward to the next day?"
Tam decided to go into culinary school and finished a number of degrees, including an Italian postgraduate program that had her traveling to Italy. From there she started working. Fun fact: one of her first jobs was at Shangri-La, where she stayed for "a little bit more than three years"!
Going Back to Her Roots
Tam's training had been Western-centric in nature: her main learning was French cuisine and the postgraduate program had her going in-depth into Italian cuisine. But it didn't take long before she found herself yearning to explore her Asian side as well.
ADVERTISEMENT - CONTINUE READING BELOW
"I wanted to actually dive into learning about Asian cuisine, because I felt that there was something missing for me," Tam shares. "When I was learning about French, Italian, [and] American cuisine, I learned all of these Western flavors and combinations and ingredients—but there was something I felt that was missing from my own palate. I felt like something's not satisfying me enough."
Tam, after all, had grown up eating classic Chinese dishes at home. "My mom could only make Asian [food], [and] I couldn't really ask her to make me a piece of steak. She would probably do it only well-done!," she says with a laugh. "If I want to eat pasta and things like that, I actually have to either order it or try my own hands at it, but my mom would stick to the classic Chinese foods at home." In particular, she shares she was raised on "a lot of those soy-sauce steamed fish, fermented beans and tofu… things like that [have] kind of gotten into my bloodstream."
Much as Tam would eat Western food outside of the house, being able to nosh on Chinese food at home kept the cuisine close to her heart. Not to mention Canada being a multicultural country and having a sizable Chinese community. Still, she shares: "I thought I knew Chinese food until I met Alvin."
Meeting the Demon Chef
By "Alvin," of course, Tam is talking about none other than Alvin Leung—a.k.a. the "Demon Chef," or the famed British-born Hong Kong chef and personality best known for his multi-awarded 'X-Treme' Chinese restaurant in Hong Kong, Bo Innovation.
ADVERTISEMENT - CONTINUE READING BELOW
Tam had the opportunity to meet him as Leung was in Canada doing a charity event—as well as one of the few people in the area who could speak Cantonese. "So I kinda saw the opportunity—'Oh my gosh, it's a three-Michelin star chef', I've got to talk to this guy and learn from him," she raves.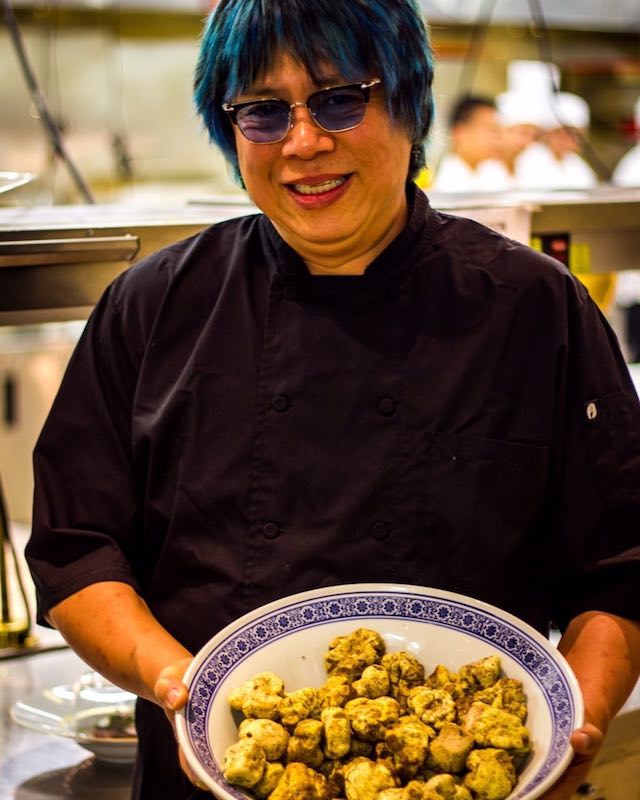 Tam says she "felt no shame" and went ahead and approached Leung. "I was the only one who could understand anything, because I spoke Chinese at home," she recalls. "[Alvin was] like, 'Ha, you can understand.' I'm like, 'Yeah, I can understand!,' and they're like, 'Okay, then help me.'" From there, she would join Leung's camp, helping out with different tasks. "They got me to help them run for stuff. When they needed something… [and] didn't know how to say it in English, I would translate [and] help them get everything that they needed. And very quickly I became a part of their team [at the event]."
ADVERTISEMENT - CONTINUE READING BELOW
That encounter sparked a real passion and fascination in Tam. "I realized there was a huge part [of Asian cuisine] that I missed—there's a huge part that I haven't learned, and I told myself, 'I'm gonna get better at cooking. I'm going to become a stronger cook so then I can apply for a job at his place,'" Tam shares. "Maybe then he will let me into his three-[Michelin] starred restaurant." It didn't take long before that dream came true—and after a few years in Canada Tam spent learning basic skills, she mustered up the courage to call Leung up herself. "[I was] like, 'Hey chef, I really wanna go work for you… Do you think you can set me into your door and let me follow your footsteps?'" Fortunately, he agreed. "I was surprised he let me have the job to be at one of his restaurants."
"He was the one who brought me into the Asian cuisine world," Tam raves. "[Leung]'s the person who really started my whole journey into the exploration of Asian cuisine." She began working at Bo Innovation in Hong Kong in 2014, and in 2016 moved to China to open Bo Shanghai—which earned a Michelin star in 2018, making her the first female chef in Mainland China to earn the coveted award.
ADVERTISEMENT - CONTINUE READING BELOW
Of course, that was only the beginning. By 2020 Tam had opened her own restaurant, Obscura, in Shanghai, along with husband and co-chef Simon Wong. More recently, she also earned the prestigious title of Asia's Best Female Chef 2021, as part of the annual Asia's 50 Best Restaurants awards held that year.
DeAille Tam's Approach to Cooking
By no means did those years spent in the civil engineering world go to waste, as Tam shares that her knowledge and familiarity with the subject greatly influences her work in the kitchen. The cooking and engineering worlds, Tam explains, are synchronous in that sense: "They worked with each other perfectly, they were able to apply to each other perfectly. They were transferable skills for me."
"I see [the] transformation of ingredients during the cooking process from a very scientific aspect," she explains. "I see the combination of flavors and how our human body receives flavors from a very biological mindset. Even when it comes to the plating part, I can apply my physics and chemistry knowledge into how they will balance on the plate and how the textures [would] interact with each other as the diner consume [the dish], so… [in] the end it was no mistake that I went through one discipline to another."
At Obscura, Tam reimagines Chinese classics in a contemporary light by marrying Chinese tradition with modern techniques and ingredients. Striking that balance between tradition and modernity, of course, is no walk in the park—so how do they do it? Tam explains how, rather than reinterpreting dishes, they're "reinterpreting the culture, or remaking the things that [people are] familiar with"—with a new look, but at its core delivering experiences that "will always have that reminder of what was familiar to them."
ADVERTISEMENT - CONTINUE READING BELOW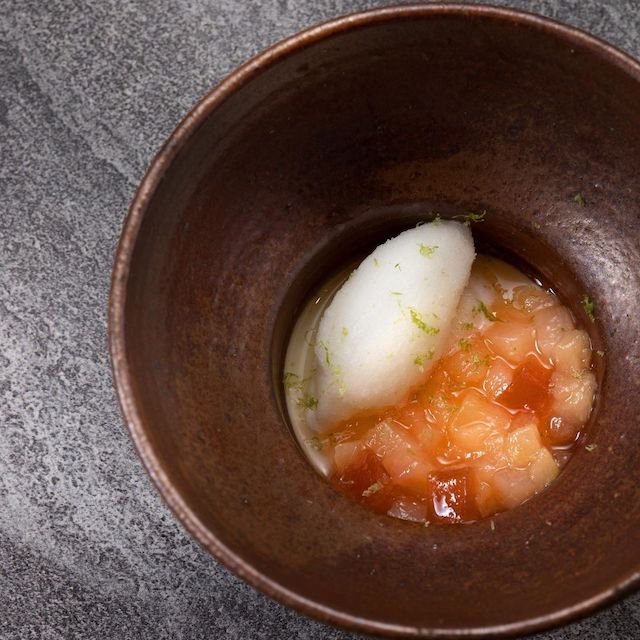 Tam brings up the complexity of trying to pinpoint the factors behind this goal. "It's this.. very abstract concept," she explains. "People ask, 'What is that connecting point? What is it that'll make people remember those dishes—is it the flavor, is it the ingredient, or is it the plating?,' and I find that all of it can be and at the same time can NOT be what people relate the dishes with," she contends. "So we try our best to not confine ourselves from seeing or learning these dishes from one singular aspect. We try to look at it from all perspectives as much as possible."
Though they may incorporate Western elements, they manage to retain their Asian soul in a distinctive way. "If you think about Asian culture, [or] what people relate to [in] Asian culture, it's a very unique thing—like why people consider one thing as Asian and another thing as Western, there's no definite term or setup [or] list… it's not so simple like that," Tam explains. "But there [are] a lot of moments and a lot of experiences that you really need to put yourself into it, and then the experience itself will tell you like, 'This is coming from the hearts of the Asian culture, the Asian hospitality.'"
ADVERTISEMENT - CONTINUE READING BELOW
Being One of Shangri-La's "Culture Makers," and Musings on Being Asian
Having recently been selected to be part of Shangri-La's #WithHeart campaign, Tam has gone full circle; She worked at the hotel during the early stages of her career and is now one of six "culture makers" featured in the brand's "From Asia With Heart" short film series. The campaign celebrates the hotel group's 50th year since opening their doors at their very first outpost in Singapore, and emphasizes the brand's application of Asian values in delivering memorable experiences to each and every one of their guests—all throughout their five-decade run.
The short film series also features other standout "culture makers"—namely furniture designer Kenneth Cobonpue, illustrator Xiong Liang, installation artist Red Hong Yi, pianist Haochen Zhang, and fashion designer Huishan Zhang.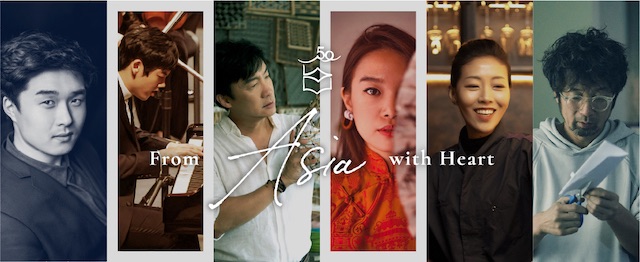 ADVERTISEMENT - CONTINUE READING BELOW
"I'm very happy to be a part of this campaign," Tam shares. "Shangri-La… [has] been working for so many years, for like 50 years now, [and] they've been embodying that whole Asian hospitality, trying to show people what it is."
"When we talk about hospitality, we talk about giving the guests a great experience when they come through the door of a restaurant or a hotel," Tam muses. "But giving the guests the Asian hospitality part is a very unique thing to what we do—to what I do at the restaurant, and to what Shangri-La [is] doing… every day for the past 50 years." The brand, Tam shares, does a great job at "really immersing the guests to feel that wholehearted-ness experience," and "treating each other with a family connection" in such a way that's "very different from all other hospitality… culture [topics] that are in the books."
"It's not something that you can put on a book, you know, you can't write it on paper," she explains. "It requires experiencing—so I'm very much looking forward to extending that experience in the future along with the Shangri-La team."
With Tam's multiplex background of growing up as part of a Chinese family in a Western country, and going back to her roots as she reached adulthood, she understandably ponders as we ask what being Asian means to her. But she brings up an important point: "At the core… one of the most key elements to this Asian aspect would be [the idea of] family."
ADVERTISEMENT - CONTINUE READING BELOW
"There's a very strong notion [in Asia] about family bonds, the care of family—you know [when] you consider somebody close to you, you would show them the way the family would to each other," she elaborates. "Treating them to the food on a shared table, giving them the warmth of a home… and the family would mean that things are coming from the heart. It's not something you have to think about too much, because you know when you're with your family—sister, brother, anyone you're close to that you consider family, everything you do for them it just naturally comes from the heart."
Tam continues: "It's emotional, it's heartfelt, it doesn't require too much thought. So I think that's something I learned from my parents as well, to care for people with no extra motive."
For more information about the #WithHeart campaign, visit Shangri-La's website.
Hey, Spotters! Check us out on Viber to join our Community and subscribe to our Chatbot.
We are now on Quento! Download the app and enjoy more articles and videos from SPOT.ph and other Summit Media websites.
Share this story with your friends!
---
Help us make Spot.ph better!
Take the short survey
Load More Stories