(SPOT.ph) Japanese cuisine ranks high up on the list of go-to's for every Filipino looking to sate their hunger in the Metro's streets. And with all the stellar options we have out there for the authentic kind, we don't blame you if you're on the hunt for something new, something different, something, perhaps a bit more cosmic? Here's what we mean: Kosumosu. This bright new spot in Poblacion is the definition of a "modern izakaya," with a very different take on the cuisine; and yes, we mean that in the best way possible.
Tucked into the ground floors of the Unwnd Flats building along General Luna is the vibrant space of Kosumosu. A compact space that lives up to its cosmic name, the restaurant occupies two floors clad in vivid colors, bright frames, and offbeat accents. Head on up if you want to be close to the bar or are in the mood to sit by the balcony. The lower floor has just two tables—with an all-important opening to the kitchen, a frame of sorts that allows you to peek in at the magic orchestra, as led by Chef Christian Navarro. 
ADVERTISEMENT - CONTINUE READING BELOW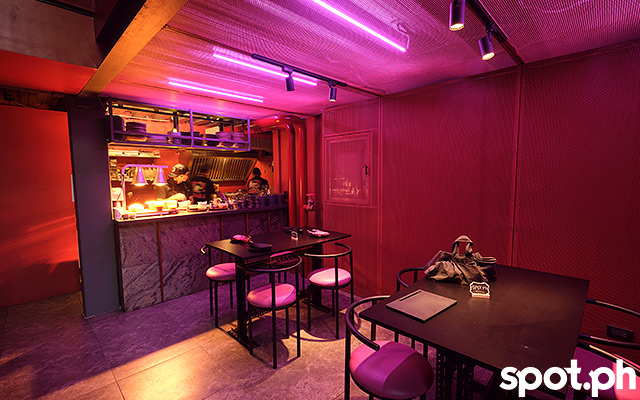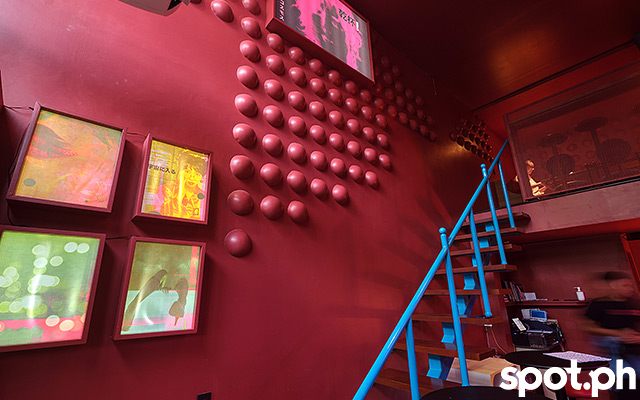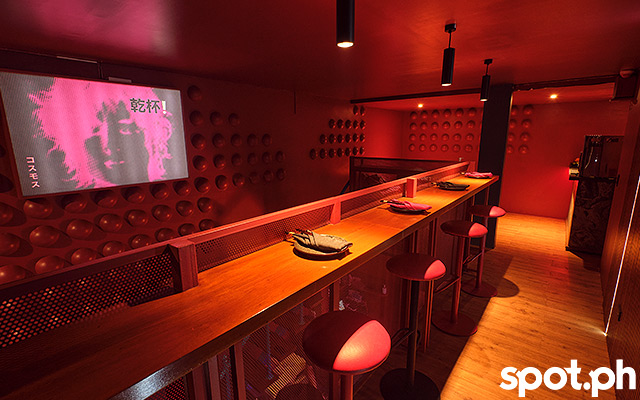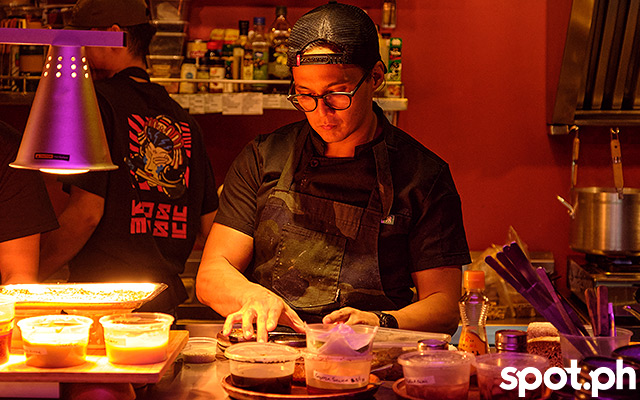 ADVERTISEMENT - CONTINUE READING BELOW
Also read: The New Poblacion Dining Spots to Put on Your Must-Visit List
Why you should add Kosumosu to your list of go-to Poblacion bars
The house Bread and Butter (P180) is not to be missed. Already-excellent sourdough takes on extra depth with a red miso base. Match the perfectly-soft-inside, crusty-outside with a choice of either honey truffle butter—an earthy and sweet mix, with an added dimension thanks to sesame—or the mushroom duxelle and black garlic. The latter is a surprisingly complex treat, with intense depth from mushrooms and a soft yet many-layered sweetness from housemade black garlic.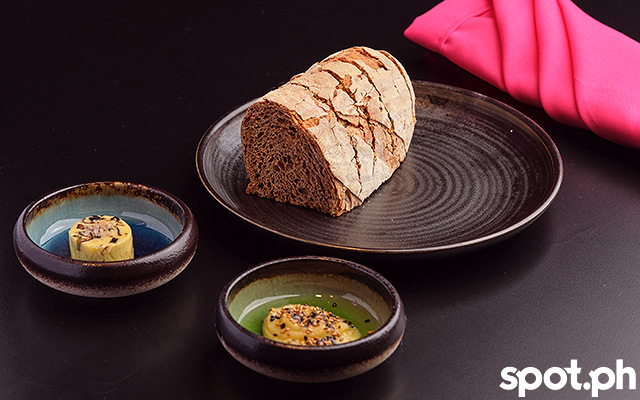 ADVERTISEMENT - CONTINUE READING BELOW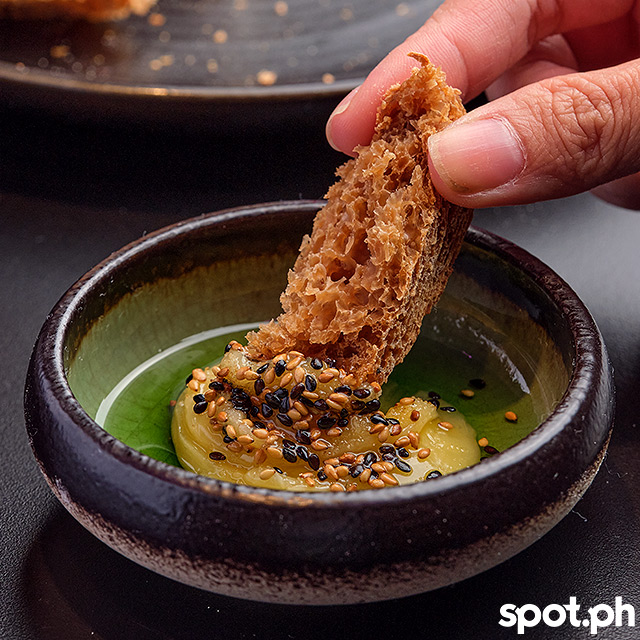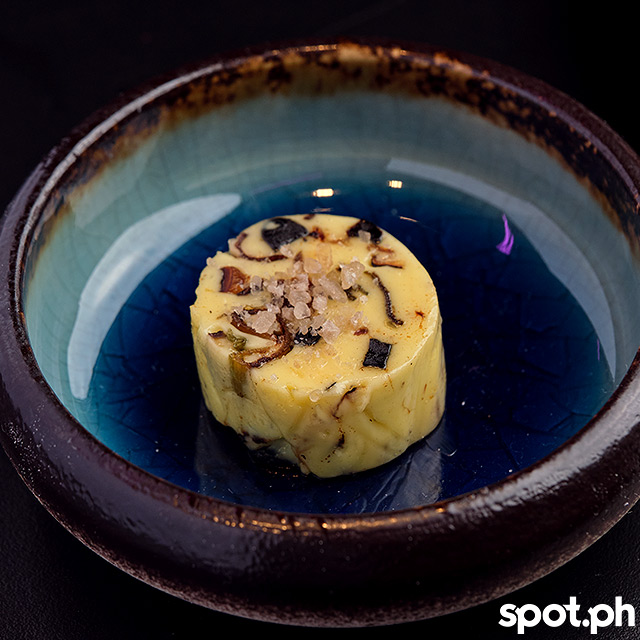 ADVERTISEMENT - CONTINUE READING BELOW
The Miso Apple Salad (P250) is proof that Chef Navarro and team aren't boxed in—think a ring of grilled apple slices covered in seasonal greens, generous sprinklings of smoked kesong puti, candied walnuts, all covered in a miso-sesame dressing. This plate takes its cue from the chef's childhood and training in the U.S., minus all the caricature stereotypes paint of Western fare—the flavor twists you'll find grounds it right back to home. Whether it's taken as a main or a shared starter, this plate is perfect if you need something to brighten your mood.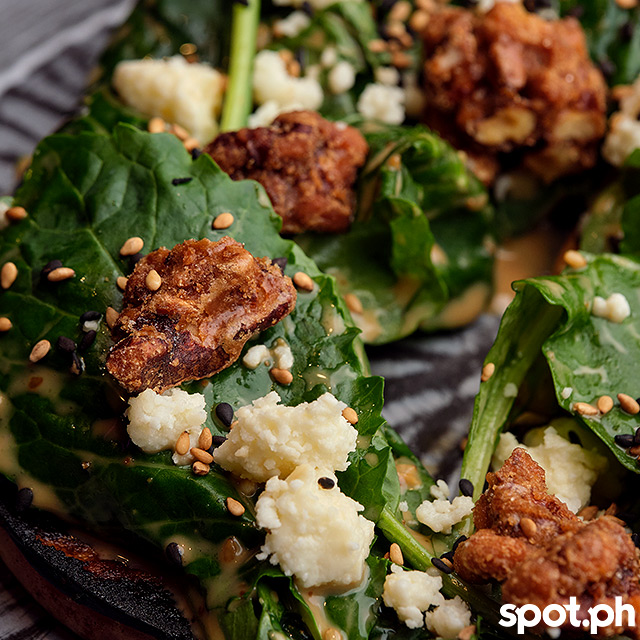 ADVERTISEMENT - CONTINUE READING BELOW
Further proof of how Kosumosu finds new ways to make classic plates are the brightly hued Galaxy Gyoza (P250) and Solar Shroom Gyoza (P250). The former is a pink-wrapped bite full of ground pork, shiitake, cabbage, and leeks while the latter is a vegetarian-friendly mix of shiitake, cabbage, kutchay, ginger and garlic. Both are of the burst-in-your-mouth class of dumplings, with the crisp skirts giving them a crunchy, almost addictive edge.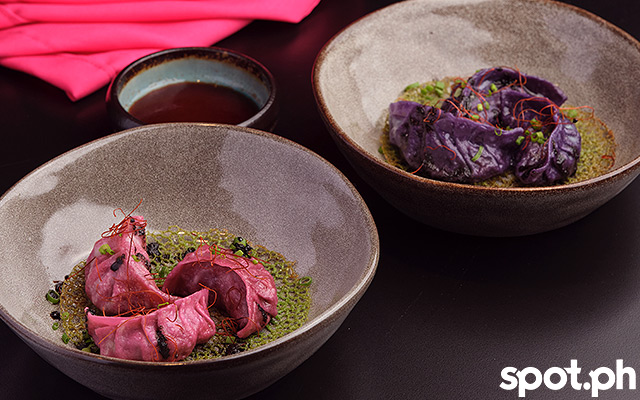 ADVERTISEMENT - CONTINUE READING BELOW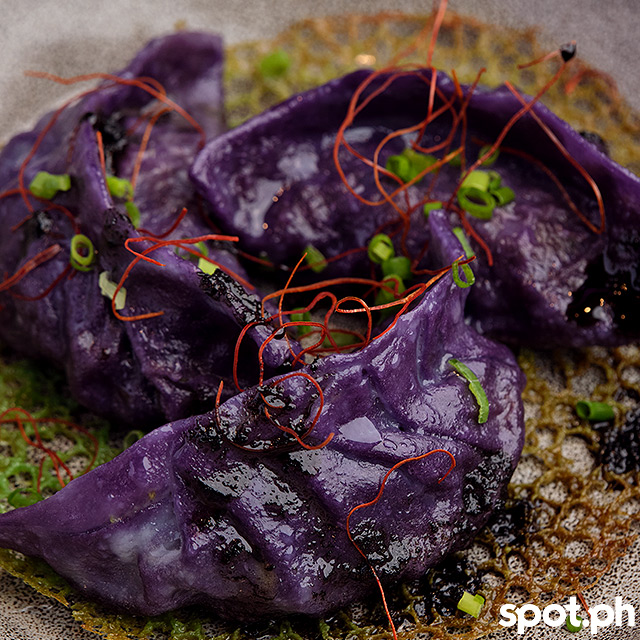 Who doesn't love a good sando? You'll find the Egg Katsu Sando (P280) takes the hearty sandwich to a different playing field—chef explains that these bites are meant to be a play on texture. Sous vide tamago encrusted in crunchy panko between perfectly toasted house Hokkaido-style milk bread, then all those layers of crisp and soft and crisp and soft topped with a fried quail egg. Trust us, chef really meant "texture" when he said it, and we're all for it.
ADVERTISEMENT - CONTINUE READING BELOW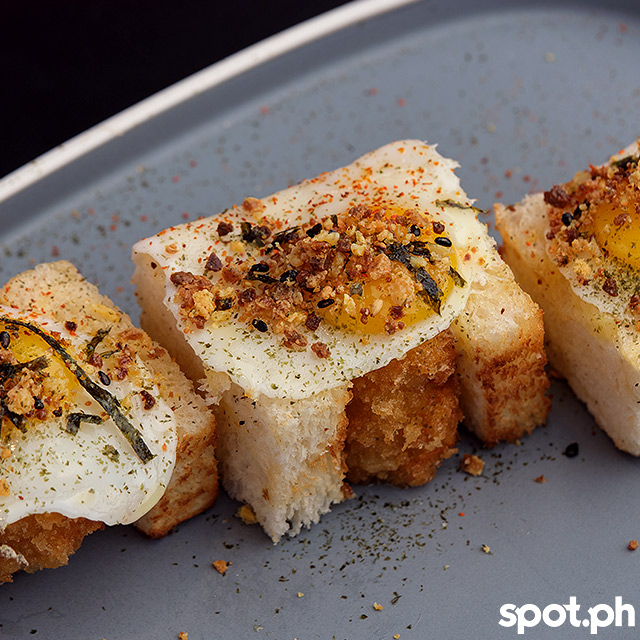 The Chicken Liver Brulee (P300) is a celebration of so many different techniques in one plate. Soft, earthy liver pate torched brulee style may be the star of the show, but don't miss out on the pickled local veggies—their brine is mixed with different kinds of spices to give it a fresh edge.
ADVERTISEMENT - CONTINUE READING BELOW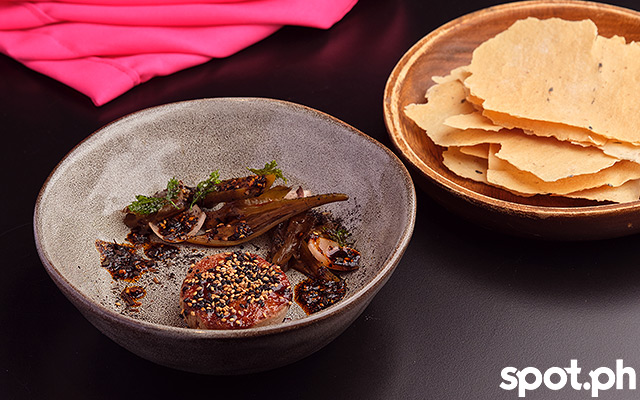 Onto the big plates. The Big Bang Chicken Bao (P320) is a nod to Nashville's hot chicken sandwiches, explains chef, so what you get are hefty bao's, mixed with ube to boot, encasing crisp chicken patties that serve up a heat that's no joke. It's that type of pain that you enjoy, though, so don't worry. You may want to forget everything you think "teriyaki" means when you order the Teriyaki Chicken (P580); Kosumosu serves one up unlike any other. Sous vide stuffed chicken crowns a bed of heavy polenta and shiitake duxelle, crowned with Ilocos sili, making for hearty bites that are straight on the savory side of the spectrum.
ADVERTISEMENT - CONTINUE READING BELOW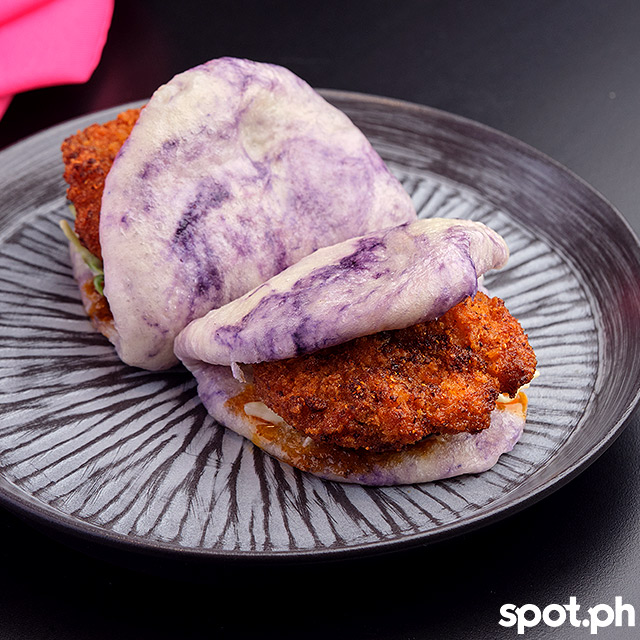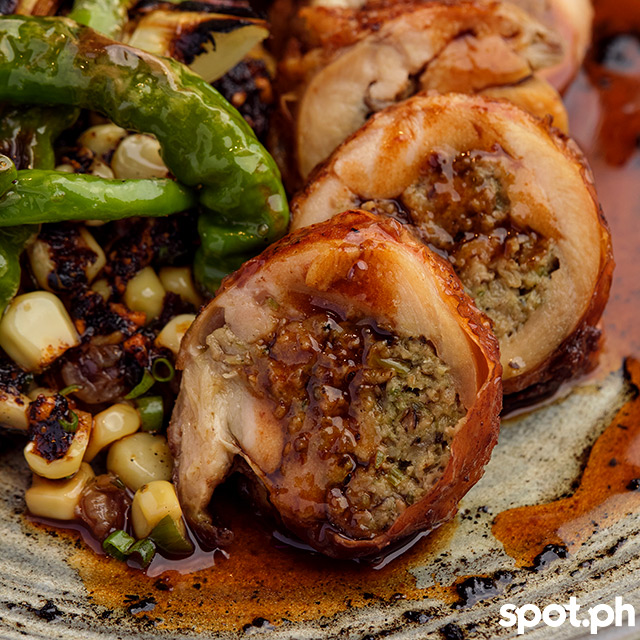 ADVERTISEMENT - CONTINUE READING BELOW
If you're in it to try the most unexpected thing in an already offbeat izakaya, it has to be the Gnocchi (P480). Think a plate of soft, chewy, and rather hefty potato dumplings smothered in a umami-fied brown butter that announces its very welcome presence with every forkful, with bits of crisp chicken sprinkled on. This is the type of dish that shows you how someone can play with skills they've perfected through the years, enabling them to create something new.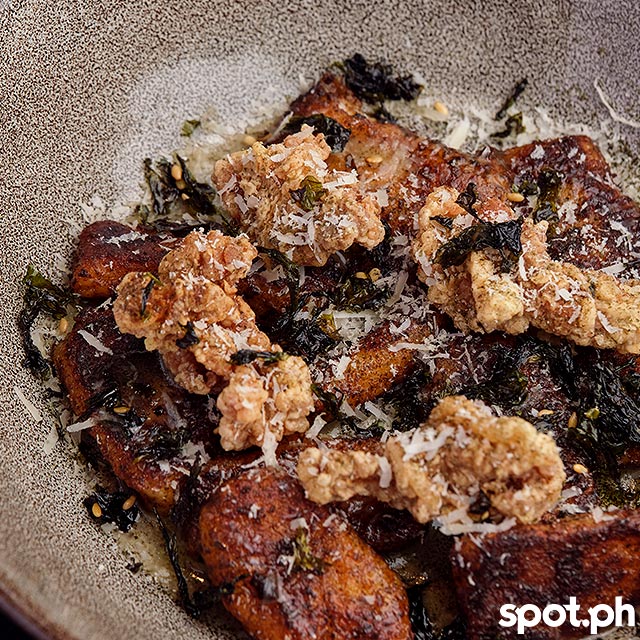 ADVERTISEMENT - CONTINUE READING BELOW
Kosumosu's menu is a prime example of quality and range over quantity, so if you want to be able to taste just how good Navarro and team can make things, give their dinner menus a try. For an omakase setup, go for the Feed Me Menu (P1,500) where you'll be able to try both new and on-menu items, depending on the chef. To really get a sample of Kosumosu's best, there is the Mi-So Hungry Menu (P3,200).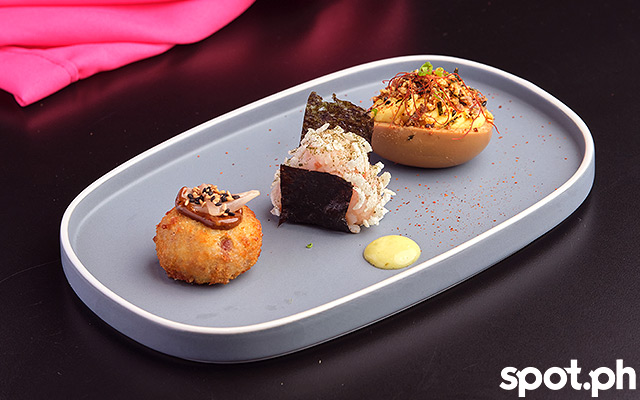 ADVERTISEMENT - CONTINUE READING BELOW
And sweet tooth's need not worry, as Chef Navarro hasn't forgotten desserts either. Their two plates, Supernova Yuzu Bar (P250) and Chocolate Mousse (P250) have had just as much passion and thought come into their building as the mains; both as much a play on texture and flavor. The yuzu plays into the brighter end of the spectrum while the mousse leans more into the flavorful depths of cacao.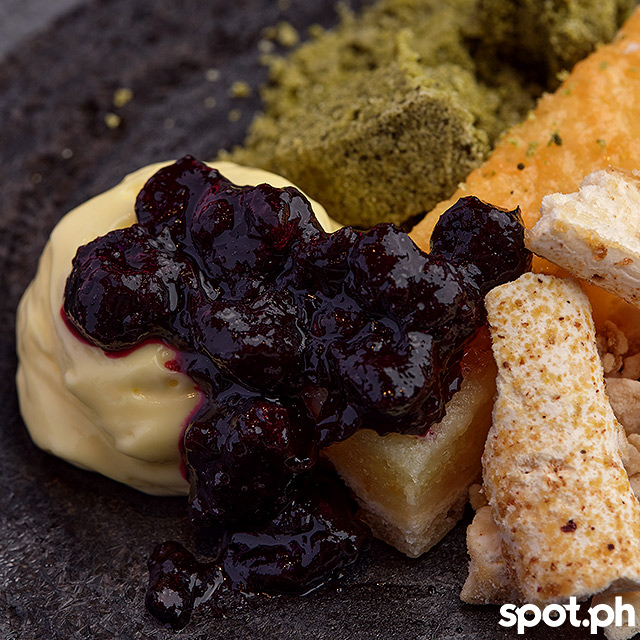 ADVERTISEMENT - CONTINUE READING BELOW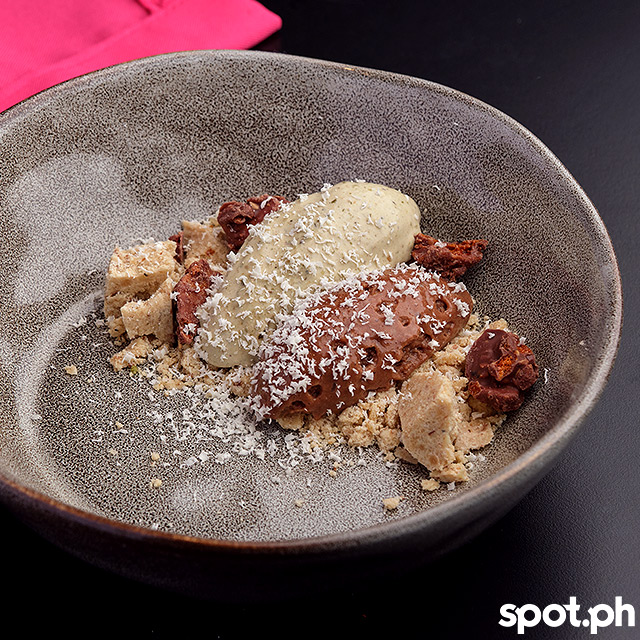 Also read: This Poblacion Resto-Slash-Pub Proves Topnotch European Fare Need Not Be Pretentious
ADVERTISEMENT - CONTINUE READING BELOW
Now while in Poblacion, there will always be time and space for a drink or two. Kosumosu stays true to its Japanese origins with a slew of Suntory-based drinks, alongside plum liquor and more. There's the Yuzu Basil Smash (P300) with its bright and citrusy notes, the Konbanwa (P300) with green tea syrup, Blossom Season (P380) with vodka and coconut liquer, the ever serious Negroni (P320), and more.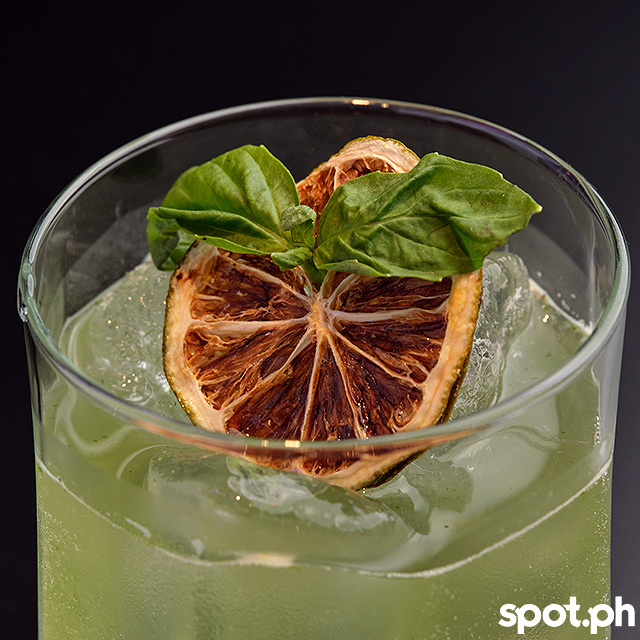 ADVERTISEMENT - CONTINUE READING BELOW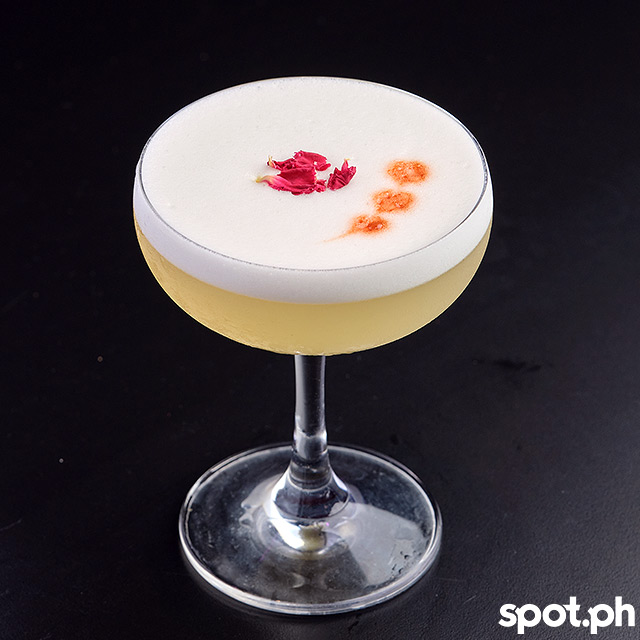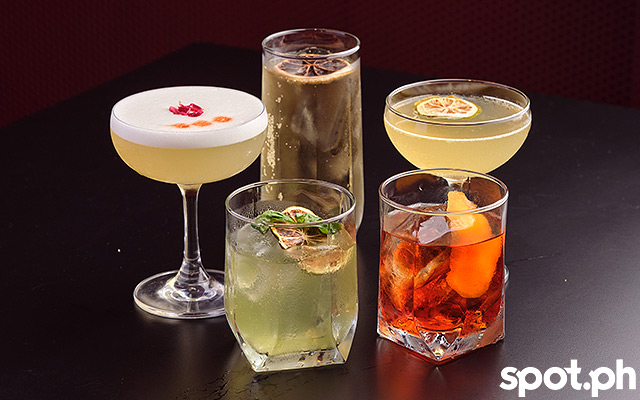 ADVERTISEMENT - CONTINUE READING BELOW
As Chef Navarro explains, they make practically everything from scratch in either their small kitchen or a nearby homebase; this dedication shines through in every plate and drink. With a background in all sorts of cuisine and training abroad, he came back to the Philippines, where his grandparents came from in the '40s, to add in a Filipino edge to his dishes. And no matter where he draws the flavors from, be it Japanese, American, Pinoy, all of the above or none, a certain authenticity always comes through.
Now while the place may be touted as a modern izakaya, and the vibes thoroughly Japanese, Kosumosu with its team of no-holds barred chefs and creatives, does not limit itself in any way. After all, in a place like Poblacion, why not reach for the stars?

Also read: This Taqueria in Poblacion Is Exactly the Soul-Warming Place To Go To After a Night of Losing It
ADVERTISEMENT - CONTINUE READING BELOW
Your guide to thriving in
this
strange new world.
Share this story with your friends!
---
Help us make Spot.ph better!
Take the short survey
More Videos You Can Watch
Load More Stories