Chairman FU
Second Floor, Garden Wing, Newport Mall, Pasay City
Facebook: www.facebook.com/chairmanfuhotpotbar
Operating hours: Daily, 11 a.m. to 11 p.m.
(SPOT.ph) When one hears the word "hot pot", a few ideas come to mind. You have communal dining, where a group of individuals partake in a meal with just a singular soup pot. There's also the way the dish evokes comfort, thanks to the deeply savory flavors and the fact that it's, well, literally hot.
Today, there are a ton of hot pot spots in the Metro, all with their own gimmicks—whether it be unlimited eats, collagen broth, or spiciness your mouth cannot tolerate. But what sets Chairman FU in Pasay City apart from the others is how they take the warm and hearty meal to topnotch heights, thanks to their dazzling interiors and quality ingredients.
Also read: 10 Great Places for Hot Pot in QC and San Juan
Check out this new hotpot spot in Pasay City: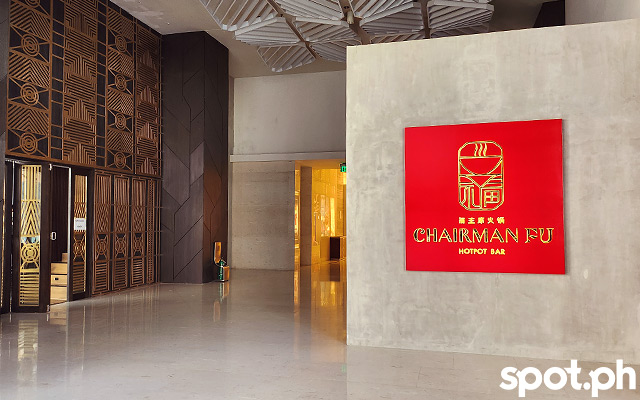 ADVERTISEMENT - CONTINUE READING BELOW
It's a blink-and-you'll-miss-it type of situation when it comes to Chairman FU. Located in a secluded but brightly-lit corridor on the second floor of Newport Mall (try to whisper it, we dare you), the hot pot joint is nestled in the bridge part connecting the said mall with the adjacent hotel, Hilton Manila. What welcomes you is a series of gold and bronze doors separated into two sections—more on that later, we promise.
On your left is the main dining space, with a total of five booths placed around the perimeter. At the center, the pièce de résistance if you will, lies the circular bar that not only caters to your drink of choice but also gives you the opportunity to dine solo. Yep, you've read that right, Chairman FU is solo diner-friendly.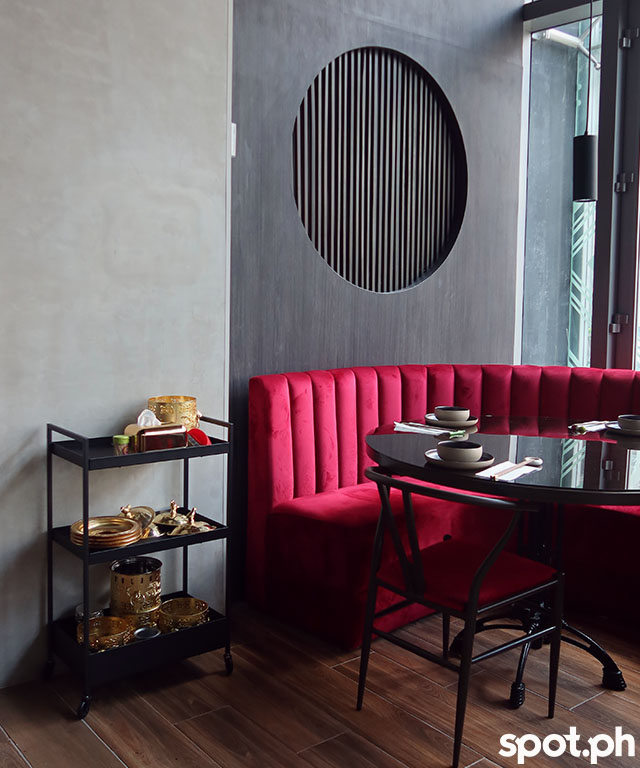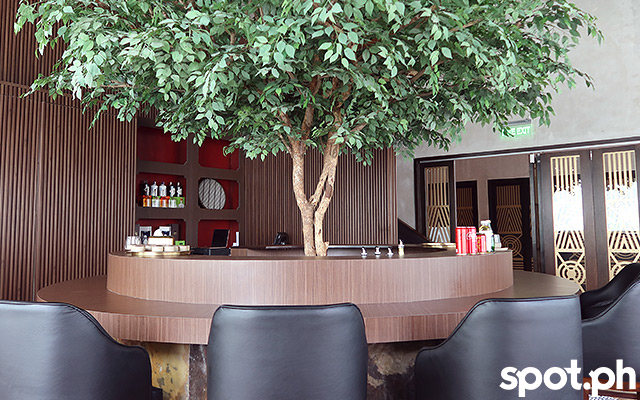 Bigger groups can opt to take the mezzanine level which can comfortably sit 10 or the more secluded and private rooms across the hall which collectively can sit a total of 30.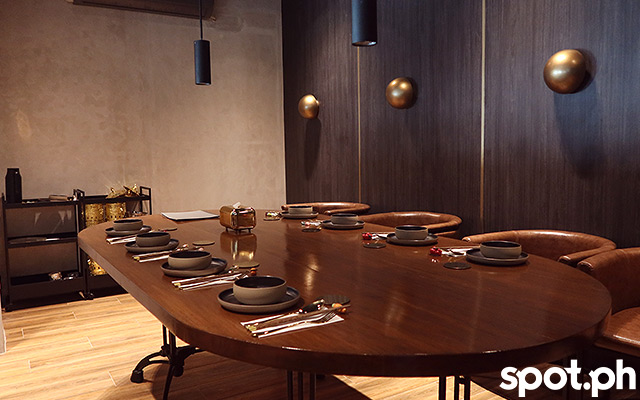 ADVERTISEMENT - CONTINUE READING BELOW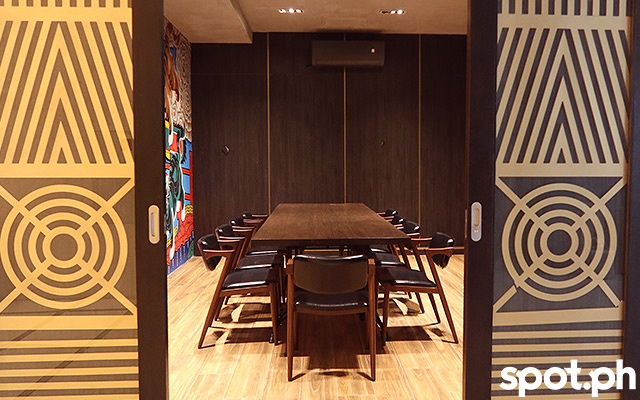 "It started [with me and my] friends [being fans of] hot pot. So we decided, 'why not open one?'," owner and chef Francis Lim shares in an exchange with SPOT.ph. Chairman Fu, he says, is where the bits they like from different hot pot places around Manila—and kinds of hot pot around China—congregate.
ADVERTISEMENT - CONTINUE READING BELOW
True enough, the idea of the Chinese hot pot is highlighted in different ways by means of the soup base (starts at P250) served. You have your traditional shabu-shabu-style hot pot—which is inherently a Japanese concept but has roots in inner Mongolia—that uses the more familiar and peanut-y Satay Broth; the spicier-than-hell Mala Beef Cube Broth that uses peppercorn and chili from the Sichuan province while incorporating the hot chili oil similar to what one might expect with when one consumes Chongqing hot pot. Not into spicy food? Those who prefer a more mellow soup can opt to go for the more comforting Sweet Corn and Chicken Collagen Broth or the umami-rich Wild Mushroom Collagen Broth, both of which come in their solid, jiggly state.
Also read: The SPOT.ph Guide to Chinese Food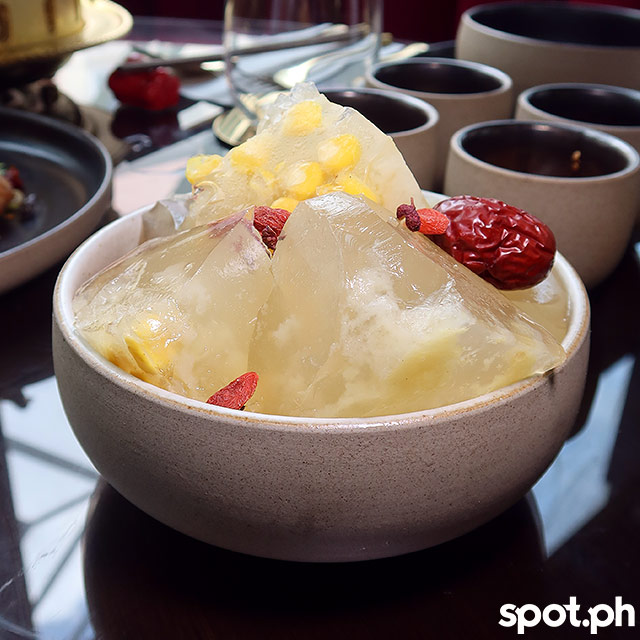 ADVERTISEMENT - CONTINUE READING BELOW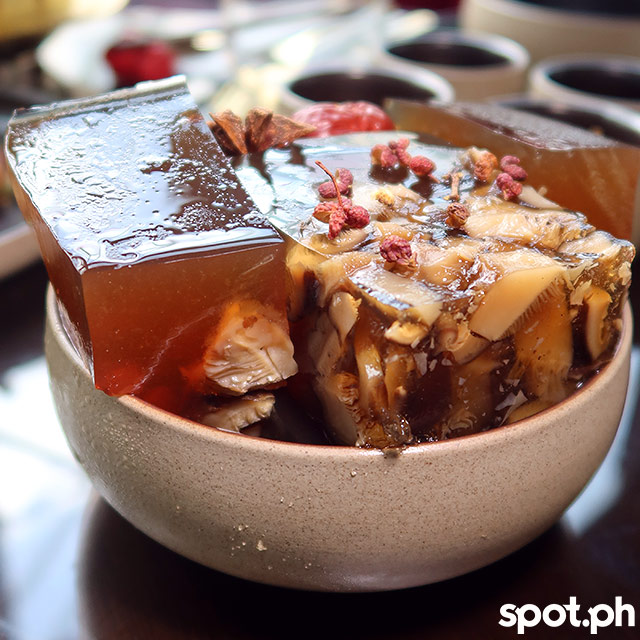 Of course, it wouldn't be a Chinese hot pot without the balls. (The food kind obviously.) Take your pick from the ooey-gooey Cheese Dumpling (P350); the chewy Fish Tofu (P280); the surimi and imitation crab stick Lobster Ball (P280); or the light but compact Mushroom Ball (P280). Better yet, get them all in a Mixed bowl for P380, which gives you a heaping serving of the said ingredients.
ADVERTISEMENT - CONTINUE READING BELOW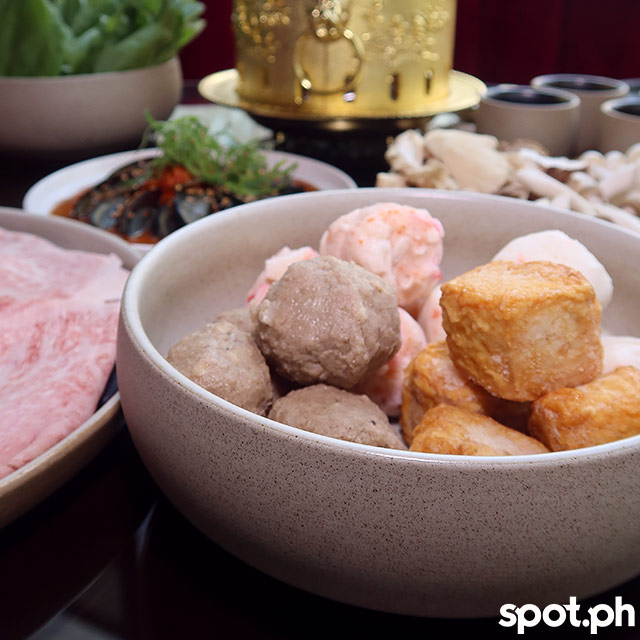 Those hankering for meat would be glad to know that Chairman Fu has all the good cuts. Take your pick from the premium, melt-in-your-mouth Japanese Wagyu Rib-Eye A5 (P4,500) or the U.S. Angus Beef Rib-eye (P2,500) or Shortrib (P1,500), all of which are good for sharing.
ADVERTISEMENT - CONTINUE READING BELOW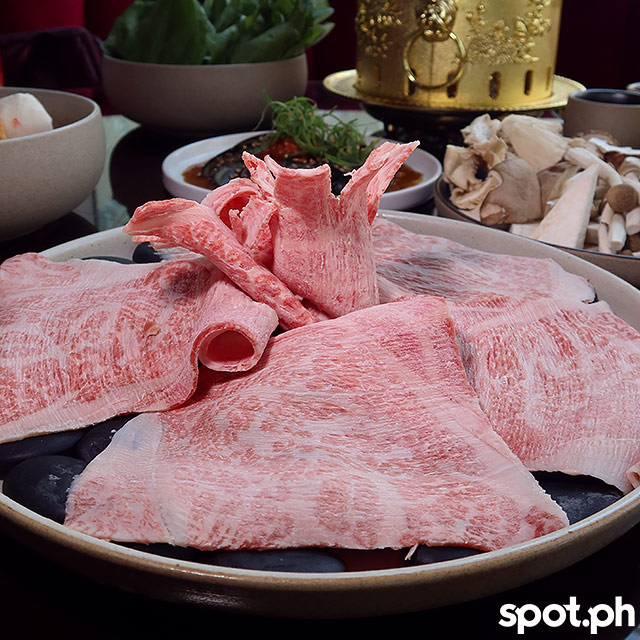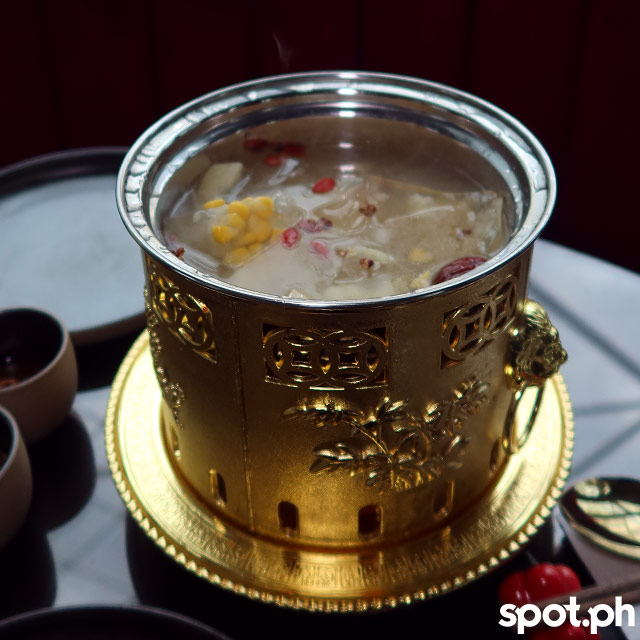 ADVERTISEMENT - CONTINUE READING BELOW
They also serve non-hot pot items in case you're in the mood for some good ol' Chinese fare. The Mala Beef Fried Rice (P150 for solo serving/P380 for sharing) has hints of spice but is more tolerable—you'll just be taking more frequent sips of your drink but trust us, the kick becomes addictive. While technically listed as an appetizer, their Sichuan Fried Chicken (P380) pairs well with their traditional Egg Fried Rice (P120 for a solo serving/ P280 for sharing). The chicken dish comes in bite-sized portions with a generous heaping of chopped Sichuan peppers and if you went to a Chinese school, chances are this particular dish would evoke memories of afternoons spent hanging out with friends in the neighborhood chicken shop.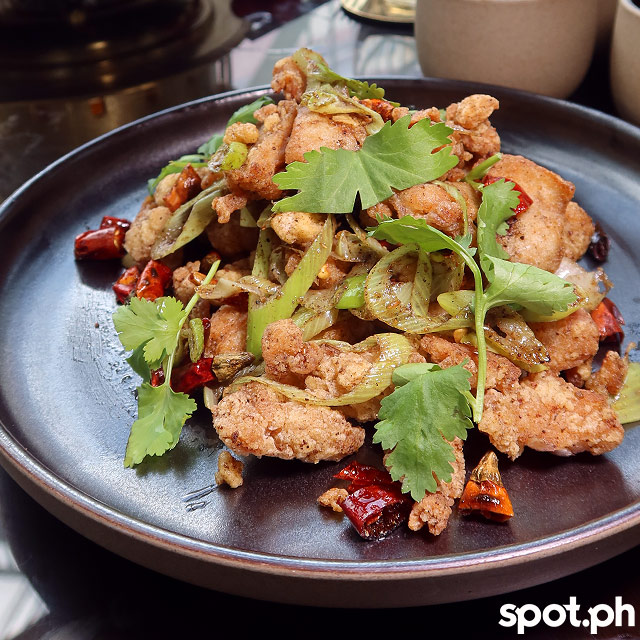 ADVERTISEMENT - CONTINUE READING BELOW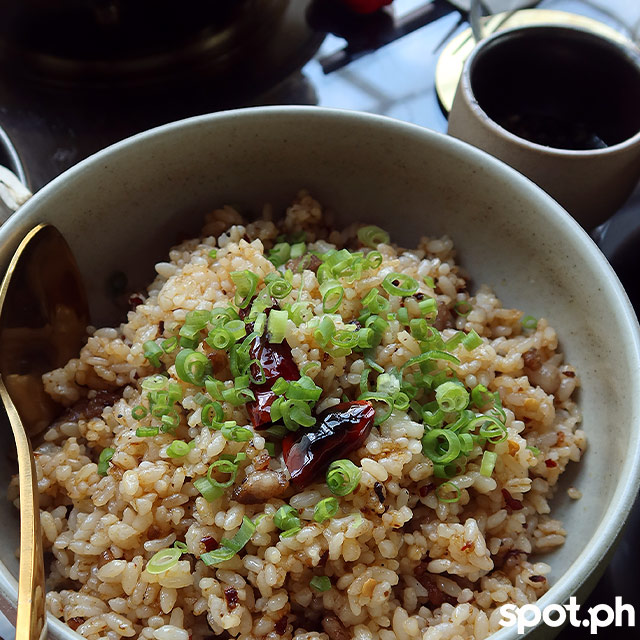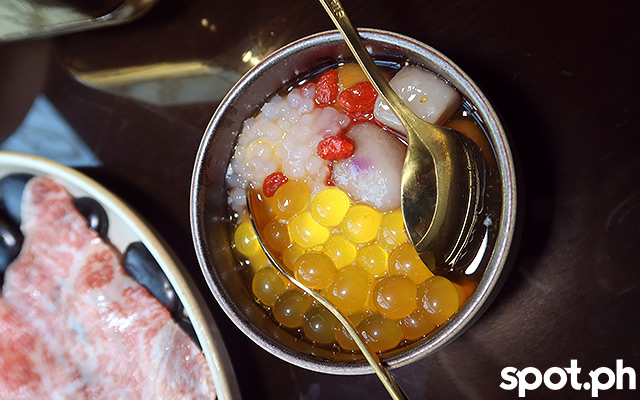 ADVERTISEMENT - CONTINUE READING BELOW
Even if you're stuffed, you'll want to leave room for dessert. Don't miss the Chinese Halo-Halo (P150)—Chairman FU's take on the classic Filipino dessert with chewy mochi bites, taho, and a sweet syrup. It's a great way to end a heavy and flavorful meal if we do say so ourselves. After all, fancy as the restaurant looks, we're happy to report that it doesn't lose sight of what's familiar.
Hey, Spotters! Check us out on Viber to join our Community and subscribe to our Chatbot.
Share this story with your friends!
---
Help us make Spot.ph better!
Take the short survey
More Videos You Can Watch
Load More Stories