Top 10 Frozen Coffee Blends in Manila
Our (well-caffeinated) staff guzzled enough coffee shakes to keep them awake for weeks. Find out which ones made the cut.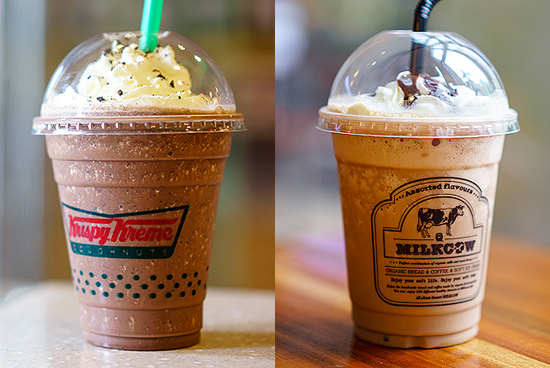 (SPOT.ph) Frappuccino, Ice Blended, Coffee Freeze, Mochaccino, Javakula, Frappé—whatever name you call it, the cold-blended coffee drink (the only copyright-free term we could use) is very popular here in the Philippines. So much so that when the UK's famous Costa Coffee opens its doors later this month, they'll be releasing a brand-new Frostino drink just in time for the Manila launch.
ADVERTISEMENT - CONTINUE READING BELOW
CONTINUE READING BELOW
Recommended Videos
These drinks—cold-blended coffee drinks—are the best way to get your caffeine fix when the sun is beating down your neck (which is all the freaking time). Not only does it give you that much needed jolt of caffeine, it also provides you enough sugar to paste a smile on your face during your regular, crazy boring mid-afternoon meeting.
Coffee shakes are so ubiquitous that nearly every café or even fast-food restaurant chain has their own version. We enlisted the help of our staff to help us chug down as many cold-blended coffee drinks as we could in order to find out which ones are worth the pesos—and the calories.
The winners selected below are all masters of creating that perfectly balanced cold-blended coffee shake: sweet and creamy, but not too sweet that it was like drinking pure sugar, and you could still taste the coffee, because it is, after all, still all about the coffee.
ADVERTISEMENT - CONTINUE READING BELOW
All SPOT.ph Top 10 lists are researched, paid for, tested, and selected by the writers and editors. They are discreetly conducted without any notice made to the restaurants or their owners.
Also read:
10 Must-Try Handcrafted Coffee Places in Manila
10 Best Cafes for #HOHOL
Top 10 Milkshakes (2013 Edition)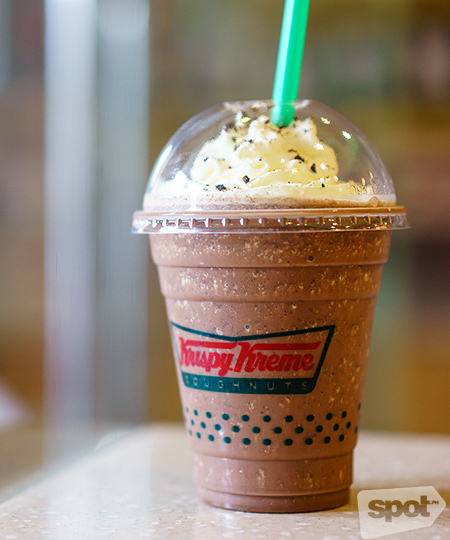 10. Krispy Kreme's Chocolate Cookie Oreo Espresso Chiller (P135)
ADVERTISEMENT - CONTINUE READING BELOW
In the amusingly very likely scenario that you need run to your next meeting with only one free hand, grab a Krispy Kreme Chocolate Cookie Oreo Chiller with a shot of espresso. The drink is made with real cookies, so you don't need to munch and sip. It's a very delicious and efficient beverage. If chocolate and coffee got together and made a baby, it would taste like this.
Click here for a list of Krispy Kreme branches.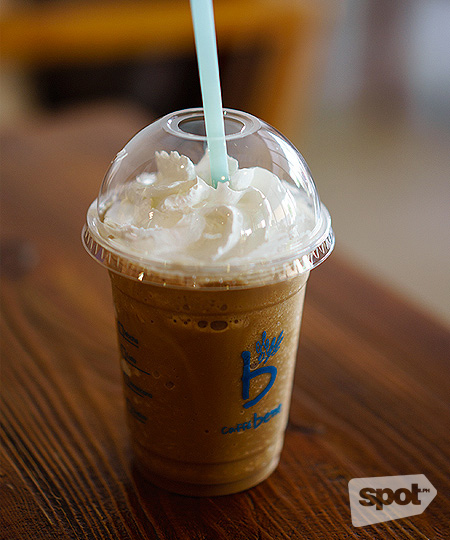 ADVERTISEMENT - CONTINUE READING BELOW
9. Caffé Bene's White Mocha Frappe (P160)
Koreans know their coffee. Trust us, you can't walk around Seoul without bumping into a coffee shop. Caffé Bene is one of the more popular coffee chains in South Korea, and with good reason. Apart from carrying creamy gelato, their proprietary roasted beans give their coffee a rich and unique flavor. The White Mocha Frappe mixes in white chocolate with their espresso blend: It's sweet enough to chase away the bitterness of the coffee but not too much that you can't match the drink with any of their yummy pastries.
Click here for a list of Caffé Bene branches.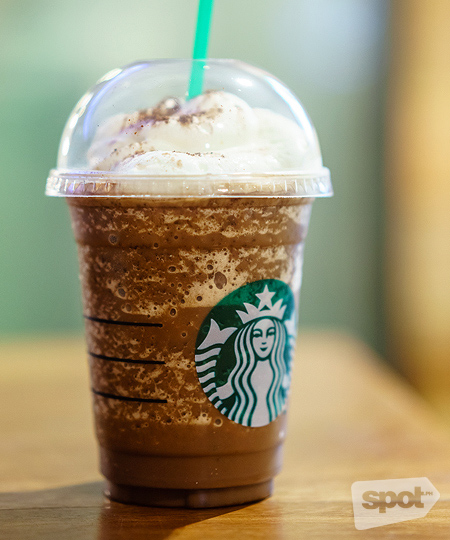 ADVERTISEMENT - CONTINUE READING BELOW
8. Starbucks' Dark Mocha Frappuccino (P170)
Coffee shakes were just that, until Starbucks came along and made it a trendy beverage to be toting around (Derek Zoolander and his posse of friends swear by the Orange Mocha ones). The Dark Mocha Frappuccino puts a bolder spin to its more popular cousin with the addition of dark chocolate. It tastes like really good chocolate cake in liquid form.
Click here for a list of Starbucks branches.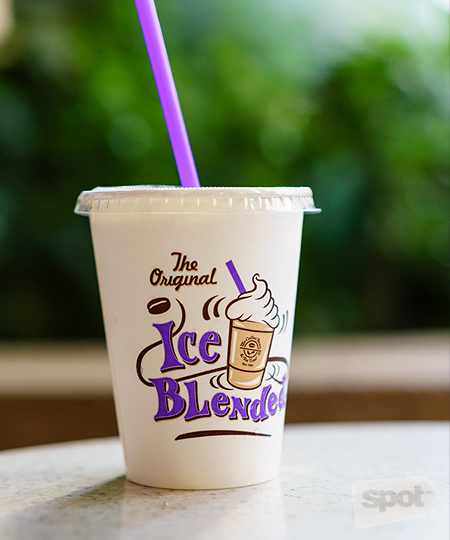 ADVERTISEMENT - CONTINUE READING BELOW
7. The Coffee Bean and Tea Leaf's The Ultimate Mocha Ice Blended (P175)
The reason The Coffee Bean and Tea Leaf calls this The Ultimate is because they have pulled out all the stops to make their Ice Blended a sweet and satisfying treat. Creamy and silky with a rich coffee base, The Ultimate also comes with chocolate-covered espresso beans, perfect if you're jonesing for a jolt of caffeine.
Click here for a list of The Coffee Bean and Tea Leaf branches.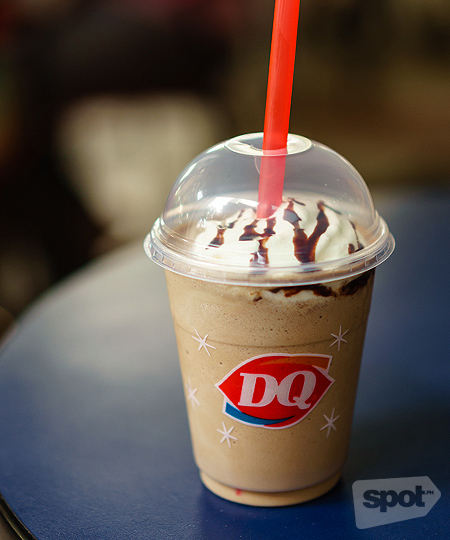 ADVERTISEMENT - CONTINUE READING BELOW
6. Dairy Queen's Double Cocoa Fudge Moo Latte (P99)
Make sure to whip out your American accent when ordering a Moo Latte from Dairy Queen (hint: rhymes with Beyoncé). At P99 for 12 ounces, this frothy treat combines Dairy Queen's famous Blizzard soft-serve base with coffee and whipped cream—it's really dessert with a shot of caffeine. And for the price, you can have two servings in a day, or order four six-ounce versions at P49 each.
Click here for a list of Dairy Queen branches.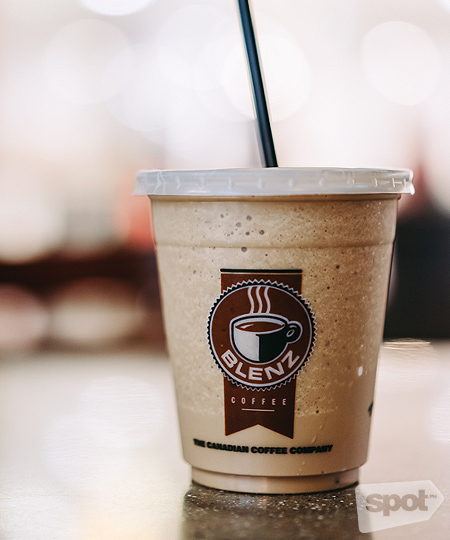 ADVERTISEMENT - CONTINUE READING BELOW
5. Blenz's Milk Chocolate Mochachillo (P180)
We're huge fans of Blenz's Iced Milk Chocolate, which tastes like smooth, melted iced Horlicks. Their Mochachillo lets you choose three different kinds of their signature chocolate to blend with the coffee. Coffee connoisseurs will love how the chocolate does not overpower the coffee—you can still taste the coffee, which is still the point. It tastes good even without the whipped cream topping. We've tried. They ran out during our coffee run.
Click here for a list of Blenz branches.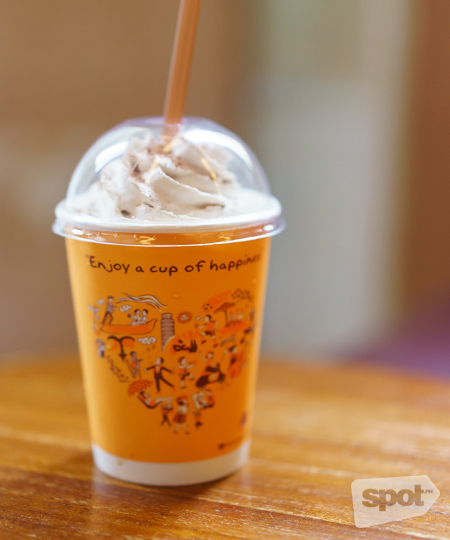 ADVERTISEMENT - CONTINUE READING BELOW
4. J.Co's Jcoccino Frappe (P135)
J. Co was right to name this their signature cold-blend drink—the thick whipped cream on top of this shake is a treat on its own. If you've got an intense craving for sweets, make sure to grab a Jcoccino frappe because each purchase comes with a free donut, too.
Click here for a list of J.Co branches.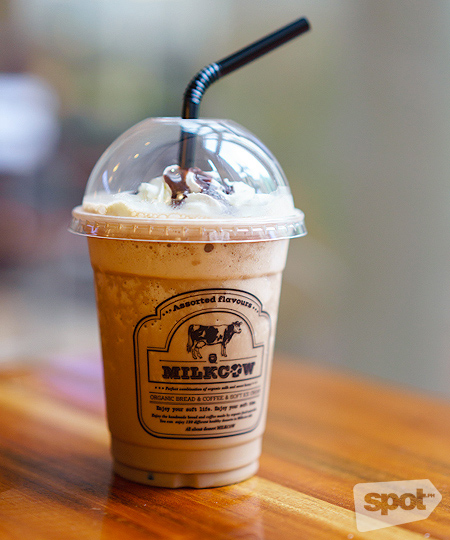 ADVERTISEMENT - CONTINUE READING BELOW
3. Milkcow's Mocha Supreme (P115)
There's more to Milkcow than delectable ice cream, they make a mean coffee shake, too, and at a price more affordable than most blended coffee drinks. Their coffee beverages blend organic milk and honey together for a healthier alternative.
Milkcow is at G/F Eastwood Mall, Libis, Quezon City. Read more about Milkcow.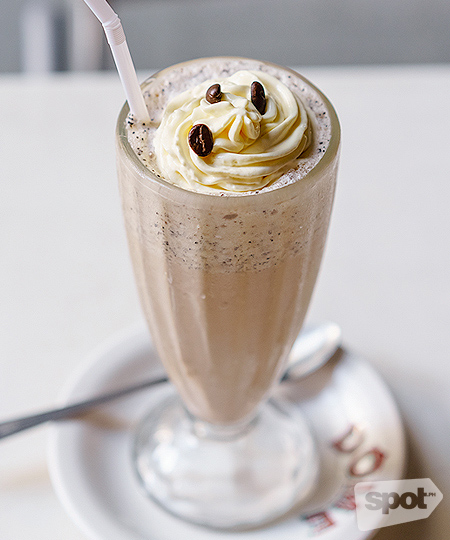 ADVERTISEMENT - CONTINUE READING BELOW
2. Dome's Dome Twister (P220)
Espresso, two kinds of ice cream, chocolate and whipped cream comprise the ultra-decadent Dome Twister. It's almost an extra-thick coffee milkshake. This drink is so rich that you'd want to share the experience (and calories) with a friend or your bae.
Dome is at G/F Shangri-La Plaza, Mandaluyong City.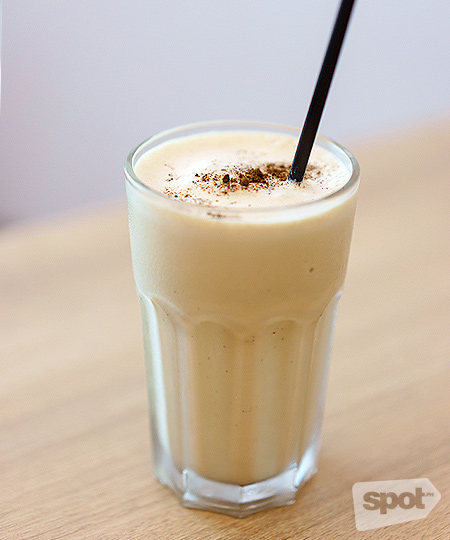 ADVERTISEMENT - CONTINUE READING BELOW
1. Yardstick Coffee's Yard Shake (P180)
You know all that cheesy talk about people saying how all it took was one glance to know they had met their one true love? That's how we felt when we took just one sip of Yardstick Coffee's Yard Shake. If this shake were a frog, it would've turned into a prince the moment our lips touched it (kahit 'di naman kami princess). Described as "simply cold-brewed coffee, ice cream, milk and ground espresso," there's nothing simple about this deliciously smooth and creamy cold-blended coffee concoction. The coffee notes are clean and perfect, the milk and ice cream are rich but not cloying.
We still dream about the taste of Yard Shake, and to paraphrase a song, it will bring all the boys (and girls) to the Yard(stick), because damn right, it's better than yours.
Yardstick Coffee is at LMS Building, 106 Esteban Street, Legazpi Village, Makati City.
ADVERTISEMENT - CONTINUE READING BELOW
Photos by Patrick Martires
Also read:
10 Must-Try Handcrafted Coffee Places in Manila
10 Best Cafes for #HOHOL
Top 10 Milkshakes (2013 Edition)
Load More Stories