10 Cafes in Manila That Are Perfect for Book Lovers
Eat, drink, READ.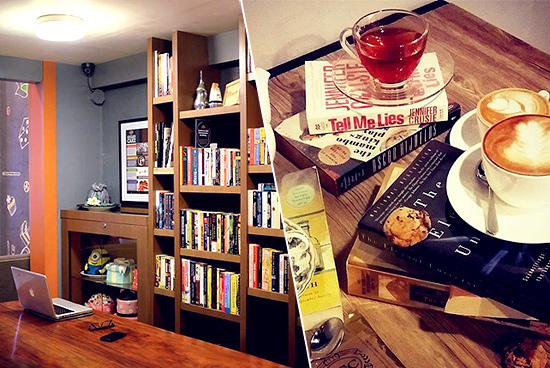 (SPOT.ph) Listen up, bibliophiles! The days of B.Y.O.B. (that's Bring Your Own Book) are officially over. Coffee shops and restaurants are now rediscovering the appeal of tangible tomes in their quest to change the tired, deadened look of guests who have gotten used to asking, "Is there WiFi here?" and forever scrolling down their Facebook and Instagram feeds. These establishments are now turning a part of their shops into mini-libraries, with some really setting their spaces around this theme.
Here are just some cafes and restaurants that serve books on the side.
Also read:
Bored? 10 Places for Food and Board Games
10 Best Cafes for #HOHOL
10 More Cafes in Manila That are Perfect for Book Lovers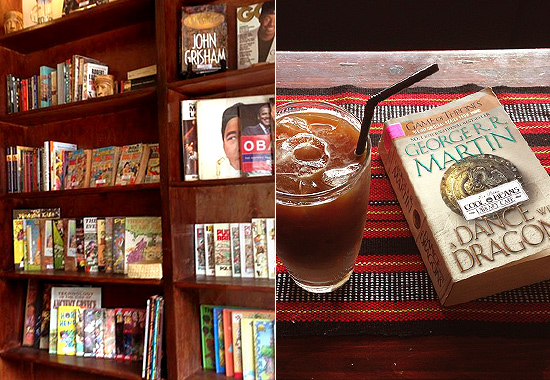 Cool Beans Library Café
Lately, it's been known as the cafe in the hit film English Only Please, but Cool Beans Library Cafe was the very first eatery to offer books for reading in Metro Manila. Established in 2013, they serve exclusively homegrown Philippine Highland Coffee (Sagada, Kalinga, and Benguet Roasts), bringing a taste of Baguio to the Maginhawa community. They opened the library cafe with the intention of giving everyone, especially underprivileged students, opportunity to read books.
Book Count: They have over a thousand reading materials—though some may be temporarily off the shelves for maintenance or cataloging.
Book Finds: Very rare Filipiniana books including anthologies of Palanca-winning pieces, Filipino women's literature, as well as books by Conrado De Quiros, N.V.M. Gonzalez, Nick Joaquin, Lualhati Bautista, Ambeth Ocampo, former President Fidel V. Ramos, Tony Perez, Senator Miriam Santiago, and a Filipino version of The Hunger Games! They also have novels by contemporary and classical writers such as Shakespeare, Ernest Hemingway, Jane Austen, Kurt Vonnegut, Milan Kundera, George R.R. Martin, Neil Gaiman, Ken Follet, Mario Puzo, Terry Pratchett, J.R.R. Tolkien, Haruki Murakami, Philippa Gregory, John Grisham, et cetera. Cool Beans also has a rack devoted to National Geographic magazines and Marvel, DC, and Image comics and graphic novels. The Bible and the Qur'an are represented as well.
ADVERTISEMENT - CONTINUE READING BELOW
Book Policy: Borrowing is strictly kept in-house, and the management expects their customers to handle the books with care. They also accept book donations and pay it forward by sending excess books (i.e., those which would be of better use to disadvantaged students) to select provinces.
Enjoy With: Pasta (P160), panini (P70 to P170), brewed Sagada, Benguet, Kalinga coffee (P80/hot, P85/iced), Frost-Blends (P130)
Cool Beans Library Café is at 67 Maginhawa Street, Teachers Village, Quezon City (0917-706-4711, 0923-976-9652). Open from 10 a.m. to 11 p.m. (Monday to Thursday) and 10 a.m. to 12 a.m. (Friday to Saturday).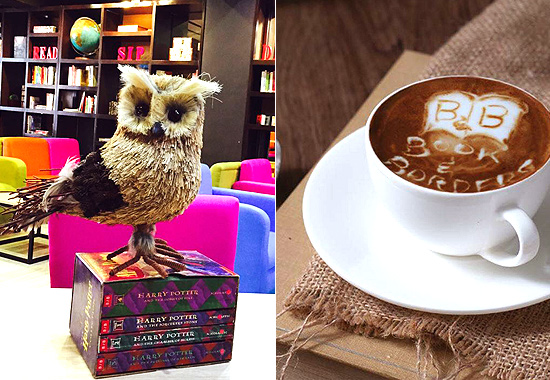 Book and Borders Café
Book and Borders Café is a place to read, sip, and dine. Most customers are either families hanging out during weekends or young professionals who choose the café as a meeting place due to its vibrant and comfortable seating and cuisine that's on the quirky side.
Book Count: Over 650 books and magazines, categorized by genre
Book Finds: Fiction mingles with non-fiction in categories like romance, fantasy, mystery, thriller, kids, YA, biography, hobby, humor, health, and lifestyle. Notable authors include Haruki Murakami, Mitch Albom, John Green, Stephen King, Anne Rice, Paulo Coelho, John Grisham, and Jane Austen.
Book Policy: One ID card for books. You can get your card back once you're done with your reading, which is only allowed within the premises.
Enjoy With: Salted Hot Chocolate (P125), Iced Mocha (P150/12 oz, P170/16 oz), Fried Tuyo Pasta (P195), Bolognese Pasta (P200)
ADVERTISEMENT - CONTINUE READING BELOW
Book and Borders is at 281 Tomas Morato Street, Quezon City.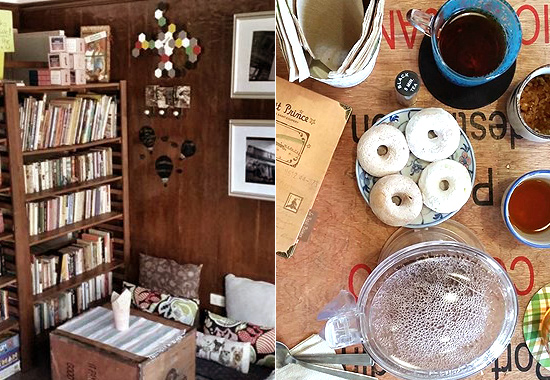 Antiteasis: Books and Brews
This quaint spot in Maginhawa is a haven for those who believe that a good book is best paired with a hot cup of tea. With their bean-bag chairs and throw pillows on the floor, it's a sanctuary for people who want to kick off their shoes, lie down, and relax with a book or two.
Book Count: Two tall shelves brimming with books, which are from the owners' family library and personal collections. The owners actually have no clue what their current book count is since friends and customers have generously donated titles!
Book Finds: Children's books, YA, Filipino, and non-fiction. You'll even find a Robbie Williams biography mixed with the Artemis Fowl series.
Book Policy: In-house reading only. Careful reading is a must. Customers are allowed to donate books, but trades aren't.
Enjoy With: Matcha Tea (P110), Apple Basil Smoothie (P100), Lemon Mini Donuts (P130/bag of 10)
Antiteasis: Books and Brews is at Unit C, 154 Maginhawa Street, Quezon City (0906-342-4599). Open from 1:30 p.m. to 10:30 p.m. (Tuesday to Sunday).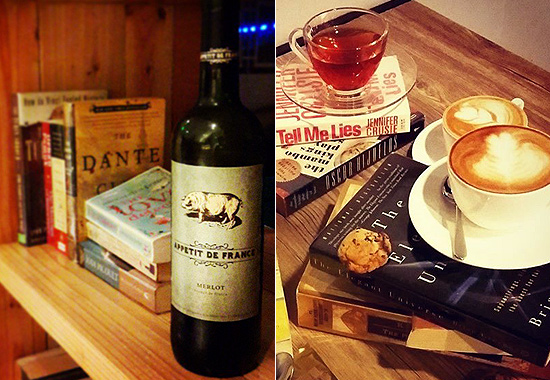 Tweedle Book Café
In the case of Tweedle Book Café, the dream of owning a library came before plans of having a coffee shop. Tweedle is, in fact, a library with a cafe and not the other way around. Their coffee, pastries, and dishes are just a sweet bonus.
ADVERTISEMENT - CONTINUE READING BELOW
Book Count: They currently have over 1,000 books, and the owners try to keep their selection fresh. Tweedle doesn't store books with movie adaptations because they want their customers to discover something new for themselves.
Book Finds: You'll find fantasy, graphics, award winners, romance, chick lit, self-help, classics, YA, and thrillers on the shelves. They have everything from Gabriel Garcia Marquez, Terry Pratchett, and Margaret Atwood to Dr. Seuss, Sweet Valley, Star Trek, and Paulo Coelho.
Book Policy: Since they had #librarygoals, they initially allowed customers to rent out books until circumstances altered their rules. Reading must be done inside the cafe. People may donate books and, in turn, Tweedle will give away their old ones.
Enjoy With: Chocolate Chamber Chocolate Drink (P180/Dark, P160/Infused), Duck Duck Duck or Duck Sisig Rice, Smoked Duck Breast and Foie Gras (P1,500), Wagyu Kimcheese Burger (P300), Choco Lava (P120)
Tweedle Book Café is at 106 B Scout Gandia Street, Quezon City (0922-805-1688). Open from 10 a.m. to 12 a.m. (Sunday to Thursday) and 10 a.m. to 1 a.m (Friday to Saturday).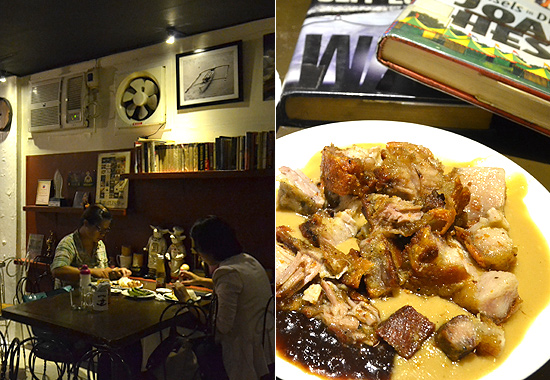 8065 Bagnet and Coffee 8065
8065 Bagnet has earned its reputation for their inventive takes on bagnet—Bagnet Spicy Gata, Bagnet Dinuguan, Bagnet Curry, Kare-Kareng Bagnet, and more. The brand has expanded and ventured into the coffee shop business with Coffee 8065, a promising hangout spot for the hip San Antonio Village in Makati.
Book Count: In 8065 Bagnet shops, there are around 100 books while in Coffee 8065—three blocks away from their Makati branch—there are about 50 to 80 books.
ADVERTISEMENT - CONTINUE READING BELOW
Book Finds: Their collection of books range from business, scholarly, medical, and Christian books to novels. Modern authors include Robert Kiyosaki, Michael Crichton, Dan Brown, Joel Osteen, and more. They also have classics from Poe, Wilde, Bronte, Dickens, and Austen.
Book Policy: Aside from adding to the overall feel and design of 8065 Bagnet and Coffee 8065, the books on display are very much available to their guests for reading. They're not very strict on their policy. In fact, customers take the books out, given they ask permission first.
Enjoy With: The different bagnet creations for 8065 Bagnet (P175 to P195, good for two) and the Mocha Frappe (P100) for Coffee 8065.
8065 Bagnet has branches at 8065 Estrella Street, San Antonio Village, Makati City (519-6511); and Leon Guinto Street corner Estrada Street, Malate, Manila (516-7890). Open from 11 a.m. to 12 a.m. (Monday to Saturday) and 5 p.m. to 12 a.m. (Sunday). Coffee 8065 is at 7700-A St. Paul Street, San Antonio Village, Makati City (890-1369, 703-3045). Open from 9 a.m. to 12 a.m. (Monday to Saturday).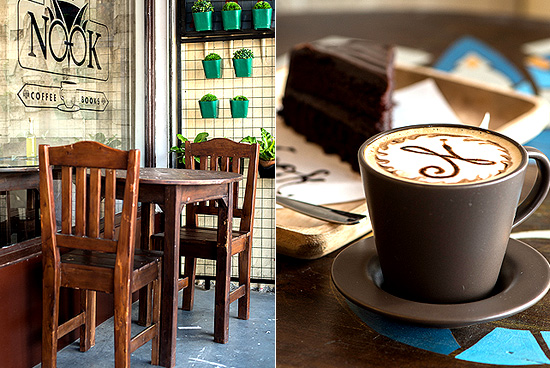 The Nook Café
This Harry Potter- and owl-inspired café was intended to literally be a nook for young adults and young-at-heart to chill with their friends, or for some quiet time with a bit of reading. Aside from prioritizing local products in their food and drinks, their Baguio coffee beans and local roasts are simply magical.
Book Count: Currently, they have over 60 books. The Nook also wants to feature local writers and their works to the shop, just like Karen Sena's Champion and books by Bob Ong.
ADVERTISEMENT - CONTINUE READING BELOW
Book Finds: Most books cater to young adults. Some of the authors they have are J.K. Rowling (duh!), John Green, Kristin Cashore, and Rick Riordan.
Book Policy: The books are only allowed in the vicinity, and customers are very much welcome to donate books to the shop.
Enjoy With: Butterbeer (P100), Goyasaur or Hot Chocolate (P75), Cafe Latte (P95/hot, P100/iced), Matcha Hazelnut Latte (P100), Bacon Wrapped Chicken (140)
The Nook Café is at 164A Maginhawa Street, Quezon City (0915-974-3660). Open from 1 p.m. 10 10 p.m. (Tuesday to Sunday). Read more about The Nook.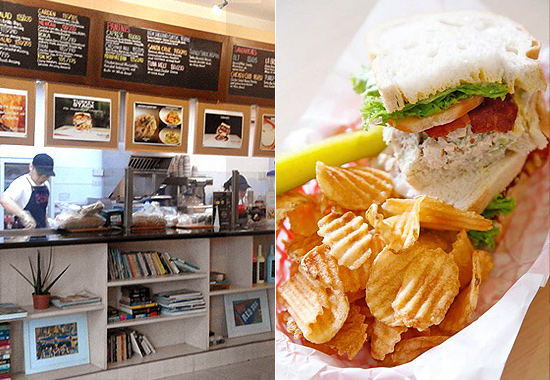 Plaza Café
Plaza Café prides itself as a place for great sandwiches and salads. Expats, students, families, and professionals from the creative and tech industries frequent this store not just for their food, but also for their collection of board games and books.
Book Count: Around 300 books and magazines, which can be found on the shelves below the counter and on the bigger shelves by the walls.
Book Finds: Their genres include science fiction, business, self-help, and classics. They also have comic books! Plaza Café has novels from authors like Anne Rice, Tom Clancy, Ken Follett, Thomas Harris, Michael Crichton, Jon Grisham, Mary Higgins Clark, Daniele Steele, Sally Gardner, and more.
Book Policy: Like almost every place on this list, borrowing is limited inside. Books taken home have to be replaced with a new one, with permission from the manager, of course. Customers are also welcome to donate or exchange books.
ADVERTISEMENT - CONTINUE READING BELOW
Enjoy With: Turkey and Brie (P295) or Chicken Club (P250)
Plaza Café is at G/F Corinthian Plaza, 121 Paseo de Roxas Avenue, Makati City (625-0305). Open from 7 a.m. to 2 a.m. (Monday to Friday); 9 a.m. to 2 a.m. (Saturday); and 9 a.m. to 5 p.m. (Sunday).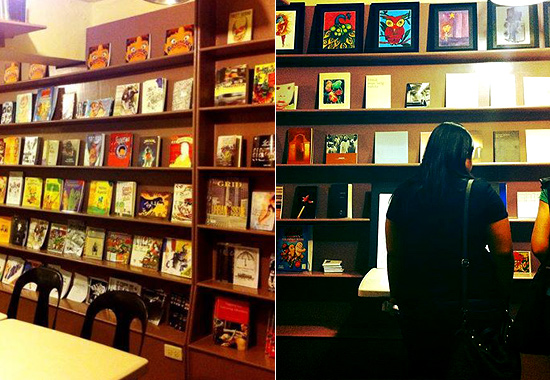 Uno Morato
Read a book, and if you like it enough, you can buy it! Uno Morato is an all-in-one bookstore, bar, café, and idea space where people can meet and talk about their creative pursuits. Uno Morato claims to be the first independent and all-Filipino bookstore in the Philippines. The venue is friendly for the creative set, offering workshops that range from writing to voice lessons and sketching.
Book Count: They have around 100 titles, written and produced by new and innovative Filipino writers and artists.
Book Finds: Uno Morato has the complete titles from High Chair Poetry Press. They also have tomes of Pinoy comic books, fiction, and non-fiction. Notable books include Apol Sta. Maria's Alamat ng Pangit, Mabi David's Spleen, and Chingbee Cruz's Dark Hours.
Book Policy: Customers may read as much as they want, but Uno Morato encourages readers to buy the books to help the independent publishing industry.
Enjoy With: Local beers like Red Horse and Pale Pilsen (P50/bottle) or mixed drinks like Ginakult (P80), Mudder's Milk (P100), Snake Juice (P150)
Uno Morato is at GYY Garden Area, 1 Tomas Morato Avenue corner E. Rodriguez Avenue, Quezon City (738-6610). Open from 3 p.m. to 12 a.m. (Tuesday to Sunday).
ADVERTISEMENT - CONTINUE READING BELOW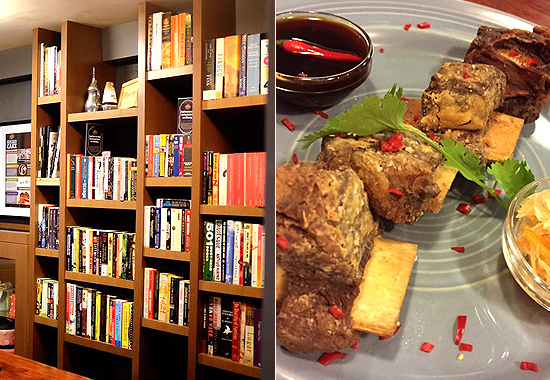 The Sweet Spot Bakery & Café
The Sweet Spot is a contemporary bakery and café that serves original desserts, coffee, and entrees. For example, instead of sticking to conventional pasta flavors, they have Southwestern Grilled Chicken Penne and Kung Pao Pasta. Instead of chicken or tuna sandwiches, they have a Porchetta Sandwich and Apple Compote and Umami Burger Sliders. Their book collection is always a hit, too!
Book Count: They have close to 300 books. The shelves were originally intended for displaying coffee merchandise, but they didn't have a lot at one point so they switched the idea to books instead. The Plan B proved to be popular with the guests and their collection has been growing ever since.
Book Finds: Graphic novels, comic books, manga, and Japanese novels such as those of Kirino, Yamada, Murakami line the shelves. For their science fiction section, they have Joe William Haldeman, Philip K. Dick, Terry Brooks, Dan Simmons, Douglas Adams. Their general fiction collection also includes Chuck Palahniuk, Stephen King, Stieg Larsson, Miguel Syjuco, Robert Ellis. Fantasy titles include Neil Gaiman, Harry Turtledove, and J.R.R. Tolkien, while non-fiction runs through Anthony Bourdain, Stephen Jay Gould, Richard Dawkins, and Noam Chomsky. They also have historical books about wars, people, architecture, the Philippines, and more. Classics are not to be missed.
Book Policy: Their books are for cafe reading only. Customers can also donate books. Some of their regulars who were impressed by their small collection decided to donate some titles, including Fifty Shades of Grey. If a customer damages a book, that person needs to replace it with the same title.
ADVERTISEMENT - CONTINUE READING BELOW
Enjoy With: Peanut-Glazed Buffalo-Style Satay Wings (P250), Honey Whiskey Grilled Pork Belly (P295), Asahi Fish and Wasabi Fries (P250), Speculoos Flavored Mocha (P130), Gingerbread Cookie Frappe (P140)
The Sweet Spot Bakery & Café is at Unit 6, G/F 189 Maginhawa Street, Quezon City (0927-841-0681). Open daily from 8 a.m. to 11 p.m.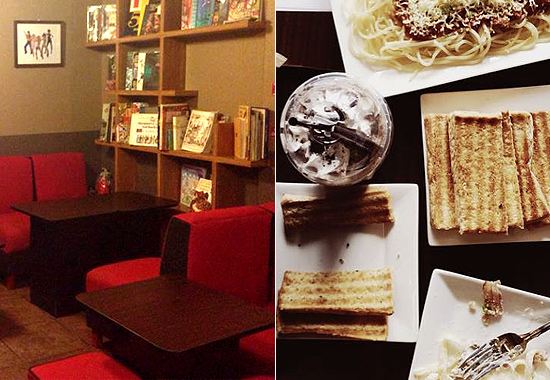 Café-Uk Co.
Café-Uk Co. is a coffee shop tailor-fit for students and professionals who like to do their research or studying outside the university. Their comfy chairs and barkada-sized snacks are just some of the factors that make their cafés a popular hangout for young people.
Book Count: They have around 2,000 books. Each branch has about 300 to 500 books, which they rotate regularly.
Book Finds: They have books from all genres—classics, novels, specialized. You can find books by John Steinbeck, Tom Clancy, John Grisham, and more. They also have medical books.
Book Policy: Guests are only allowed to read the books while inside the store. Café Uk Co. also lends book stands for those who may need it, for a more comfortable reading experience. Generous patrons who donate books are acknowledged on social media.
Enjoy With: Frappuccino (P140) and Nachos (P290/four people)
Click here for a list of Café Uk. Co branches.
Also read:
Bored? 10 Places for Food and Board Games
10 Best Cafes for #HOHOL
10 More Cafes in Manila That are Perfect for Book Lovers
Load More Stories