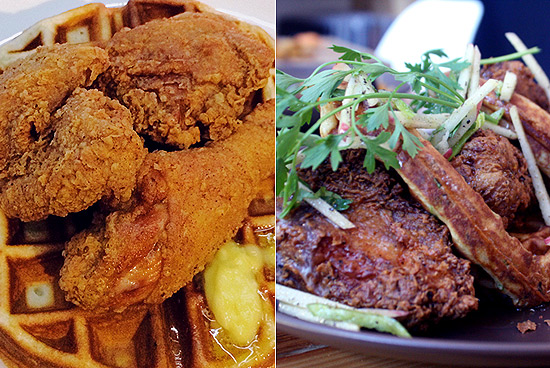 (SPOT.ph) Fried chicken. In the hierarchy of all things fried, it's way up there with French fries and Twinkies. No matter how many times you tell yourself that you're going to stay off the fried stuff, that juicy meat wrapped in golden, crisp, crackling skin wins you over and over again. Fried chicken is the epitome of comfort food, and it comes in so many forms—Pinoy-style, Chinese-style, karaage, tenders. This time, we're giving the stage to the American South, paying reverence to their thick, crunchy, flaky masterpieces. Our requirements? A perfectly crunchy exterior that makes way for the juiciest, tasty-to-the-bone chicken.
All SPOT.ph Top 10 lists are researched, paid for, tested, and selected by the writers and editors. They are discreetly conducted without any notice made to the restaurants or their owners.
Also read:
10 Best Pinoy-Style Fried Chicken in Manila (2010 Edition)
Top 10 Southern-Style Fried Chicken in Manila (2014 Edition)
Top 10 Chicken Karaage in Manila (2016 Edition)
Top 10 Roast Chicken in Manila (2015 Edition)
10 Peri-Peri and Peruvian Chicken Places to Try
ADVERTISEMENT - CONTINUE READING BELOW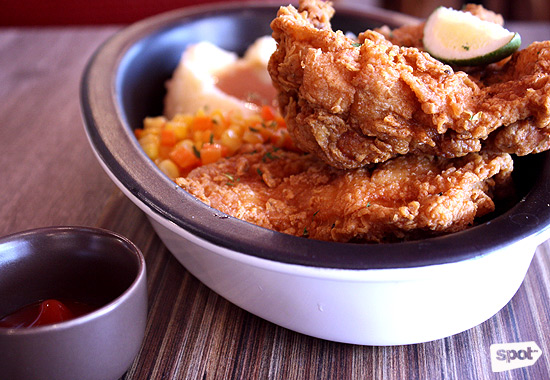 10. Peri-Peri Charcoal Chicken's Numero Uno Fried Chicken (P395)
Peri-Peri is great with spices, and while the grilled Latin-style chicken is the main showcase, the fried version doesn't shy away from flavor either. Two large pieces of chicken are brined to an impressive level of saltiness. The batter is a little thick, but it's so you can taste the glorious seasoning, plus it makes for a deafening crunch. The Numero Uno comes with mashed potatoes, gravy, and peas and carrots. If you want to play up the flavor, pick a sauce from the roving sauce cart.
Click here for a list of Peri-Peri Charcoal Chicken branches. Read more about Peri-Peri Charcoal Chicken.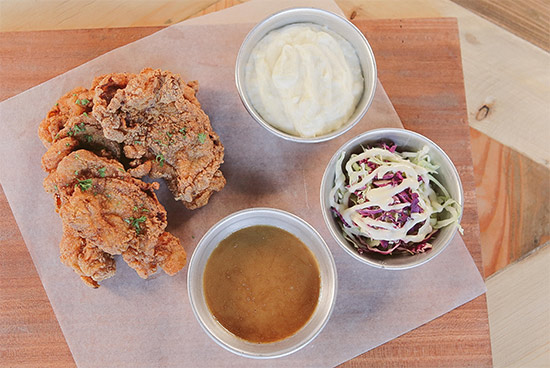 9. Moonshine P.U.B. x Public Urban Bar's JFC (P400)
Juicy right down to the—wait!—this fried chicken is actually boneless! Moonshine's JFC (Jehrad's Fried Chicken—named after Chef Jehrad Dolino) is brined in garlic and onions and that flavor profile is the perfect complement to the sides of creamy mashed potatoes and citrusy coleslaw. Succulent and tender, this fried chicken is easy to dig into, but let's face it—the bones add an extra something to the fried chicken's flavor, too.
ADVERTISEMENT - CONTINUE READING BELOW
Moonshine is at Sapphire Bloc, Sapphire Road, Ortigas Center, Pasig City. Read more about Moonshine.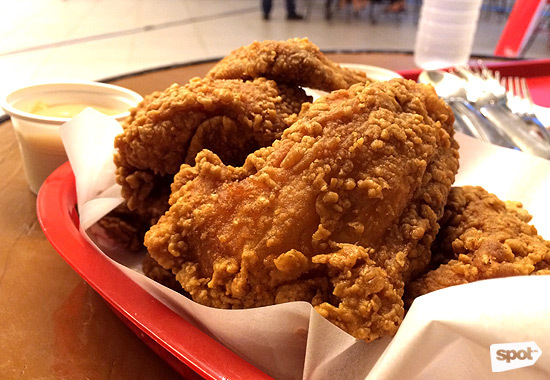 8. Tom Sawyer's Old-Fashioned Fried Chicken (P88/one piece, P138/two pieces)
Flavor never goes out of style. Tom Sawyer was actually an '80s favorite, way back when international fast food chains were too far away. It reopened in 2014, proving that retro has indeed returned to fashion. Salt is the dominant flavor, but have it with a side of rice or fries and it won't get in the way of the overall effect. The battered skin is Crispy with a capital C. This chicken is slightly fatty, very meaty, and incredibly crunchy.
ADVERTISEMENT - CONTINUE READING BELOW
Tom Sawyer's is at G/F Building A, Tiendesitas, Ortigas Avenue, Pasig City. Read more about Tom Sawyer's.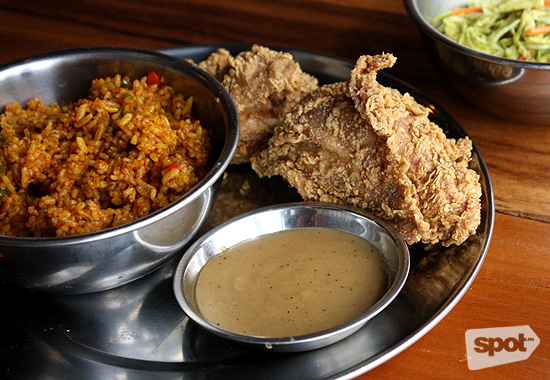 7. Señor Pollo's Fried Chicken (P75 to P305)
While the spotlight is usually on the roasted chicken, don't overlook its fried counterpart. One glance, and you can tell that you're in for a fried treat. A bite is enough to capture the impact of the moist meat and crackly, peppery skin. Brined overnight, the fried chicken is flavorful enough, making the gravy an afterthought. Pair it with their zesty, slightly life-changing coleslaw and spicy rice, and you're golden. Our only qualm? Consistency. But on their good days you will fall head over heels for Señor Pollo's fried chicken.
ADVERTISEMENT - CONTINUE READING BELOW
Señor Pollo has branches at F7 Building, Scout Rallos Street corner Tomas Morato Avenue, Quezon City; and 5767 Ebro Street, Poblacion, Makati City. Read more about Señor Pollo.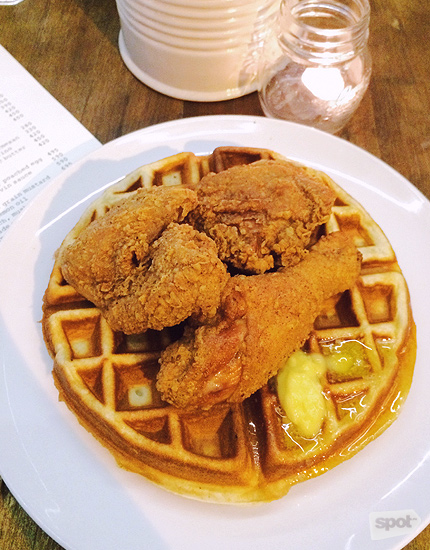 6. Wildflour Bakery + Cafe's Fried Chicken and Waffles (P690)
Wildflour does a lot of things right—including their fried chicken. It's a 20-minute wait, the golden-fried chicken at the end of that patience is worth it. Seasoned nicely, it's deliciously smothered in Vermont maple syrup and we love that the chicken meat is firm and not falling into shreds. While absolutely delicious, we have to admit that the hefty price tag throws us off a bit. But Wildflour usually fields more hits than misses, so we're willing to pay a little more for their consistency.
ADVERTISEMENT - CONTINUE READING BELOW
Click here for a list of Wildflour branches. Read more about Wildflour.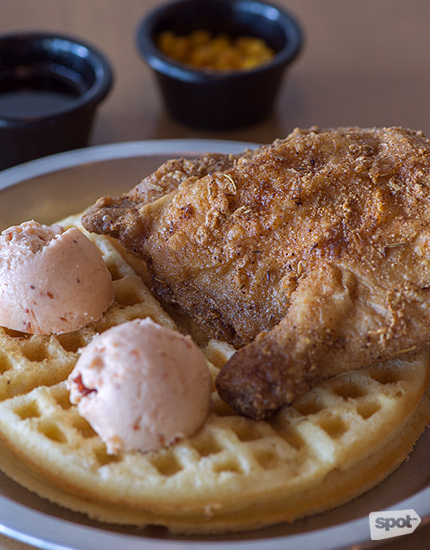 5. Catabolic Café's Chicken and Waffles (P330)
The star of the Catabolic Café show is the fried chicken and waffles. This delicately crisp, golden fried chicken is a result of plenty of research. The outcome? A generously seasoned piece of fried chicken atop crunchy waffles with a side of strawberry butter and a spicy-sweet maple syrup with a touch of hot sauce. The cafe only fries their chicken upon order, so get ready to wait 20 minutes for your fried chicken fix.
ADVERTISEMENT - CONTINUE READING BELOW
Catabolic Café is at 22 Malingap Street, Teachers Village, Quezon City. Read more about Catabolic Café.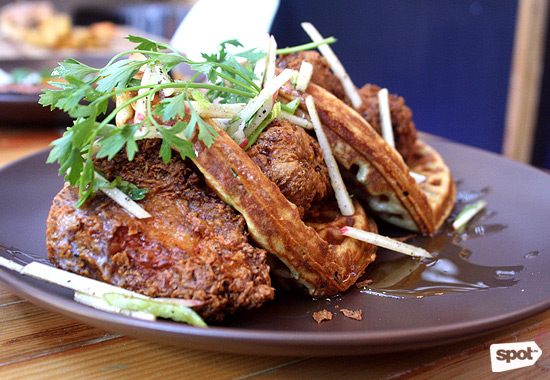 4. Main Street's Buttermilk Fried Chicken (P260)
Primarily known for their Canadian-inspired dishes (like a mean poutine), this sunny spot along McKinley Road serves seriously comforting fried chicken. Paired with fragrant herbed rice and buttery garlic sauce, this fried chicken dish appeals to the Pinoy palate while staying true to its Western roots. The crispy skin stands up well against the sweet sauce coating the chicken so you get crunch and flavor with every big bite. A hefty serving with a very slim price tag, this is something we wouldn't mind having over and over again.
ADVERTISEMENT - CONTINUE READING BELOW
Main Street is at Tuscany, Upper McKinley Road, McKinley Hill, Taguig City. Read more about Main Street.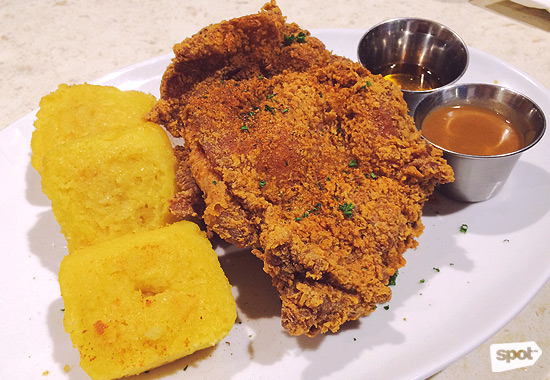 3. Kettle's Buttermilk Fried Chicken (P519)
The buttermilk fried chicken is synonymous to this restaurant and you'd be hard-pressed to see a table without this signature golden monument at the center. It's enormous, so make sure you share this with at least three other people. The meat is extremely tender, and the skin crackles with every bite. Seasoned with Cajun spices and pepper, and marinated for 24 hours, this fried chicken is chock-full of sharp flavors that will leave you deliriously giddy.
ADVERTISEMENT - CONTINUE READING BELOW
Click here for a list of Kettle branches. Read more about Kettle.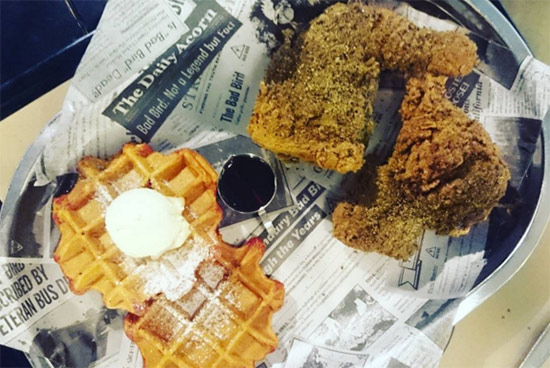 2. Bad Bird's Umami Fried Chicken (P110/one piece)
This bad bird is oozing with umami-flavored goodness that'll have you braving the long lines for a second (and possibly a third) piece. Coming in three spice levels—safe, spicy, and chemical—this fried chicken will make your taste buds tingle with excitement, no matter how much heat you want (or don't want). Have your fried chicken with either sweet potato waffles and miso butter; an Asian-inspired corn on the cob and kimchi coleslaw; or indulgent dirty rice. Whatever route you take, Bad Bird's fried chicken won't disappoint.
ADVERTISEMENT - CONTINUE READING BELOW
Bad Bird is at Hole in the Wall, 4/F Century City Mall, Malayan Avenue, Makati City.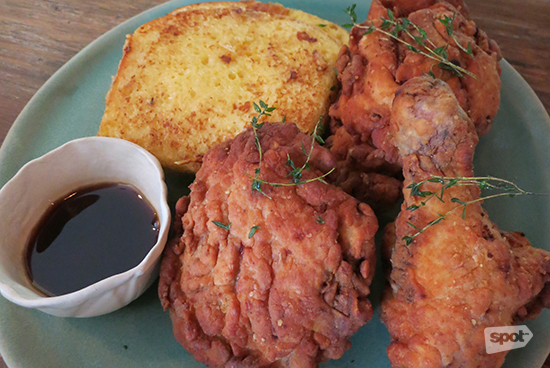 1. The Girl + The Bull's Buttermilk Fried Chicken (P410)
We can't stop raving about The Girl + The Bull's buttermilk fried chicken. It's gone through some reincarnations, but the original version is back and here to stay. Glistening juices ooze out as you cut through the chicken that's been marinated in buttermilk for over 12 hours. The skin is crisp and tasty, without leaving a greasy aftertaste in your mouth. It's sensational. The original version (our favorite) comes with two thick brioche French toast slices and balsamic maple syrup that seals the deal. Mix each component together and savor the delightful sweet-salty-tart notes from a dish that's both creative and calculated to perfection.
ADVERTISEMENT - CONTINUE READING BELOW
The Girl + The Bull is currently operating at 12/10, 7635 Guijo Street, Makati City. Read more about The Girl + The Bull.
Photos by Regine Rafael (The Girl + The Bull, Kettle, Wildflour), Sasha Lim Uy (Tom Sawyer, Peri-Peri, Bad Bird, Main Street, Señor Pollo), Hans Fausto (Catabolic Cafe), and Niel Ong (Moonshine)
Share this story with your friends!
---
Help us make Spot.ph better!
Take the short survey
More Videos You Can Watch
Load More Stories