10 Irresistible New Places in Manila for the Chicken-Obsessed
Fresh eats for those on the prowl for fowl.
(SPOT.ph) Chicken is probably Pinoys' favorite type of protein. If you don't believe us, you can just ask Jollibee how many buckets they go through each day. How about trying to line up at Max's during lunch hour? Chicken's affordable, versatile, and habit-forming qualities are only some of the reasons we think we just can't get enough of these poultry treats. Or maybe it's because there are too many chicken-themed restaurants popping up. 
Also read:
10 Delicious Chicken Dishes We Love
Top 10 Chicken Karaage in Manila (2016 Edition)
Top 10 Fried Chicken in Manila (2016 Edition)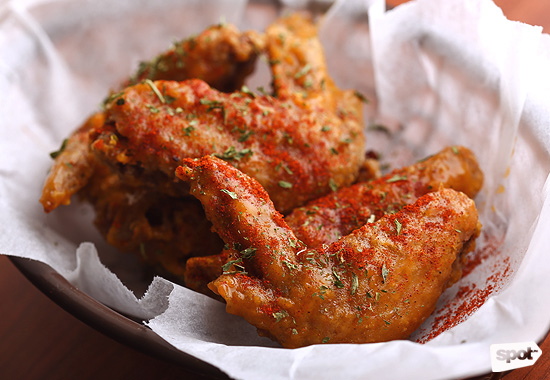 Crazy Chick
What exactly made Crazy Chick owners Veronica Supetran, Mikko Aguirre, and Mikki Aguirre qualified to sell wings? Only that they've eaten their way through every respectable wings stop in the Metro. This "research" taught them to know what they like and they translated their preferences to on-point seasoning and sauces in a tiny Instagram-ready space. 
Chicken Deal: Get 15 wings via the Mental (P370) in flavors like Hot Chick, Lime a Virgin, and Garlic Parmesan
ADVERTISEMENT - CONTINUE READING BELOW
Crazy Chick is at 15 Presidents Avenue, BF Homes, Parañaque City. Read more about Crazy Chick.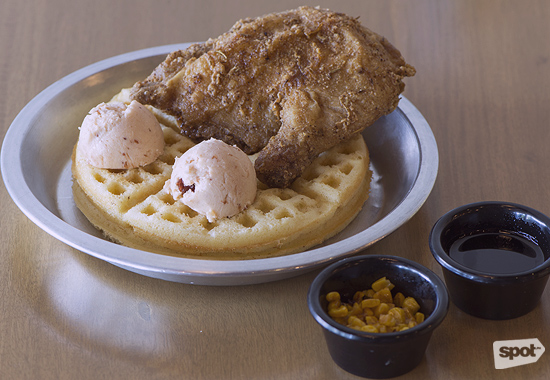 Catabolic Cafe
This hip place is gaining a steady following for its fried chicken and waffles. We love how this place knows where and how to focus. The skin is brilliantly peppery and crispy and the flavor is deep into the meat. The biggest blessing is the syrup on the side, which adds both a sweet and spicy flavor to the dish.
Chicken Deal: Fried Chicken and Waffles (P330)
Catabolic Cafe is at 22 Malingap Street, Teachers Village, Quezon City. Read more about Catabolic Cafe.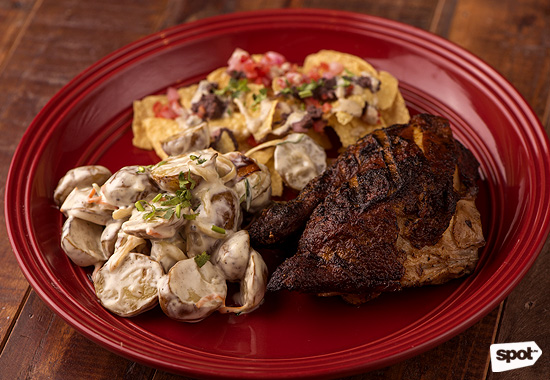 ADVERTISEMENT - CONTINUE READING BELOW
Gringo
This SM North EDSA haunt is the latest addition to the Latin-American chicken trend. Gringo bakes theirs first, cooking them to a precise level of succulence, before setting them over the grill to get that beautiful, even char. The skin absorbs savoriness, saltiness, and just a hint of smokiness. You'll want more of that tasty brown coat to go around, but thankfully the flavor isn't just skin deep. We love that you can even bump up the heat level.
Chicken Deal: Original Chicken (P148 to P648), Southern Spice (P158 to P655)
Gringo is at G/F SM North EDSA, Quezon City. Read more about Gringo.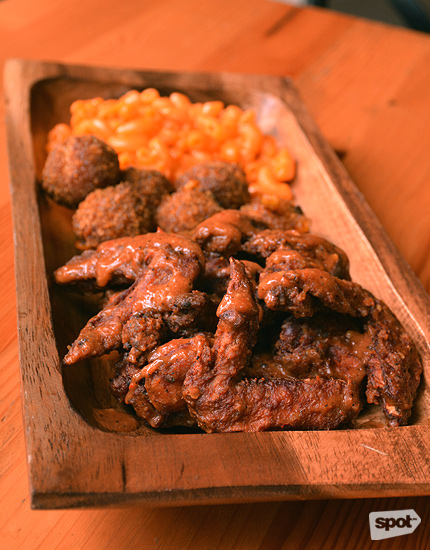 Wagga Wagga Jerk Chicken
Amid a selection of fried and roast chickens in the Metro, this clandestine restaurant opts for jerk. Fragrant flavors of the Caribbean make their way onto big, juicy cuts of chicken. Chef Justin David throws in what tastes like an entire spice cabinet in his marinade and seasoning. We especially prefer the wings, which is painted with a kind of whispery spice. 
ADVERTISEMENT - CONTINUE READING BELOW
Chicken Deal: Jerk Chicken (P195 to P255), Jerk Wings (P125 to P615)
Wagga Wagga Jerk Chicken is at 88 Meralco Avenue corner Julia Vargas Avenue, Ortigas, Pasig City. Read more about Wagga Wagga.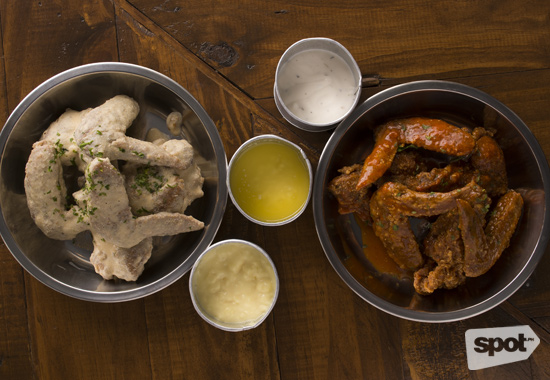 Wishbone
These aren't your average wings. Wishbone goes for optimum flavors that shock, then impress. This Kapitolyo joint doesn't just serve poultry, but it's Ram Morales and Mandy de Guzman's love for these birds that encouraged them to open the restaurant. Wings may be a dime a dozen nowadays, but they opt for flavors that stand out. You definitely won't find their wing varieties anywhere else. Wishbone also occasionally offers sulit wing deals.
Chicken Deal: Srirachamansi Wings (P209), Salted Egg Wings (P199)
Wishbone is at 56B East Capitol Drive, Kapitolyo, Pasig City. Read more about Wishbone.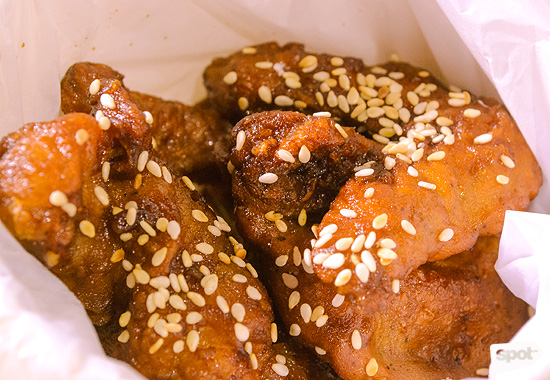 ADVERTISEMENT - CONTINUE READING BELOW
Wing Up
Wing Up is a bright yellow stall that churns out surprisingly extra crispy, extra juicy wings. Chef Carlo Liwanag double-fries these babies to develop that crunchy bite. Everything is impressively made from scratch and the flavors go down to the bone. The wings are bonier than usual, but they actually provide a deeper flavor.
Chicken Deal: Buffalo Wings (P69)
Wing Up is at Laurel Street corner Balagtas Street, UP Diliman, Quezon City. Read more about Wing Up.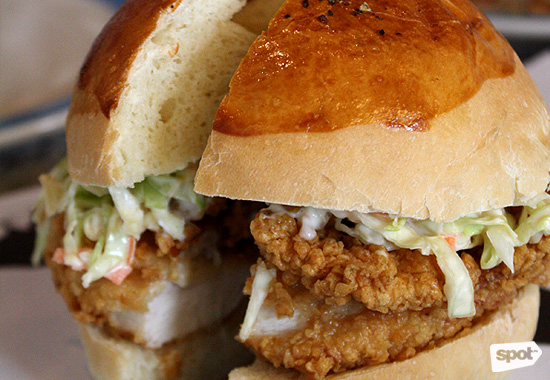 Lucky Chick
Here's where you can find Southern fried chicken with a twist. Chef Francis Asuncion knows that buttermilk isn't always available so he manages to keep things consistent by using his own sourdough starters to brine his poultry. His fried chicken is amazing. The batter is thick and crispy, but so chock-full of flavor that you'll actually want more. He uses apples in the sourdough to impart a different note in the usual chicken profile.
ADVERTISEMENT - CONTINUE READING BELOW
Chicken Deal: Fried Chicken (P138 to P688), Chicken Skin (P120)
Lucky Chick is at 2/F UP Town Center, Katipunan Avenue, Quezon City. Read more about Lucky Chick.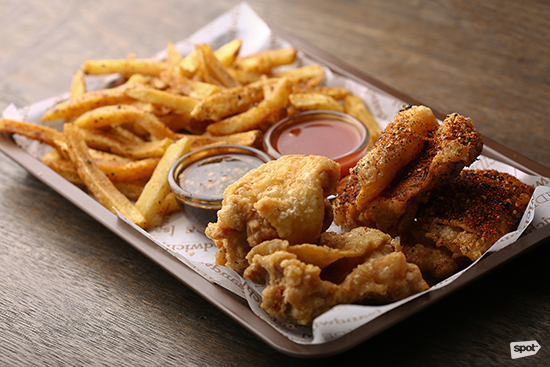 Bread and Botany
This Aguirre gem is a sandwich treasure trove, but we have to admit that the poultry tends to steal the show. Co-owner Jonathan Choi used the Korean fried chicken to win over his then-future girlfriend Kristine Ongsiyping's family. They offer the chicken in two ways: as is with sides, or in a sando or sandwich. They use homemade kyuchimi, which is a heavy nine-spice blend common in Japan, to work up the flavor.
Chicken Deal: Family Meal (P380)
Bread and Botany is at 2/F The Prime Building, 115 Aguirre Avenue, Parañaque City. Read more about Bread and Botany.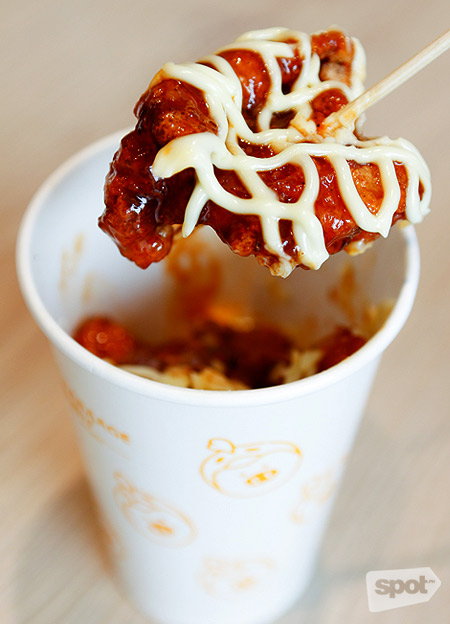 ADVERTISEMENT - CONTINUE READING BELOW
Chibi's Karaage
We're not about to forget about our best tori karaage. This place offers different ways to enjoy Japan's delicious fried chicken—and in the most convenient way possible. By serving them boneless and on a stick, we're just popping these crispy-fried, juicy babies like they're popcorn. 
Chicken Deal: Karaage in Original Spice (P90 to P120)
Chibi's Karaage has branches at SM Light, EDSA corner Madison Street, Mandaluyong City; and SM North EDSA, Quezon City. Read more about Chibi's Karaage.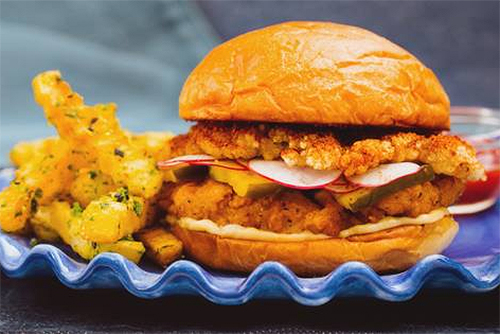 Fowl Bread
Two words: Chicken sandwich. That's all you can find at Fowl Bread, but they do it so well. The giant piece of chicken can hardly be contained between the buns, but that makes it look all the more exciting. The best part? They put a sheet of skin in there too—cooked separately so it's extra, extra crispy. Essentially a sandwich version of Bad Bird, you can pimp up your chicken to Normal, Spicy, or Chemical. 
ADVERTISEMENT - CONTINUE READING BELOW
Chicken Deal: Crispy Chicken Sandwich (P295)
Fowl Bread is at Bonifacio High Street, Bonifacio Global City. 
Load More Stories