This amazing Japanese restaurant hides in plain sight
Minami Saki is Ortigas' best-kept secret.
Minami Saki
Astoria Plaza, 15 J. Escriva Drive corner Shaw Boulevard, Ortigas, Pasig City
Contact: 687-1111 local 8164 to 65
Open daily from 11:30 a.m. to 2:30 p.m. and 6 p.m. to 10:30 p.m.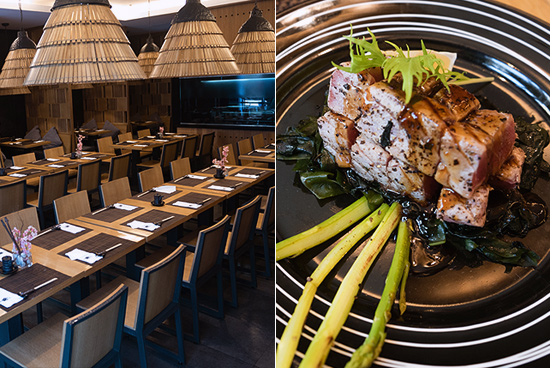 (SPOT.ph) When we first met Chef Kimito Katagiri, he was quietly cooking sushi at a discreet hotel in Pasay. Now, he's based in a more central location, still unassumingly folding, rolling, and torching arguably some of the best sushi in the Metro. Minami Saki ranked No. 1 on SPOT.ph's Top 10 Underrated Sushi Places in Manila.
Perhaps this is the chef's grandest appeal: silently strong, peacefully efficient—like a softly humming engine that's loaded with power or the groupmate who doesn't say anything but is suddenly done with his part. Those are the best surprises.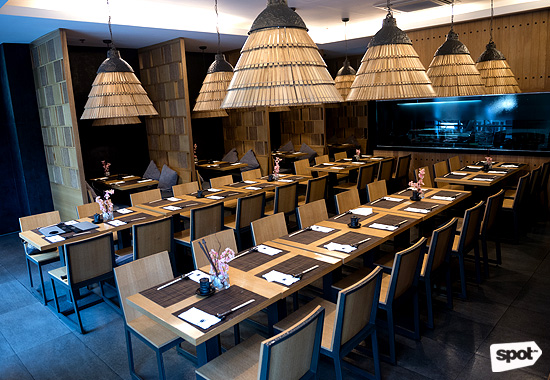 ADVERTISEMENT - CONTINUE READING BELOW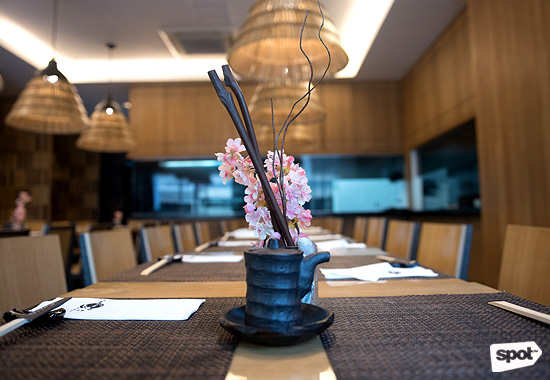 CONTINUE READING BELOW
Recommended Videos
Always spring
Minami Saki is in Astoria Plaza, right smack on the corner of Escriva and Shaw. The sign isn't grand and the interiors are elegantly modern—minimal but clean, with light shades resembling traditional Japanese timber roofs. A light-hearted Japanese melody plays softly in the background.
It's here where Chef Kimito demonstrates his brand of modern Japanese food. The chef has been living in the Philippines for over two decades and he's adapted his cooking style to suit the Filipino palate. While the menu puts together all sorts of Japanese cuisine staples, the stand-outs are those loaded with sauce and seasoning. This is a chef whose bare sashimi is just as good as the giant, pan-seared scallops slathered in rich tamago paste.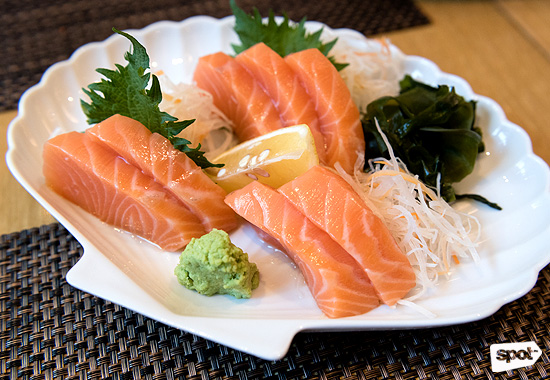 ADVERTISEMENT - CONTINUE READING BELOW
Salmon Sashimi (P390)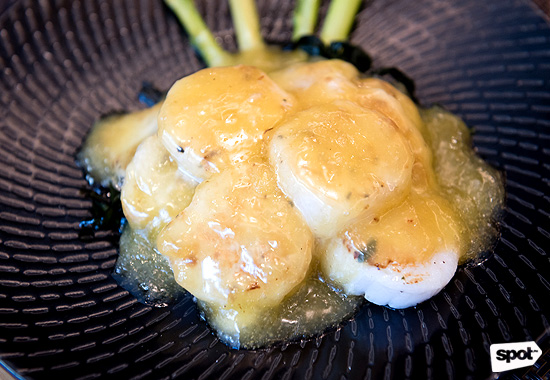 U.S. Scallops with Tamago Sauce (P720)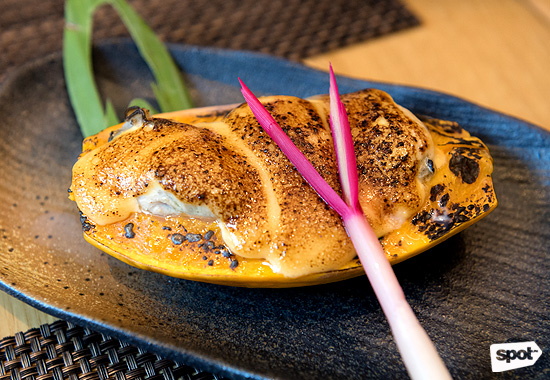 Kaki Papaya Yaki
One of the chef's signatures is the Kaki Papaya Yaki (P580) and it is brilliant. A sliced papaya serves as a bed for three large Hiroshima oysters blanketed by miso sauce. As it's roasted, the three elements are infused with each other's flavors. It comes out soft, succulent, with the miso flaunting a gorgeous, lightly burned look. You can finish this dish in three big scoops, but take your time relishing how the sweet fruit and salty miso plays up the natural flavor of the juicy oysters.
ADVERTISEMENT - CONTINUE READING BELOW
When the torched sushi arrives, you'll have to wonder whether they belong in a restaurant or in a gallery. Stretch your spending money further and get the five-piece Aburi Sushi Set (P850), where you'll see tuna, salmon, eel, hamachi, and lapu-lapu dressed to the nines in torched glazes and fruit crowns. Each one reacts differently to the special aburi sauce. As much as we promote sharing, Chef Kimito's beautiful masterpiece will be a true test of generosity.
Minami Saki is admittedly non-traditional and modern influences show themselves in bolder and more aggressive flavors. You will, however, spot traces of that elegant Japanese subtlety. The Maguro Pepper Steak (P550) is a small pyramid of diced tuna, lightly torched to impart a smoky flavor but just enough to leave that velvety sashimi feeling inside. Miso enhances the flavor of the fish, but the coat of pepper sauce taps spice onto your taste buds. It's delicate but distinct, each element making itself known in every bite.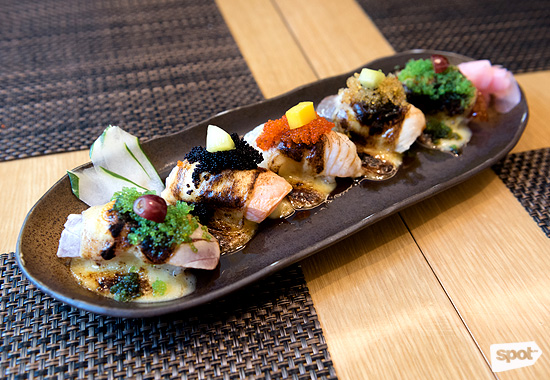 ADVERTISEMENT - CONTINUE READING BELOW
Aburi Sushi Five Kinds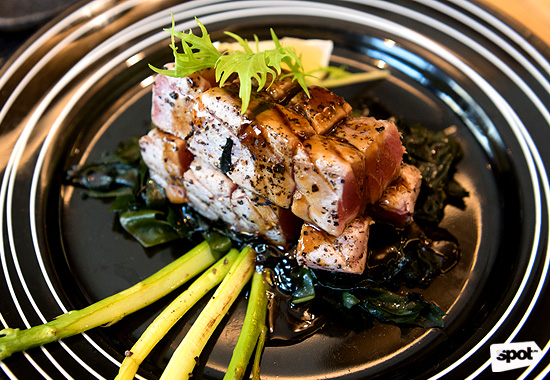 Maguro Pepper Steak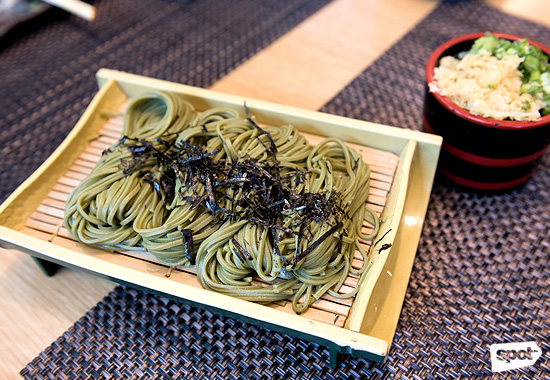 Cha Soba
There is something delightfully understated about the green tea soba. (P250). The firm and cold noodles boast a very mellow, earthy note, but it's perhaps to make way for the sauce. The trick is to pick the noodles with your chopsticks, then dip them in a glass of tasty dashi broth flourished with tempura flakes and wasabi. The strands catch some of that heat and crunch, embellishing each slurp with taste and texture.
ADVERTISEMENT - CONTINUE READING BELOW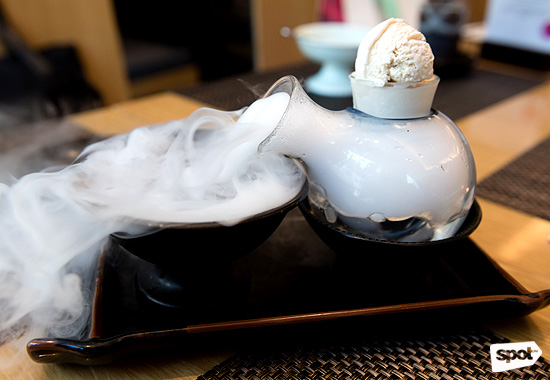 Coffee Jelly
For a restaurant that's quite modest, Minami Saki is quite a showstopper when it comes to their Coffee Jelly (P180). This seemingly everyday dessert comes out of the kitchen literally smoking. An ice cream-covered flask pours smoke over the jelly for a good two minutes. It's a pleasure to watch, but the best part is when the smoke clears and you can see the shiny disc of coffee-flavored jelly at the bottom. It's bitter, just the way coffee is supposed to be, with a sweet touch from the homemade ice cream (get salted caramel if you can). The kitchen may throw a few tricks, but there's no hoodwinking when it comes to those flavors.
Photos by Jason Mariposa
---
Help us make Spot.ph better!
Take the short survey
Load More Stories