Top 10 Underrated Sushi Places in Manila
Sushi is undoubtedly a Filipino favorite.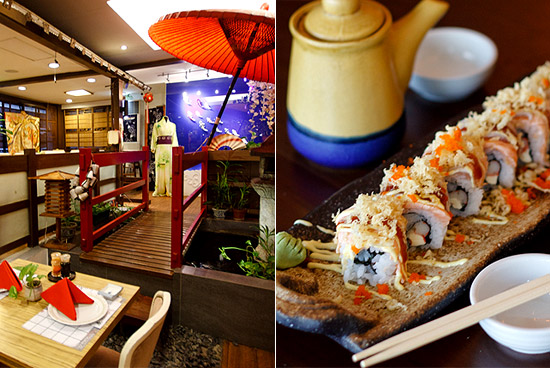 (SPOT.ph) It could be because it is made up of things we're all familiar with and fond of—fresh fish, soft rice, and sauce on the side. All we know is that Filipinos love sushi, from plain sashimi or thinly sliced, raw fish, nigiri or raw fish on pressed vinegared rice, to makizushi or rolls. These are things we have come to enjoy plain, dunked into a sauce bowl with soy sauce and mashed up wasabi, or served slightly torched aburi-style, with cheese and a savory sauce.
We know the woes of sushi lovers who find themselves without seats at their favorite sushi joints during busy hours, so we went on a quest to find alternatives and did our research on the dishes you shouldn't miss. Here are some of the best underrated spots for sushi in Manila—all with great sushi under P500!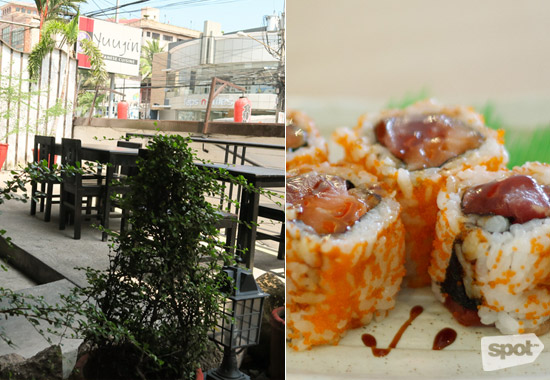 ADVERTISEMENT - CONTINUE READING BELOW
10. Yuujin 
In an old house along busy Wilson Street, San Juan, is neighborhood Japanese favorite, Yuujin. It's a no-frills restaurant you might remember going to as a kid, complete with greasy but really good Japanese fried rice and the staple mountain of tempura you fought over with your siblings. It might be in a place like this that you probably first tried—and fell in love with—sashimi.
People come to Yuujin to fulfill sushi cravings on the cheap, and with good, fresh fish and servings for sharing, it's definitely value for money. Some favorites include the Sushi Moriwase (P450) where you're able to sample seven kinds of sushi, and, among the Makizushi, the Crazy Maki (P280), with a mound of crabstick and tempura flakes, and the Rock and Roll (P300), a densely packed maki with tuna, salmon, and ebiko.
CONTINUE READING BELOW
Recommended Videos
Yuujin is at 221 Wilson Street, Greenhills, San Juan City; open from 11 a.m. to 3 p.m. and 5:30 p.m. to 10 p.m. (Monday to Sunday).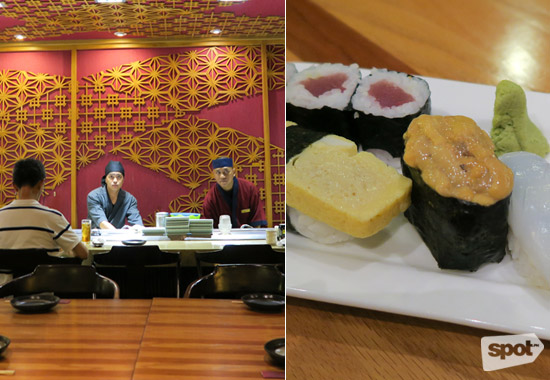 ADVERTISEMENT - CONTINUE READING BELOW
9. Kuretake
Kuretake is a favorite for those who frequent Rockwell. With good food, a pleasant ambiance, and quick, friendly service, it's perfectly family-friendly. Sushi is definitely a special here—so much so that some people actually order it as take out to eat while watching movies at the cinemas upstairs.
A waitress suggests we have a small selection of sushi to get the most of our Kuretake experience. The Nishiki Sushi (P450), a selection of fresh local fish on vinegared rice, is a lovely plate of nigiri, the sort of sushi you order when you're craving something uncomplicated that highlights the flavors of the different fish. Clean, fresh, and simple—Kuretake is a good place to go for your sashimi and nigiri cravings.
Kuretake is at G/F Power Plant Mall, Rockwell, Makati City; open daily from 11 a.m. to 2:30 p.m. and 5:30 p.m. to 10 p.m.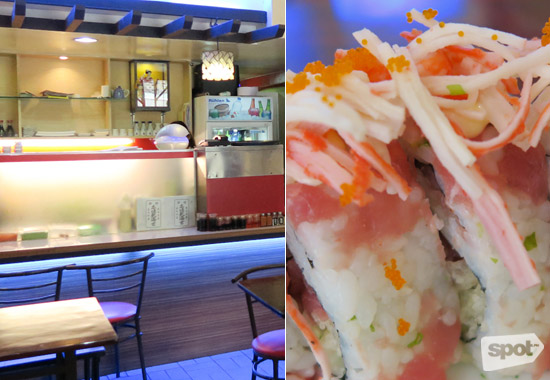 8. Agezuki  
ADVERTISEMENT - CONTINUE READING BELOW
It's easy to miss Agezuki—a small Japanese restaurant along White Plains Avenue, a link in a chain of jam-packed stalls and restaurants. It's a hole-in-the-wall with a giant "#I love sushi" on the wall, everything simple and straightforward enough for you to focus on what's truly important. Their sushi.
Fans of salmon and tuna should have their Black Mamba Maki (P190), a happy marriage of both in a compact roll covered in black sesame seeds. For those who enjoy deconstructed or amped-up California Maki, the Volcanic Maki (P210), which has tuna, ebiko, and kani, is a creative version close enough to your favorite original. One of the best things at Agezuki is their Sushi-don (P220), their version of chirashi with numerous slices of salmon and tuna, a heap of uni, and hefty tamago. At less than P300, it's a great deal!
Agezuki is at A. Francisco Building, 83 Katipunan Avenue, White Plains, Quezon City; open daily from 11 a.m. to 3 p.m. and 5 p.m. to 10 p.m. Read more about Agezuki.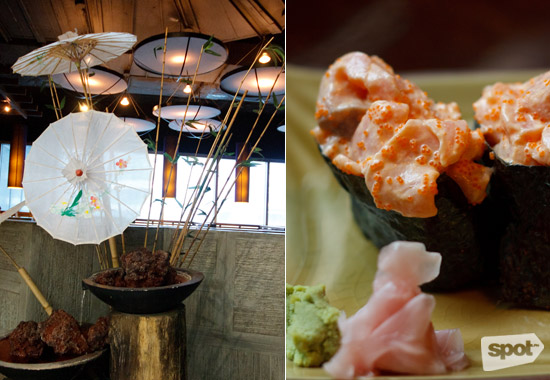 ADVERTISEMENT - CONTINUE READING BELOW
7. Yaku
Although they're best known for their yakitori, Yaku deserves a spot on this list for their equally excellent sushi. Their Spicy Salmon Gunkan (P169/two pieces) is a bestseller, with salmon slices and ebiko tossed in spicy Japanese mayo. For something a little more classic, the Maguro Sushi (P119/two pieces) has a sliver of high-caliber tuna on top of flavorful vinegared rice. If you're unsure about what to order, take a peek at the plates of the Japanese businessmen having meetings at the tables next to you. They're loyal customers and they know their stuff.
A perfect meal here is a couple of plates of sushi, maybe a few sticks of yakitori, washed down with Kirin or House Sake. With their consistent quality and great service, it's no wonder that Yaku has remained a constant in The Podium.
Yaku is at 3/F The Podium, ADB Avenue, Pasig City; open daily from 11 a.m. to 9:30 p.m.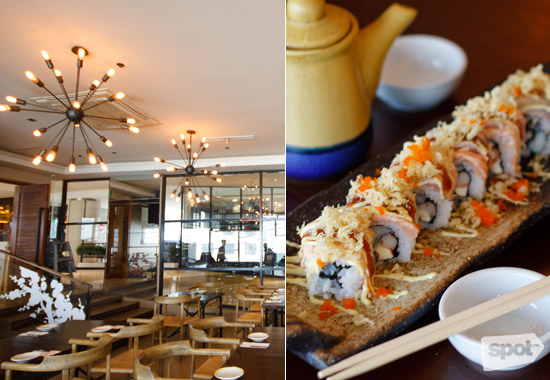 ADVERTISEMENT - CONTINUE READING BELOW
6. Akira
Akira is a legendary teppanyaki chef from Japan who is said to have trained and fought the fire god Kagutsuchi in a quest to save his beloved Sayuri. It's this legend that influenced the modern dishes of Akira. Unlike its fictional inspiration however, the restaurant claims to master both "the art of sushi and teppanyaki," which is an honest enough claim.
Akira's Makizushi are all interesting modern versions of rolls with the typical tuna, salmon, ikura, and unagi. The menu highlights the Akira Roll (P348), with kani and softshell crab, topped with tempura bits, grated cheese, spicy mayo, and tobiko; and the Blow-Torched Maki (P258), which has a winning combo of tuna, salmon, kani, cream cheese, and mango miso mayo. With Japanese food this tastefully done, we imagine the legend Akira must be living happily ever after with his never hungry, ever-sushi-and-teppan-stuffed Sayuri.
Akira has branches at 5/F Shangri-La Plaza East Wing, Ortigas, Mandaluyong City; G/F, Alphaland Makati Place, Ayala Avenue extension corner Malugay Street, Bel-Air, Makati City; and G/F Robinsons Magnolia, New Manila, Quezon City. Read more about Akira.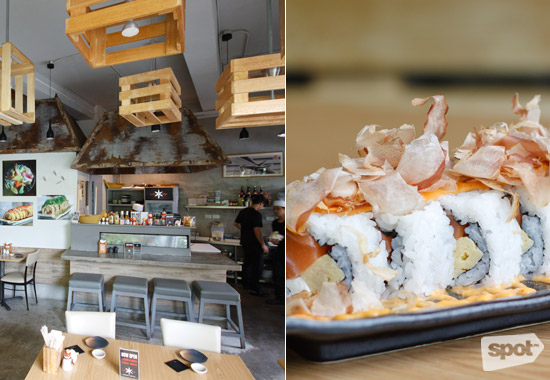 ADVERTISEMENT - CONTINUE READING BELOW
5. Sushi Ninja 
Sushi Ninja has some of the best fusion rolls in the entire country. The fish is undoubtedly fresh, the sauces all extremely flavorful, and the combinations perfectly executed. Sushi Ninja's chef, Matthew Floro Tanjuakio, is a graduate of the California Sushi Academy and Tokyo Sushi Academy. The influence of his unique east-west education is pretty evident in the sushi served here.
The Toshi Nigiri Sushi is a line inspired by his mentor, Chef Toshi Suguira. The Toshi is a lightly battered sushi rice ball deep-fried to perfection, topped with different ingredients. Don't miss the Okinawa-toshi (P360), with torched salmon and cream cheese, drizzled with truffle oil, special sauce, and ebiko. Among the rolls the Sakura Maki (P360) is a people pleaser, with salmon, tamago, cream cheese, spicy mayo, and bonito flakes. It's an interesting interplay of richness from the cheese, the light and salty bonito, the fresh salmon, and a kick from the mayo. With generous servings and adorable ninja-inspired interiors, we understand why Sushi Ninja is a favorite in the South!
Sushi Ninja is at Westgate Center, Filinvest City Muntinlupa City; open daily from 11:30 a.m. to 10 p.m.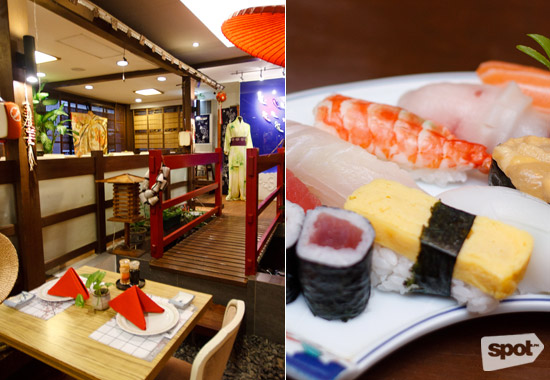 ADVERTISEMENT - CONTINUE READING BELOW
4. Haru
Walking into Haru is like walking into your eccentric, romantic Japanese aunt's house. Every nook and cranny is jammed with all sorts of knick-knacks, from little sushi chef bobble heads to life-sized kimonos on display, from kokeshi dolls to Gundam figures. The overall Haru experience is a feast for the senses, and the visual is just a prelude to the gustation! 
Haru's bestsellers are their sushi platters, which are a great way for you to sample the restaurant's wide array of fish. Order the Aki Nigiri Moriwase (P415), a generous serving of tuna, salmon, ebi, ika, tamago, tai, uni, shimaaji, and tekkamaki (tuna rolls). Among these, a number stand out. Their uni is fresh, salty, and wonderfully creamy. The prawn is juicy and just the right texture and color it should be. The tuna is very lean, and you find yourself grateful that there are extra rolls of tekkamaki on your plate. With fresh fish, perfect vinegared rice, and quite generous servings, Haru is the ideal place to take someone on a first date (and impress!) if they really like their sushi.
Haru is at 21 West Capitol Drive, Kapitolyo, Pasig City; open daily from 11 a.m. to 10 p.m.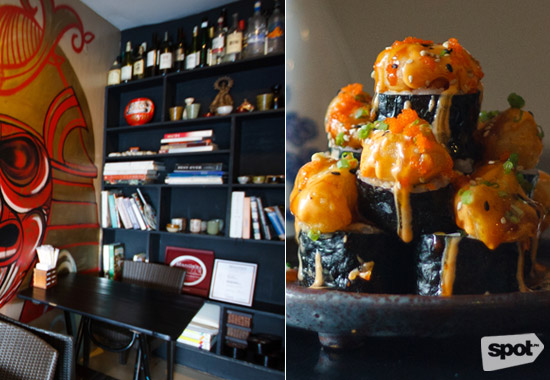 ADVERTISEMENT - CONTINUE READING BELOW
3. Sensei Sushi
Talented chef Bruce Ricketts is the sushi genius behind some of Manila's newest and most sought-after restaurants—Mecha Uma and Ooma. Before these two however, one could find him making sushi at a small, unassuming hole-in-the-wall along Aguirre Street called Sensei.
It used to be a must-try in the South, but we have to admit that the hype has died down. Sensei may be quieter now, but those flavors are still dynamite. Quite literally. Those who frequent Sensei swear by the Tuna and Scallop Dynamite (P295), which has kyuri, cream cheese, dynamite sauce, and crispy scallops. It comes to your table in a little orange mountain, a classic example of the tasteful, artistic preparation put into the dishes served here. Another must-try is the Salmon Belly Aburi, served with uni and a touch of earthy truffle oil. While his other restaurants may be on every sushi fan's list of new places to hit, a return to his roots at Sensei, where his magic all began, is still definitely worth the drive.
Sensei Sushi is at 268 Aguirre street, BF Homes, Parañaque City; open from 12 p.m. to 2 p.m. and 6 p.m. to 10 p.m. Read more about Sensei Sushi.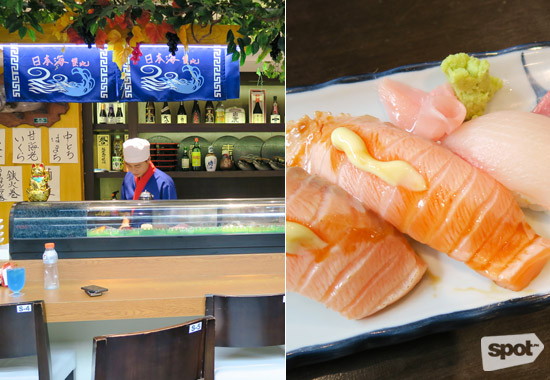 ADVERTISEMENT - CONTINUE READING BELOW
2. Nihonkai Tsukiji
Nihonbashi-Tei along Arnaiz Avenue has long been a favorite go-to for sushi lovers in the Makati area. The one challenge however is beating all the other sushi lovers to it! For those who find the original branch packed as usual, fear not, the newest haven for your fresh sushi cravings lies not too far away, in the heart of McKinley Hill—at Nihonkai Tsukiji.
The sushi here is as good as the original branch, just served to you in a newer, cherry blossom-laden atmosphere. For nigiri sushi, we still swear by the classic bestsellers—the Hamachi (P220/per piece) and Salmon (P80/piece), both incredibly fresh and with the distinct caliber that Nihon is best known for. The Spicy Tuna Maki (P350) is still one of the greatest in the city, with a generous helping of good tuna tossed in that spicy make-you-reach-for-your-glass-of-water-but-keep-you-still-wanting-more-after sauce we've all come to know and love.
By the way, Nihonbashi-Tei will soon open in the Tomas Morato area.
Nihonkai Tsukiji is at Tuscany, Upper McKinley Road, McKinley Hill, Taguig; open daily from 11 a.m. to 2 p.m. and 5 p.m. to 10 p.m. Read more about Nihonkai Tsukiji.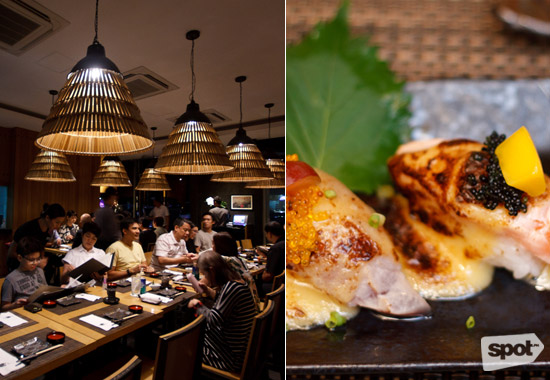 ADVERTISEMENT - CONTINUE READING BELOW
1. Minami Saki
Clean and minimalist. These are the words that first come to mind when you enter Minami Saki, taking in the steel, stone, and bamboo. If first impressions really tell us much about what we're in for—you'll get the inkling that you're about to have a refreshingly modern take on something classically Japanese. With Chef Kimito Katagiri (a man with so much experience working at hotels in the metro, sometimes called the "Nobu of Manila") at the helm, that's exactly what you're going to get.
What you cannot miss at Minami Saki is the Aburi Sushi, and they do this slightly burned specialty extraordinarily well. The Aburisushi 3 Kinds (P473) comes with tuna, salmon, and lapu-lapu. Each one is a masterpiece! The fish is blowtorched just right. The toppings—various ebiko, fruit, and the richest aburi sauce work so well together. The ingredients enhance the character of the fish without overwhelming it with the contrasting textures or flavors. This really is Chef Katagiri at his best.
Minami Saki is at G/F Astoria Plaza, 15 J. Escriva Drive, Ortigas, Pasig City; open daily from 11 a.m. to 2:30 p.m. and 6 p.m. to 10:30 p.m.
Photos by Pia Babao Guballa
Share this story with your friends!
---
Help us make Spot.ph better!
Take the short survey
Load More Stories