Top 10 Ramen Places in Manila (2016 Edition)
We list the best restaurants to answer your soup-and-noodle cravings.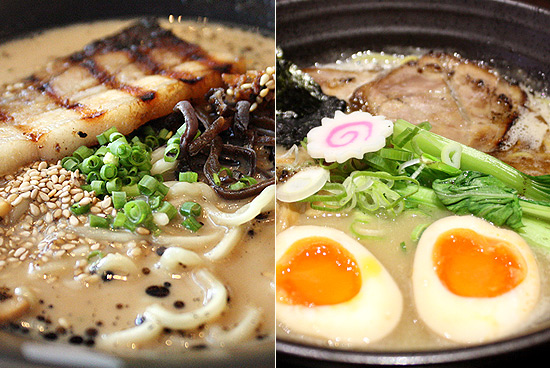 (SPOT.ph) It feels like quite some time ago that ramen places started popping left and right in the Metro—a mix of top Japanese chains and homegrown establishments all with the same goal of giving us that warm bowl of soup and noodles. Not the kind you've had at home and out of a packet or styrofoam cup: This was more flavorful, rich, and promised to use only the best ingredients.
But what exactly makes up a bowl of the perfect ramen? Some would argue that it all comes down to the soup: It should have that deep, full-bodied (usually fatty) flavor that results from hours of boiling in the kitchen. Others point to the noodles—that they should hold firm or be springy enough to the touch. The toppings, but particularly the meat, is also of great influence: Whether it's pork, chicken, or something else, it should be able to hold its own with the right proportions of fat, tenderness, and full-on flavor.
While there are many types of ramen out there, our search for the best in the Metro had us focused on just the basics: We looked at interpretations of shio (salt), shoyu (soy sauce), and that milky-white tonkotsu (pork) base to find which ones have done it so well you won't mind the added bulge.
All SPOT.ph Top 10 lists are researched, paid for, tested, and selected by the writers and editors. They are discreetly conducted without any notice made to the restaurants or their owners. 
ADVERTISEMENT - CONTINUE READING BELOW
Also read:
10 Under-The-Radar Ramen Places You Shouldn't Miss
Top 10 Ramen Spots (2013 Edition)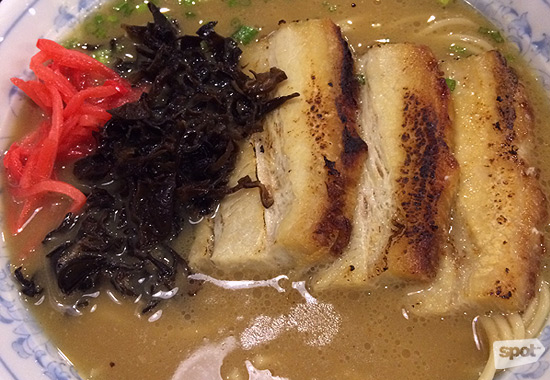 CONTINUE READING BELOW
Recommended Videos
10. Mitsuyado Sei-Men's Shoyu Ramen (P290/regular; P330/large)
While Mitsuyado is known for their tsukemen, it's also worth a visit if you prefer to have your ramen the usual way. The first thing we notice are the thick slices of charred pork, lying alongside a generous helping of other toppings like mushrooms and fermented ginger. It's the soup, though, that carries a good amount of interesting flavors, but leaves us wishing it were given more time to boil to give it a much deeper, more memorable warmth. You have a choice between getting thick or thin noodles (the server recommended we get the thin ones), and each bite is worth every slurp with a firmness that works well with the rest of the components. The fermented ginger adds not only a touch of color, but also an interesting zing.
ADVERTISEMENT - CONTINUE READING BELOW
Mitsuyado Sei-Men is at 22 Jupiter Street, Bel Air, Makati City; and Blue Bay Walk, EDSA corner Macapagal Avenue, Pasay City.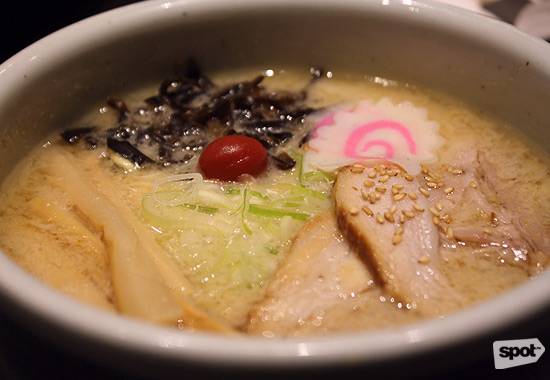 9. Hokkaido Ramen Santouka's Shio Ramen (P345) 
The regular-sized bowls at Ramen Santouka are slightly smaller compared to most ramen places, which is actually appealing to those who find one bowl enough of a challenge. There's a layer of oil that's visible once the steaming hot dish arrives on our table, and immediately we get to the milky white, rich broth that gives warmth in all the right places. The curly noodles remind us of the kind you usually have at home, but the soup is comforting enough to distract you from its slightly starchy consistency. The kurobuta pork charsiu is tender and flavorful (some parts tasting a bit like ham) which goes well with the not-too-salty broth.
Click here for a list of Hokkaido Ramen Santouka branches
ADVERTISEMENT - CONTINUE READING BELOW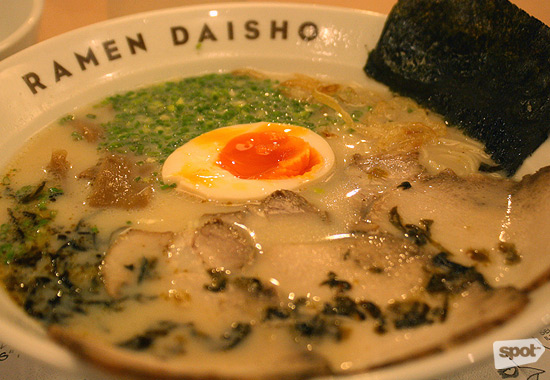 8. Ramen Daisho's Tonkotsu Ramen (P350/regular; P620/large)
This old neighborhood favorite still holds a certain charm: the Japanese owner says hello as he walks by and servers are enthusiastic when taking orders. Then the bowl arrives with plenty of toppings: bamboo shoots are mostly crunchy; the meat is tender; and a touch of garlicky zing greets the palate. The noodles are soft compared to others on this list, with the broth perfectly rich and not too oily. The flavor might be boosted with a bit more time in the kitchen, but Ramen Daisho's version still leaves a memorable impression.
Ramen Daisho is at Unit 2, Sunshine Square, Liberty Center, Shaw Boulevard, Mandaluyong City. Read more about Ramen Daisho.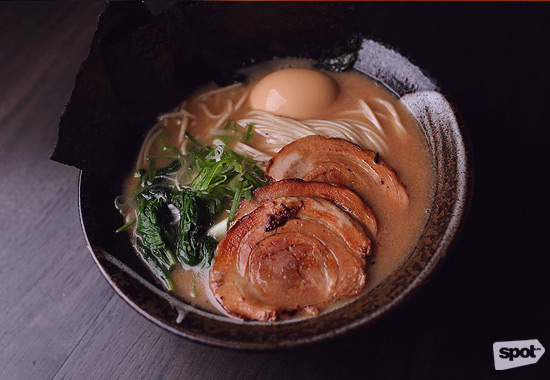 ADVERTISEMENT - CONTINUE READING BELOW
7. Oyasumi's Iekei (P350) 
While the Iekei is the most basic offering at new ramen player Oyasumi, the flavors are anything but. You can experiment by having the Squid Ink, Curry, or Spicy homemade noodles, but the default is no less satisfying. Take a spoonful of that pork-infused broth and a bite off that very tender meat (ours was a bit fatty but still so good) and it's ramen heaven. They make it hard for you to stop eating as soon as you taste their homemade noodles (safe to say one of the best we've tried in the Metro). There's also a generous serving of seaweed—three large sheets (a Yokohama tradition) to give you the welcome break in case the flavors become too cloying. It's a reliable classic that can easily disappear in between bites of crunchy fresh spinach and tamago. Trust us, that layer of glistening fat won't put you off once you get a taste of this warmth in a bowl.
Oyasumi is at 308 P. Guevarra Street corner Sea View Street, Little Baguio, San Juan City (275-0309). Read more about Oyasumi.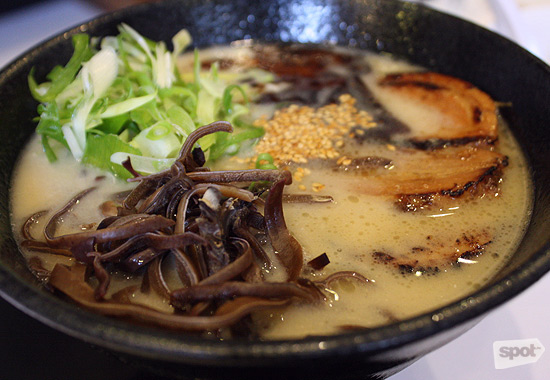 ADVERTISEMENT - CONTINUE READING BELOW
6. Butamaru's Shoyu Ramen (P340) 
There's a reason why the shoyu at Butamaru will stay with you after one bite: The tonkotsu broth that's been cooked for 16 hours is full-bodied and rich, while the charsiu slices are meltingly good. "Fukuoka," as it says on Butamaru's menu, is the "unique way of serving [chashu] in round, melt in your mouth slices" and it will be the highlight of your visit. The noodles are served firm (kata-men) or soft, and a richer broth is available upon request; it's a bit on the saltier side compared to others on this list, but the generous serving of mushrooms helps break the monotony. Ask the server to go easy on the onion leeks.
Butamaru is at CE405 Westgate Center, Filinvest Corporate City, Alabang, Muntinlupa City (877-4255).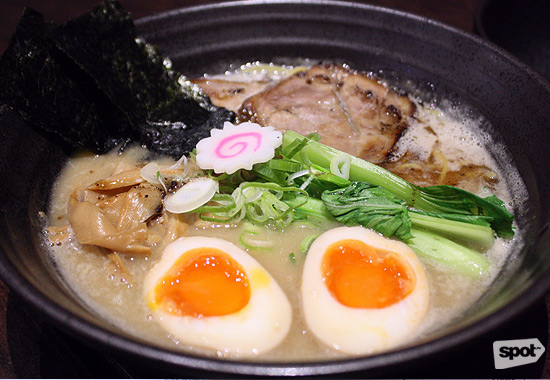 5. Kichitora of Tokyo's Paitan Ramen Zenbu no Se (P420) 
Kichitora arrived in Manila at the height of the ramen craze (Can you believe that was way back in 2012?) and we're glad it hasn't lost its luster. Their bestselling Paitan Chicken Ramen, topped with pork or chicken chashu, dried seaweed, molten lava egg, and a dash of fried garlic oil is still pretty stellar. With straight, firm noodles come just the right amount of oil, a thick, aromatic broth with a deep chicken flavor that almost tastes roasted, and bamboo shoots and vegetables that are crunchy with every bite. While there are plenty of toppings and noodles to go around (maybe even shared between two people), we wish there were more soup in the bowl to warm our tummies, because it's just that good.
ADVERTISEMENT - CONTINUE READING BELOW
Kichitora of Tokyo is at Bonifacio High Street Central, Bonifacio Global City; 2/F Glorietta 5, Makati City; and 2/F Mega Atrium, SM Megamall, Mandaluyong City. Read more about Kichitora of Tokyo.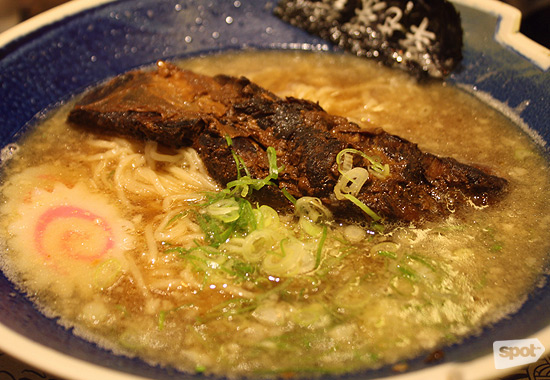 4. Hanamaruken's Signature Happiness Ramen (P480) 
Hanamaruken's version of the shoyu tonkotsu comes with a tender, slow-braised soft bone pork rib that easily steals the show. The massive bowl is said to be founder Takaku Arakawa's ramen masterpiece: a broth that appears and tastes lighter than others on this list, but doesn't lack in flavor thanks to its components. Bits of fat float on the surface, but don't let them scare you away because every portion of meltingly soft tendon promises bursts of flavor. While the noodles are on the softer side, the soy sauce and pork broth packs enough punch to satisfy your taste buds. True happiness, indeed.
Click here for a list of Hanamaruken branches. Read more about Hanamaruken.
ADVERTISEMENT - CONTINUE READING BELOW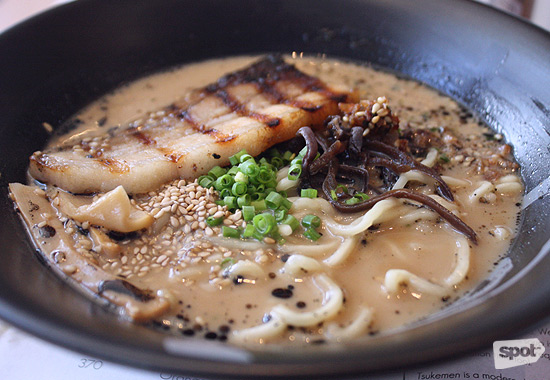 3. Ramen Yushoken's Tonkotsu Shoyu Ramen (P350)
We also tried Yushoken's Makati counterpart, Mendokoro, and yet its older sibling still comes out on top for having bolder flavors. Yushoken's shoyu stands out for its rich, smoky taste and aroma that has seeped through the broth via the thick, flavorful, grilled charsiu meat. The broth contains bits of meat that give added texture to every bite, but we could do without the bamboo shoots that give off a strong, fermented flavor. While Yushoken remains on most ramen lovers' radars these days (go there any time of day and they're usually packed), it would rank higher on this list if not for some noodle portions that were clumped together at the time of our visit (which made the noodles a bit harder to chew on). That aside, the serving size is more manageable than most even for first-timers—and that hard-to-miss flavor will stay with you after you've happily finished an entire bowl by yourself.
ADVERTISEMENT - CONTINUE READING BELOW
Ramen Yushoken is at Molito Lifestyle Mall, Madrigal Avenue corner Commerce Street, Alabang, Muntinlupa City (808-7424).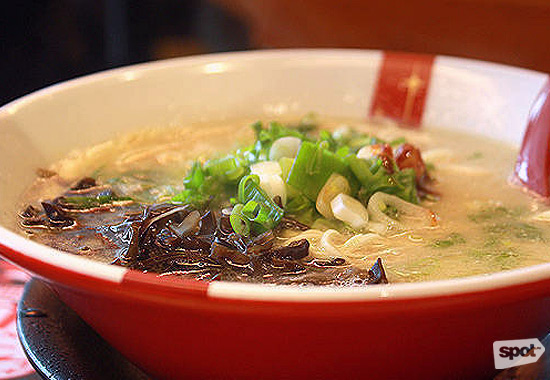 2. Ramen Nagi's Original King Butao (P390)
Yes, Ramen Nagi has come out with ramen chips, but their Butao is still like no other. With eight branches under its belt, everyone surely knows the drill by now: You take your red marker and order what you like, from the richness of the broth, firmness of the noodles, spice level, to add-ons. For the purposes of this list, we trusted the chef's recommendation and were not disappointed. The tonkotsu pork broth, handcrafted noodles, and pork charsiu make up a wonderful bowl filled with so much flavor. The soup is milky white and opaque, heavy to some extent with the right amount of oil, which kind of distracts you from worrying about packing on the pounds. Our bowl had just the right whisper of heat in it, which made it all the more delicious, plus the firm noodles are a hit with every slurp of that warm, comforting broth.
ADVERTISEMENT - CONTINUE READING BELOW
Click here for a list of Ramen Nagi branches. Read more about Ramen Nagi.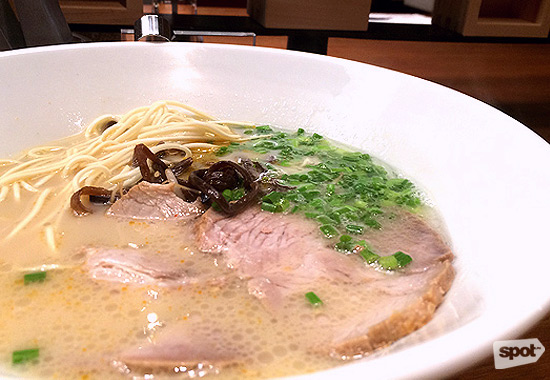 1. Ippudo's Shiromaru Motoaji (P375) 
The tonkotsu ramen at Ippudo looks simple, a bit pale or colorless even, yet none of that matters when it's a, well, matter of taste. Filipinos welcomed this popular chain in 2014 with long lines and excited appetites, and a little over a year later, it remains top-of-mind for ramen enthusiasts in Manila—and it's not hard to see why. This Hakata-style ramen contains broth that's been cooked for 15 hours. Noodles are made fresh daily, with the charsiu boiled and stewed for over two hours. If you read the menu you'll find they encourage you to "sip, slurp, top," which means you have to appreciate the broth first, take a spoonful of noodles, then go for the bean sprouts, kikurage, and spring onions. The soup is rich and flavorful; the noodles ultra thin and perfectly firm; the meat and toppings give you that overall feeling that all things are right in the world. From the first spoonful down to the last, it's the kind of meal that you feel like hugging and having over and over again.
ADVERTISEMENT - CONTINUE READING BELOW
Ippudo is at 3/F Mega Fashion Hall, Mandaluyong City (0999-886-7907); and Robinsons Ermita, Manila. Read more about Ippudo.
Share this story with your friends!
---
Help us make Spot.ph better!
Take the short survey
Load More Stories