New Restaurant Alert: Westwood at Teachers Village, Quezon City
Make this Maginhawa spot your next stop for playful, experimental grub.
Westwood
80 Maginhawa Street, Teachers Village, Quezon City
Contact: 435-0619
Open from 3 p.m. to 11 p.m. (Tuesday to Sunday)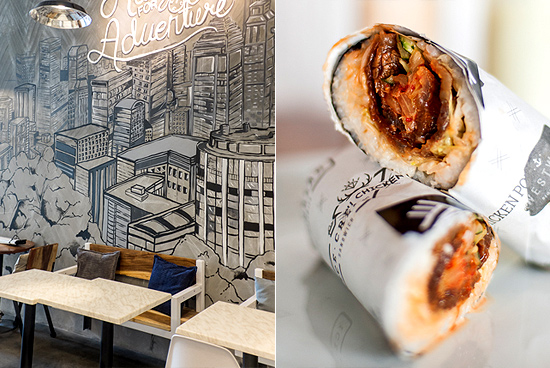 (SPOT.ph) A trendy Los Angeles neighborhood is the inspiration behind Russell Mae Canlapan's latest Maginhawa venture. At Westwood, which brings together cuisines from the Philippines, Japan, Korea, and America, she intends to create a dynamic, ever-changing experience with every visit. It is, according to her, for foodies who are "hungry for adventure." 
ADVERTISEMENT - CONTINUE READING BELOW
CONTINUE READING BELOW
Recommended Videos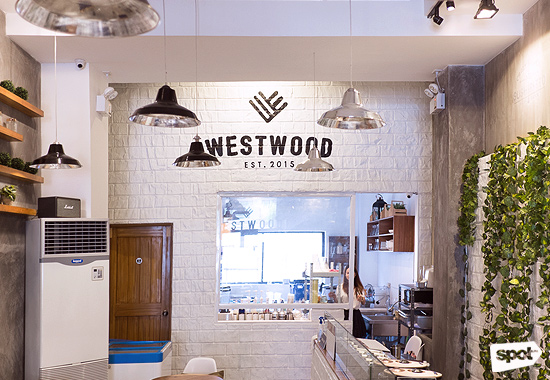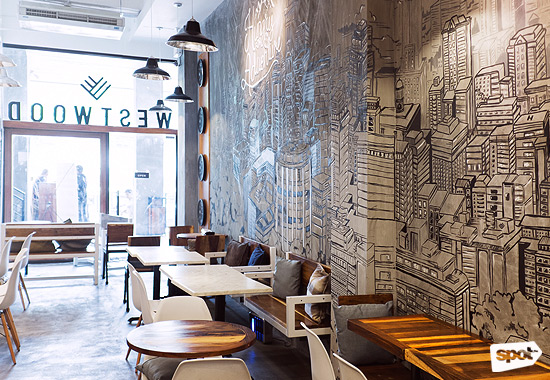 ADVERTISEMENT - CONTINUE READING BELOW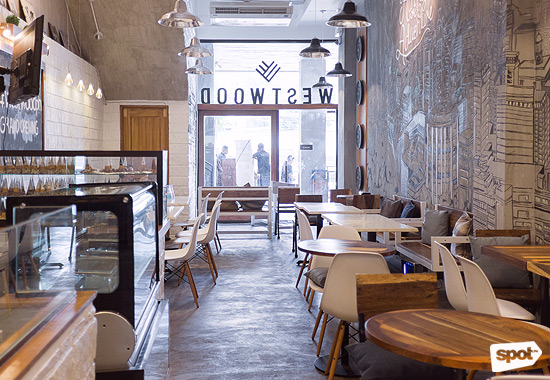 A glimpse of L.A.
Their "sushirritos" (a sushi and burrito mash-up)—inspired by another L.A. hit—are the stars of the show. "A lot of people are so busy, so these are perfect for a grab-and-go," Russell says. "We tweaked the flavors to appeal to the Filipino palate, so they are still very familiar." They have eight variants, but your introduction to these babies should start with either the Seoul Beef Bulgogi or the 3's King Korean Bacon (P249/each).
ADVERTISEMENT - CONTINUE READING BELOW
The former is a glorious sweet-and-spicy bundle comprising tender sirloin, kimchi, assorted greens, Japanese rice, and a layer of bulgogi sauce. The latter, meanwhile, brings the tangy profile of Korean grub up a notch by marrying elements of a traditional samgyeopsal: Korean bacon, kimchi, Korean rice, greens, and ssamjang (spicy paste). Complement the bold notes of these sushirritos by coating each bite with some soy or wasabi mayo.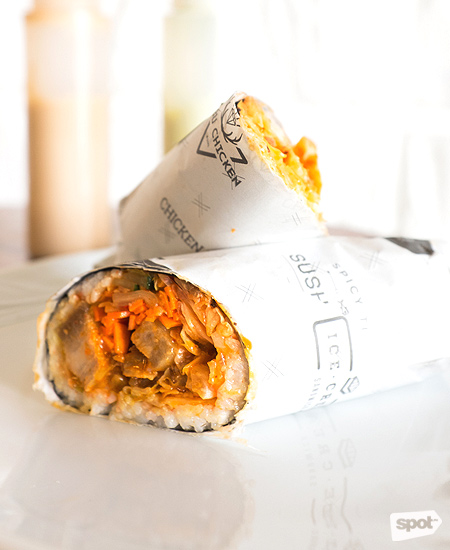 ADVERTISEMENT - CONTINUE READING BELOW
King Korean Bacon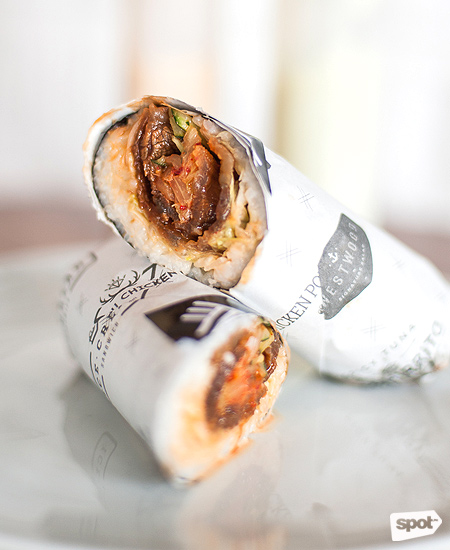 Seoul Beef Bulgogi
The best-selling Westwood Garden Salad (P269) is a leafy mix that incorporates several flavors in each forkful—sweet, tangy, and even (pleasantly) bitter. It contains a generous heap of tender chicken strips, lollo rossa and iceberg lettuce, buttered croutons, candied walnuts, and sun-dried veggies, all painted with a thin layer of balsamic vinaigrette.
ADVERTISEMENT - CONTINUE READING BELOW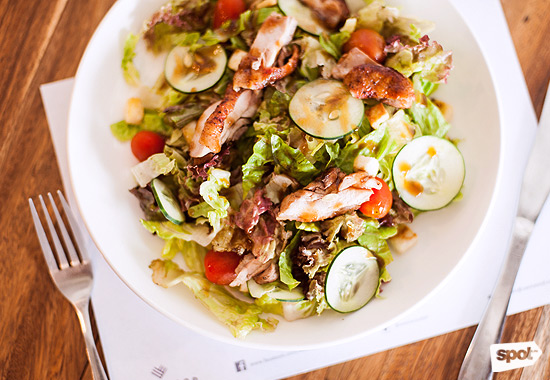 Westwood Garden Salad
Westwood is also great with chicken. Their Chicken Poppers (P99/solo, P188/for two, P269/for three to four)—breaded, deep-fried chicken thighs coated with Westwood's top-secret powdered mix—make for a good pre-gym snack. Or, opt to enjoy these powdered poultry bits as part of the Snowy Chicken Meal (P149/solo, P559/for four, P999/for eight). Coat your chicken in either buttered garlic, onion, cheese, or barbecue powder, and enjoy it with an unlimited helping of some thirst quenchers.
ADVERTISEMENT - CONTINUE READING BELOW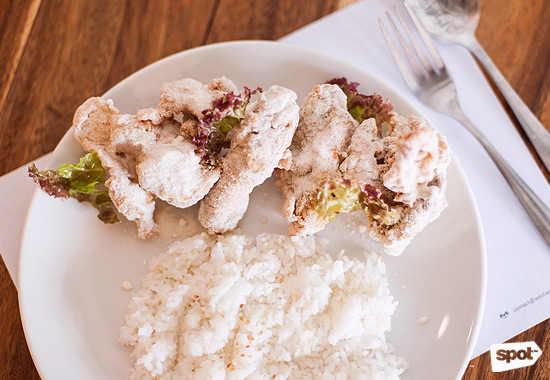 Snowy Chicken Meal
The thirst quenchers are served in cool, quirky flasks. Take your pick from fun flavors such as Blue Potion, Orange Lychee, and Cucumber Citron (P115/each). You can also wind down by sampling any of their yogurt shakes: Virgin Piña Colada, Kiwi Cucumber, and Strawberry (P130/each).
ADVERTISEMENT - CONTINUE READING BELOW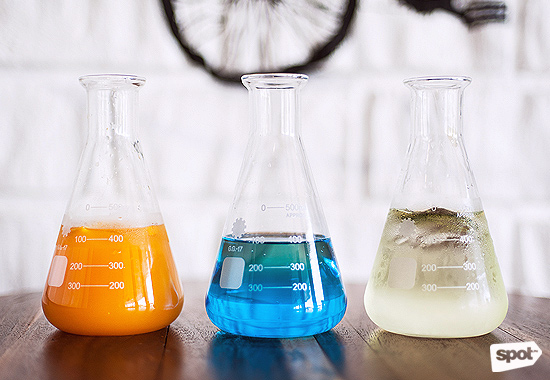 Thirst Quenchers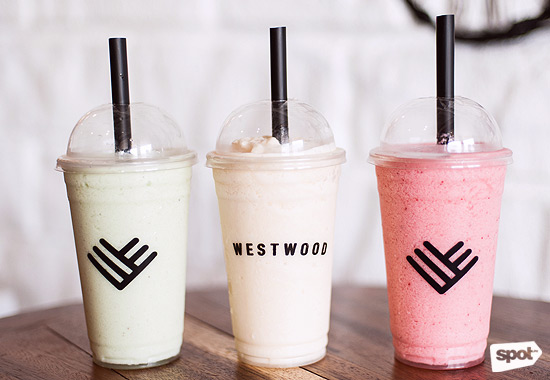 ADVERTISEMENT - CONTINUE READING BELOW
Yogurt Shakes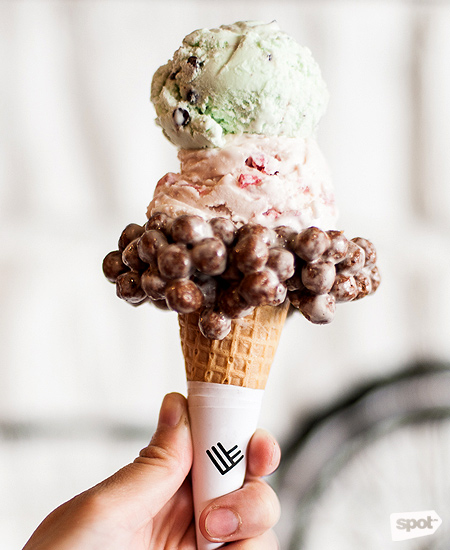 Specialty ice cream in a cone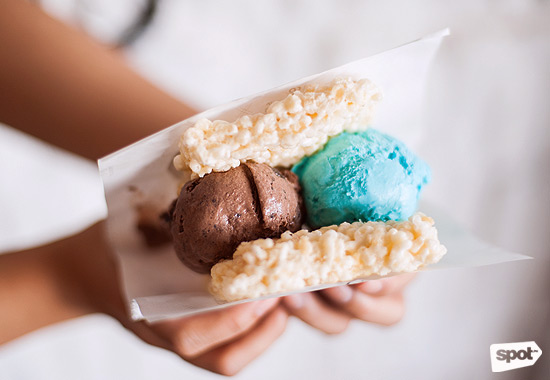 ADVERTISEMENT - CONTINUE READING BELOW
Specialty ice cream in a cereal sandwich
A trip to this Maginhawa stop would not be complete without a look at their dessert bar, which has started to be the talk of the town. It's not surprising. Russell also owns Korean dessert stop Magpie Café at neighboring StrEAT Maginhawa Food Park. Gorge on some specialty ice cream served your way: cup (P79/two scoops, P89/three scoops), specialty cone (P110/scoop, P125/two scoops, P145/three scoops), or as a cookie, beignet, or cereal sandwich (P138). Pro-tip: You can get the latter three à la carte.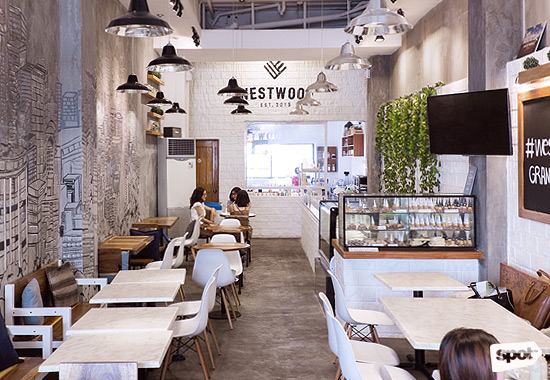 ADVERTISEMENT - CONTINUE READING BELOW
Afternoons here
All these offbeat delights are just a snippet of what Westwood has in store for those up for a good food adventure. In the coming months, expect new and inventive additions to the menu, plus a series of events such as art exhibits, poetry readings, and acoustic nights. "We really want this place to be a one-of-a-kind hub, a place where foodies, artists, and musicians can come together and do their thing," Russell says. "We want people to come in and relax over good food and company."
Photos by Sandra Dans
Load More Stories