10 Cool Dishes and Desserts That You Should Totally Snapchat
Food porn is moving on to motion picture.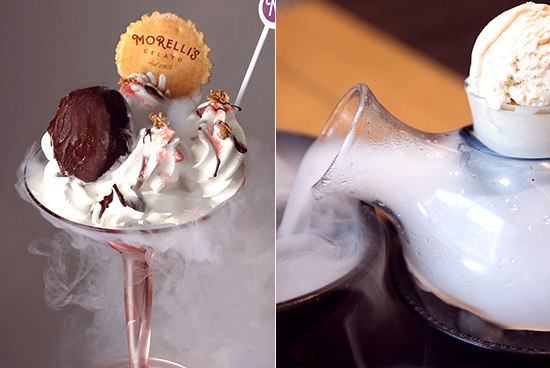 (SPOT.ph) We are at the tipping point. It's no longer enough for restaurants to arrange art on plates (hey, remember when all people had to do was cook really good food regardless of how it looked?). Inner beauty is hardly enough nowadays—at least not when it comes to dishes. The shift is heading towards video, and kitchens all over the Metro are developing options that are active, interactive, and just plain cool. Of course, we're hooked and our Snapchats are ablaze.
ADVERTISEMENT - CONTINUE READING BELOW
CONTINUE READING BELOW
Recommended Videos
Because liquid nitrogen ice cream and gelato are a dime a dozen nowadays, they were no longer considered for this list.
Minami Saki's Coffee Jelly (P180)
This everyday Asian dessert definitely goes for a non-traditional approach when it comes to presentation. A shot of ice cream sits atop a glass flask, which blows serious steam over the coffee-flavored jelly. Once the smoke clears, that's when you can enjoy the actual dessert. Minami Saki's dessert may be full of the proverbial smoke and mirrors, but those flavors ring true. Instead of muddled sweetness, the jelly flaunts the bittersweet pleasures of coffee and it works nicely against the (salted caramel) ice cream.
Minami Saki is at Astoria Plaza, 15 J. Escriva Drive corner Shaw Boulevard, Pasig City. Read more about Minami Saki.
The Black Sheep's Tea Time (P320)
Everything that comes out of The Black Sheep's kitchen is like artwork that has to be preserved—and shared on social media. Chef Patrick Go encourages an interactive dining experience, which is why some of their dishes are served tableside. Our pick is the refreshing Tea Time made by Chef Grace Siy. It's almost like taho, but 20 times more picturesque and complex. This beautiful masterpiece is made with chamomile panna cotta (a genius alternative to soy), lemon granita, honey, and edible flowers. The finishing touch is the on-the-spot scoop of tapioca pearls.
ADVERTISEMENT - CONTINUE READING BELOW
The Black Sheep is at 2230 UPRC1 Building, Chino Roces Avenue, Makati City. Read more about The Black Sheep.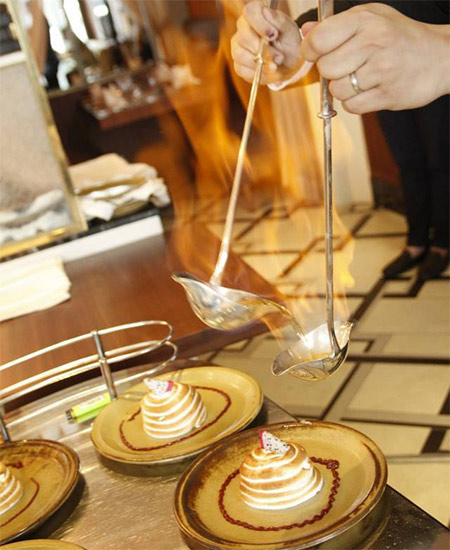 Cowrie Grill's Bombe Alaska (P420)
This fine-dining restaurant also finishes a lot of dishes tableside and they're especially known for their flambé skills. Their most jaw-dropping presentation, however, is saved for last. It's the Bombe Alaska. Think Baked Alaska, but on steroids. In this version, lit brandy is spectacularly poured over the usual confection of sponge cake, ice cream, and meringue until the alcohol burns off and you're left with that extra bold note on your dessert.
ADVERTISEMENT - CONTINUE READING BELOW
Cowrie Grill is at Promenade, Greenhills Shopping Complex, San Juan City. Read more about Cowrie Grill.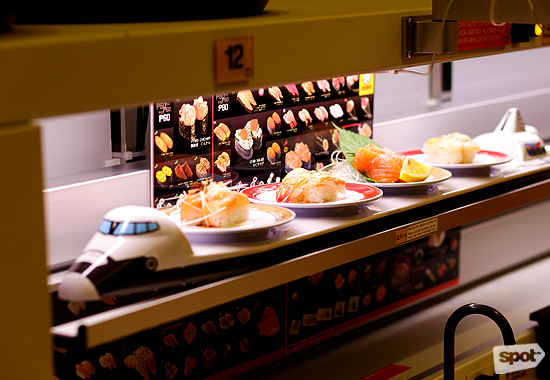 Genki Sushi's Sushi (P120+)
It's not every day AstroBoy delivers your sushi. You might as well document it. Genki Sushi isn't your usual conveyor belt variety (which isn't really that common in the Philippines). Your orders zoom towards you via a magnetic tack. It makes the Shinkansen and superhero delivery trays much more convincing and effective.
ADVERTISEMENT - CONTINUE READING BELOW
Genki Sushi is at Bonifacio Stopover Pavilion, Rizal Drive corner 31st Street, Bonifacio Global City. Read more about Genki Sushi.
Yurakuen's Wagyu Steak (P3,300/120 grams, P5,400/200 grams)
Steaks grilled tableside? That's old hat. This exquisite, indoor glass garden serves their premium Japanese beef in heart-friendly portions, with a cube of fat and a super hot stone. As in an actual stone. You grease the smooth stone with the fat before searing your meat. This dish also comes with Devil's Tongue—quite a misnomer for the jellied vegetable that takes away the heft of the fatty meat.
Yurakuen is at G/F Diamond Hotel, Roxas Boulevard, Pasay City. Read more about Yurakuen.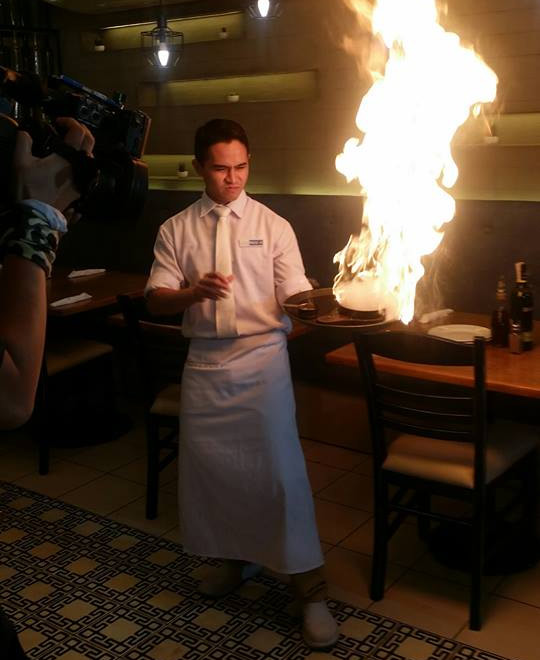 ADVERTISEMENT - CONTINUE READING BELOW
Cyma's Saganaki (P220)
This Greek stand-by has been firing things up long before people even knew what social media meant. A handful of items on Cyma's menu are served flaming with that characteristic "Opa!" exclamation, but nothing gets us more excited than the fiery platter of mozzarella and Parmigiano Reggiano. Maybe because the fun doesn't end with the flame. Scooping up the gooey cheeses with the accompanying toast is snap-worthy, too! By the way, this comes in a version with figs (P350).
Click here for a list of Cyma branches. Read more about Cyma.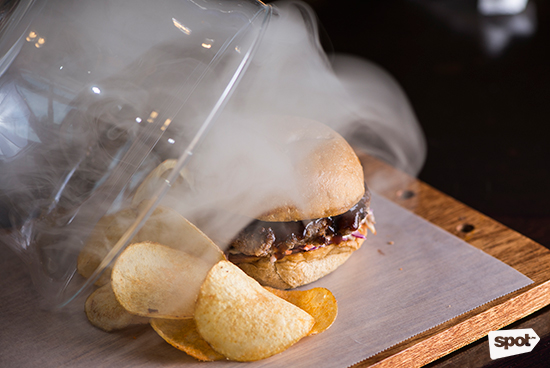 ADVERTISEMENT - CONTINUE READING BELOW
Burger Lab's The Smoked Gun (P270)
When you order the burger and what arrives is a cloche of smoke, don't be disappointed. It clears away to reveal a burger embellished with just the right touch of earthy smokiness. It's way gnarly and even better with the sauce. Slap on some of that barbecue flavor to really turn this burger into a Western treat.
Burger Lab is at Prism Plaza, Two E-Com Building, Mall of Asia Complex Pasay City. Read more about Burger Lab.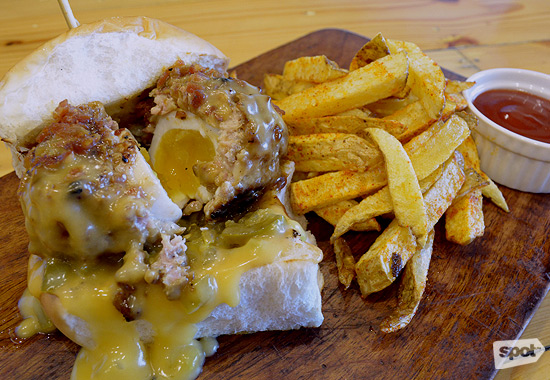 ADVERTISEMENT - CONTINUE READING BELOW
Highway Ribbery Grille's Texas Bomb Burger (P265)
Everybody knows that using soft-yolk eggs is a cheat to turning a dish into an instant photoshoot. Your social media is probably jam-packed with Eggs Benedict and en cocotte. You should, however, immortalize this stunning burger. It looks like your regular giant, messy burger, but break this baby open and a lava of egg yolk gushes out. The patty is hiding an ajitama-esque egg!
Highway Ribbery Grille is at RPlace Building, 255 N.S. Amoranto Street, La Loma, Quezon City. Read more about Highway Ribbery Grille.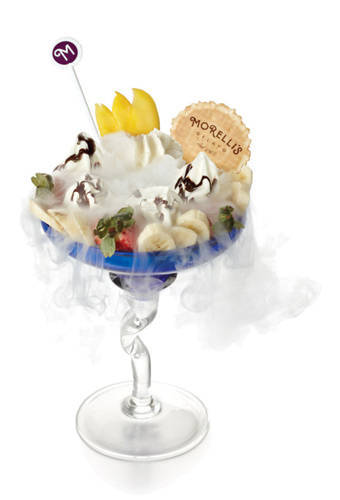 ADVERTISEMENT - CONTINUE READING BELOW
Morelli's Celestina (P250) and Vesuvio (P495)
Morelli's display case of gelato always steals the show. We're not downplaying the flavors of their Italian ice cream, but you should see—and snap!—what they can do with them. They have the most stunning sundaes. The Celestina, for example, is a fairy tale in a martini glass. An ethereal mist sneaks out from the pile of chocolate, strawberry, vanilla gelato topped with chocolate sauce, fresh bananas, strawberries, and whipped cream. The Vesuvius, of course, takes inspiration from the famous volcano. It's a fiery and sinful smorgasbord of melting chocolate cake, vanilla gelato, chocolate sauce, caramelized almonds, and pop rocks.
Morelli's Gelato has branches at Shangri-La Plaza East Wing, Mandaluyong City; and Power Plant Mall, Makati City. Read more about Morelli's.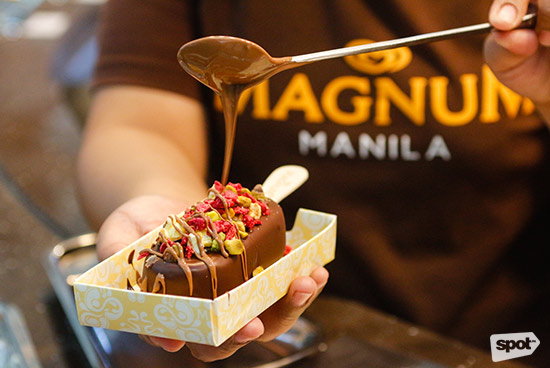 ADVERTISEMENT - CONTINUE READING BELOW
Magnum's Make-Your-Own Magnum (P100)
The Magnum pop-up at SM Mall of Asia is always worth a video-op. Even if by now you've come up with your very own signature combination, it's still a thrilling hold-your-breath experience when you see your ice cream bar being dipped in chocolate, sprinkled with your choice toppings, and marked with that characteristic M. Snap and share!
Magnum is at 2/F North Wing, SM Mall of Asia, Pasay City. Read more about Magnum.
Photos from SPOT.ph archives and from the official Facebook pages of Cyma and Cowrie Grill
Load More Stories