Top 10 Burritos in Manila (2016 Edition)
We're going for the best and beefiest burritos in Manila!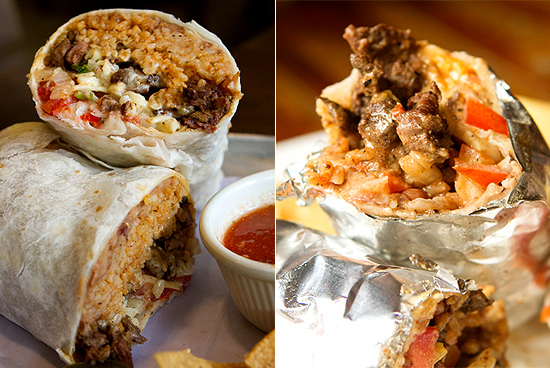 (SPOT.ph) With Latin and South American food peaking in Manila, looking for a great burrito has become a vivid and wild adventure—one that we haven't been on since 2013. A complete meal in itself, a burrito has to be both bold and filling, with just the right ratio of meat to everything else. We're sticking to the most popular beef flavor with this list, counting everything from steak to shredded to barbecued. Insert smiley face + heart + burrito emoji here!
All SPOT.ph Top 10 lists are researched, paid for, tested, and selected by the writers and editors. They are discreetly conducted without any notice made to the restaurants or their owners.
Also read:
Top 10 Burritos in Manila (2013 Edition)
10 Must-Try South American Restaurants in Manila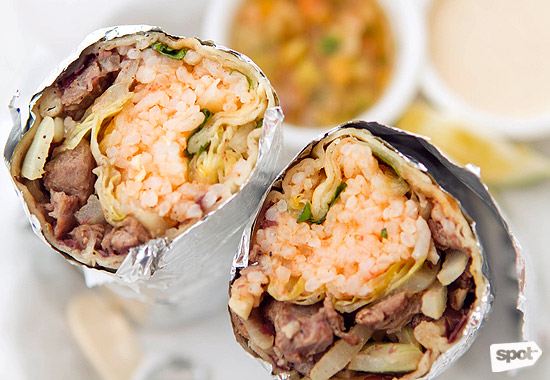 ADVERTISEMENT - CONTINUE READING BELOW
10. Army Navy's Steak Burrito (P195)
In the wrap: Steak, Spanish rice, frijoles, onions, lettuce, cilantro; served with salsa and lime
Army Navy's steak burrito is a go-to for almost everyone. It boasts chunks of quality roasted meat, enough to go head-to-head with pricier choices. Paired with a nice balance of greens, it's served with salsa, lime, and how could we forget, a side of Army Navy's special sauce—it's become such a crowd favorite, they no longer make it available for all-you-can-slather use (you have to get it in little tubs from the register now).
Click here for a list of Army Navy branches.
CONTINUE READING BELOW
Recommended Videos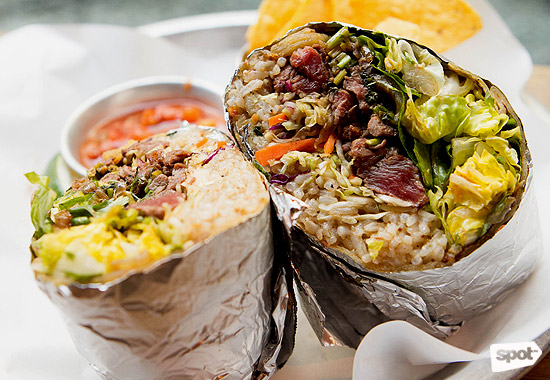 9. Taco Vengo's Orange Chipotle Steak Burrito (P290)
In the wrap: Seared beef, Mexican rice, greens, and orange chipotle dressing; served with salsa on the side
The award for freshest burrito on the list goes to this Kapitolyo hole-in-the-wall. Far from the usual take on burritos, this steak-filled heavyweight feels surprisingly light on the palate, even without scrimping on the meat. You'll see generous chunks of well-seared steak wrapped in a bed of crisp lettuce. The orange chipotle dressing provides a welcome pick-me-up, definitely a refreshing twist that you shouldn't skip.
ADVERTISEMENT - CONTINUE READING BELOW
Taco Vengo is at 16 United Street, Barangay Kapitolyo, Pasig City. Read more about Taco Vengo.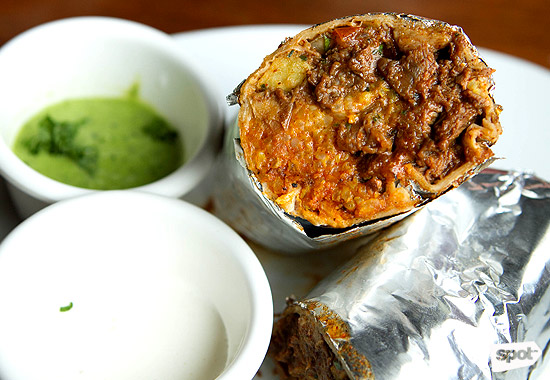 8. Silantro's Burrito (P180)
In the wrap: Lengua, Mexican rice, fried tomatoes; served with salsa and three sauces on the side (spicy, garlic and the Silantro special)
Made with the Filipino palate in mind, Silantro is an easy favorite for most diners. For one, it doesn't have beans—something that most Pinoys usually pick out. The spicy and sweet notes have also been boosted to roaring levels. Saucy chunks of beef lengua with flavorful rice mixed with fried tomatoes make this an instant winner. The price is great, too!
Silantro has branches at 75 East Capitol Drive, Barangay Kapitolyo, Pasig City and 2/F UP Town Center, Katipunan Avenue, Diliman, Quezon City. Read more about Silantro.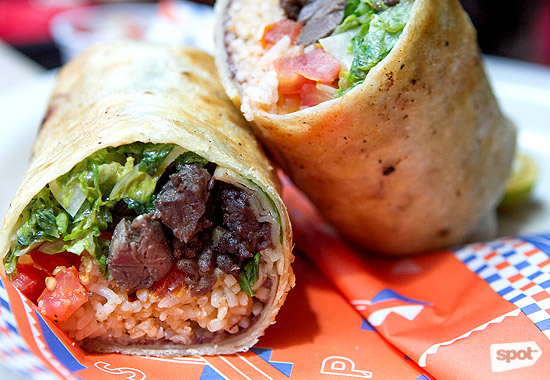 ADVERTISEMENT - CONTINUE READING BELOW
7. Posporo's Beef Cabeza Burrito (P280)
In the wrap: Beef marinated in calamansi and cilantro, atsuete rice, refried mung beans, greens, kesong puti, and pico de gallo; served with chili, garlic sauce, and salsa on the side
Using homegrown counterparts for Mexican ingredients helps Posporo create a close-to-authentic burrito. If anything, their resourcefulness earns them bonus points. The taste is very distinctly Pinoy without compromising what a burrito should be. This is fusion Fil-Mex done right. All you need to do is to appreciate the perfect meat-to-filling ratio and the seamless blend of flavors.
Posporo is at Hole in the Wall, Century City Mall, Poblacion, Makati City.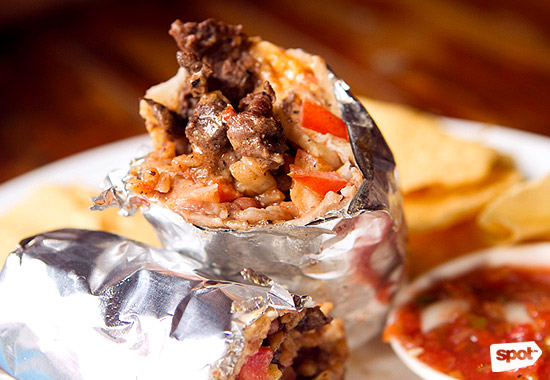 6. El Chupacabra's Carne Asada Burrito (P 257/mission-style)
In the wrap: Beef, Mexican rice, tomatoes; served with salsa on the side
Simple. No frills. Big flavor. Some people say that you should only pay attention to El Chupacabra's tacos, but don't underestimate the satisfaction that comes with their Carne Asada Burritos. It's admittedly underwhelming in terms of looks (seriously, it's like the scrawny kid in the gym), but each bite is loaded with flavor and this hole-in-the-wall certainly makes up for its size. Maybe they're small because you'll want seconds.
ADVERTISEMENT - CONTINUE READING BELOW
El Chupacabra is at 5782 Felipe Street, Makati City. Read more about El Chupacabra.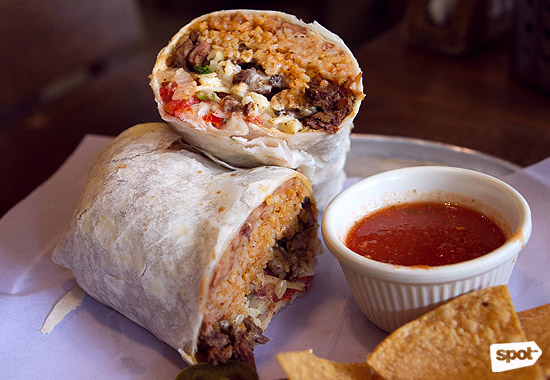 5. Orale's Carne Asada Burrito (P 315 for Regular, P 395 for Grande)
In the wrap: Beef, Mexican rice, cheese, tomato, and refried beans (mashed or whole); served with spicy salsa and chips on the side
Orale isn't as flamboyant as other Mexican restaurants in Manila, but they definitely know where to put all the fanfare—their burritos. The tortilla wraps the whole thing quite neatly, so they can make do without foil. What makes this more impressive, however, is the package underneath: their flawless proportions of beef, Mexican rice, cheese, tomatoes, and beans, which you can get whole or mashed. It's so artfully arranged inside that they make sure you can a bit of everthing every time. Orale goes for simple, and there's nothing wrong with that at all.
Orale is at The Fort Strip, Bonifacio Global City.
ADVERTISEMENT - CONTINUE READING BELOW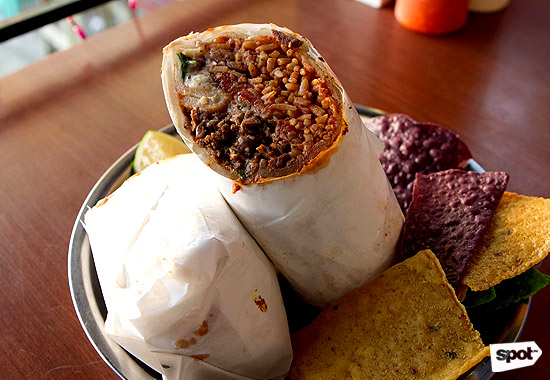 4. Drive By Taco Shop's Beef Sirloin Steak Burrito (P235)
In the wrap: Beef sirloin steak, Mexican rice, red beans, tomato salsa, cilantro, grated cheddar cheese, and sour cream; served with chips salsa on the side
This humble nine-seater shack is a powerhouse when it comes to fuss-free Mexican food (fuss-free for the customers to eat, that is). Their burrito features extra juicy beef, that tomatoey rice we love, and mashed beans that add an earthy note without the mushy texture. The flavor is just explosive, with every element standing out but still coming together in one delicious and harmonious bite. It's best paired with their homemade mint-lime juice.
Drive By Taco Shop is at Aguirre Avenue, BF Homes, Parañaque City. Read more about Drive By Taco Shop.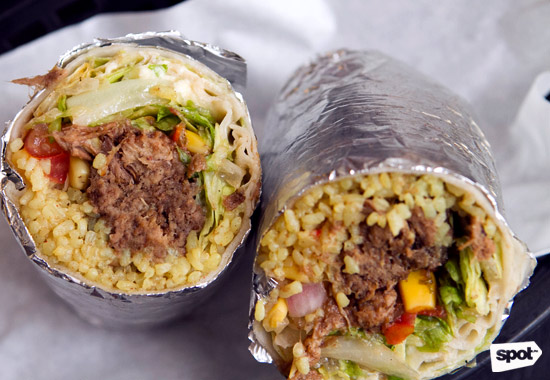 ADVERTISEMENT - CONTINUE READING BELOW
3. B&T's Barbacoa Burrito (P 320)
In the wrap: Shredded beef, chorizo rice, greens, tomato, and corn; served with salsa and garlic sauce on the side
By far the most stuffed burrito on this list, B&T is definitely big on size and on flavor. Servers recommend the Barbacoa, which comes with huge helpings of shredded barbecued beef slow-cooked for maximum taste and tenderness. Wrapped symetrically (almost!) with all the other ingredients, you're always guaranteed a perfect and comprehensive bite. Their corn and greens blend well with the generous serving of beef. We recommend devouring this with hot sauce for that extra kick!
B&T is at Tuscany, Upper McKinley Road, McKinley Hill, McKinley Hill, Taguig City.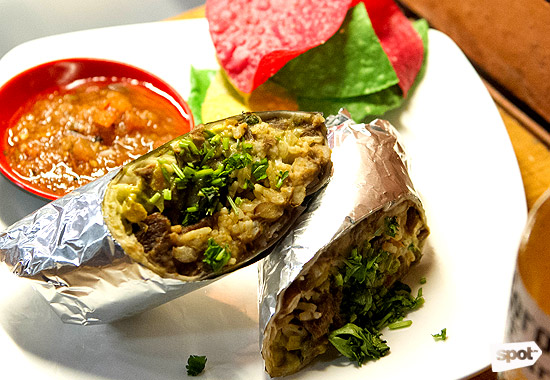 2. Su Casa's Barbacoa Burrito (P185)
In the wrap: Shredded beef, Mexican rice, guacamole, pinto beans, tomato, and onions; served with chips and salsa on the side
Su Casa uses guacamole to complete the burrito experience, a clever addition that makes it worth the visit. You'll get perfectly seasoned barbacoa, creamy guac, and the right level of rice and veggies. It's both savory and fresh at the same time. Because the avocado works overtime, there's no need for extra salsa. Want an extra twist? You can ask them to put fries in there, too. Yum!
ADVERTISEMENT - CONTINUE READING BELOW
Su Casa is at Aguirre Compound, Multinational Village, Parañaque City.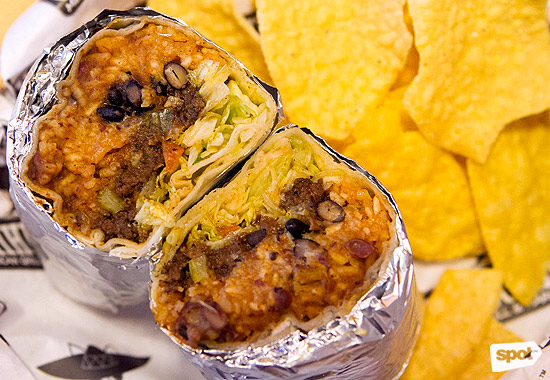 1. Chihuahua's Steak Burrito (P287)
In the wrap: Steak, Mexican rice, black beans, and greens; served with salsa on the side
Chihuahua still has a firm grip on the top spot. The king of Manila's burrito game has a simple secret: They keep it authentic. Each bite is a comforting balance of lean, savory beef mixed with flavorful rice that's lightened by just the right amount of greens. To take it another notch higher, Chihuahua has the most extensive hot sauce catalogue we've seen to date—perfect for those who are adventurous enough to turn their burrito into a blazing bite. Whether you mix sauces or opt out of that extra zing, a big bite of Chihuahua's burrito is pure bliss.
Chihuahua has branches at Greenbelt 2, Makati City; and Crossroads Building, Bonifacio Global City.
ADVERTISEMENT - CONTINUE READING BELOW
Photos by Mario T. Dagdag
For other Top 10 lists, check out SPOT.ph's Top 10 Everything Food Lists 3rd Edition. Co-presented with C2 Cool and Clean, it's priced at P195, available at major bookstores.
Share this story with your friends!
---
Help us make Spot.ph better!
Take the short survey
Load More Stories