Top 10 Pad Thai in Manila (2016 Edition)
Ten reasons we just can't get enough of Thai food.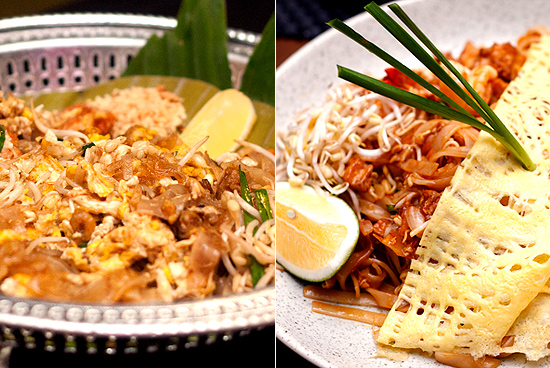 (SPOT.ph) When we think of Thai food in the Philippines, the first dish that often comes to mind is pad thai (spelled alternatively as phad thai). If our various versions of pancit isn't enough of an indication, the association must be because Filipinos have a strong love for noodles. Enjoying kway teow pad thai, literally translated to "Thai-style stir-fried noodles" is only a progression of that culture.
Pad thai is traditionally prepared by soaking dried rice noodles in water, then stir-frying them in a sauce of tamarind pulp, nampla (fish sauce or patis), and palm sugar. Then, you toss in the good stuff: eggs, tofu, garlic and shallots, chili peppers, and dried shrimp. Other ingredients like lime, chopped roasted peanuts, bean sprouts, coriander leaves, and pickled onions or radishes are added according to taste. The traditional preparation of the dish calls for shrimp, but chefs and cooks have taken the liberty of using chicken or pork instead. If you fry your noodles in pork fat, they give off a more full-bodied flavor.
ADVERTISEMENT - CONTINUE READING BELOW
Like all seemingly simple dishes, it's also easy to make mistakes and end up with an oily, chewy mess. Fortunately for us, pad thai is easy to love—and eat. In our quest to find the best pad thai in Manila, we checked out the quality of noodles, the seamless addition of the eggs, and the choice of flourishes to make something incredible.
All SPOT.ph Top 10 lists are researched, paid for, tested, and selected by the writers and editors. They are discreetly conducted without any notice made to the restaurants or their owners. Hotel-run restaurants were not considered for this list.
CONTINUE READING BELOW
Recommended Videos
Also read:
Top 10 Pad Thai in Manila (2011 Edition)
Top 10 Ramen Places in Manila (2016 Edition)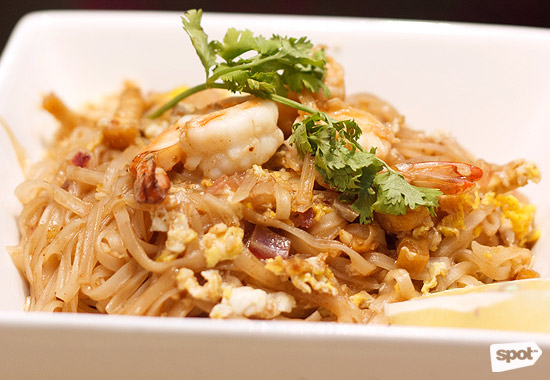 10. Jatujak's Shrimp Pad Thai (P210)
Jatujak is named after the world's largest outdoor market, Bangkok's Chatuchak, which is legendary for street food. Jatujak, the restaurant in Manila, offers this classic Thai dish in either shrimp, chicken, or vegetarian. The former comes with firm noodles tossed in a sweet and tangy sauce and with a generous helping of bean sprouts and shrimp. It's good enough, but it leaves you craving something a bit more substantial to amp it up further. Our tip is to have it with their chicken satay.
ADVERTISEMENT - CONTINUE READING BELOW
Jatujak has branches at SM Megamall, Mandaluyong City; SM Mall of Asia Complex, Pasay City; and SM North EDSA The Block, Quezon City.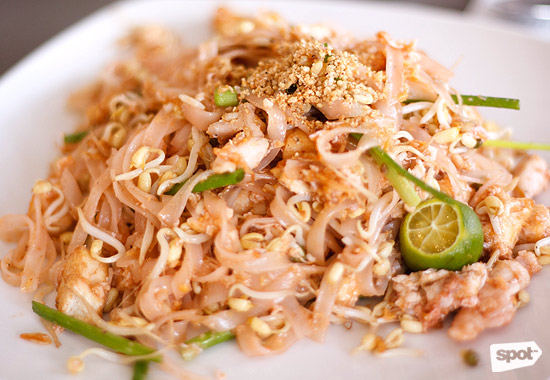 9. Thai Dara's Pad Thai (P229)
Thai Dara first opened at Granada Street, Greenhills in 2009. The Thai chef-owner trains his cooks to create authentic, hearty, and traditional Thai meals. Several years and a few relocations later, it's become a favorite for anyone craving good but cheap Thai grub. The pad thai arrives already tossed together with a reddish sauce, peanuts, tofu, and chicken. The noodles are slender and done with just the right bite. The calamansi element is a bit too thin for the dish, but the portion size and price will make you overlook the minor misses.
Thai Dara is at Pioneer Center, Pioneer Street corner United Street, Kapitolyo, Pasig City. Read more about Thai Dara.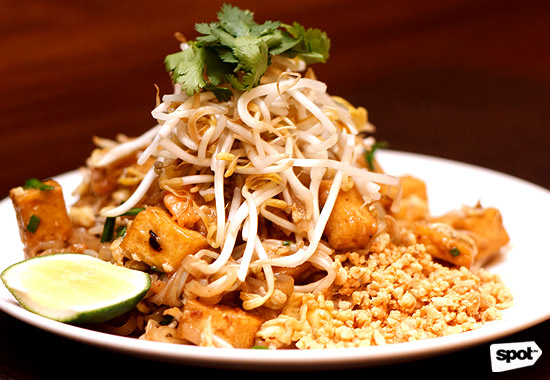 ADVERTISEMENT - CONTINUE READING BELOW
8. Nav's Pad Thai (P295)
Nav has always been consistent with the dishes they churn out, and the pad thai is no exception. Despite the plethora of elements, every ingredient can be distinguished with each bite—mainly because the kitchen makes sure to always put a lot of them in there. There's a generous serving of bean sprounts, chewy fried tofu, fresh cilantro, plus chicken and shrimp. It's not exactly traditional, but this delicious dish stays true to Nav's promise of modern Thai cuisine. This restaurant even offers pad thai rolls (P180) for those who want to enjoy their noodles on the run.
Nav has branches at SM Mega Food Hall, Mandaluyong City; and 16 United Street, Kapitolyo, Pasig City. Read more about Nav.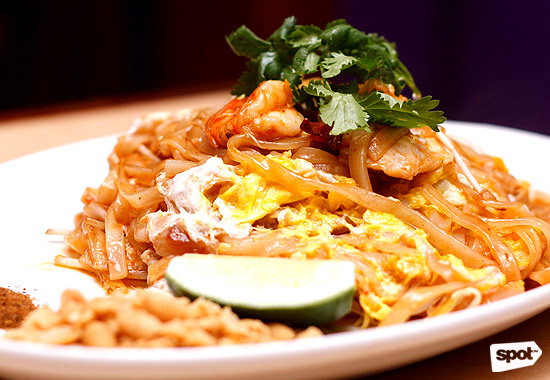 7. Just Thai's Pad Thai (P280)
Just Thai's version is simple but flavorful. Everything is quickly stir-fried together then topped with a fried egg. Roughly chopped peanuts, ground chili flakes, and lime are on the side to be added according to your liking. Be it super spicy or tangy however, the base is adaptable enough to accommodate your preferences.
ADVERTISEMENT - CONTINUE READING BELOW
Just Thai has branches at Bellagio 2, Forbes Town Center, Burgos Circle, Bonifacio Global City; and Molito Commercial Complex, Alabang, Muntinlupa City.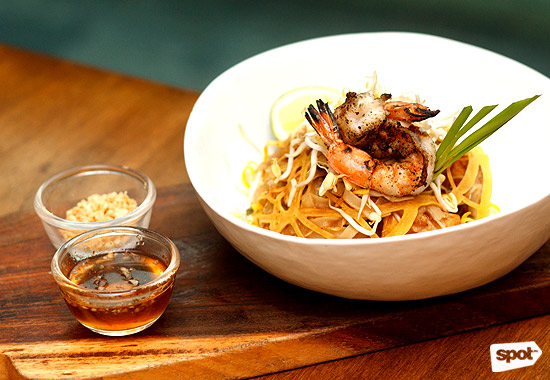 6. Museum Café's Grilled Lemongrass Prawn Phad Thai (P395)
Served in a bowl on a wooden board, M Café opts for a more creative take on pad thai. It comes with peanuts and sweet-spicy nampla on the side. The web of egg that wraps itself around the noodles is admittedly thicker and tougher than most, but it's topped with nicely charred prawns grilled simply with salt and pepper. That you can add spicy vinegar and peanuts at your own discretion is a nice touch—the former layers a unique taste into the noodles.
Museum Café is at Greenbelt 4, Makati City. Read more about Museum Café.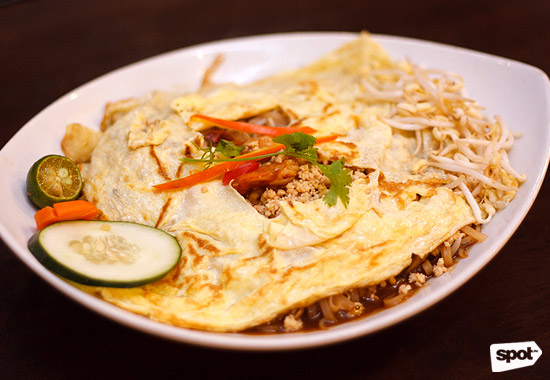 ADVERTISEMENT - CONTINUE READING BELOW
5. Bangkok Café's Pad Thai (P208/small, P328/large)
This quaint hole-in-the-wall in Pearl Plaza is a welcome Thai stalwart in the Ortigas area. Their pad thai is admittedly saucier than the others on the list, but it's tasty so we're considering that a bonus. Instead of cooking the egg like a net, you get it scrambled, with crushed peanuts, red chili, bean sprouts, and big shrimps on top. One word: sulit. The large order can feed a maximum of six hungry people. Bangkok Café also adds both tofu and cubes of fishball into the mix—as if to emphasize its street-food appeal.
Bangkok Café is Pearl Plaza, Pearl Drive, Ortigas, Pasig City.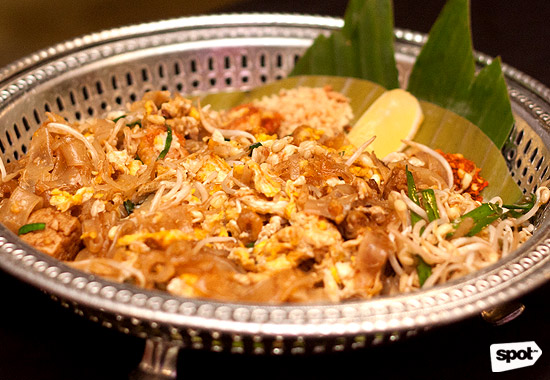 4. Basil's Pad Thai (P360)
Basil's nature-inspired interiors definitely transport you to Thailand. Their pad thai is served ready to eat, with the crushed peanuts, chili flakes, and a lemon wedge served separately to add to taste. The noodles tend to be on the gummy side, but they're flavorful and fun to eat with the fried egg, sauce-soaked tofu, and crispy bean sprouts. The pad thai's flavors and textures come through loud and clear. One of their tamarind- or lemongrass-infused mains is the only thing you need to complete this picture.
ADVERTISEMENT - CONTINUE READING BELOW
Basil has branches at 2100 Pasong Tamo Extension, Makati City; and White Plains Avenue corner Katipunan Avenue, White Plains, Quezon City. Read more about Basil.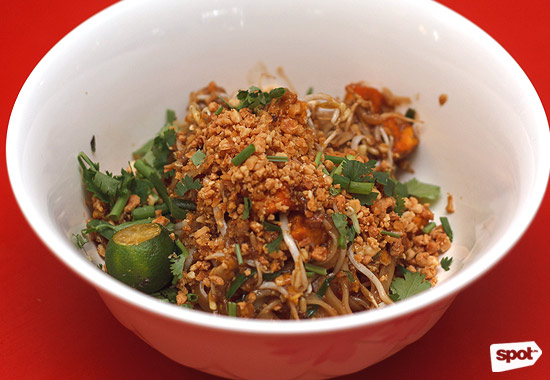 3. Sen Lek Thai's Pad Thai (P130/egg, P155/chicken, P175/shrimp)
Sen Lek Thai is owned by a Thai family and it serves everything from noodle soups to bagoong rice for cheap. Sen lek actually means "rice sticks," and it refers to the more common noodle variety used in, what else, pad thai. Theirs is definitely bang-for-your-buck. Served in a bright plastic bowl, the al dente noodles are tossed in a tangy sauce made crunchy with the help of peanuts. We can ignore the fact that it's served with calamansi instead of the traditional lime because the flavors come out right anyway. It's a good thing this pad thai is cheap. You're definitely going to be hooked.
Click here for a list of Sen Lek branches.
ADVERTISEMENT - CONTINUE READING BELOW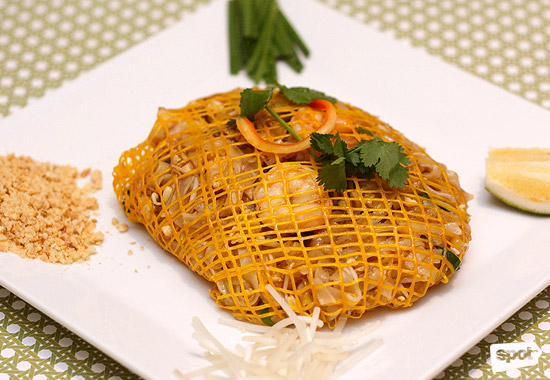 2. Simply Thai's Pad Thai (P360)
This one definitely wins, looks-wise. Once it reaches your table, you'll be marveling at how delicate and precise the net of eggs was made. For something so light and thin, it surprisingly holds up against the large portion of pad thai underneath. It's not just for props either. The flavor of the egg stands out even amid the lemongrass, cilantro, peanuts, lime, and raw beansprouts. Shrimps and pork embellish umami into the mix. What you get is really a lot of dimension in every bite.
Simply Thai is at Greenbelt 5, Makati City.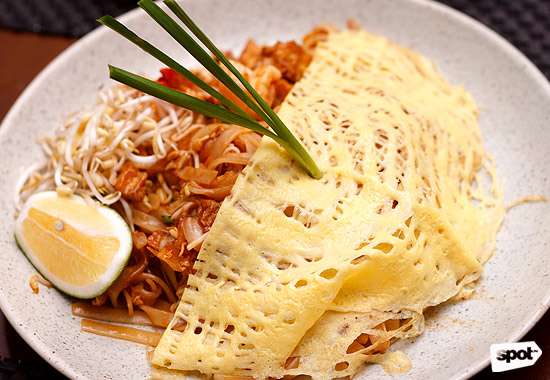 ADVERTISEMENT - CONTINUE READING BELOW
1. Mango Tree's Phad Thai Goong (P480)
The Phad Thai Goong is certainly one of the heftier pad thai servings we've encountered in Manila. It's good enough to share, but it isn't likely that you'll want to. Their noodles are done right—not too soggy, not too firm—and tossed in a tamarind-based sauce that goes so well with the prawns, lime, and lemongrass. For an added crunch, raw beansprouts are thrown into the party. Half of the dish is covered by an egg-basket blanket then topped with what looks like "blooming" lemongrass. Mango Tree knows how to tease your senses, but they definitely back it up with great results.
Mango Tree is at Bonifacio High Street Central, 7th Avenue, Bonifacio Global City.
Photos by Pia Babao Guballa
For other Top 10 lists, check out SPOT.ph's Top 10 Everything Food Lists 3rd Edition. Co-presented with C2 Cool and Clean, it's priced at P195, available at major bookstores.
Share this story with your friends!
---
Help us make Spot.ph better!
Take the short survey
Load More Stories