10 Incredible Takes on Churros in Manila
Not all churros are created equal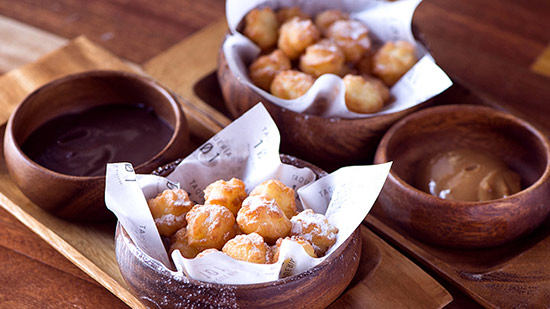 (SPOT.ph) Not all churros have to be eaten with a chocolate dip. In the past year, Metro Manila has reached a stage where this crispy-fried treat has become common enough for chefs and restaurateurs to play around and present it in new ways—all for the sake of piquing people's hungry curiosity. Tubes of churros? That's always reliably yummy. How about churro s'mores? Now we have you hooked.
Also read: Top 10 Churros in Manila (2015 Edition)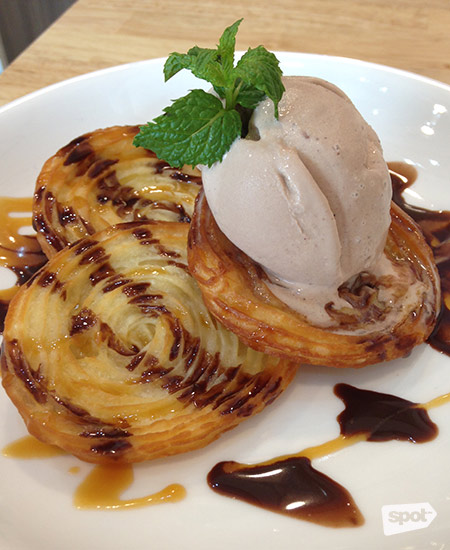 Papa Diddi's Churros con Tsokolate Ice Cream (P85)
Think of this as churros à la mode. Papa Diddi's puts crispy churro discs under their handcrafted ice cream to develop a nice contrast in texture. The two major elements play off each other beautifully and the zigzag of chocolate and caramel sauces add just the right touch of sweetness.
Papa Diddi's Handcrafted Ice Cream Company is at 168 Maginhawa Street, Teachers Village, Quezon City. Read more about Papa Diddi's.
ADVERTISEMENT - CONTINUE READING BELOW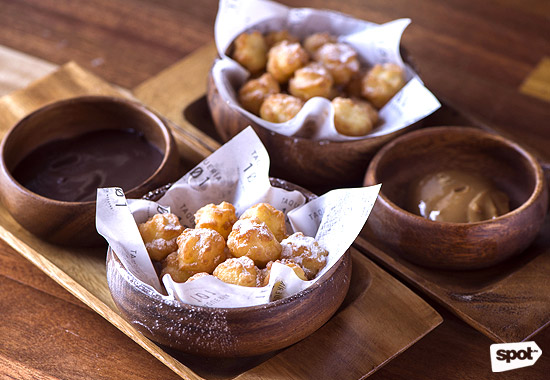 CONTINUE READING BELOW
Recommended Videos
Taqueria 101's Churro Popcorn (P160)
Even if the folks behind Taqueria 101 didn't sell stellar tacos, they could still make a killing with these ultra-addictive churro poppers. Shaping choux pastry into bite-sized balls is apparently the most effective churro presentation. It finds the happy middle ground for crunchiness and fluffiness. This "popcorn" is so light and airy that it can withstand richer sauces like chocolate or dulce de leche.
If you want something heftier, Taqueria 101 also has Churro S'mores (P180).
Taqueria 101 is at 101 Doña Soledad Avenue, Better Living Village, Parañaque City. Read more about Taqueria 101.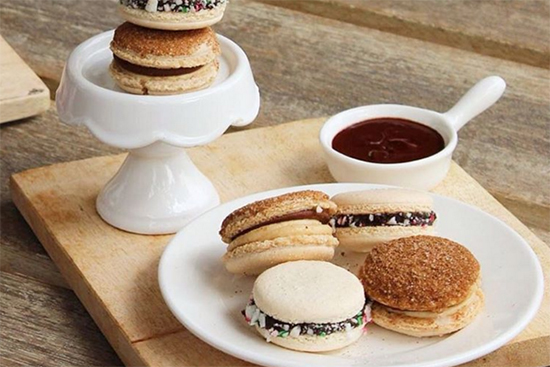 ADVERTISEMENT - CONTINUE READING BELOW
Churro Macaron (P65) from Mrs. Graham's Macaron Café
From Cheetos to bibingka, turning beloved treats to macarons is Anna Graham's specialty. It was only a matter time before churros would be subjected to her magic. These creamy cookies even come with cinnamon sugar and chocolate dip to truly drive home that churro effect.
Mrs. Graham's Macaron Café is at 51C Scout Rallos Street, Quezon City. Read more about Mrs. Graham's.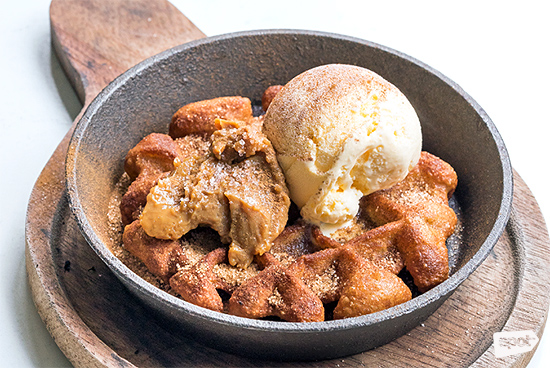 Taco Vengo's Chwaffle à la Mode (P130)
So many things have been said and written about this intriguing hybrid and everything that has been said and written is largely true. This playful taqueria combines the awesome powers of churros and waffles to make something that we simply cannot resist. This Chwaffle is crunchy through and through, putting a light balance to the dulce de leche and vanilla ice cream topping.
Taco Vengo is at 16 United Street, Kapitolyo, Pasig City. Read more about Taco Vengo.
ADVERTISEMENT - CONTINUE READING BELOW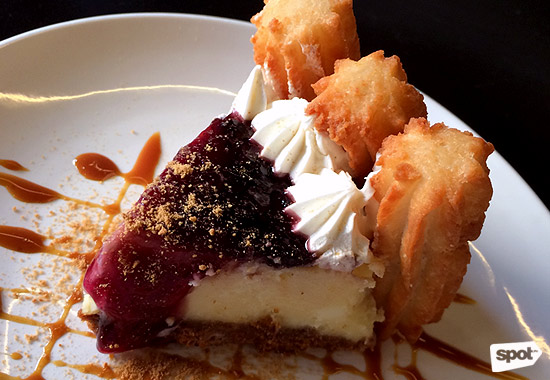 Mr. Churros' Churro Cheesecake (P700/whole)
Mr. Churros, also known as Chef Marion Reyes Go, has a whole bunch of churros in his arsenal, but it's the cheesecake that makes us ask for a second slice. It's essentially a blueberry cheesecake, but enrobed with sticks of churros. The crunchy choux pastry definitely embellishes much-needed texture to the cake, and we find that it's best to use the churros on the sides as makeshift, edible "forks."
Mr. Churros is at F7 Pop-Up, 49 Scout Rallos Street, Quezon City. Read more about Mr. Churros.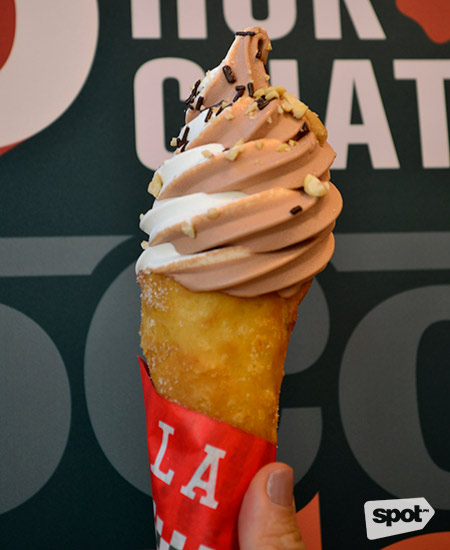 ADVERTISEMENT - CONTINUE READING BELOW
Churreria La Lola's Churro Cups and Bowls (P150/soft-serve)
You didn't think we'd forgotten about Churreria La Lola, did you? This chain is well known for coming up with every churro permutation anyone can think of. This summer, they launched their own handcrafted soft-serve ice cream. Because that doesn't sound very "churro," they decided to make churro bowls and cones to eat it in!
By the way, La Lola's sister restaurant, Rambla, which started the owners on this whole fried-pastry journey, has gourmet versions of their churros.
Click here for a list of Churreria La Lola branches. Read more about Churreria La Lola.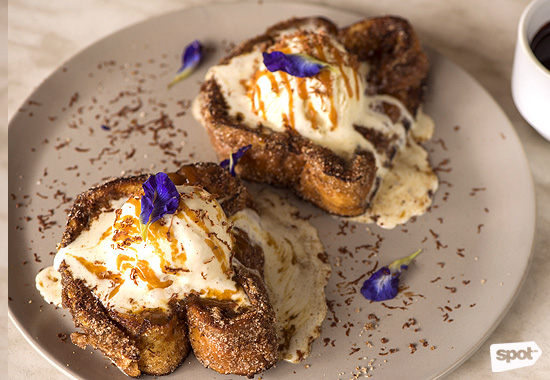 Little Bear Diner's Churro Toast (P245)
This picture-perfect dish puts together french toast and churros, but it also reminds us of a cinnamon bun. Sweet and savory collide in this assembly of thick brioche slices sprinkled with Vietnamese cinnamon sugar, embellished with caramel and edible flowers, then crowned with homemade vanilla bean ice cream.
ADVERTISEMENT - CONTINUE READING BELOW
Little Bear Diner is at 23 East Capitol Drive, Barangay Kapitolyo, Pasig City. Read more about Little Bear Diner.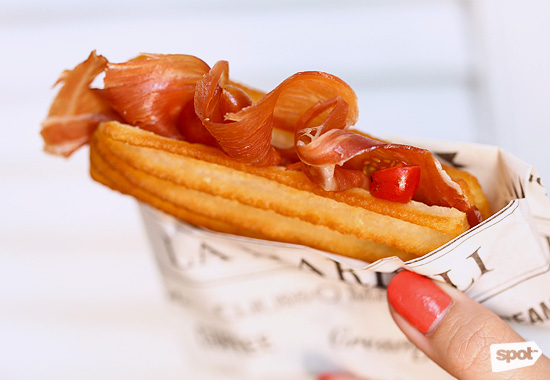 La Maripili's Jamon Serrano Churros (P60)
What we love about La Maripili's savory churros is that how they slice it to make a pocket for the filling. It's almost like a churro bun. Among the savory options, the Jamon Serrano stands out as a fast favorite. The salty, meaty ham is just a perfect complement to the slightly sweet choux pastry.
La Maripili is at Alabang Town Center Corporate Center, Alabang, Muntinlupa City. Read more about La Maripili.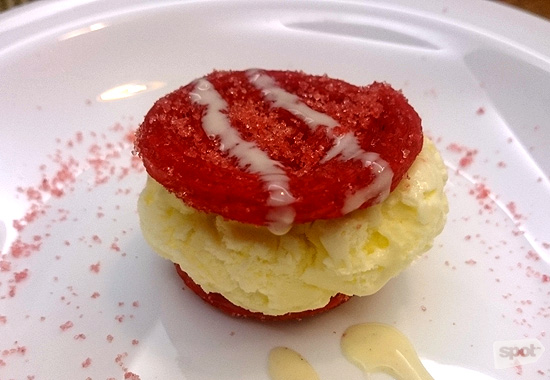 ADVERTISEMENT - CONTINUE READING BELOW
The Bark's Churro Ice Cream Sandwich
Rolling churros into flat discs and using them as sandwich bread is old hat (we should know, we made a list), but we like how The Bark (so named because of the owners' obsession with cinnamon) makes theirs in different flavors—not just to stand out, but more so to complement the ice cream filling in between. The folks behind this start-up love to play with new ideas, and they've already come up with Red Velvet, Oreo, and Cinnamon for their churro buns.
For updates on The Bark's locations, follow them on their Facebook page.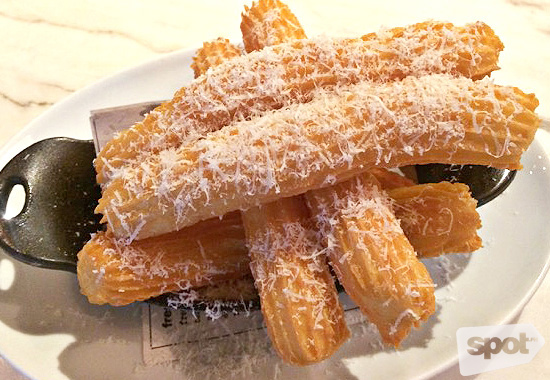 Wildflour's Parmesan Churros (P220)
Trust Wildflour to go savory when everyone is turning sweet. Their churros are stuffed with salty cheese then topped with more cheese because when is cheese ever too much? These babies also opt for plush instead of crunch. It's like biting into cheesy clouds—and Wildflour will definitely take you to gastronomic heaven with this yummy snack.
ADVERTISEMENT - CONTINUE READING BELOW
Click here for a list of Wildflour branches. Read more about Wildflour.
Share this story with your friends!
---
Help us make Spot.ph better!
Take the short survey
Load More Stories