Where's the foie? This award-winning Chinese restaurant returns to contemporary classics
Lung Hin's new executive chef Ken Leung is hitting refresh on the menu.
Lung Hin
44/F Marco Polo Manila, Meralco Avenue, Ortigas, Pasig City
Contact: 720-7777 local 6621
Open daily from 12 p.m. to 2:30 p.m. and 6 p.m. to 11 p.m.
Also read: New Restaurant Alert: Lung Hin at Marco Polo Manila, Ortigas, Pasig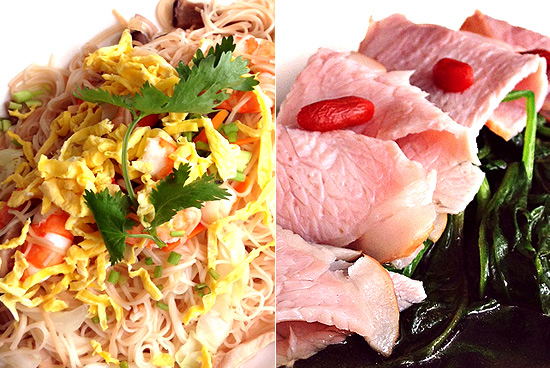 (SPOT.ph) When we first visited Marco Polo Manila's Cantonese restaurant Lung Hin, they showed us how typical Chinese fare could be transformed into opulent masterpieces: a gold leaf on shrimp dumplings, foie gras in their siomai, more foie gras in their beef stir-fry. It was pretty and pretty luxurious.
But Lung Hin has a new executive chef and he wants to steer the menu in a new direction—contemporary Chinese cuisine based on classical Chinese cooking techniques. Chef Ken Leung explains shyly in his limited yet charming English that he wants to focus on healthier preparations as well as to dabble in regional favorites. This, he believes, would appeal to the Chinese in Manila, many of whom trace their roots to Fujian, China.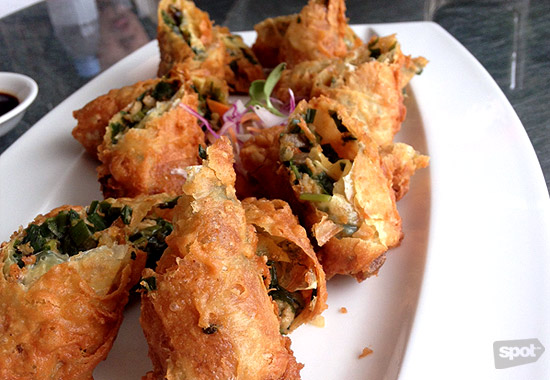 Deep Fried Beancurd Leek Rolls
Chef Ken's appetizers may be lighter and healthier, but they're not short on flavor. The Deep Fried Crispy Tofu with Seaweed Salad (P340) is an ethereal opener: fried taro provides crunch while nori lends some seaside umami. Spring roll lovers will not miss the pork when they have the Deep Fried Beancurd Leek Rolls with X.O. Sauce (P220). "Just a little bit," Chef Ken warns of the X.O. Lung Hin's version of the dried scallop sauce is on the fiery side, but if you can take the heat, pile it on because the bold flavors take well to each other.
ADVERTISEMENT - CONTINUE READING BELOW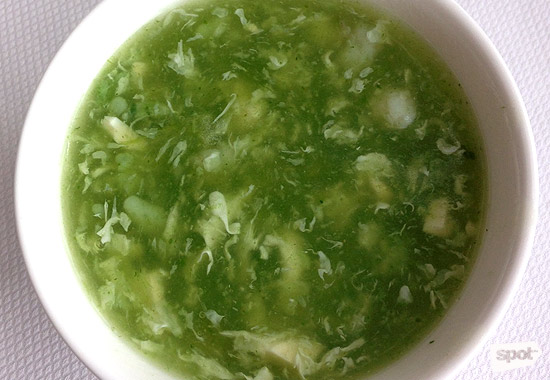 Spinach and Seafood Soup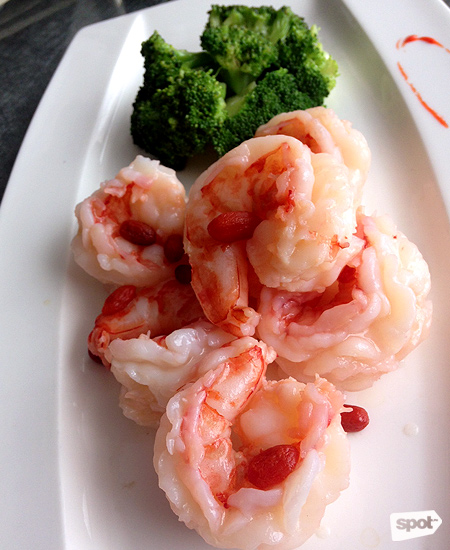 Stir-fried Crystal Prawns
You won't notice you're eating vegetables when you have their Spinach and Seafood Soup (P330/cup). Thick like your classic egg drop soup, this one is a great start to any lauriat. Follow it up with the classic Stir-fried Crystal Prawns (P1,280/small). Prawns are always dependable and delicious, but here, Chef Ken also tosses in some goji berries because he wants food to be good as well as good for you.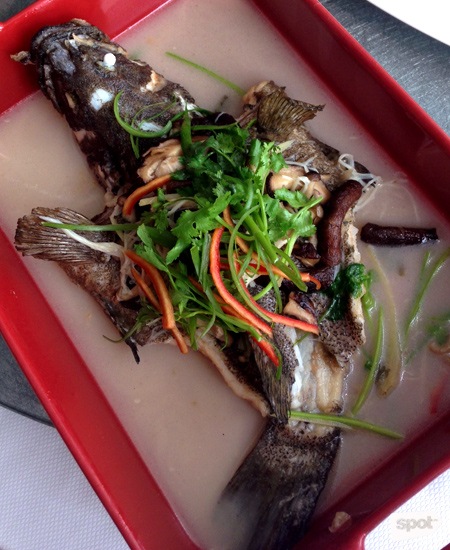 Poached Live Garoupa with Mushrooms
The Poached Live Garoupa with Mushrooms (market price) is another Chef Ken addition that merges Asian flavors with Western influences. He likes poaching because it imparts more flavor than just steaming the fish, and it's definitely a lot healthier than deep frying. The result is a flaky, juicy white meat delicately infused with herbs and mushrooms.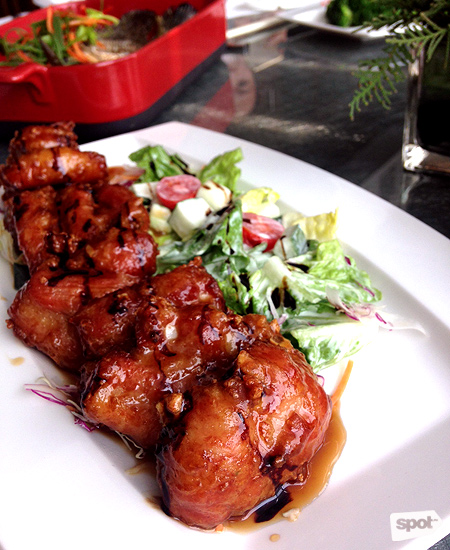 Deep Fried Spareribs with Black Vinegar Sauce
After all the relatively health-conscious dishes, having some of the Deep Fried Spareribs with Black Vinegar Sauce (P520/small) feels justified. The thin batter is fried to a crisp and sponges up the savory, tangy sauce quite nicely. The side salad is a lovely touch, but you wouldn't be judged if you order some fried rice to go with it.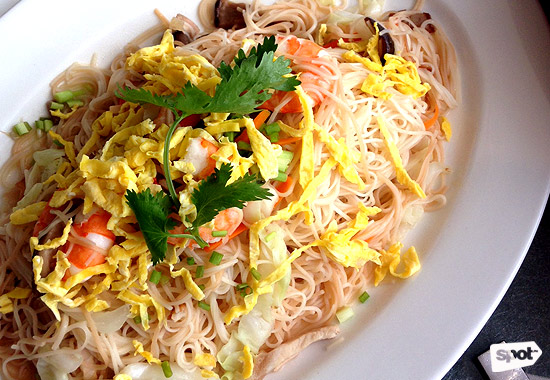 Fookien Misua
For those who absolutely need carbs with their Chinese, Chef Ken concocts a dish with the Filipino-Chinese in mind. It's called Fookien Misua (P688), which is moderately seasoned then adorned with egg and cabbage. It seems simple compared to the rest of the options on the menu, but Chef Ken says this is classic comfort food.
ADVERTISEMENT - CONTINUE READING BELOW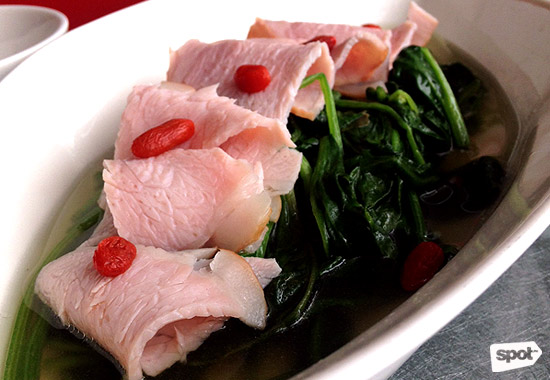 Ham and Vegetables with Superior Sauce
Finally, goji berries find their way again into the Ham and Vegetables with Superior Sauce (P590), purging you of whatever guilt (and bad cholesterol) you might be feeling after that porky, starchy indulgence.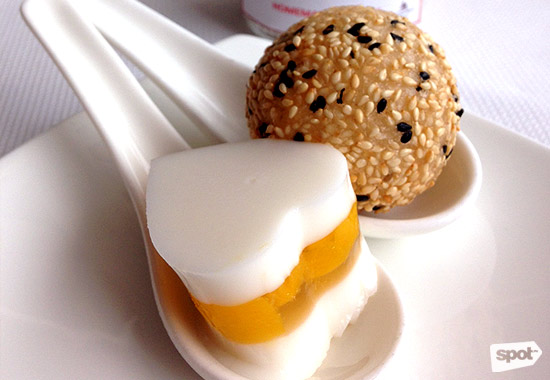 Classic Chinese desserts
Lung Hin was recently awarded the Golden Horse for being one of the best Chinese restaurants outside China. The Golden Horse, considered the "Oscars" of the Chinese hotel and restaurant industry, is an annual recognition given by the All-China Federation of Industry & Commerce. It's a rare feat to cater to the local taste buds while simultaneously staying true to tradition. It's called good food.
Photos by Jaclyn Clemente-Koppe
Load More Stories