New Restaurant Alert: Pampas Latino & Bistro Bar in Uptown Bonifacio
Let your palate travel straight to South America at this new casual dining spot that packs a punch.
Pampas Latino & Bistro Bar
Uptown Parade, Uptown Bonifacio
Contact: 946-3802 
Open daily from 4 p.m. to 12 a.m.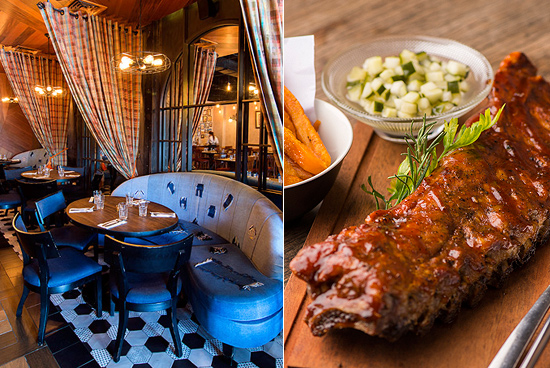 (SPOT.ph) In the last few years, eateries offering Latin flavors have been popping up everywhere in Manila, giving rise to everything from tacos to tapas. Considering the Spanish influence and Mexican connection in the country, it's surprising that it's taken this long for South American tastes to rise in popularity. Pampas aims to satisfy those in search of spice and substantial cuts of meat with an excellent selection of small plates and mains.
ADVERTISEMENT - CONTINUE READING BELOW
CONTINUE READING BELOW
Recommended Videos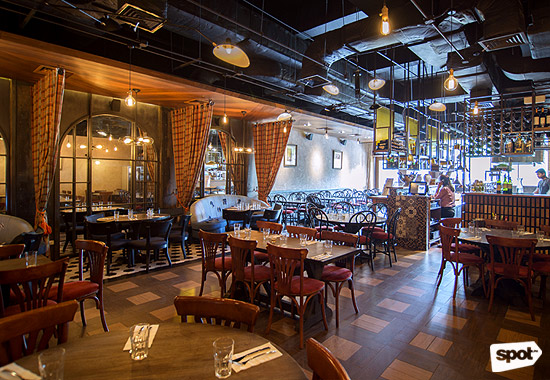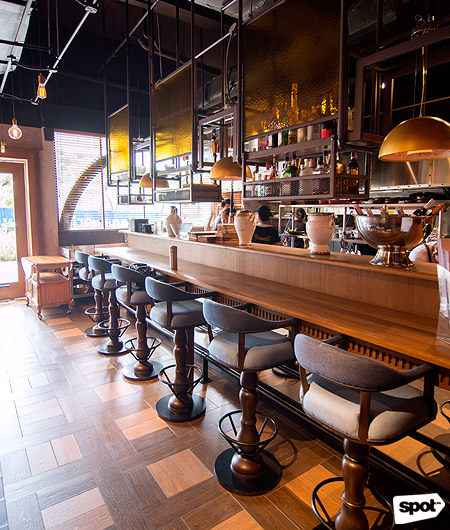 ADVERTISEMENT - CONTINUE READING BELOW
The vibe shifts at night.
As one of the first establishments to open at Uptown Parade, Pampas is an excellent choice for people in the area looking for a place to eat that's far away from the usual BGC crowd. With traditional seating, a bar area, and cushier banquet settings, the restaurant is a great spot for families or big groups. Dim lighting sets the mood and the drapes and finishes make for great acoustics, too (perfect for those who dislike having to shout over the music while having a meal).
Pampas is novel in the way it serves food. While their small plates and main course menu is available to order at all hours, the fun really starts during busier times (think 7:30 p.m. onwards). The restaurant offers a dim sum-style trolley that carts its small plates among tables so you can choose your appetizers on the spot, plate per plate.
ADVERTISEMENT - CONTINUE READING BELOW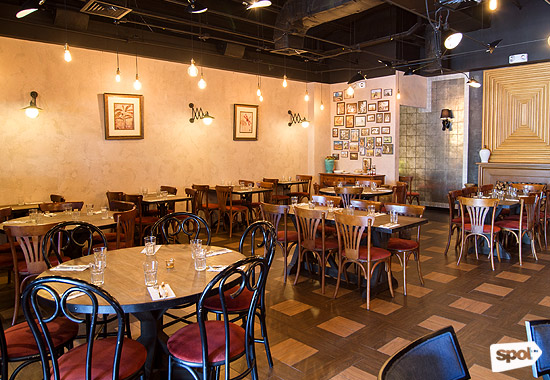 Vibrant yet soft hues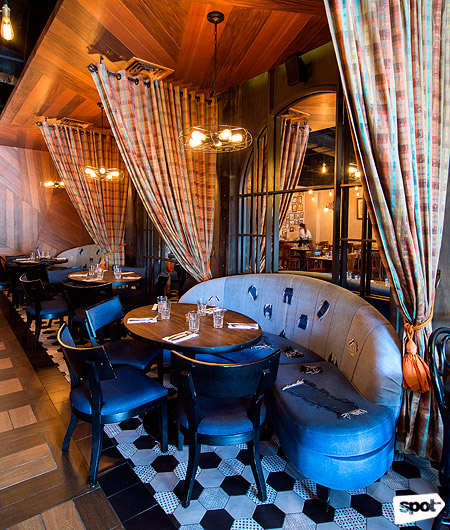 ADVERTISEMENT - CONTINUE READING BELOW
A place to sit for every kind of diner
Guests might want to save their appetites for the mains, but they'll do well on small plates alone. The baked oysters (P360) and oyster granitas (P360) are lovely kickstarters to any meal, while the crispy Onion Fugazetta (P420) offers an Argentine twist on a traditional pizza. The trolley menu constantly changes, making it the perfect playground for Pampas' chefs to experiment. You'll find South American staples such as empanadas, ceviché, plantains with molé, and crispy tacos as well. A sure pleaser this season would be the green pea tempura dipped in truffle sauce.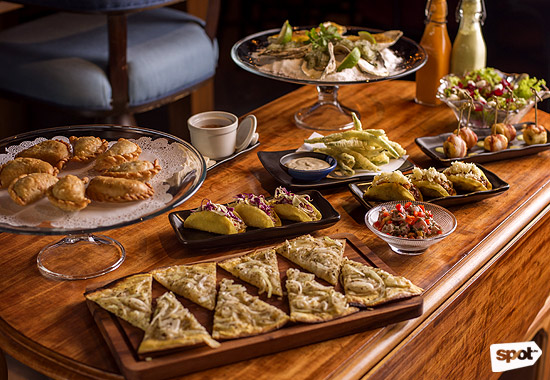 ADVERTISEMENT - CONTINUE READING BELOW
Small plates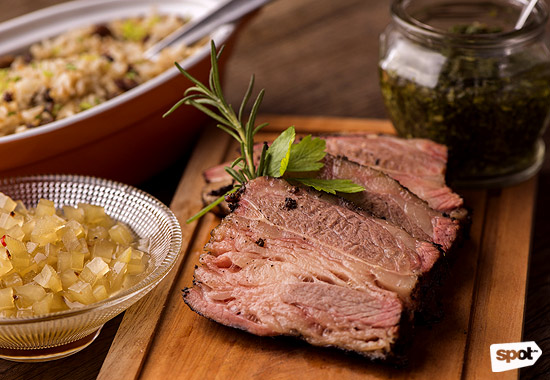 Beef Falda
A wide selection of steaks is available, from U.S. Beef Flank (P750/300 grams) to U.S. Beef Tomahawk (P1500/300 grams). The latter, by the way, can fetch P5,300, good for five people. The stars of the show, however, are the different meats cooked to Latin American perfection. The Porchetta (P620/300 grams) is an extremely tender, slow-roasted pork belly roll with a secret spice mix . Slather on the chimichurri and you'll certainly leave happy. The Baby Back Ribs (P500/half, P800/full) are slow-smoked and finished on the grill with Pampas' own barbecue glaze.
ADVERTISEMENT - CONTINUE READING BELOW
If you can only choose a couple of mains, however, do go for the Beef Falda (P570/300 grams), which is a slow charcoal-roasted U.S. beef short plate, and the excellent Lamb Ribs (P790), which are slow-cooked, seared, and covered in chimichurri.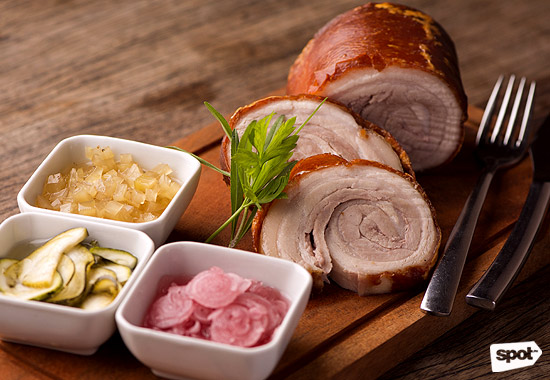 Porchetta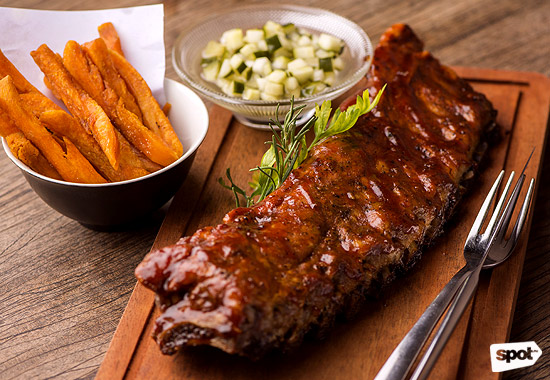 ADVERTISEMENT - CONTINUE READING BELOW
Baby Back Ribs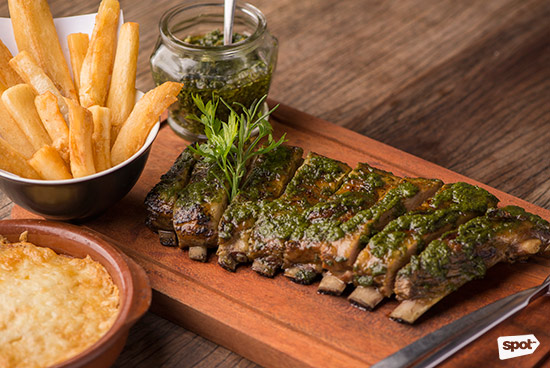 Lamb Ribs
If you have enough stomach space, matching these mains with any of the side dishes is a good idea, too. The Steak Fried Rice (P220) is delicious all on its own, but made even better when paired with one of the steaks, if only to enhance that brawny flavor. The Potato Gratin (P190) is great for someone looking for a rich and creamy complement to the meal, but the Baked Corn and Provolone (P190) is a textured side that can instantly take away the umay you get from too much meat.
ADVERTISEMENT - CONTINUE READING BELOW
Pampas does its roasting in the same style most commonly used in South America, so what you get is slow-roasting that delivers full flavor. Another way to drive home that authentic Latino vibe? Through their wide selection of Chilean and Argentine wines (tip to wine enthusiasts: Pampas keeps things casual and they're always willing to offer you a taste of their selection).
While some would go to Pampas to warm up for a night out, others will want to cap off the night here with some dessert. Because preference for sweets is so individual, their extensive dessert menu has something for everyone. The Choco Torta (P180) is perfect for chocolate lovers who want a hint of bitterness in their cake: layers of chocolate biscuit are interspersed with dulce de leche cream cheese. The Tres Leches (P190), on the other hand, is great for those looking for something a little creamier—Bailey's and cacao cream trifle offer melt-in-your-mouth sweetness.
ADVERTISEMENT - CONTINUE READING BELOW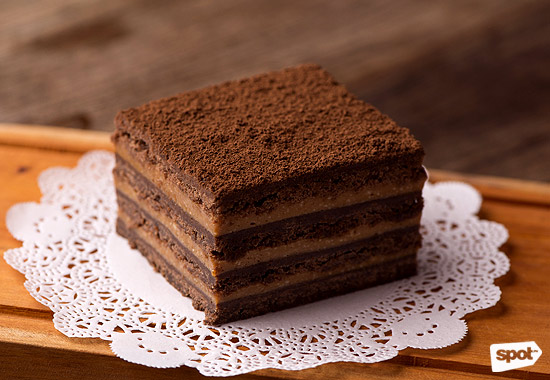 Choco Torta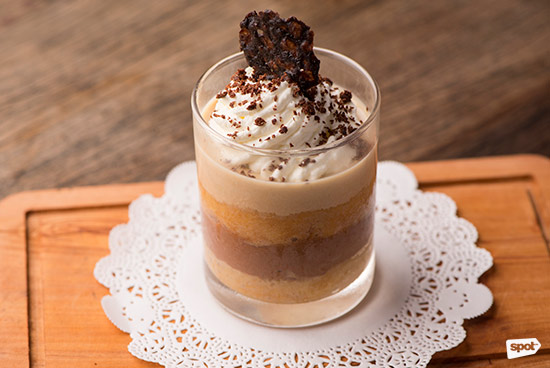 ADVERTISEMENT - CONTINUE READING BELOW
Tres Leches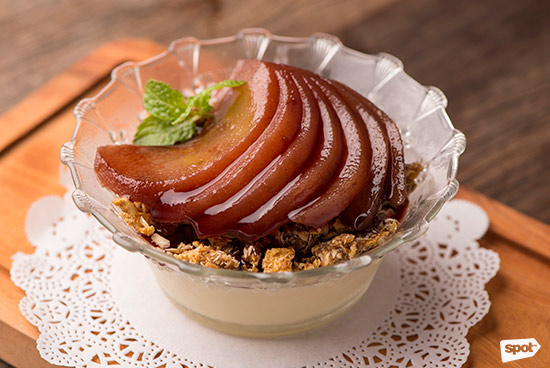 Panna Cotta
The hands-down favorite at Pampas is the Panna Cotta (P190)—the simple, pleasant panna cotta base is topped with the lovely crunch of granola and an indulgent serving of poached red wine pears. There is no better way to end a full meal at Pampas than with this light and perfectly balanced dessert.
ADVERTISEMENT - CONTINUE READING BELOW
Pampas has something for everyone and they offer their fare in a uniquely warm, inviting, and interactive setting. The restaurant doesn't just aim to provide the Manila market with authentic South American flavors, but also works to innovate and offer something fresh consistently. Getting your Latino food fix has never been easier with an easygoing, absolutely enjoyable place like Pampas.
Photos by Hans Fausto
Load More Stories