10 Places for Keeping Your Cool: Where to Get Shaved Ice Desserts in Manila
For when you need to find your chill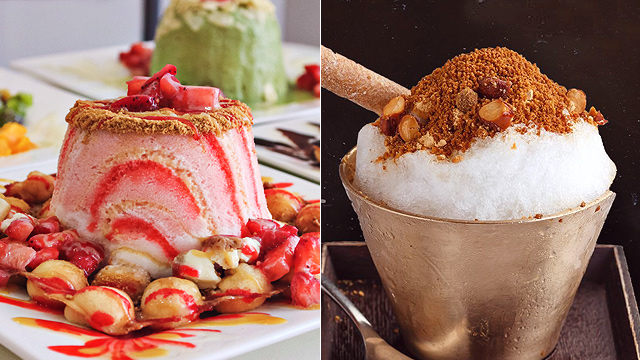 (SPOT.ph) Bright sunlight and sweltering heat—summer is once again upon us! Since the last time we listed places to get shaved ice desserts in the Metro, more have cropped up, offering delicious treats that'll help you beat the heat. This time, we turn the spotlight away from the well-loved halo-halo and shine it on other equally yummy Asian snow desserts like the Chinese/Taiwanese baobing, the Korean bingsu, and the Japanese kakigori.
ADVERTISEMENT - CONTINUE READING BELOW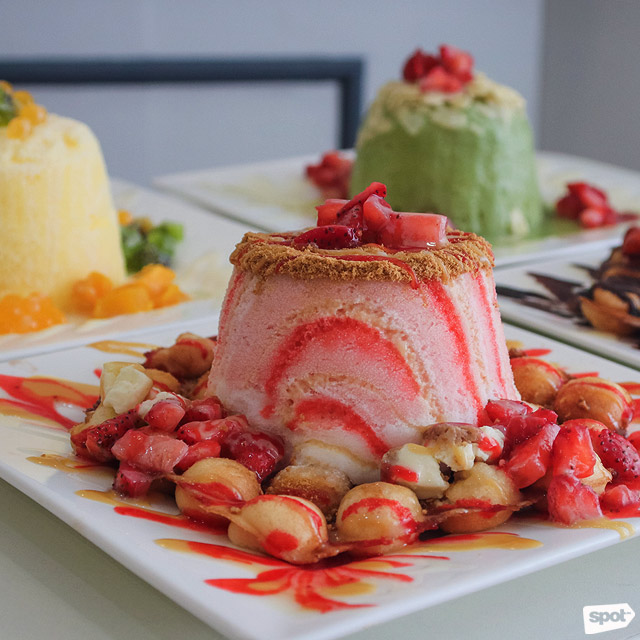 Vampire Penguin
One of the newer shaved ice places on the block is Vampire Penguin at Ayala Malls The 30th, offering their own take on baobing or Chinese/Taiwanese shaved ice. Brothers Leo and Paolo San Luis take elements from their favorite desserts and combine them with traditional baobing ingredients to create something unique. Think strawberry cheesecake and s'mores as snow desserts—decadent yet refreshing at the same time.
ADVERTISEMENT - CONTINUE READING BELOW
Vampire Penguin is at 4/F Ayala Malls the 30th, 30 Meralco Avenue, Pasig City.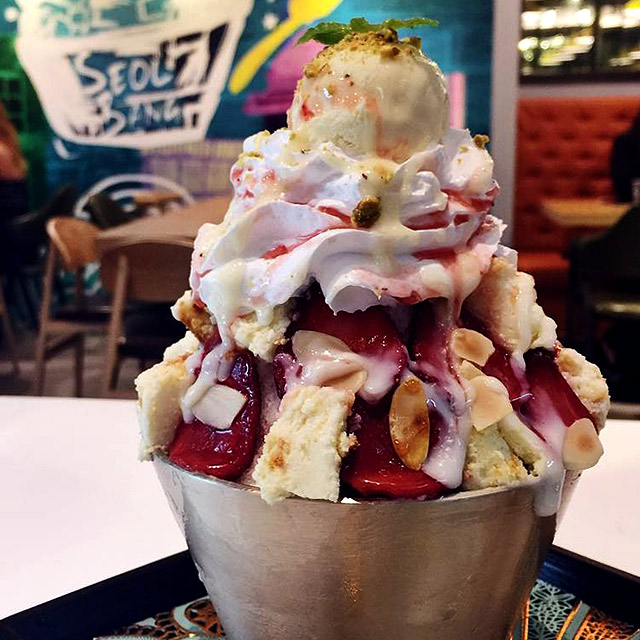 Seol Bang Dessert Café
Also new to the snow dessert scene is Seol Bang, but they're already making their mark with their Instagram-worthy bingsu, which is overloaded with all sorts of sweet toppings. Seol Bang goes all out with their flavors—there's no ordinary mango or strawberry here, only a Triple Berry Cheesecake or a Salted Caramel Cookie. You can also chill at their cozy café with a cup of coffee—Seol Bang offers a short menu of basics like a latte or a flat white.
ADVERTISEMENT - CONTINUE READING BELOW
Seol Bang Dessert Café is at 2/F Venice Grand Canal Mall, McKinley Hill, Taguig City.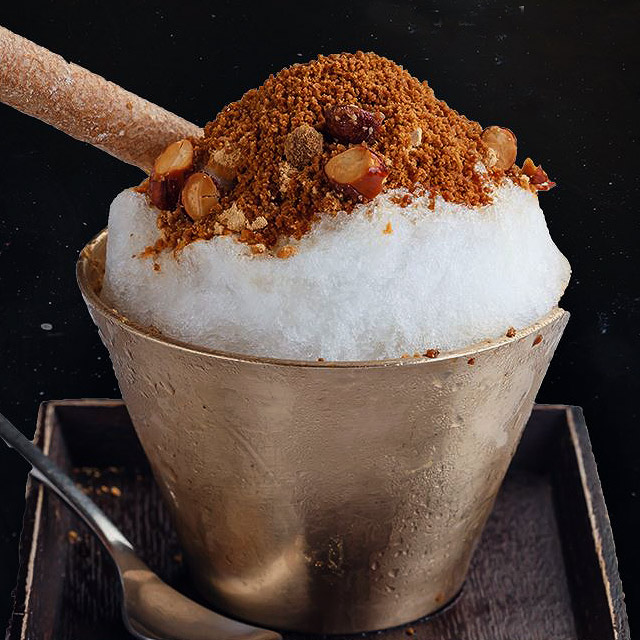 Yoree
While you go to Yoree for their barbecue and their sizeable menu of Korean dishes, don't leave without trying their bingsu. Their Mango Bingsu is the perfect summer treat, with fresh slices of mango on top of mango-flavored shaved ice, but if you're looking for something a little out of the box, try the Coconut Sugar Bingsu which uses coconut sugar and multigrain powder.
ADVERTISEMENT - CONTINUE READING BELOW
Yoree is at Forum South Global, 7th Avenue corner Federacion Drive, Bonifacio Global City; and Molito Commercial Complex, Alabang, Muntinlupa City. 
Caution Hot! Spicy Noodle House
This hole-in-the-wall is best known for their Chinese noodle bowls, which they promise "have never been this hot." After you're done burning your tongue with their spicy noodles, cool down with their baobing. The picture-perfect dessert has fresh fruit, jelly, sweetened milk, and ice cream. It's big enough to split, too!
Caution Hot! Spicy Noodle House is at 87 Magiting Street, Teachers Village, Quezon City; and East Capitol Drive, Kapitolyo, Pasig City.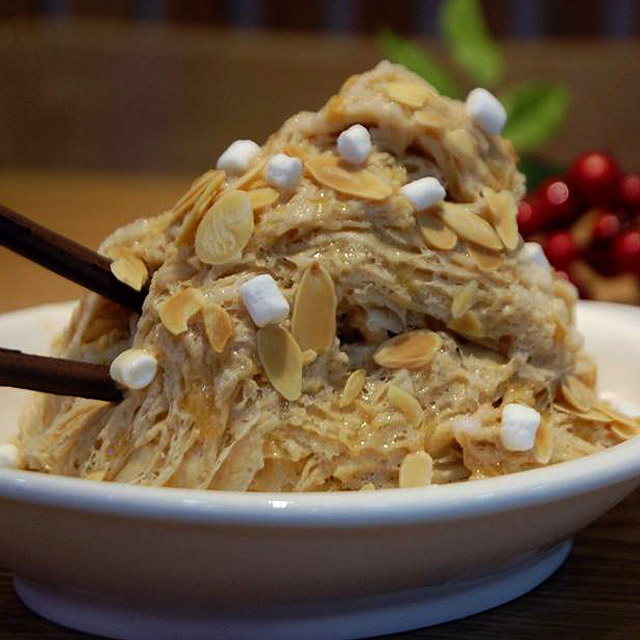 ADVERTISEMENT - CONTINUE READING BELOW
Noonsaram Korean Dessert Cafe
If you ever find yourself losing your chill because of the infamous Katipunan traffic, why not head to Noonsaram Korean Dessert Café? While quite underrated because of its easy-to-miss location, this bingsu spot has managed to hold its own among the other food stops that line the busy avenue. Noonsaram offers a good variety of bingsu flavors, from the classic mango and strawberry to the more intriguing cheese. They also carry other Korean snacks like tteokbokki and kimbap.
Noonsaram Korean Dessert Café is at G/F Oracle Hotel and Residences, 317 Katipunan Avenue, Quezon City.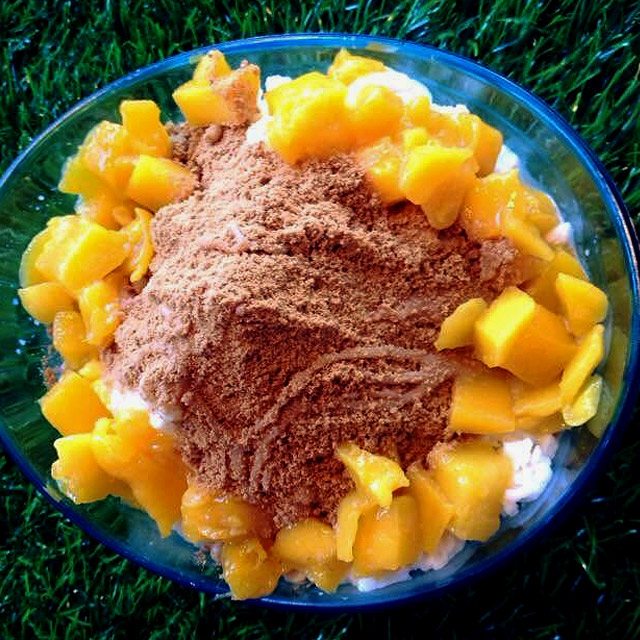 ADVERTISEMENT - CONTINUE READING BELOW
Bing Sheep Milky Snow Dessert
Aside from their adorable logo, this food stall in Crave Park in Marikina stands out with their bingsu that fuses the Korean dessert with Filipino flavors like the Mango Leche Flan Bingsu with huge leche flan cubes and fresh mango slices on top of milky shaved ice. Another take on a classic is the Mango Graham Bingsu, which reimagines the icebox cake as a snow dessert with mango slices and crushed graham crackers.
Bing Sheep Milky Snow Dessert is at 2/F Crave Park, Block 3 Lot 22 and 24, Mayor Gil Fernando Street, Centro de Buenviaje, Barangay Sto. Niño, Marikina City.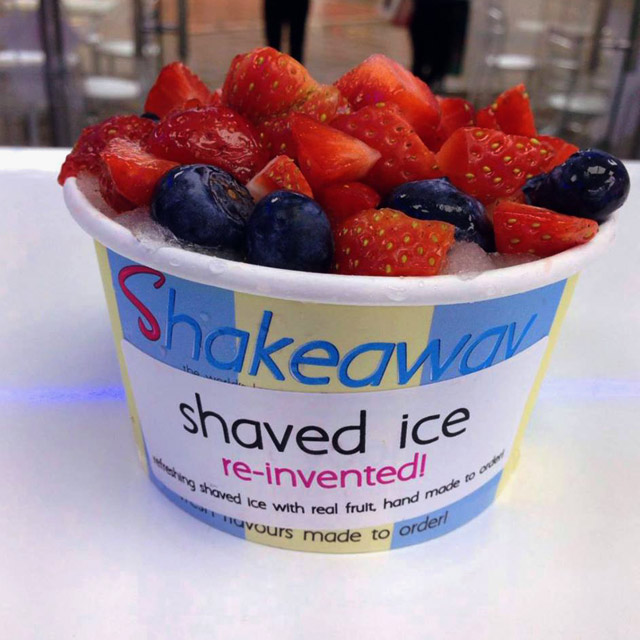 ADVERTISEMENT - CONTINUE READING BELOW
Shakeaway
Did you know that this British milkshake giant also offers shaved ice desserts? For P190 you can choose any flavor of shaved ice from eight different kinds that include cherry, lime, and passion fruit, plus any fresh fruit topping. For P220, you can just order any of their Named Shaved Ice such as the Alice (mango and strawberry flavored ice with kiwi and strawberry slices) and the Paige (pineapple and passion fruit ice with pineapple and mango slices). The best part? Each bowl has less than 160 calories so you don't have to kiss your beach body goodbye.
Shakeaway is at G/F Phase 2, UP Town Center, Katipunan, Quezon City; and 4/F Uptown Mall, Uptown Bonifacio.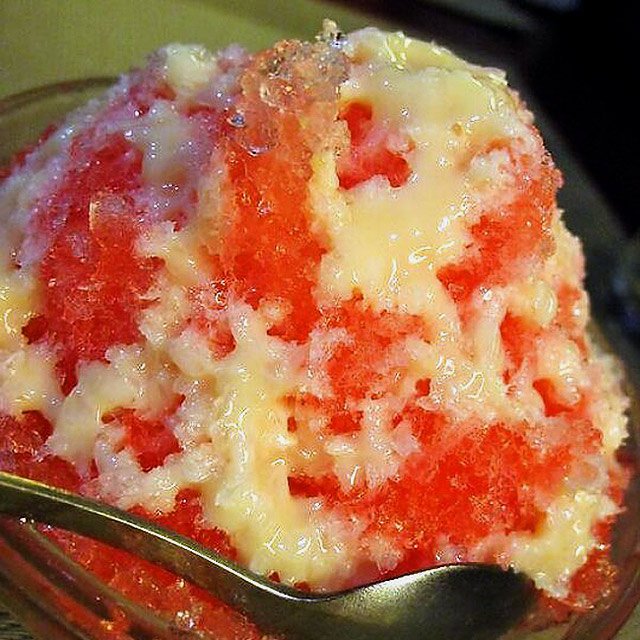 ADVERTISEMENT - CONTINUE READING BELOW
Hana Japanese Restaurant
If you're craving authentic Japanese fare, look no further than Little Tokyo in Makati City. The quaint restaurants mostly have Japanese owners so you can be sure you're getting nothing but the real deal. For authentic takoyaki or fried octopus dumplings, you head to Hana, but make sure to also order the kakigori or Japanese shaved ice. For only P90 (add P10 for milk), you get a generous bowl of sweetened shaved ice which comes in flavors like strawberry, grape, melon, peach and ramune or Japanese soda. It's the perfect way to cleanse your palate after the briny octopus.
Hana Japanese Restaurant is at 2277 Little Tokyo, Chino Roces Avenue, Makati City.
Lugang Café
With Lugang's extensive menu of Chinese cuisine, we don't blame you if you don't make it all the way to the dessert page. But it'll be a shame to miss their variety of shaved snow creations. We know it's hard to make room in your belly after a Chinese lauriat but do try for their Bellagio Breeze or sweet beans, tapioca, and condensed milk on top of shaved ice. Another classic is the Mango Supreme, with fresh ripe mango cubes on top of mango-flavored ice.
ADVERTISEMENT - CONTINUE READING BELOW
See a list of Lugang Café branches here.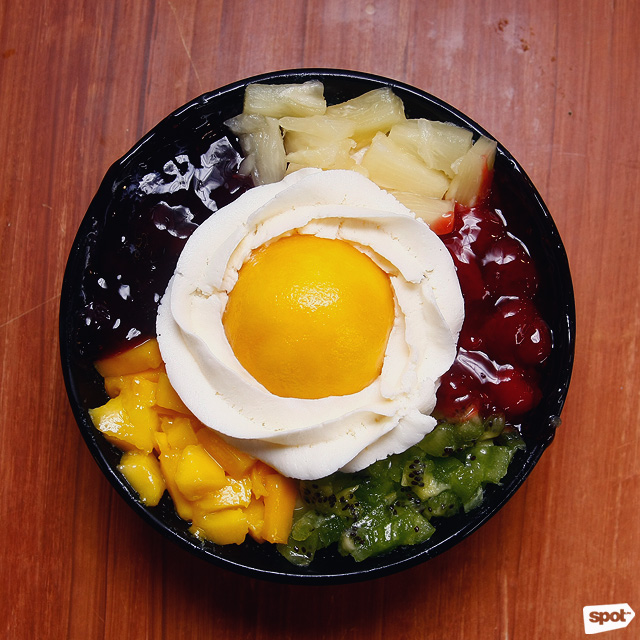 Antartique
It's easy to get lost in a food park as big and bustling as The Yard Underground in Pasig, but if your mission is to have a bowl of bingsu, head up the second level to Antartique. Aside from the classic flavors like strawberry and blueberry, they also offer the Bibingsu, which they describe as a cross between a bingsu and bibimbap. The picture-perfect bowl has fruits like strawberries, blueberries, kiwi, mangoes, and more arranged on top of shaved ice to resemble the Korean rice bowl, with a peach and whipped cream center as the "egg". So cute—and delicious too!
ADVERTISEMENT - CONTINUE READING BELOW
Antartique is at 2/F The Yard Underground, Christian Route, Hillcrest Circle, Oranbo, Pasig City. 
Load More Stories