10 Delicious Korean Grocery Finds in Manila
Finger hearts for these tempting treats!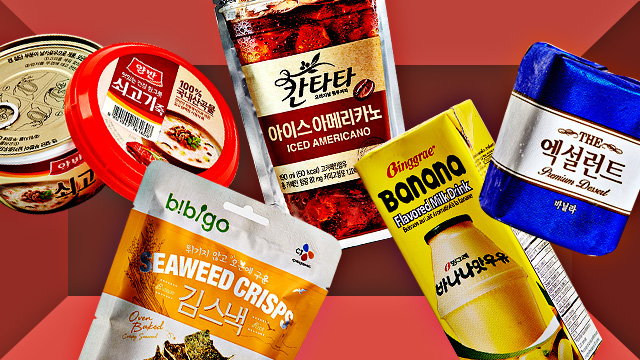 (SPOT.ph) The love for all things Korean isn't going to die down soon. If you want to hop on the trend, you can start by binge-watching your fave K-Dramas with equally binge-worthy snacks. It's time to head to your nearest Korean grocery store to stock up on these nibbles and drinks.
The grocery: LG25 Korean Grocery
Address: 8137 Plaza, 4 Escriva Drive, San Antonio, Pasig City
Pro tip: LG25 is just one of the Korean establishments in this building. Plan a full hallyu day when you visit this spot: Have lunch at Jang Ga Nae; get your bingsu fix at Jang Da Bang; and schedule a cut and treatment sesh at Kawisori Hair Salon.
The finds: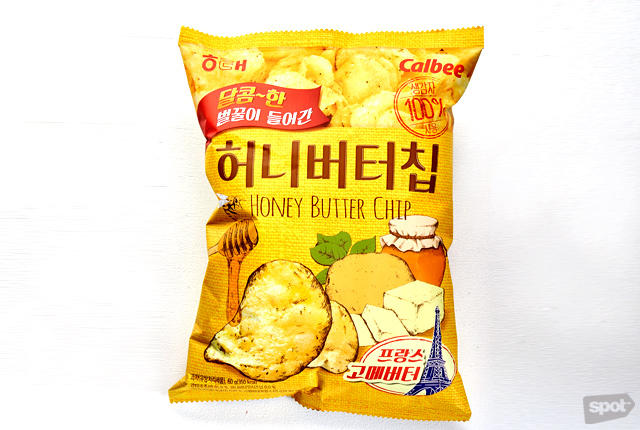 ADVERTISEMENT - CONTINUE READING BELOW
Honey Butter Chips (P60)
Did you know that you have the Koreans to thank for the popularity of this sweet-salty snack? Although first introduced in Japan in 2012 by Calbee, it wasn't until these chips hit the Korean market two years later that it started flying off the shelves. Shortly after K-pop stars posted selfies with a bag or two, honey butter frenzy broke loose! Many stores were left without stocks, a gray market emerged online, and competitor brands started jumping on the bandwagon.
While this treat now has a local iteration from the same brand, getting your hands on the version that started the craze is still worth the trip to your favorite K-grocery. Delicate, crispy, and with just the right amount of salt, these chips will remind you of freshly baked buttery croissants or perfectly whipped mashed potatoes. Okay, Korea, we get why these are all the rage!
CONTINUE READING BELOW
Recommended Videos
ADVERTISEMENT - CONTINUE READING BELOW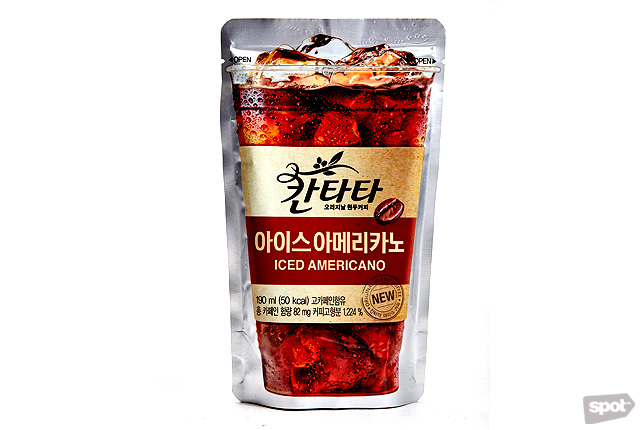 Iced Americano (P40)
One other thing Koreans are crazy about? Their coffee! Channel the SoKo café culture in the comfort of your own home with this pack of ready-to-drink iced coffee. Simply pour over a glass of ice for an easy cold brew or add fresh milk and flavored syrup for a DIY latte. Now, that's what we call a great way to start your day.
ADVERTISEMENT - CONTINUE READING BELOW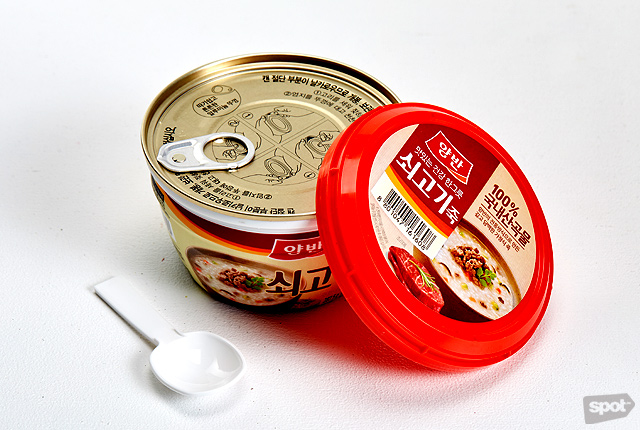 Instant Porridge (P95)
Cold, rainy nights call for a hot, comforting meal. This piping bowl of instant juk may just do the trick. Think of it as the Korean version of arroz caldo with bite-sized beef cubes and seaweed bits crowning soft, flavorful rice porridge. Warm, filling, and a cinch to prepare—what's not to love?
ADVERTISEMENT - CONTINUE READING BELOW
The grocery: Fun & Mart Korean Grocery
Address: G/F Bellitudo, 79-B Katipunan Avenue, Quezon City
Pro tip: Consider this your one-stop shop for interesting K-grocery picks. Aside from a wide variety of packaged and frozen food, you'll also find dinnerware, beauty products, and coffee machines and pods here! Their dessert bar, which serves snowflake treats and homemade yogurt, is worth checking out, too.
The finds: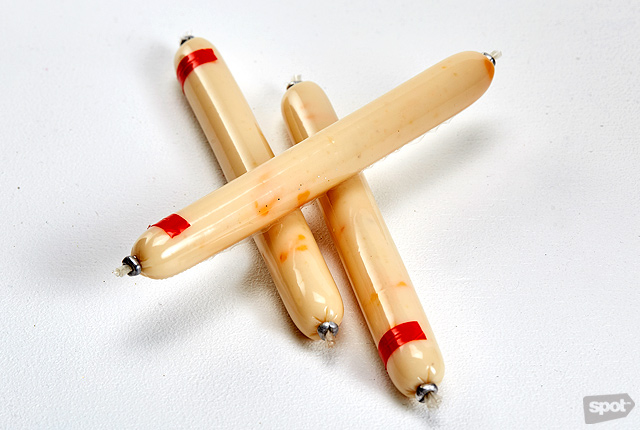 ADVERTISEMENT - CONTINUE READING BELOW
Cheese Sausage (P35)
Weightlifting Fairy Kim Bok Joo fans will recognize this sausage in an instant! Individually wrapped and ready to eat, it's actually made with fish and is closer to a fish cake than to a deli sausage. Some versions, like this one, have a cheese center, too. They're popular in Korea (you can find them everywhere—from convenience stores to coffee shops), but may require some getting used to for the uninitiated. Go ahead, satisfy your curiosity.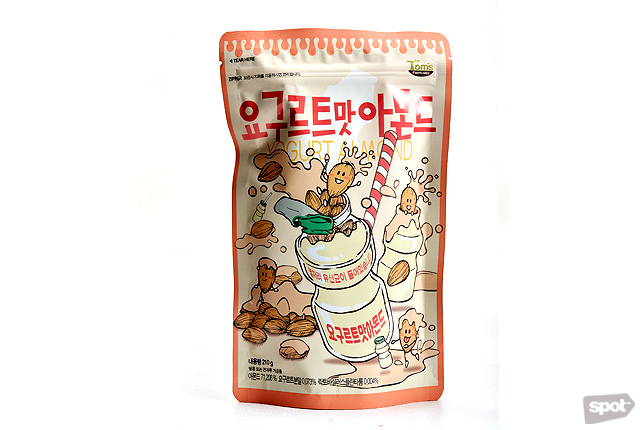 ADVERTISEMENT - CONTINUE READING BELOW
Yogurt Almond (P445)
Love Yakult? Then grab a bag of these yogurt-coated almonds! Crunchy, high-quality nuts are given a sweet-tangy twist that will remind you of your fave probiotic drink. One bag is big enough for sharing—perfect for when your friends come over for a K-Drama marathon or for splitting with your little sister who's sure to enjoy this for baon. Try the wasabi version if you want something savory with a kick, or the honey butter flavor for something sweet and creamy.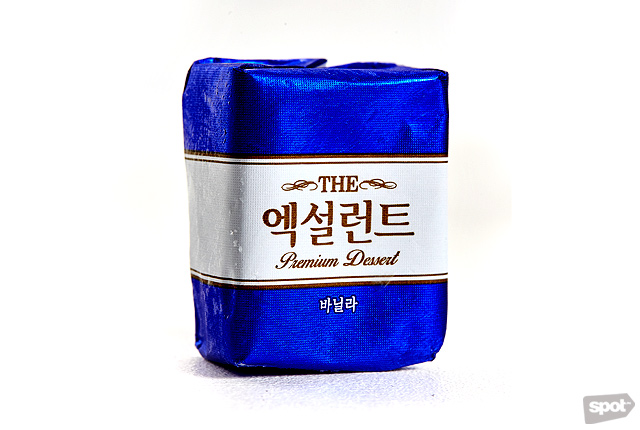 ADVERTISEMENT - CONTINUE READING BELOW
The Premium Dessert (P30)
A good meal is never complete without dessert. This personal-sized, single serve creamy premium vanilla ice cream will let you indulge your sweet tooth sans (too much) guilt.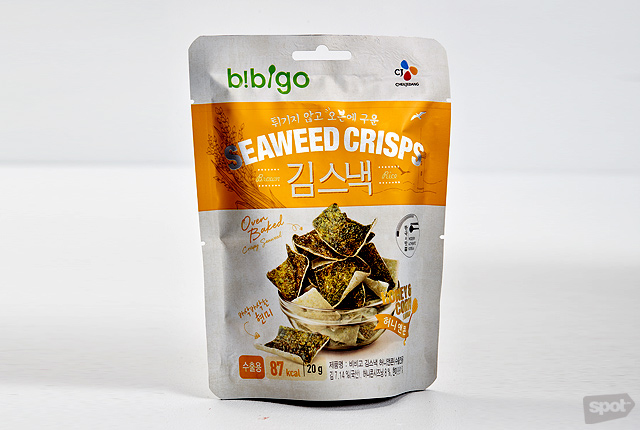 Bibigo Seaweed Crisps (P76)
The words "modern authentic Korean" are printed on this snack's packaging—and those clearly sum up what you'll get with every bite. The classic Korean seaweed munchers are upgraded as baked bites. The honey and corn flavor is a play on Korea's current obsession with sweet-salty combos, while the barbecue and hot spicy versions kick this snack up a notch.
ADVERTISEMENT - CONTINUE READING BELOW
The grocery: Wang Mart
Address: 37 Polaris Street, Bel-Air, Makati City
Pro tip: Ready to cook Korean-inspired meals at home? Shop for your ingredients here. Take your pick from condiments, packaged fish, dried vegetables, and packed grains and noodles.
The finds: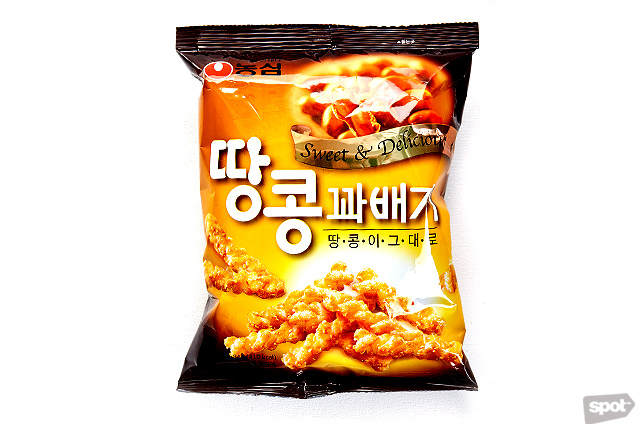 Honey Peanut Snack (P61)
If you like your snacks sweet and crunchy, then this one's for you. Golden brown puffs are coated in honey and peanut flavors for a tempting yet light treat. The closest things we can liken it to would be our local Moby and Richie snacks—the flavor is creamy and delicately sweet; the texture, crisp, yet easily melts in your mouth.
ADVERTISEMENT - CONTINUE READING BELOW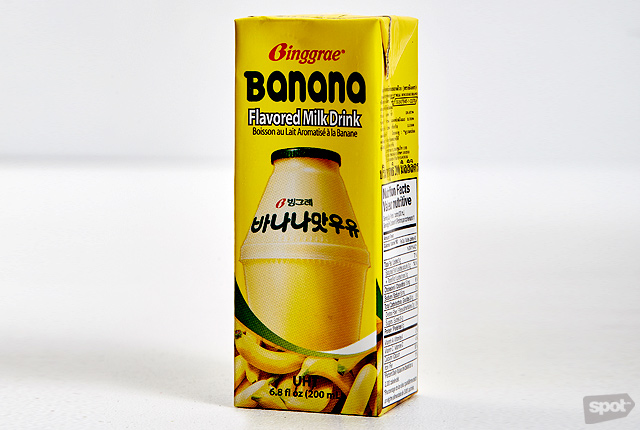 Banana Milk (P44)
Koreans say banana-flavored milk fills up not only their tummies, but also their hearts. That's because this drink is closely associated with fun childhood memories, and has been enjoyed by generations since its introduction to the market in 1974. If you try it, you'll understand its popularity and nostalgic appeal—it's simple, sugary, and super addictive.
ADVERTISEMENT - CONTINUE READING BELOW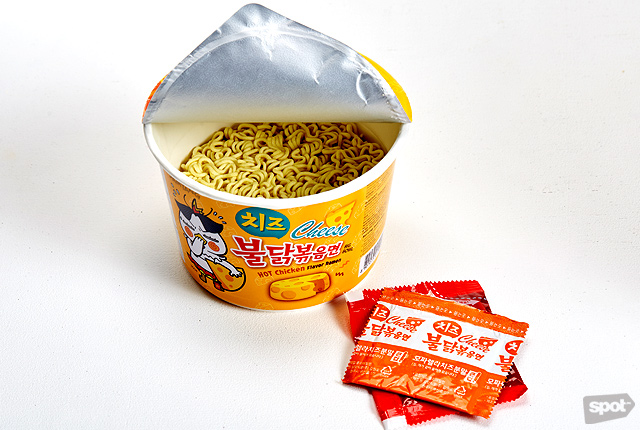 Cheese Buldak Bokkeummyeon (P88)
This bowl of noodles looks like your regular instant fare...until you mix in the intensely hot chili sauce and cheese powder that come with it. The fiery red seasoning coats each strand of thick noodle to deliver a meal that's sure to change your definition of the words "hot and spicy," while the cheese flavoring adds a salty, creamy touch. Warning: We're serious when we say that its heat level is off the charts!
ADVERTISEMENT - CONTINUE READING BELOW
Most of these items and similar picks may be found in your neighborhood Korean grocery store.
Photos by Dairy Darilag
Erratum: The first version of this article referred to Cheese Buldak Bokkeummyeon as Cheese Boki. The story has been updated with the correct product name.
Share this story with your friends!
---
Help us make Spot.ph better!
Take the short survey
Load More Stories