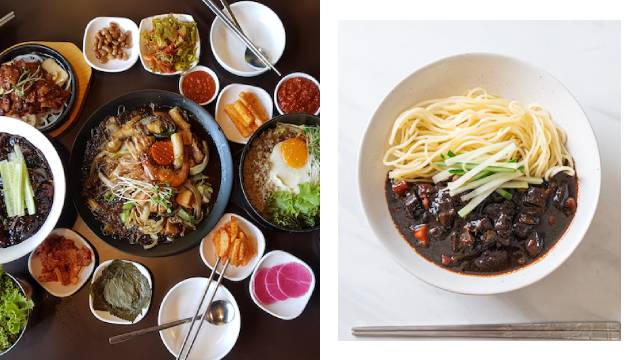 (SPOT.ph) If you think Korea's fare is one to get left behind in the list of what Filipinos absolutely love about the country—be it dramas, groups, music, fashion, and beauty—and that the craze is going to die down anytime soon, then you thought wrong. So, so wrong. If anything, our love affair has just started. Below we list down everything to know about the cuisine: from a quick guide on the dishes to know and a few staple places to try.
Korean Food in Pop Culture
If we're talking anything Korean, we have to start with the Korean wave, a.k.a. Hallyu. Chances are your first brush with the cuisine was via K-Dramas; depending on your age, you probably called them Koreanovelas. Have you ever gotten hungry all of a sudden while watching actors and actresses in the K-drama that you're watching stuff themselves with food in most, if not all, of their episodes? It also doesn't help that they eat their fill so deliciously and enticingly—no matter what food it is—that the scene urges you to pause the video and make a quick trip to the kitchen. Rather than just enjoying the drama, it turns into a "try not to feel hungry" challenge. Of course, you lose every damn time.
ADVERTISEMENT - CONTINUE READING BELOW
You've probably make a mental note to ask your friends to go to the nearest samgyeopsal place after you've finished watching to satisfy your cravings (with some soju if you're up for it).
Korean Food, an Etiquette and History Crash Course
With all the times we've spent in Korean barbecue joints—eyes glued to the nearest television and busy bopping to the K-pop groups' songs and singing along to K-drama OSTs over the speakers—samgyeopsal might be on top of everyone's mind when talking about Korea's cuisine, and we don't have objections. However, there are still so many to talk about and, of course, taste. Case in point: bibimbap, jjigae, jajangmyeon, japchae, and our all-time favorite KFC (Korean fried chicken), even street food like tteokbokki, odeng, soondae, and eomuk, if you want to mix it up a little bit without straying too far from the country and its colorful, healthy, and creative cuisine. Anyone who has great appreciation—and by that, we mean everyone—for food, could and would definitely have their taste buds rejoicing.
Also read:
The Serious List: Your Comprehensive Guide to Korean Barbecue and Where to Get It in Manila
The New Korean Fried Chicken Spots You Need to Try ASAP
This New Poblacion Spot Shows Where the Korean Dining Scene Is Headed
Side Dishes
Kimchi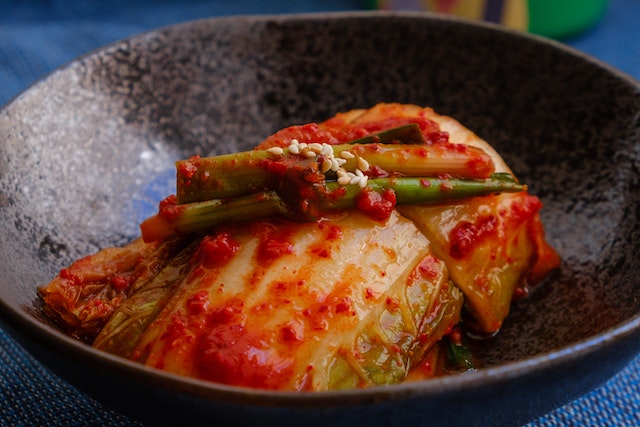 CONTINUE READING BELOW
Recommended Videos
First things first: No meal in Korea is ever going to be and feel complete without the indispensable salted and fermented vegetables—usually radish or napa cabbage—called kimchi. Whatever Korean food it is, it's best paired with this Korean traditional staple. You've most definitely seen the small stainless bowl filled with red and orange napa cabbage far too many times in the spread of side dishes or banchan available when you go for samgyeopsal, and unexpectedly developed a liking for the spicy-tangy dish (way past the pungent smell) that you now include a pack or bottle of it during your grocery trips during the weekend. You might even want it freshly made or up to your taste, and take a shot at making it yourselves. 
Kimchi is part of the country's cultural identity and traces back thousands of years ago. In fact, kimchi-making and sharing, or kimjang, has been recognized in 2013 by the United Nations Educational, Scientific, and Cultural Organization as an Intangible Cultural Heritage Item of Humanity in Korea.
Some of the side dishes we're familiar with, aside from kimchi, are kkongnamul munchim (seasoned soybean sprouts), algamja-jorim (sweet baby potatoes), eomuk bokkeum (fish cakes) as well as gyeran-jjim (steamed egg). We see them a lot in our favorite Korean barbecue joints.
Jjinja? (Really), Omo! (Oh my), Eottoke? (How), and other Korean phrases are some you've picked up from watching so many dramas—Jal meok-ge-sseum-ni-da and Jal meo-geo-sseum-ni-da, which means "I will eat well" and "I ate well," respectively, are without a doubt two of them. These are the phrases we often hear before and after the characters on-screen eat their meals as part of their etiquette.
ADVERTISEMENT - CONTINUE READING BELOW
Tteokbokki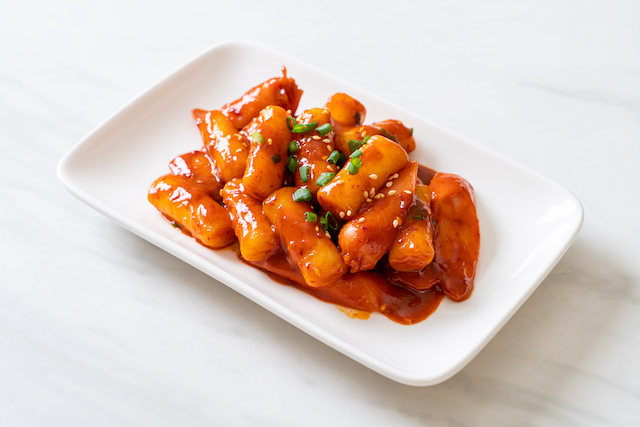 This dish is more of Korea's traditional street food. Sold usually by street vendors and snack bars, tteokbokki—which means spicy stir-fried rice cake—is a burst of spicy and sweet, chewy bite-sized pieces of rice cakes swimming in red to orange sauce. Other variations have it with a boiled egg, fish cakes, and some vegetables thrown inside. You can easily find some ingredients in your local K-marts and make tteokbokki inside your homes—which can be perfect for pulutan, too, with a bottle of beer or soju, like your favorite K-drama stars.
There are also the umami Korean fish cakes called odeng (the one we see Weightlifting Fairy Kim Bok Joo finish one-too-many sticks of) and the soondae, which is made out of pig's intestines that those who like to eat isaw, baga, etcetera are going to be all too familiar of.
Also read:
10 Delicious Korean Grocery Finds in Manila
This Pink-Themed Store Is Where You Can Get Korean and Japanese Grocery Finds
ADVERTISEMENT - CONTINUE READING BELOW
Main Dishes
Bibimbap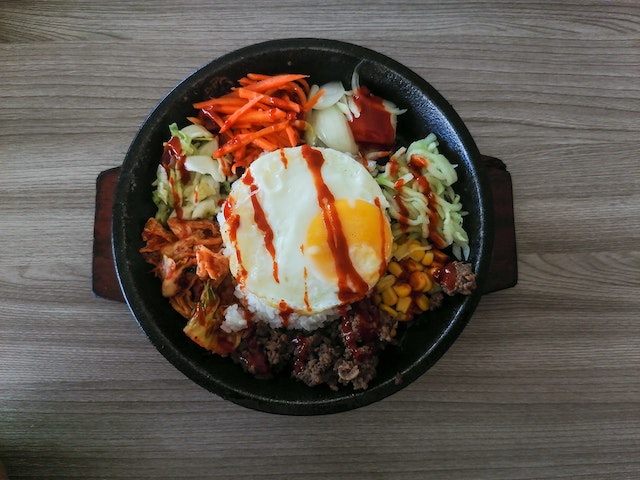 Like us and our fellow Asian countries, rice is a must. Korean cuisine is no exception. Bibimbap is one of Korea's offerings for when you want a healthy and filling meal. The name of the dish literally means mixed rice, bibim for mixed ingredients, and bap for rice. It usually consists of warm rice surrounded by seasoned and mixed vegetables, and beef, topped with a fried egg. You can also toss it mixed Korea's well-known condiments called gochujang (chili pepper paste). 
For those always on the go though, there's kimbap or rice rolls filled with various fillings such as vegetables and beef.
Also read:
Top 10 Bibimbap in Metro Manila
Here's a Unique Way to Enjoy Korean Bibimbap
Jajangmyeon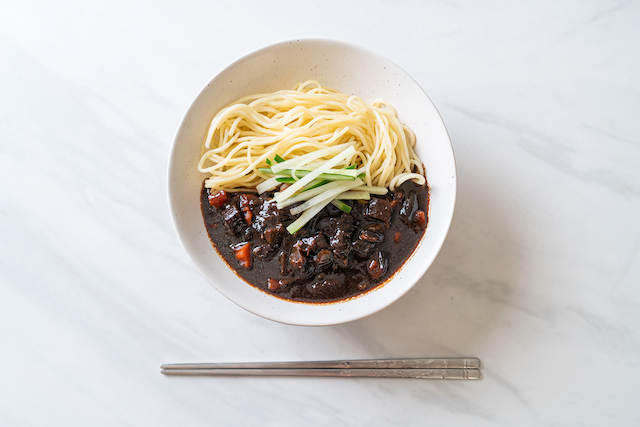 ADVERTISEMENT - CONTINUE READING BELOW
Who doesn't like slurping their noodles? But this one's not your go-to typical pancit canton or Lucky Me noodles. This Korean-Chinese dish has their wheat noodles poured with thick, black bean sauce mixed with pork and, of course, vegetables and leaves a salty, bitter taste on one's tongue but a satisfying fill on one's stomach.
And of course, who could forget ramyeon? We're already making room for it in the pantry for our next grocery run. You may or may not have even purchased the gold pot they usually use when cooking ramyeon. 
Kimchi jjigae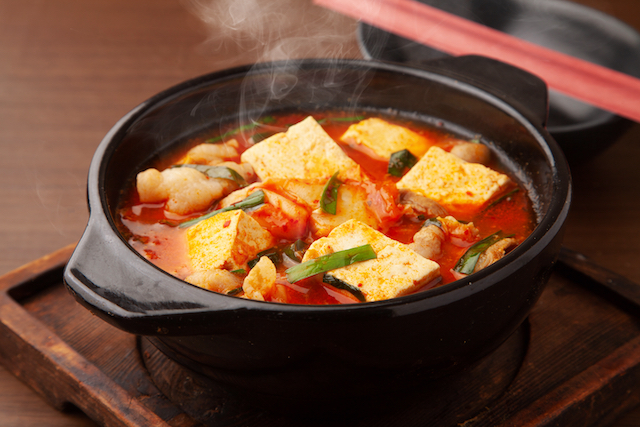 We're not saying that this is something that you should be cooking up on rainy and cold evenings—but that's exactly what we're saying. A hearty bowl of this kimchi stew can soothe your freezing limbs in no time and will poise to be your next go-to comfort food. It's one of the most popular jjigae, which means stew or soup, and one of the ways you can prepare your now-favorite kimchi. Throw in some pork, tofu, and kimchi, and finish with some gochujang for the broth, and voilá! (Wait, that's French)—that's one steaming bowl of kimchi jjigae.
ADVERTISEMENT - CONTINUE READING BELOW
For someone who is celebrating their birthday, a bowl of seaweed soup or miyeokguk is an absolute must.
Also read:
10 Great Kimchi Dishes That Aren't Kimchi Rice
Japchae
Another Korean noodle dish to watch for is their stir-fried glass noodles called japchae. It is sweet potato starch noodles mixed with vegetables and meat is one of the cuisine's well-loved dishes. You can see a portion of it in some of your favorite samgyeopsal places, too—the one bowl which the server keeps on replenishing because of how fast everyone's savoring its sweet taste.
Must-Try Korean Food Restaurants in Metro Manila
If all this talking about Korean food is getting your mouth watering and stomach rumbling. You don't have to worry about flying to Seoul (not yet, at least) to get a taste of the country's fare when you could just head over to restaurants near you stat. Don't forget your masks, though!
ADVERTISEMENT - CONTINUE READING BELOW
Jumong Korean Restaurant
Jumong Korean Restaurant serves most of the staples above, so if you want to hit a lot of birds with one stone—it's best to head on over to their branches in Makati and Ortigas. They have the Dolsot Bibimbap (P380), Tteokbokki (P300), Kimchi Jjigae (P350), and Japchae (P350). 
Jumong Korean Restaurant is at 5648 Don Pedro Street, Barangay Poblacion, Makati City and at G/F, 8101 Pearl Plaza, Pearl Drive, Ortigas Center. They are open for dine-in from 10 a.m. to 10 p.m. 
For more information, check out Jumong Korean Restaurant's Facebook page.
Seoul Train Korean BBQ
ADVERTISEMENT - CONTINUE READING BELOW
If you're looking for Jajangmyeon, come on board the Seoul Train Korean BBQ. They offer the noodle goodness for P400 and a wide array of rice, soups, noodles, and of course, lots and lots of meat that'll surely keep you in your seats. We spotted Dolsot Bibimbap (P350), Kimchi Jjigae (P350), Japchae (P350), and some creamy Tteokbokki (P350).  There's also samgyetang, which is chicken bathing in ginseng broth, for P880, and their must-try wagyu beef. 
Seoul Train Korean BBQ is at  8 Sgt. Esguerra Avenue, Diliman, Quezon City. They are open daily from 11 a.m. to 9 p.m.
For more information, check out Seoul Train Korean BBQ's Facebook page.
Soban K-Town Grill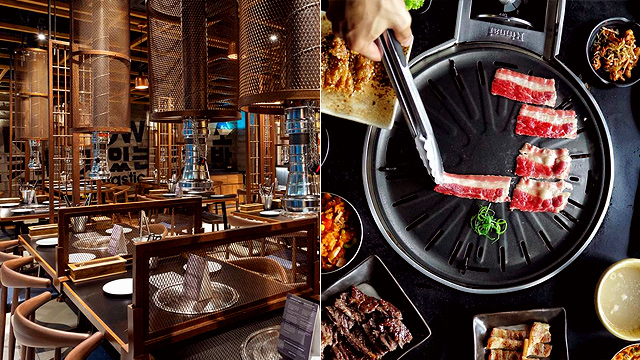 Craving for some good quality samgyeopsal, friends from the South? Don't worry. You can get your fix at the Soban K-Town Grill. The barbecue combo sets are great and all, but their wide and refillable assortment of banchan knows what's up. They also have some japchae (P315), tteokbokki (P280), and dolsot bibimbap (P315) for you and your friends. 
ADVERTISEMENT - CONTINUE READING BELOW
See a list of Soban K-Town Grill branches.
For more information, check out Soban K-Town Grill's website.
We are now on Quento! Download the app and enjoy more articles and videos from SPOT.ph and other Summit Media websites.
Share this story with your friends!
---
Help us make Spot.ph better!
Take the short survey
Load More Stories