(SPOT.ph) Welcome to Metro Manila, where food extends beyond fad. Filipinos are born eaters—you'll see it in their fiestas and small office get-togethers, quiet dinners at home and even grand celebrations for the heck of it. It's a fact universally acknowledged: Filipinos bond over food. With that comes another undeniable point: Filipinos love their meat. This carnivorous way of life can be traced back to pre-colonial Philippines, where cultivating livestock was just as common as farming vegetables.
We love our lechon and we love our barbecue, but for those occasions when you know you've earned a moment to indulge yourself, nothing beats a good steak.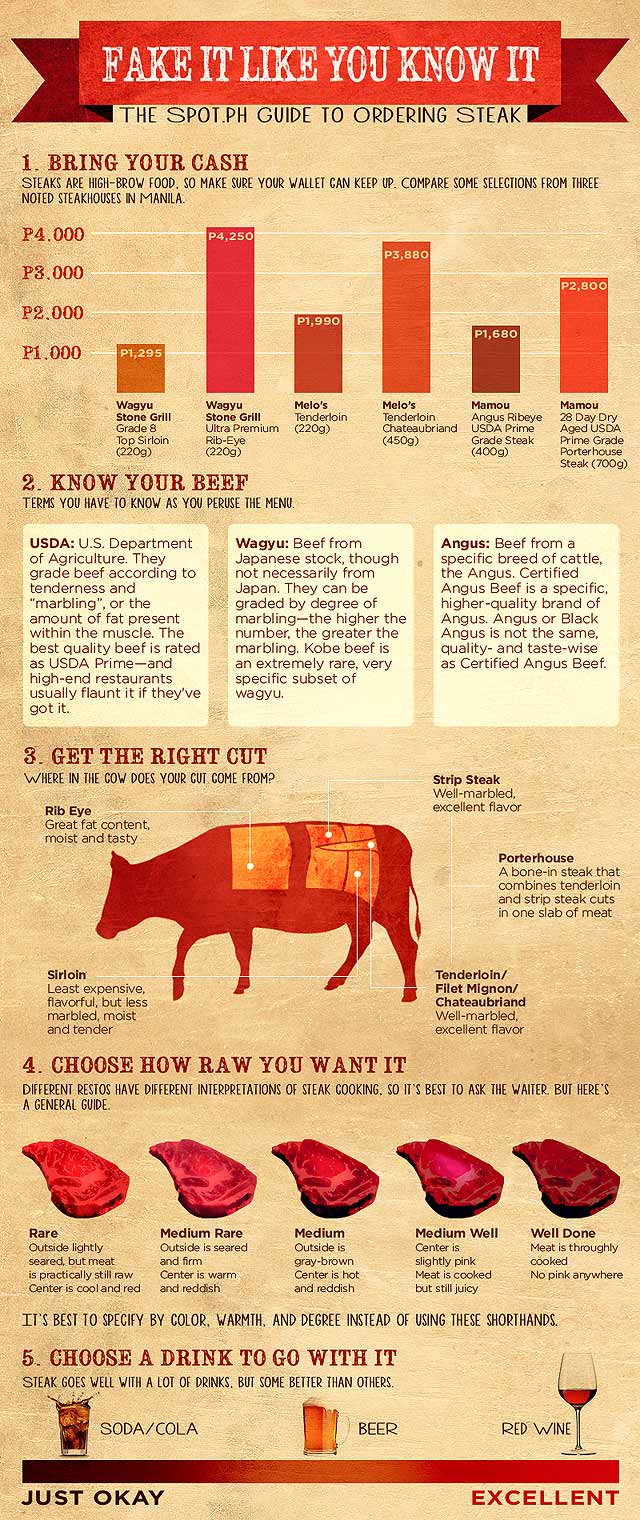 *Updated prices: Wagyu Stone Grill's Grade 8 Top Sirloin, 220 grams (P1,950) and Ultra Premium Rib-Eye, 220 grams (P4,675); Melo's Tenderloin, 220 grams (P2,447) and Tenderloin Chateaubriand, 450 grams (P4,772); Mamou's Rib Eye USDA Prime-Grade Steak, 400 grams (P1,950) and 28-Day Dry-Aged USDA Prime-Grade Porterhouse Steak, 700 grams (P3,990)
ADVERTISEMENT - CONTINUE READING BELOW
No one knows exactly the tiny details of the delicious history of steak in the country, but it's definitely one of the best ways to treat yourself. And Metro Manila has its fair share of places that serve really, really good steak—whatever your definition of that may be. Did you know that not all wagyu beef comes from Japan, while Angus beef and Black Angus aren't the same? Meanwhile, the strip steak comes from the short loin of the cow. Wine pairs better with steak than your favorite beer. And a well-done steak is a steak cooked thoroughly (it's also not the best way to go if you want the beef's natural flavor to shine).