Food Crawl: Davao City
Davao is not just all durian.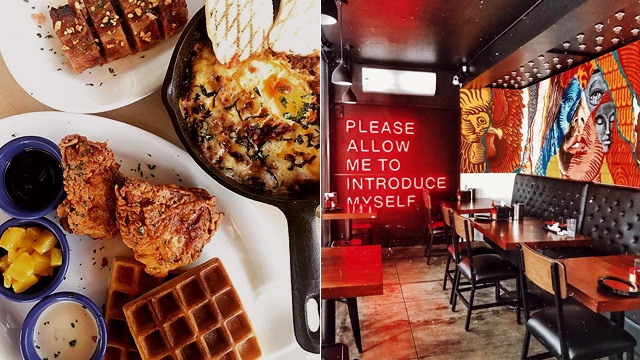 (SPOT.ph) Davao City is known for durian, marang, and thanks to some fantastic local chocolatiers, chocolates. But this bustling city down south is also home to lots of good eats, some of which you're unlikely to find anywhere else in the Philippines. Make room in your belly after all that fresh durian and check out these haunts.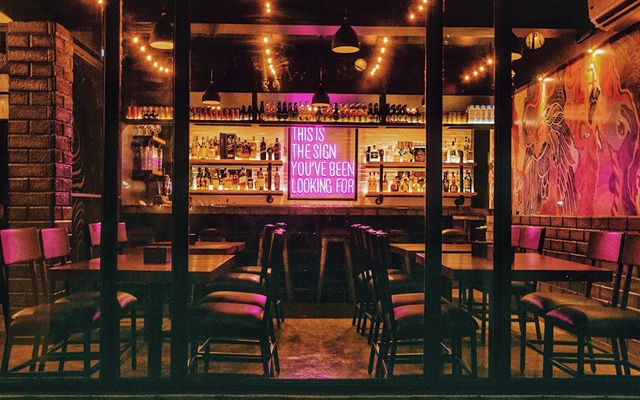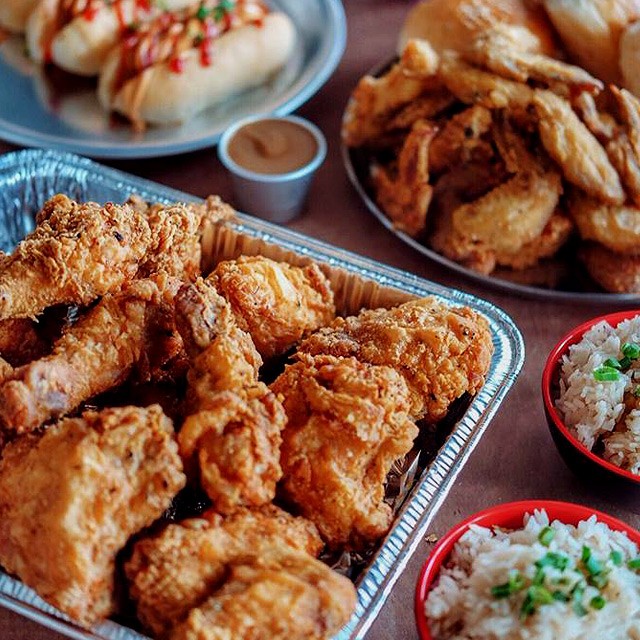 Fowlplay Kitchen + Dive Bar
115 P. Pelayo Street, Poblacion District, Davao City
Contact: (082) 237-3497
Open from 11 a.m. to 12 a.m. (Monday to Saturday)
One of Davao City's newer restaurants could easily blend in Makati's own hip Poblacion, with their neon signages and edgy murals—perhaps it's no surprise then to learn that Chef Wade Watson also operates Bondi&Bourke in Metro Manila. At Fowlplay, he keeps the focus on fried chicken, which comes huge and satisfyingly crunchy, with tender meat that's been marinated for 48 hours in a secret special mix and is seasoned to be mildly spiced or fiery hot. Aside from crispy fried chicken, the menu also offers tacos, hot dog sandwiches, and burgers—all featuring chicken, of course.
Must-tries: The Chicken Meal (starts at P280), Classic Chicken Burger (P165), Chicken Hotdogs (P245)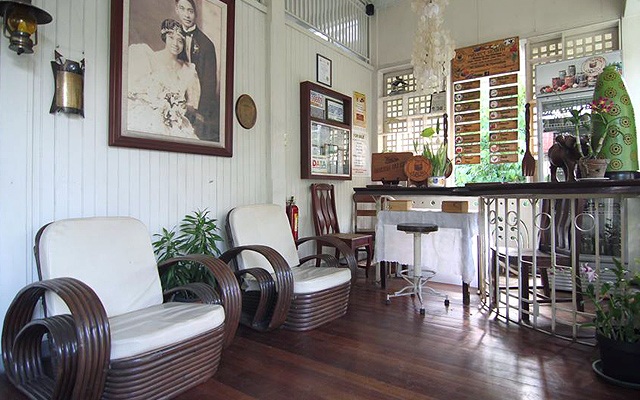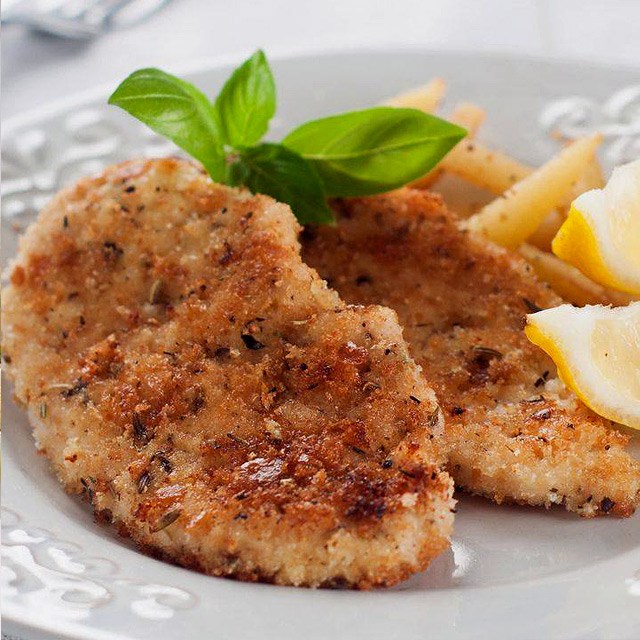 Claude's Le Café de Ville
The Oboza Heritage House, 143 Rizal Street, Davao City
Contact: (082) 222-4287
Open from 10 a.m. to 10 p.m. (Monday to Saturday)
ADVERTISEMENT - CONTINUE READING BELOW
If you're up for a romantic fine-dining experience, a visit to Claude's Le Café de Ville is a must. The French restaurant first opened in Davao City in 1996, making it one of the pioneers in serving the cuisine in the city. Their location in a heritage home gives the restaurant an old-world charm, a perfect match to the menu of traditional French and Mediterranean dishes prepared, once by Claude Le Neindre, and now by his daughters. The airy space and homey ambience make it a great spot for family lunches—and once the sun sets, the mood turns romantic, making it a great date place, too.
Must-tries: Fillet of Beef Tenderloin With Pepper Sauce (P715/200 grams), Foie Gras de Canard (P1,250), Scallops in Hollandaise Sauce (P720)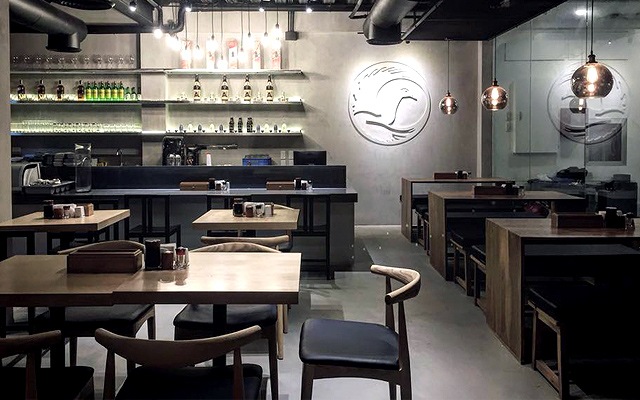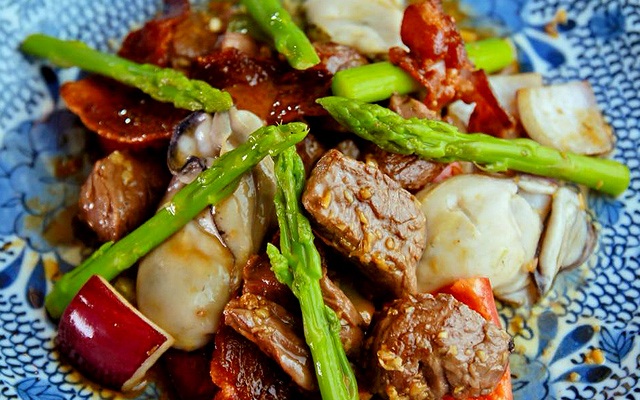 Tsuru
Camus Street, Poblacion District, Davao City
Contact: (082) 221-0901
Open daily from 11 a.m. to 10 p.m.
Perhaps one of the oldest Japanese restaurants in Davao—they opened in 1990—Tsuru is a go-to when it comes to affordable sushi and other Japanese staples. They've got pretty much everything covered, from tempura and yakiniku to udon and sukiyaki. But, they are best known for their pretty over-the-top sushi and maki creations, like their signature Volcano Roll, a mountain of salmon-stuffed sushi topped with a creamy and spicy sauce, and the gigantic Godzilla Roll, which will get you three kinds of sushi: One wrapped in salmon, another wrapped in avocado, and the third wrapped in fresh tuna.
ADVERTISEMENT - CONTINUE READING BELOW
Must-tries: Volcano Roll (P250), Godzilla Roll (P295), Tsuru Roll (P250)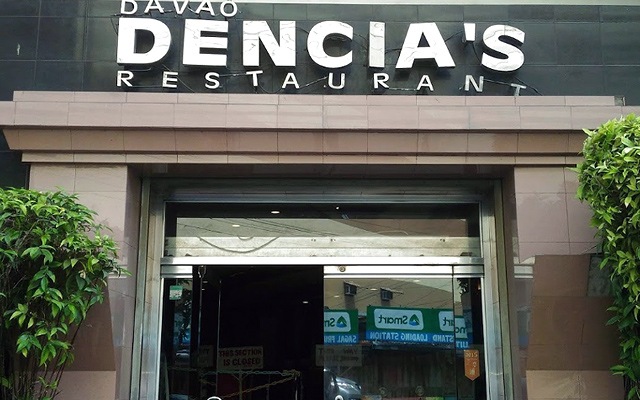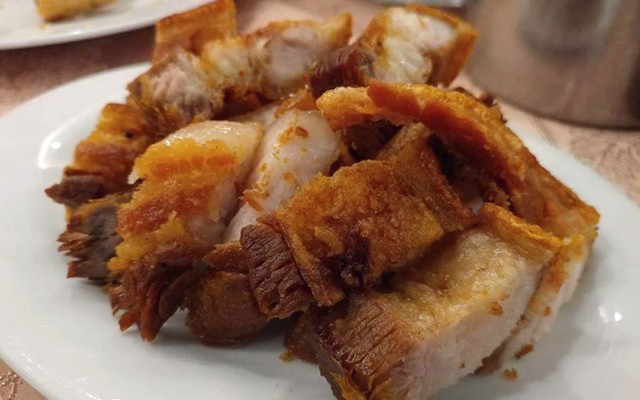 Davao Dencia's Restaurant
General Luna Street, Poblacion District, Davao City
Contact: (082) 226-4336
Open daily from 7 a.m. to 9 p.m.
Most Davaoeños likely grew up with Davao Dencia's Restaurant—they did open in the 1960s. But the Davao institution actually has its roots in Manila, opening there first in the 1950s. Since they moved to the province, they've become one of the top choices when it comes to where to eat in the city, especially when on a budget—no trip is complete without having their hearty signature Lugaw Goto paired with Tokwa't Baboy.
Must-tries: Lugaw Goto (P65), Tokwa't Baboy (P75), Pancit Canton Especial (P155)
Penong's Barbecue Seafoods and Grills
JP Laurel Avenue, Lanang, Davao City
Contact: (082) 234-9718
Open from 10:30 a.m. to 10 p.m.
Another budget-friendly option in Davao is Penong's, which proudly declares themselves "The #1 Barbecue House in Davao." While the jury's still out on whether they truly are the best when it comes to chicken barbecue, their grilled offerings are tasty enough to make them a fierce contender for the title. Their signature chicken inato is crisp and slightly smoky yet still juicy, with the distinctive sweet-saltiness of good barbecue. Combo meals are available, which lets you sample both chicken and pork barbecue paired with unlimited rice for less than P100. While Penong's has several branches in Davao, it's still best to visit the original one in Lanang.
ADVERTISEMENT - CONTINUE READING BELOW
Must-tries: Native Chicken Barbecue (P80), Pork Barbecue (P18/stick), Inato Meal (P92/chicken inato, pork barbecue, and unlimited rice)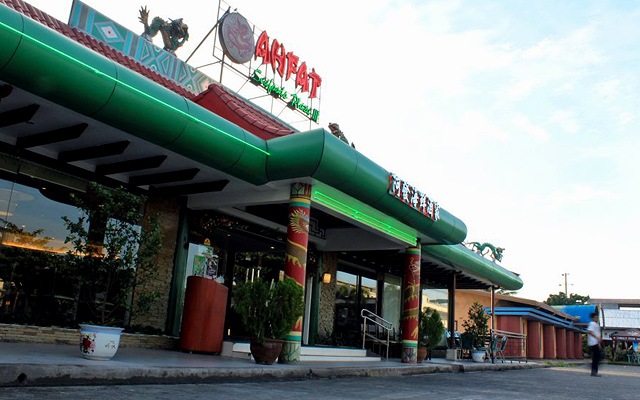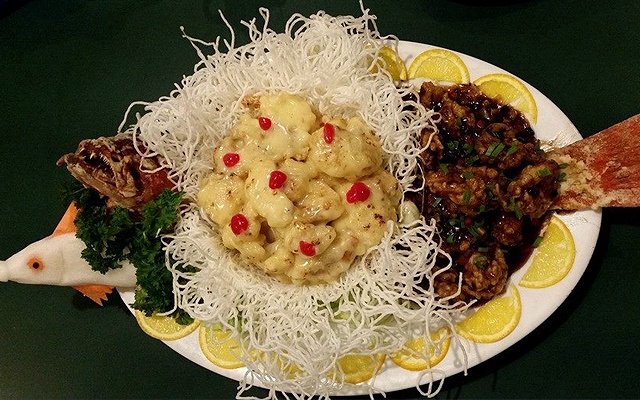 Ahfat Seafood Plaza
Victoria Plaza Mall Compound, Bajada, Davao City
Contact: (082) 221-4688
Open daily from 10 a.m. to 10:30 p.m.
If you ask someone from Davao where to eat Chinese food in the city, there's a big chance Ahfat will come up. The Chinese restaurant has three branches all within a stone's throw of each other in Victoria Plaza Mall Compound called Ahfat 1, 2, and 3, but they all offer traditional dishes, similar to what you might find in one of Binondo's bigger restaurants. As their name suggests, Ahfat's specialty is seafood so be sure to order all their Chinese-style seafood and fish dishes. Servings are huge so it's best to come here in groups.
Must-tries: Baked Crab With Garlic and Onions (price varies depending on the season), Australian Scallops in XO Sauce (P1,200), Lapu-Lapu Two Ways (P1,200)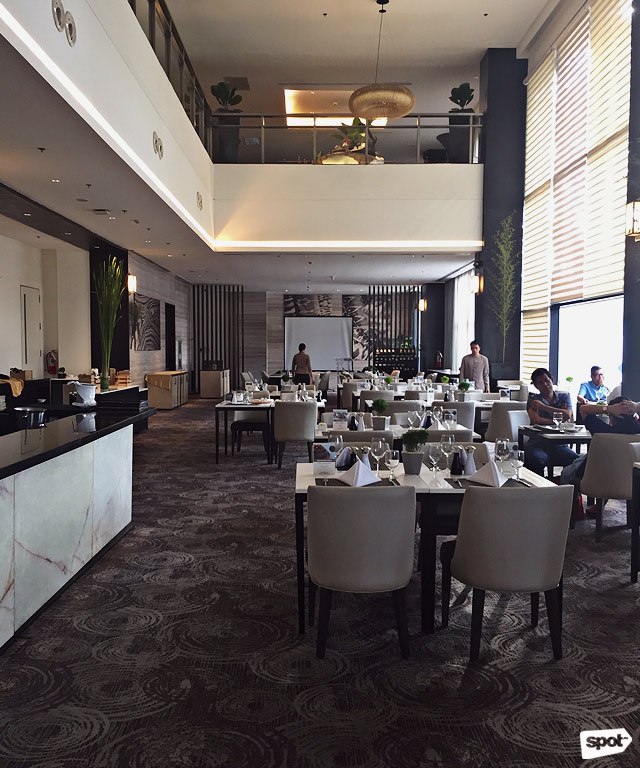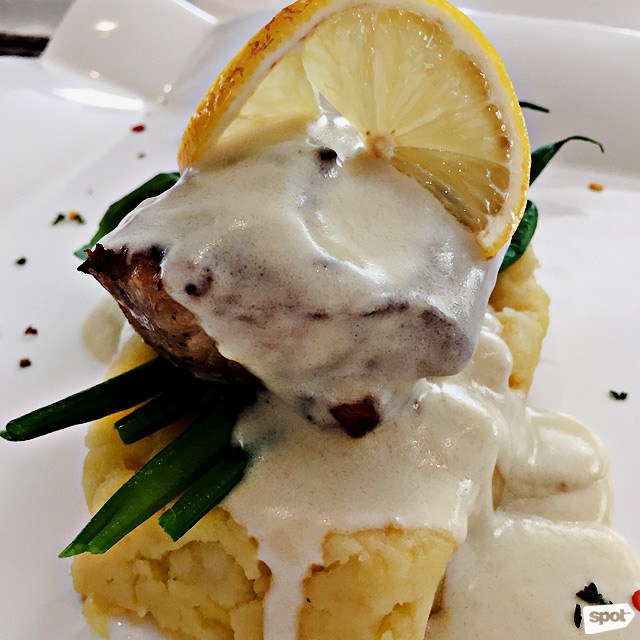 Misto
Seda Abreeza Hotel, Bajada, Davao City
Contact: (082) 244-3000
Open daily from 6 a.m. to 10 p.m.
Whether or not you are staying at Seda Abreeza during your trip, a visit to Misto should be on your itinerary, if only for their indulgent Malagos Dark Chocolate Cheesecake, made with Malagos cheese and Malagos dark chocolate—perfect when paired with a cup of coffee. Not to say Misto's mains aren't terrific, too: The Baby Back Ribs are famous for being fall-off-the-bone tender, while the Crispy Prawn With Misto Chili Sauce is a light yet tasty option, with mangosteen infusing the chili sauce with fruity notes.
ADVERTISEMENT - CONTINUE READING BELOW
Must-tries: Baby Back Ribs (P680), Crispy Prawn with Misto Chili Sauce (P1,380), Malagos Dark Chocolate Cheesecake (P300)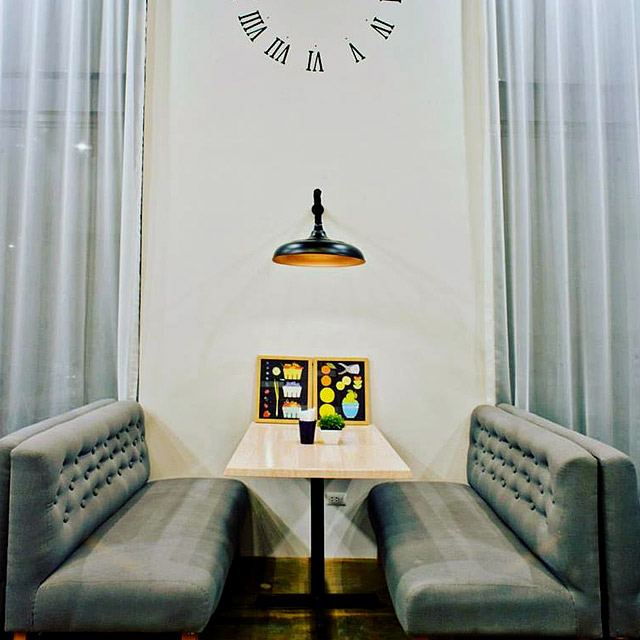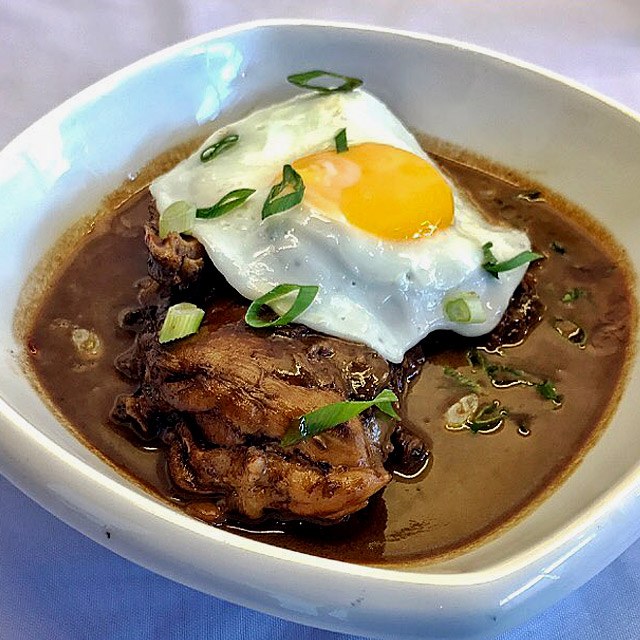 Rekado Comfort Food Cuisine
1050 Emilio Jacinto Extension, Poblacion District, Davao City
Contact: (082) 284-2136
Open daily from 11 a.m. to 10 p.m.
Bright and cozy with minimalist décor in pastel colors, Rekado has a vibe more similar to a coffee shop than a traditional Filipino restaurant, but it's the right match for their menu of Filipino comfort classics done with a twist. Rekado uses fresh produce from Davao and surrounding provinces to whip up dishes like their signature Kalderobo, or kaldereta and adobo, a savory-tangy beef stew served on an iron skillet and Crispy Pork Binagoongan with burong mangga for a zesty kick that balances out the sharp salty flavors and succulence of the pork.
Must-tries: Crispy Pork Binagoongan (P270), Kalderobo (P320), Crispy Beef Tadyang (P325)
Tiny Kitchen Creations
F. Torres Street, Poblacion District, Davao City
Contact: (082) 305-9232
Open from 9:30 a.m. to 9:30 p.m. (Monday to Saturday)
Upon entering, you immediately understand how Tiny Kitchen Creations got their name—the space can be tight, but the yellow walls and rustic décor make it charming. Owned by Vincent and Donna Rodriguez, Tiny Kitchen offers a menu of Spanish classics mostly done using the recipes of Vincent's mother. The paella is highly recommended, and the usuals like Valenciana, Mariscos, and Negra, are on offer. Make sure to leave space for dessert because the pastries from in-house bakery Dulce Vida are must-tries, especially the Frozen Chocolate Brazo and Frozen Mango Brazo.
ADVERTISEMENT - CONTINUE READING BELOW
Must-tries: Valenciana Paella (starts at P400), Gambas Al a Jillo (P270), Frozen Chocolate Brazo (P110)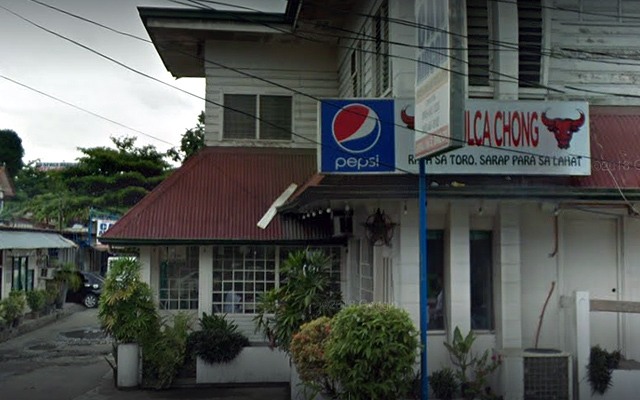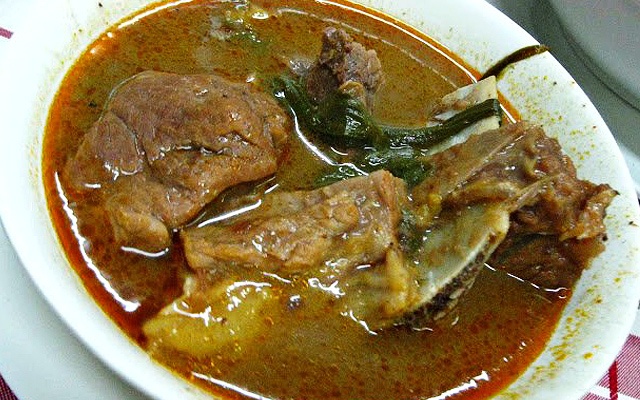 Bulcachong
18 General Luna Street, Poblacion District, Davao City
Open 24 hours daily
This humble eatery on General Luna Street houses a signature dish impossible to find anywhere else: Bulcachong or bulalo that uses carabao meat. Carabao meat is known to be tough when not prepared properly, but at Bulcachong, the carabao chunks are simmered for over three hours to make them really tender. They're then added to a soup with atsuete, ginger, and other spices, resulting in a thick broth with a strong, spicy kick. It's sure to wake up your taste buds, making bulcachong a favorite hangover cure.
Must-tries: Bulcachong (P75/take-out, P90/dine-in), Bulalo Special (P300)
Load More Stories