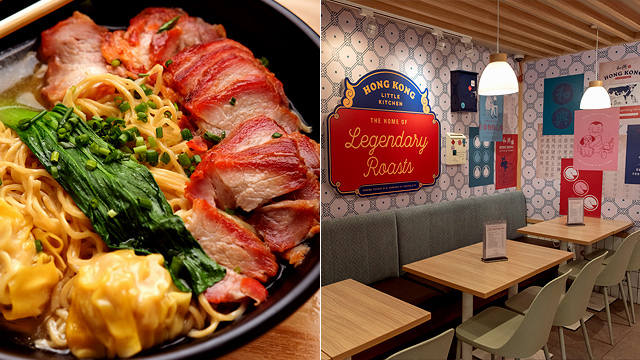 (SPOT.ph) Hong Kong has long been a favorite travel destination for Filipinos—and not just because of its close proximity and visa-free status. The city is not only known for being shopping central, it's also a foodie's paradise. But you don't actually need to take a plane ride to get a taste of what Hong Kong has to offer. There are a number of restaurants right here at home that serve roasts like what you could get in Hong Kong, and we've rounded up a list of them.
ADVERTISEMENT - CONTINUE READING BELOW
HK Little Kitchen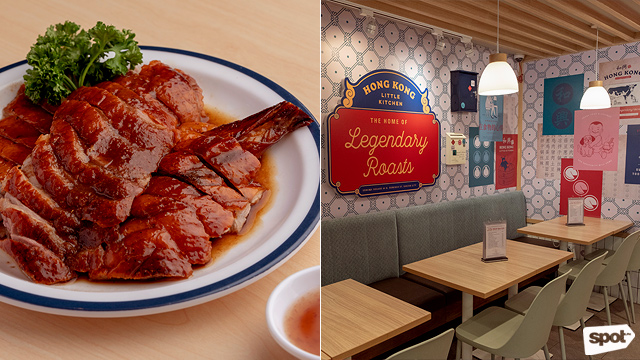 This humble eatery in New Manila may be new, but they've already perfected Cantonese roasts like they've been doing it for ages. With ingredients sourced directly from Hong Kong, this so-called little kitchen's specialty barbecue makes you feel like you've been transported to the streets of Mong Kok. The HK Roasted Duck (P1,880/whole, P980/half) is the right amount of fatty and tender, with crisp skin that reminds you of our own lechon. Their version of the classic lechon Macau, the Crispy Lechon HK (P1,680/whole, P840/half, P420/quarter) is succulent and pairs well with a spicy kick of mustard. Another must-try is the Roasted HK Barbecue (P1,200/whole, P600/half, P300/quarter), moist pieces of boneless pork with a sweet and salty glaze.
Hong Kong Little Kitchen is at 44 Sonema Square, North Domingo Street, New Manila, Quezon City.
Hawker Chan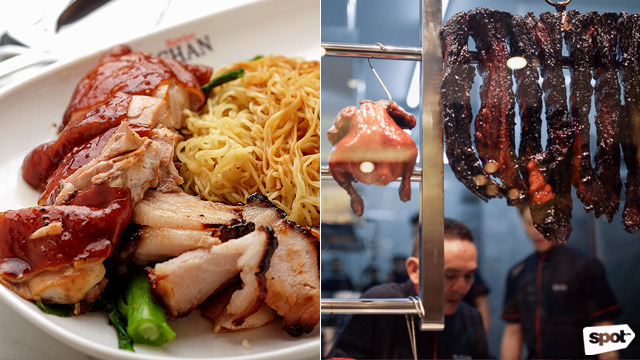 Hawker Chan is originally be from Singapore, but their dishes take cues from Hong Kong barbecue. Their Soya Sauce Chicken earned a Michelin star—and for good reason. Not only is the chicken itself amazingly tender, but it comes with a sauce that coats your tongue with a sweet and savory flavor. It's also amazingly cheap, coming in at less than P200, whether you choose to pair it with rice (P128) or noodles (P158). You can also opt to pair it with some sweet and smoky Char Siu.
ADVERTISEMENT - CONTINUE READING BELOW
See a list of Hawker Chan branches.
Tai Koo HK Roast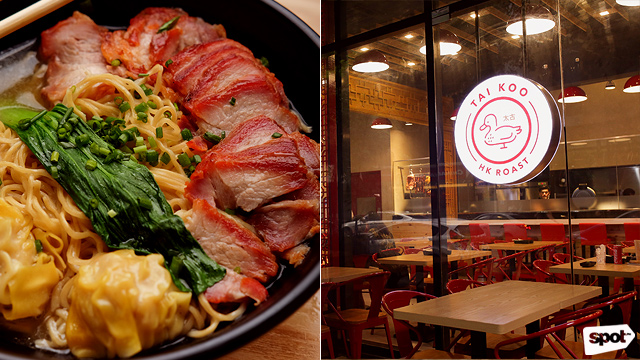 Tai Koo's roasted meats would probably catch your eye first, as they hang them up right by the restaurant's kitchen windows. Not only are they appetizing to look at, they're also chock-full of deliciousness. Their Roast Duck comes directly from Hong Kong, and it's surprisingly hefty. The duck is also extremely flavorful, thanks to a sauce that's made with tasty drippings. The roast duck can come with a choice of rice (P398/regular, P208/solo), noodle soup (P268), or dry noodles (P268). If you're not a fan of roast duck, Tai Koo also serves classic HK barbecue dishes like Char Siu Pork Rice (P168), Roast Pork Belly Rice (P168), and Soy Chicken Rice (P188).
ADVERTISEMENT - CONTINUE READING BELOW
See a list of Tai Koo HK Roast branches.
Famous Kitchen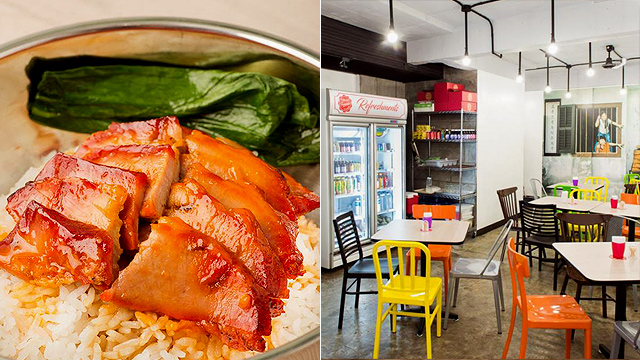 This hole-in-the-wall may come off as low-key, but their roasts are anything but. Famous Kitchen's Peking Duck (P450/quarter, P900/half, P1,800/whole), comes with a thin layer of fat that pairs well with the meat's robust flavor. It comes with a complimentary soup and a sweet plum sauce that helps balance out the duck. Their White Chicken (P480/whole, P240/half) is also worth a try—it comes with a ginger sauce that complements the chicken's natural juices.
ADVERTISEMENT - CONTINUE READING BELOW
See a list of Famous Kitchen branches.
Tuen Mun Roasts
Tuen Mun Roasts carved out a name for themselves in the Chinese food enclave of Banawe by providing roasts that strike the perfect balance between fatty and lean. Their Roast Duck (P450/quarter, P850/half, P1,680/whole) is a take-out favorite, thanks to its low price point and flavorful succulence. The Lechon Macau (P200/order, P720/kilo) is incredibly crisp and juicy—you can eat it without sauce!
ADVERTISEMENT - CONTINUE READING BELOW
Tuen Mun Roasts is at 81-A Nicanor Roxas Street, Barangay Sto. Domingo, Quezon City.
Char Dining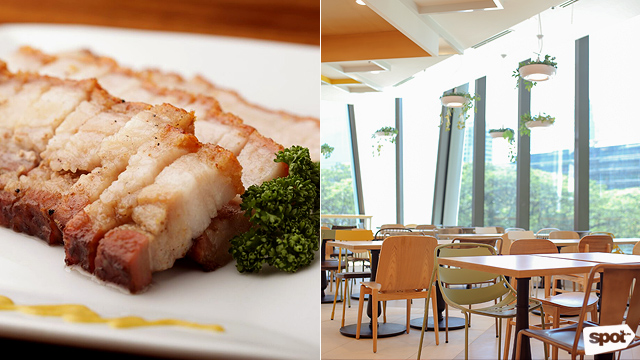 Char Dining uses both modern techniques and traditional roasting styles to elevate classic barbecue dishes like char siu, roast pork, and soy chicken. Their Special Char Siew (P450/300g), is not only perfectly seasoned, it also comes with a sticky sweet glaze. The Crispy Roast Pork Belly (P450/300g) is a simpler dish, with each bite-sized piece being a perfect mix of sweet, salty, and herby. The Soya Kampong Chicken (P200 to P780), meanwhile, is recommended not only for its savory broth, but also for its juicy chicken slices.
ADVERTISEMENT - CONTINUE READING BELOW
Char Dining is at The Corner Market, 2/F The Podium, 12 ADB Avenue, Ortigas, Mandaluyong City.
Wai Ying
There's always a line at this Binondo favorite, but trust us when we say their food is worth the wait. Wai Ying's Roast Peking Duck (P450/quarter, P1,800/whole) is equal parts meaty and fatty, and is seasoned simply, with a soy-sauce and star-anise blend that perfectly complements the duck's natural flavors. Their Soy Chicken (P420) is another must-try. Not only is the meat tender, it also comes with a unique soy and scallion sauce.
ADVERTISEMENT - CONTINUE READING BELOW
Wai Ying is at 810 Benavidez Street, Binondo, Manila City.
Eat Fresh
With their wide menu of skewers, noodles, and claypot rice among others, Eat Fresh will quickly remind you of street-food stalls in Causeway Bay. While regulars swear by their Laksa (P275) and Beef Brisket (P165), their Hong Kong-style roasts are also worth a try. You can opt to get Soy Chicken, White Chicken, Lechon Macau or Asado with either rice (P160) or braised noodles (P170). Their Roast Duck is a little bit pricier (P220/rice, P230/noodles), but you can choose to combine it with other roast meats to get the most out of your buck.
ADVERTISEMENT - CONTINUE READING BELOW
See a list of Eat Fresh branches.
Mala Tang
This tiny hole-in-the-wall in Greenhills may not be on most people's radars, but their Lechon Macau (P350/small, P700/medium, P1050/large) always sells out. That's thanks to its crispy skin and fork-tender meat. While the pork is good enough on its own, you can opt to dip it in hoisin sauce for some sweetness or mustard for a spicy kick. Mala Tang also offers Roast Duck (P480/one-fourth kilo, P900/half kilo, P1800/whole), White Chicken (P320/one-fourth kilo, P600/half kilo, P1200/whole), Soy Chicken (P320/one-fourth kilo, P600/half kilo, P1200/whole) and even Hong Kong-style Fried Chicken (P600/half kilo, P1200/whole). They're also open until late at night, perfect for those midnight barbecue cravings.
ADVERTISEMENT - CONTINUE READING BELOW
Mala Tang is at 207 A. Mabini Street, San Juan City.
Kam's Roast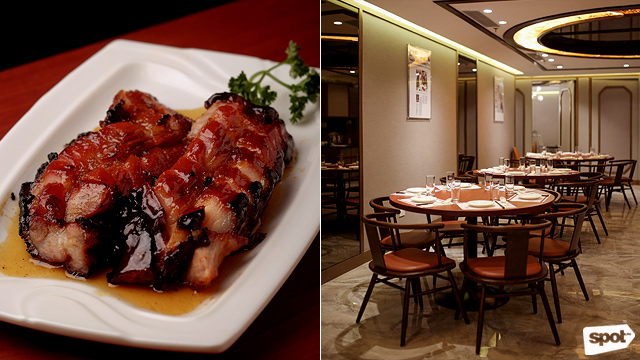 While this Michelin-starred restaurant may be best known for their roast duck, which is slathered with a unique peanut-based sauce, their take on pork is also worth the queue. There are three kinds of roast pork to choose from: The generously marbled Regular Char Siu (P600), the smoky Toro Char Siu (P700), and the incredibly crispy Roast Pork (P700). If you're dining solo, you can opt for the Toppings, which lets you combine your choices of roast meat on top of fluffy rice or noodles (though it's only available at certain hours of the day).
ADVERTISEMENT - CONTINUE READING BELOW
Kam's Roast is at 3/F SM Mega Fashion Hall, Ortigas, Mandaluyong City.
Share this story with your friends!
---
Help us make Spot.ph better!
Take the short survey
More Videos You Can Watch
Load More Stories