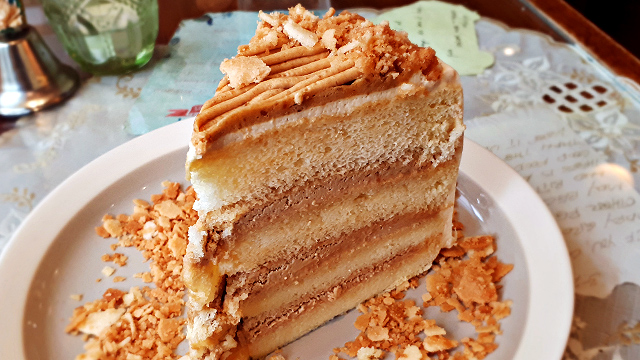 (SPOT.ph) While chocolate cakes are often the go-to dessert for a perfect ending to any meal, caramel cakes are reserved for special occasions like birthdays and anniversaries. They may not be as common as their ubiquitous chocolate counterparts, but we managed to round up 10 of the best in the Metro worthy of being part of any celebration. For this list, we judged the cakes based on their overall taste, sweetness, caramel flavor, texture, and value for money.
ADVERTISEMENT - CONTINUE READING BELOW
All SPOT.ph Top 10 lists are researched, paid for, tested, and selected by the writers and editors. They are discreetly conducted without any notice made to the restaurants or their owners.
Below are the 10 caramel cakes in Manila that made it to our can't-miss list:
10. Caramel Crunch from Kumori (P115/slice)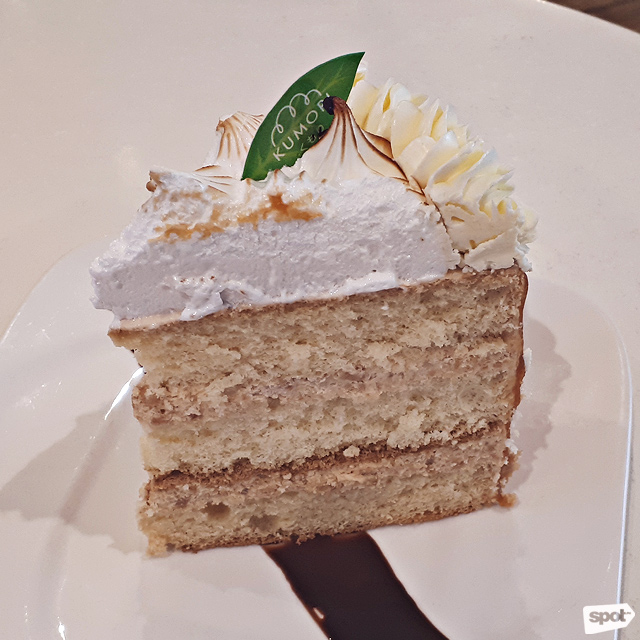 Kumori may be more famous for its cheese tarts, but its Caramel Crunch is also worth a try. The complicated plating (which includes a rich chocolate smear) may intimidate you, but this treat actually keeps its flavors no-frills and down-to-earth. The cake is low on the sweet side, but the caramel icing gives it a slight sugary boost. It lives up to its name though, giving dessert lovers a moist mouthful of cake with a bit of crunch in every bite.
See a list of Kumori branches.
9. Caramel Vanilla Cake from Mary Grace Café (P180/slice)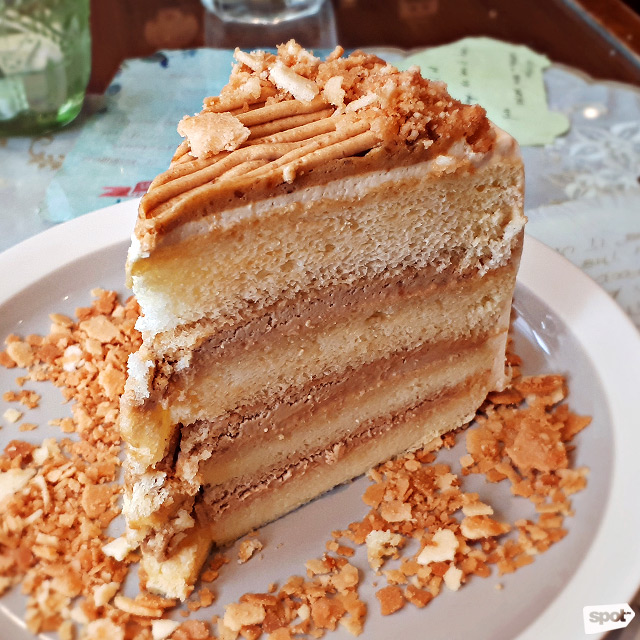 ADVERTISEMENT - CONTINUE READING BELOW
Those who prefer their cakes to be easy on the sugar should visit Mary Grace Café. Its thick layers of dense chiffon cakes and homemade caramel are more than enough to make your mouth water. For a caramel cake, it's surprisingly not too sweet. The smooth vanilla-bean frosting and caramelized flakes add an interesting variety in texture that's usually not found in most caramel cakes.
See a list of Mary Grace Café branches.
8. Caramel Butter Cake from Mom & Tina's Bakery Cafe (P650/cake)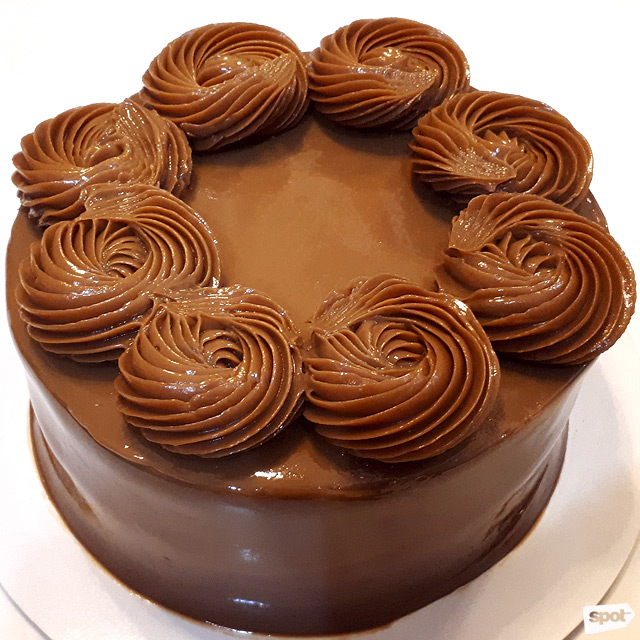 ADVERTISEMENT - CONTINUE READING BELOW
If your sweet tooth is insatiable, Mom & Tina's Caramel Butter Cake is a definite must-try. It's topped with smooth caramel icing that peaks in perfect swirls at the edge. When sliced, the cake gives way to crumbly, buttery layers of cake. It has an almost yema-like taste, making it ideal with a cup of tea or coffee. You might find it difficult to finish a whole cake though, so bring some friends with you.
See a list of Mom & Tina's Bakery Cafe's branches.
7. Caramel Cake from Becky's Kitchen (P80/slice)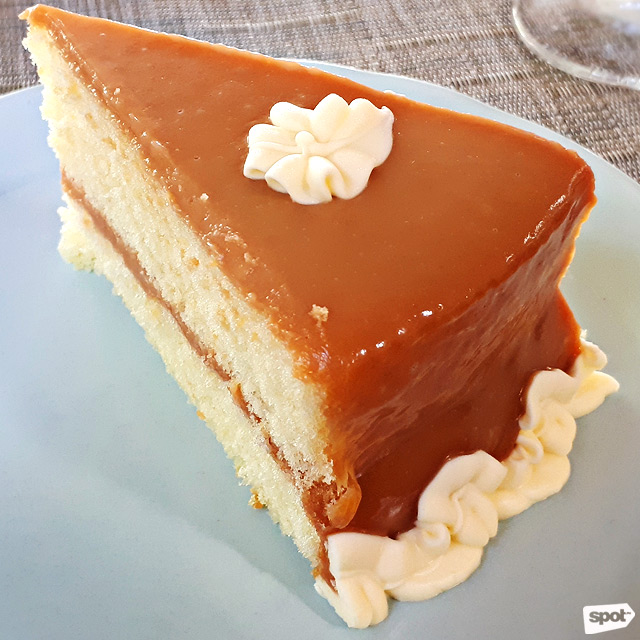 ADVERTISEMENT - CONTINUE READING BELOW
The cakes at Becky's Kitchen are simple but charming—getting that first bite of thick caramel icing feels like coming home. The almost syrupy caramel icing is flavored just right (don't forget to lick your fork!), delicately wrapping around the sponge cake. The cake itself is light and has just the right amount of butteriness. Even the restaurant feels and looks homey. It's almost like you can whip it up yourself at home, but why would you go through all the fuss when you can just get a slice or a whole cake at Becky's Kitchen?
Becky's Kitchen has branches at 1061 Pablo Ocampo Street corner Bautista Street, Malate, Manila and Community Center, Suha Street, Valle Verde 1, Ugong, Pasig City.
6. Caramel Cake from Kookie Korner (P265/mini-cake)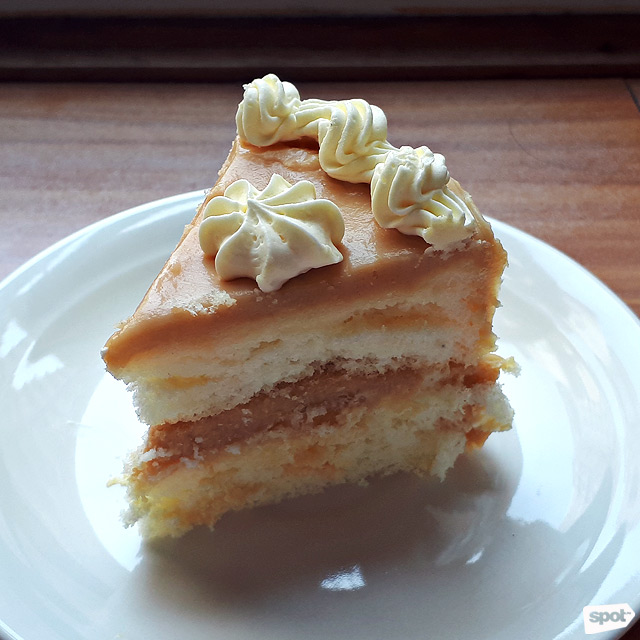 ADVERTISEMENT - CONTINUE READING BELOW
If you've always found that one slice of cake isn't nearly enough but are too ashamed to order an entire cake for yourself, this mini caramel cake may be the perfect one for you. The whole cake is dense and solid, but slice it and you'll see pockets of air that make the layers a bit uneven. The addictive caramel icing envelops the crumbly and dense vanilla cake just right, making it a steal at P265. It also comes in a sturdy carrying case, and since it can last up to five days in the fridge, you don't need to worry about eating it all in one go.
Kookie Korner has branches at L/G Shangri-La Plaza, Mandaluyong City and Unimart Greenhills, San Juan City.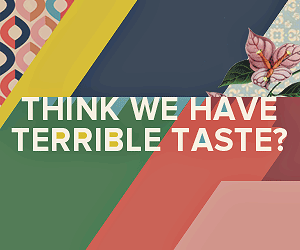 5. Caramel Roll Cake from Bizu Patisserie (P395/roll)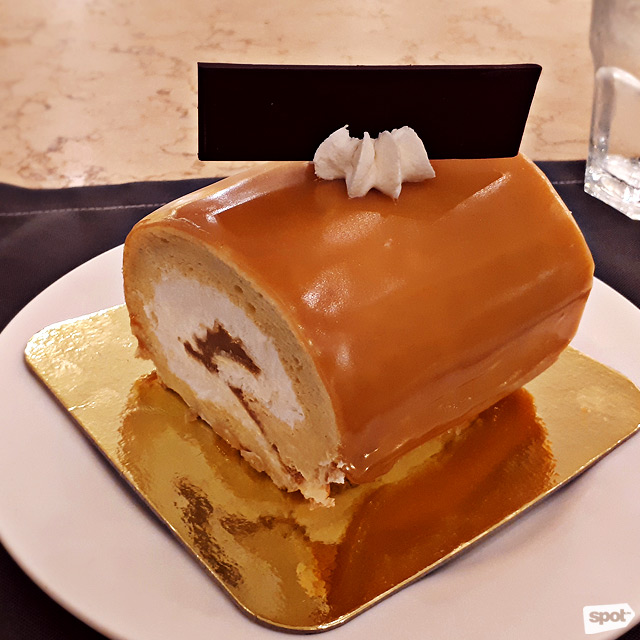 ADVERTISEMENT - CONTINUE READING BELOW
Yes, we know a roll that serves just one may be a bit expensive at almost P400, but hear us out: With a moist Japanese sponge cake, a silky caramel glaze, and chantilly cream, Bizu's Caramel Roll Cake is worth the splurge. It's dense enough to fill you up, but the smooth and creamy center (with more caramel!) will keep you coming back for more until it's all gone. And if you're a chocolate lover, the chocolate strip at the top adds an even more indulgent touch.
See a list of Bizu Patisserie branches.
4. Salted Caramel Cake from Conti's Bakeshop and Restaurant(P145/slice)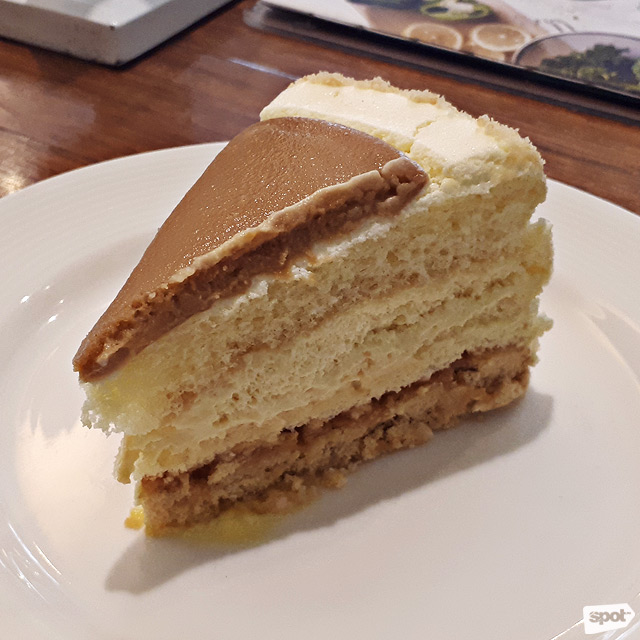 ADVERTISEMENT - CONTINUE READING BELOW
Conti's Salted Caramel Cake is an underrated mishmash of textures. The cake is made up of salted caramel, butterscotch brownies, dulce custard, and a dusting of ground cookies, a combination which gives you crisp yet creamy bites. Don't let that mix intimidate you though—under all of that is a fluffy vanilla sponge cake which complements the caramel perfectly. It might look heavy, but this dessert is wonderfully light, so you won't feel too guilty eating more than one slice. Best eaten when it's slightly chilled.
See a list of Conti's Bakeshop and Restaurant's branches.
3. Caramel Cake from Buttery & Co (P85/slice)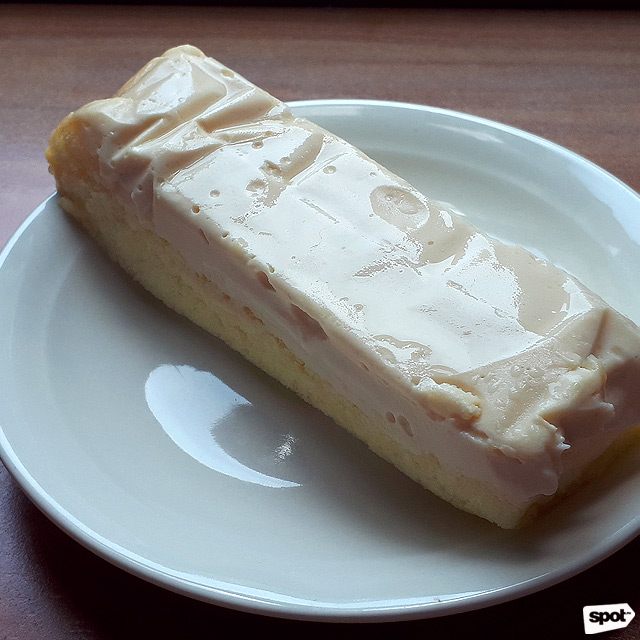 ADVERTISEMENT - CONTINUE READING BELOW
Buttery & Co's Caramel Cake is deceptively simple, but don't let its look and cheap price tag fool you. This one-layer cake may look underwhelming at first glance, but what it lacks in aesthetics, it more than makes up for when it comes to taste and texture. The soft and fluffy cake is topped with a glossy icing that tastes of a mixture of vanilla, butter, and caramel. Even so, you could still taste the caramel. The other ingredients lend creaminess that tempers the cake's sweetness. If anything, its simplicity is also an advantage: you can just pick a slice by the hand and eat it as is—no knives and forks needed!
Buttery & Co has branches in SM North EDSA and SM Megamall.
2. Caramel Cake from Estrel's (starts at P700/cake)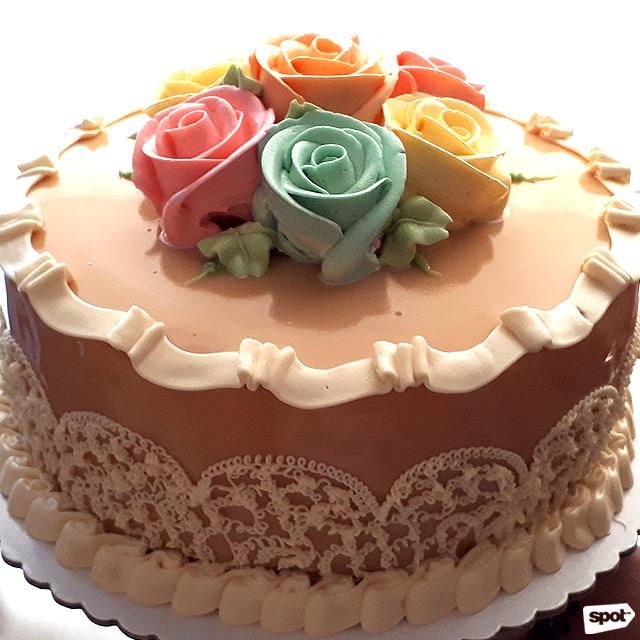 ADVERTISEMENT - CONTINUE READING BELOW
Estrel's has been churning out delicious cakes since 1946, and with their caramel cakes, it's no surprise they've been around for over 70 years. Each cake is beautifully decorated with delicate pastel buttercream flowers—it's almost a shame to put a knife or fork through the towering cake. But you'll be glad when you do, as the light sponge cake and the rich and velvety caramel icing will explode with caramel goodness in your mouth. Every luscious bite is rich with caramel, but also unbelievably light. Each box comes with a recommendation that it be finished on the same day it's picked up, but we can't imagine anyone having the restraint to save a slice for the next day.
Estrel's Caramel Cakes is at 54 Scout Tobias Street corner Scout Limbaga Street, Quezon City.
1. Caramel Cake from Pasteleria Costa Brava (starts at P650/cake)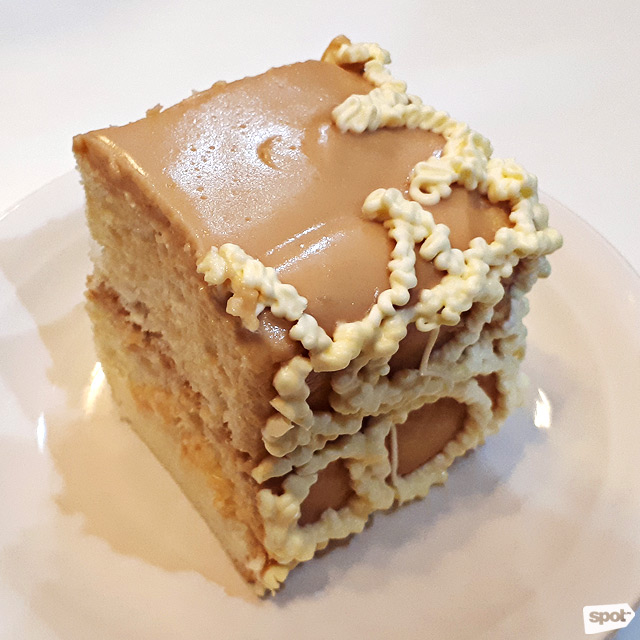 ADVERTISEMENT - CONTINUE READING BELOW

If there ever was a cake that you shouldn't feel guilty about not sharing, this is it. Costa Brava takes the top spot because it has the right balance of everything: The cake is delicately fluffy and the caramel icing is decadent, sweet, and creamy. The decorations may not be as polished nor intricate as other cakes, but it has its own charm. The caramel flavor manages to be the perfect balance between indulgently bold but not overpowering— perfect for both sweets lovers and not-so-diehard dessert fans. What puts it narrowly but clearly ahead of its competition is its ratio of cake to icing—there's just enough of both in every bite. It's a good thing you have to order these cakes whole, because we can guarantee that one slice would not be enough.
Pasteleria Costa Brava is at 12 Polaris Street, Bel-Air 1, Makati City.
Share this story with your friends!
---
Help us make Spot.ph better!
Take the short survey
More Videos You Can Watch
Load More Stories