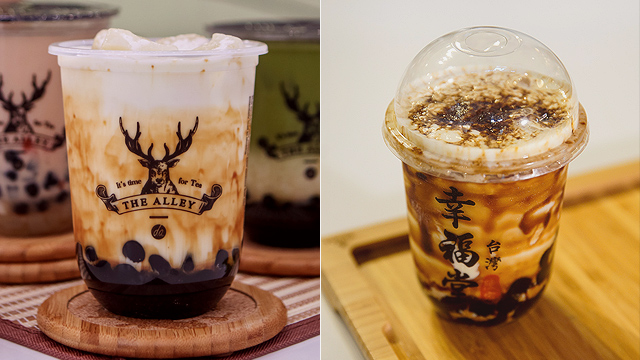 (SPOT.ph) One of 2019's biggest trends is definitely brown sugar milk. Surprisingly, though a lot of milk-tea chains offer the drink, it actually doesn't contain any tea. Instead, the indulgent, dessert-like beverage has a base of fresh milk, brown-sugar syrup, and pearls that are usually also cooked in syrup. Popular in Taiwan, brown sugar milk has also taken Manila by storm, and we're sure you're probably confused with all the options you can now get. We make things easier by ranking what's currently available on the market based on the richness of the milk, the toasty caramel sweetness of the brown-sugar syrup, the taste and texture of the boba, and overall flavor.  
ADVERTISEMENT - CONTINUE READING BELOW
All SPOT.ph Top 10 lists are researched, paid for, tested, and selected by the writers and editors. They are discreetly conducted without any notice made to the establishments or their owners.
Here are the top brown sugar milk drinks in Manila:
10. Brown Sugar Fresh Milk from Serenitea (P180)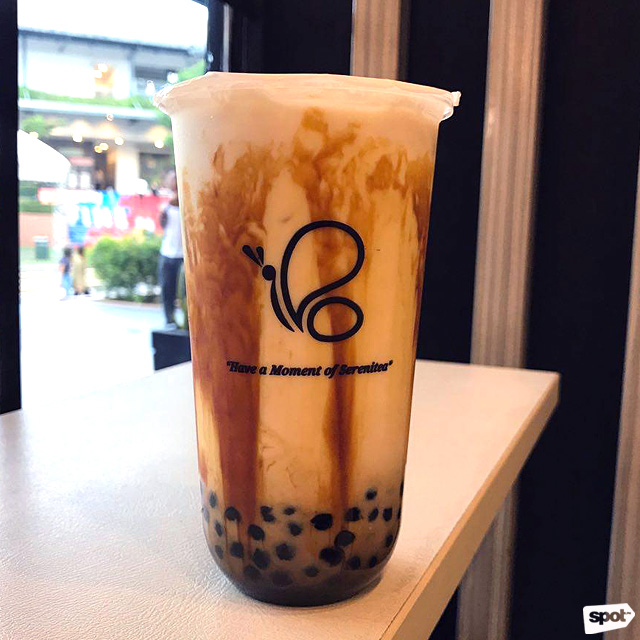 Serenitea made a lot of buzz in September 2018 when they launched their Brown Sugar Series, made in collaboration with Holly's Milk. There are four drinks in the lineup—including one made with chilled taho—but for this list, we settled on the most "basic" one, which is the Brown Sugar Fresh Milk. From the first sip, you immediately get the strong, almost-saccharine flavor of toasted caramel from the brown-sugar syrup, and among the drinks on this list, this one will remind you the most of arnibal. Sadly, the pearls themselves don't have any of this brown-sugar taste, so be sure to stir your drink well to get this sweetness all throughout.
See a list of Serenitea branches.
9. Marble Pearl Fresh Milk from Chatime (P110)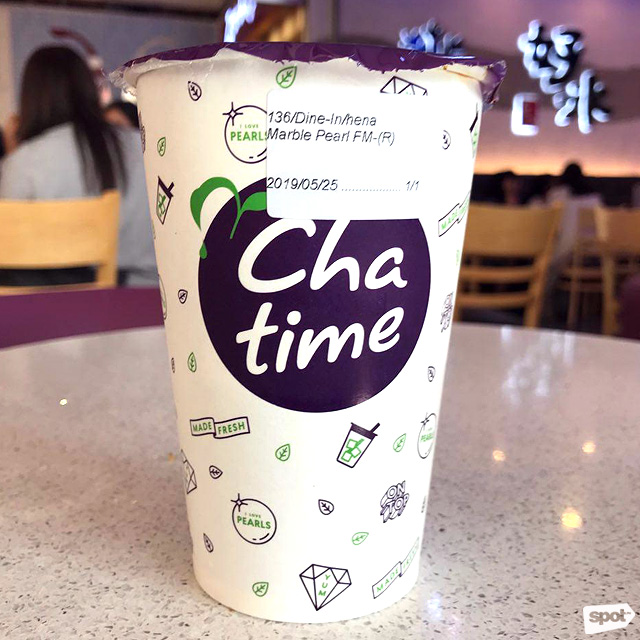 ADVERTISEMENT - CONTINUE READING BELOW
Chatime also tries their hand at the brown-sugar craze with their Marble Series. If you simply want brown sugar milk, have the Marble Pearl Fresh Milk. Chatime's version is also strongly reminiscent of arnibal—a flavor that extends to the chewy-yet-tender pearls. The milk itself isn't too thick and rich, but it's creamy enough and has that distinctive fresh-milk taste. Overall, this is a good option if you can't stand the queues at Chatime's buzzier counterparts.
See a list of Chatime branches.
8. Milk Tiger from Happy Lemon (P109/large; P119/jumbo)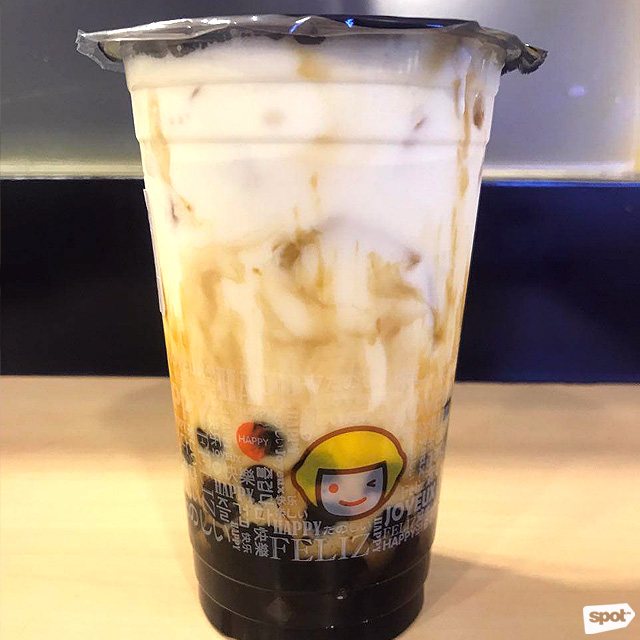 ADVERTISEMENT - CONTINUE READING BELOW
Happy Lemon is best known for their Rock Salt and Cheese, so it's no surprise that their version has a generous layer of cream. The RSC, as it's sometimes called, adds a nice, salty note to the sweet brown-sugar syrup, helping the drink not cross onto saccharine territory. Give your cup a shake to help the cream make the rest of the milky drink extra richer. Sadly, Happy Lemon falls flat on the pearls, which taste mushy and slightly bland compared to the stronger, tastier components of the rest of the drink.
See a list of Happy Lemon branches.
7. Golden Sugar Bubble Drink from Oh My Tea (P115/M; P125/XL)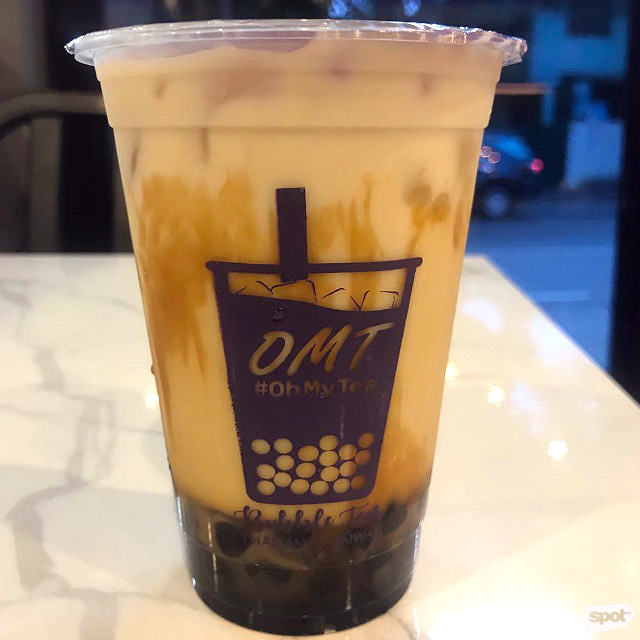 ADVERTISEMENT - CONTINUE READING BELOW
Maginhawa folks are lucky that Oh My Tea is around and open until 11 p.m., so you can satisfy your brown-sugar cravings anytime. Their Golden Sugar Bubble Drink has brown-sugar syrup that hits you immediately with its caramel sweetness but mellows out as you stir it in your milky drink. The best way to describe Oh My Tea's version is "just right:" Just the right balance between sweetness and creaminess to create a drink that's pretty refreshing. If you're looking for something with more oomph, especially in the pearls, you might want to look somewhere else.
Oh My Tea is at 111 Maginhawa Street, Teachers Village, Quezon City.
6. Brown Sugar Pearl Milk from YiFang Taiwan Fruit Tea (P120/medium; P140/large)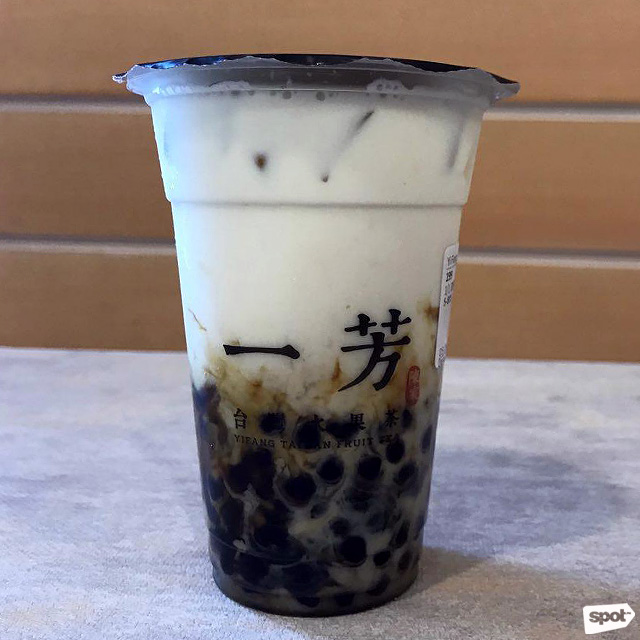 ADVERTISEMENT - CONTINUE READING BELOW
As one of the first in Manila to offer them, YiFang Taiwan Fruit Tea instantly became popular for their Brown Sugar Pearl drinks. YiFang's Brown Sugar Pearl Milk stands out because of their brown-sugar pearls, which are sweet and soft to the point of syrupy. It's easy to see why their pearls have quite the following from the first sip. There's a lot, too—It's almost impossible to get a sip without the boba. A good thing, as the milk itself gets almost all of its flavor from the pearls, so pace your sips accordingly.
See a list of YiFang Taiwan Fruit Tea branches.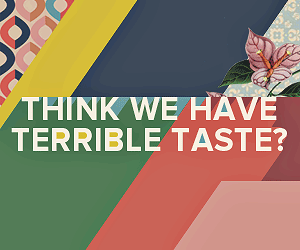 5. Brown Sugar Latte from Black Scoop Café (P110)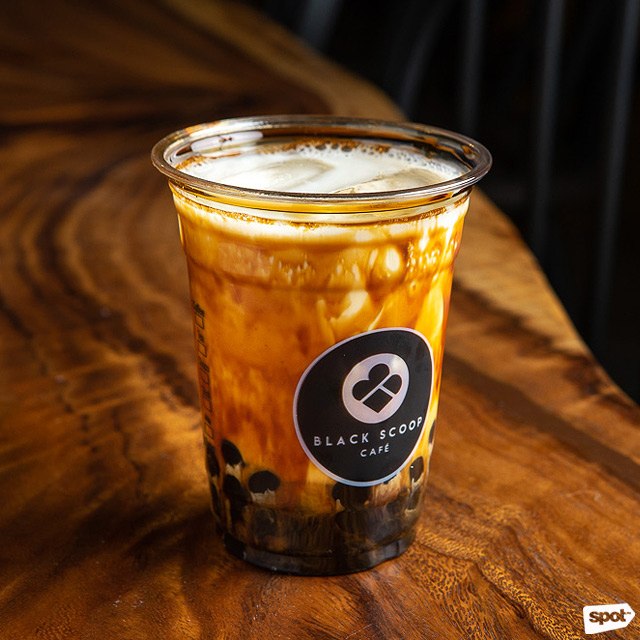 ADVERTISEMENT - CONTINUE READING BELOW
Aside from their fun soft-serve flavors inspired by some of your favorite snacks, Black Scoop Café also became buzzy for their Brown Sugar Latte, which always looked picture-perfect online. We're happy to note that the photos don't lie—the drink comes with generous stripes of brown sugar syrup. The caramel flavor is strong upon first sip, and while it becomes milder as it gets dissolved in the milk, the sweetness remains until the very last drop. The boba, too, is sweet and chewy. On your next visit, you might end up skipping the soft serve for this treat.
See a list of Black Scoop Café branches.
4. Brown Sugar Boba Milk With Cream Mousse from Tiger Sugar (P120)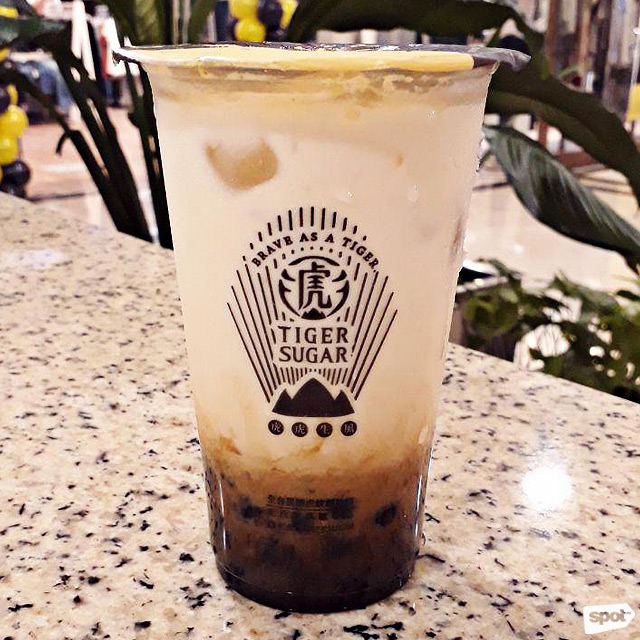 ADVERTISEMENT - CONTINUE READING BELOW
Even when they have opened their first branch in December, Tiger Sugar still managed to be the one of the biggest hits of 2018. We know what you've been thinking since you started reading this: Is Tiger Sugar worth the hype? We can say that Tiger Sugar has the formula for a great brown-sugar drink down pat. The base is creamy and milky, with the cream mousse making this one of the richer drinks on this list. Their boba are soft to the point of velvety but they still have a great chew to them, plus an addictive caramel sweetness. This toasted-caramel flavor extends to the rest of the drink—you'll finish it before you know it. Perhaps it is also hype that worked against Tiger Sugar—we admit that we expected more. Though if you have lots of time to kill, we won't talk you out of lining up at this milk-tea shop.
ADVERTISEMENT - CONTINUE READING BELOW
See a list of Tiger Sugar branches.
3. Brown Sugar Pearl with Milk from Chachago (P130)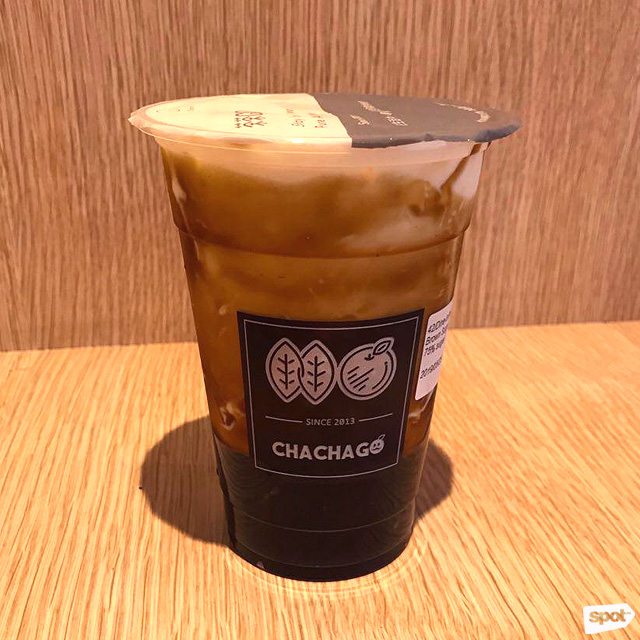 Though not as popular as the other, bigger chains in the Metro, Chachago is a surprise entry into our top five. Their Brown Sugar Pearl with Milk is thick and creamy, with that distinctive fresh-milk flavor, and its syrup has a toasty sweetness to it without crossing over to the overpowering flavor of arnibal and makes this drink extra rich. The brown-sugar pearls also have this sweet flavor, and a delightful chew to them, too. Chachago lets you adjust the sweetness level of your drink—get 50% or below to fully appreciate its caramel flavor.
ADVERTISEMENT - CONTINUE READING BELOW
See a list of Chachago branches.
2. Brown Sugar Deerioca Creme Brulee Milk from The Alley (P130)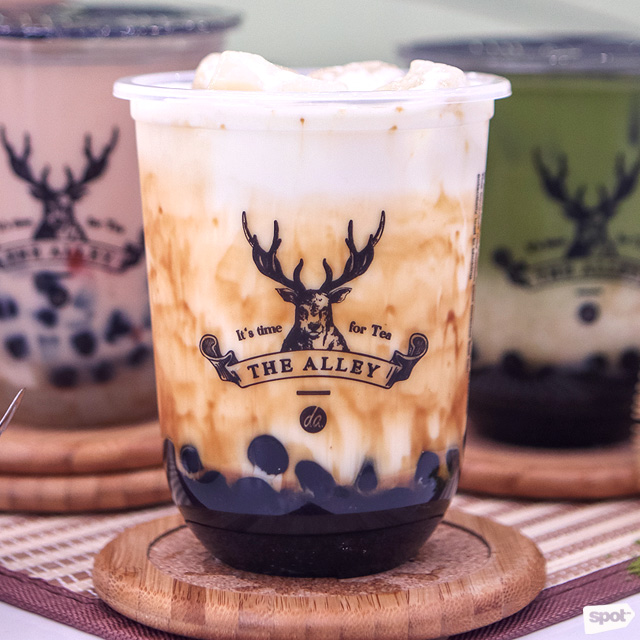 One of the newest entries in the milk-tea scene, The Alley from Taiwan is also one of the most highly anticipated by brown-sugar milk fans who've had the drink on trips abroad. Their Brown Sugar Deerioca Creme Brulee Milk proves that The Alley is more than worth the wait. The Alley recommends you sip your drink without stirring it to get the full spectrum of flavor: A rich creaminess from the creme-brûlée top then a burst of deep caramel flavor from the brown-sugar syrup. Their boba, too, is one of the best: Each pearl has a distinctive brown-sugar sweetness, plus a velvety softness that never turns to mush. If you prefer a milder flavor, The Alley suggests you stir your drink nine times: The strong sweetness of the caramel mellows out in the milk, making it a joy to drink.
ADVERTISEMENT - CONTINUE READING BELOW
The Alley is at G/F Main Mall Building, SM Mall of Asia, Pasay City.
1. Brown Sugar Boba Milk from Xing Fu Tang (P120)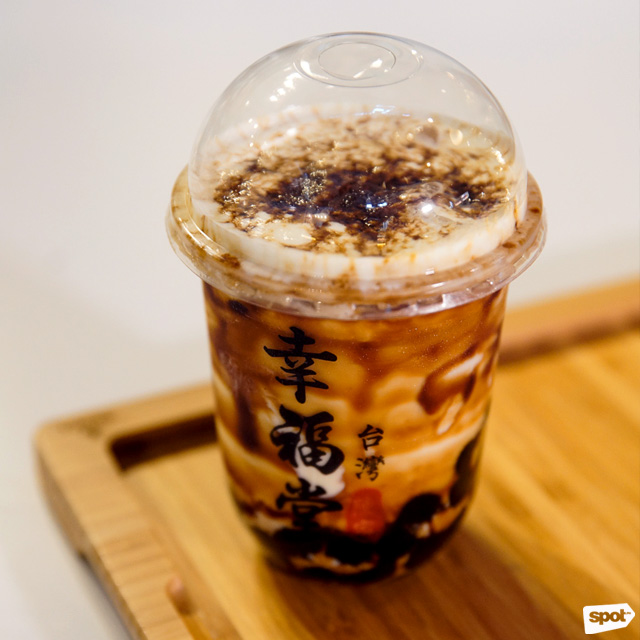 This milk-tea shop from Taiwan is one of the quieter openings this year, but you shouldn't sleep on Xing Fu Tang. For a truly luxurious brown-sugar drink, treat yourself to Xing Fu Tang's Brown Sugar Boba Milk. For one, they stir-fry their pearls in brown sugar to give them a deep, toasted sweetness and an almost melt-in-your-mouth silkiness. As if the combination of brown-sugar syrup, pearls, and rich fresh milk isn't enough, Xing Fu Tang also tops their drink with a thick layer of salty cream and brûléed brown sugar. Many versions of brown sugar milk come topped with cream, but it is here at Xing Fu Tang where it makes the most difference, with a sharp saltiness that adds depth to the sweet drink. Plus, the layer of toasted brown sugar on top adds enjoyable crunch. Whenever you're in need of an extra decadent drink, Xing Fu Tang's version will more than satisfy.
ADVERTISEMENT - CONTINUE READING BELOW
See a list of Xing Fu Tang branches.
Share this story with your friends!
---
Help us make Spot.ph better!
Take the short survey
More Videos You Can Watch
Load More Stories