Hard Rock Café 
Level 2, S Maison at Conrad Manila, Seaside Boulevard, Coral Way, Pasay City
Open from 11 a.m. to 12 a.m. (Sunday to Thursday) and 11 a.m. to 1 a.m. (Friday to Saturday)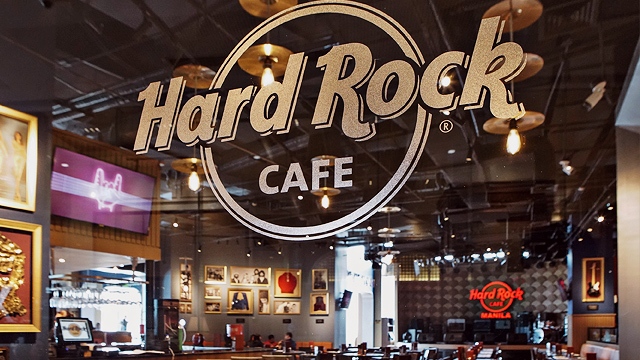 (SPOT.ph) More than a decade ago, Hard Rock Café in Makati was one of the few places where you could enjoy hamburgers and some mild headbanging at the same time. Back in the day, it was known as a weeknight hangout where you could catch awesome performances by the hottest rock bands. A couple of years ago they fizzled out, as some international franchises tend to do. But under new management and a swanky new location at S Maison, they are bound to rock your charts once again, and you'll find yourself secretly hoping that this resurrection of rock gives those same vibes.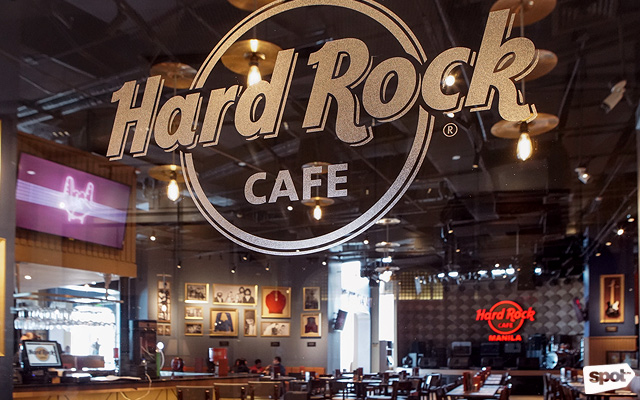 ADVERTISEMENT - CONTINUE READING BELOW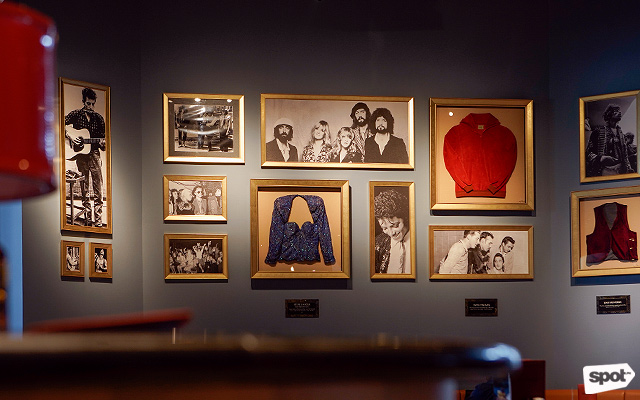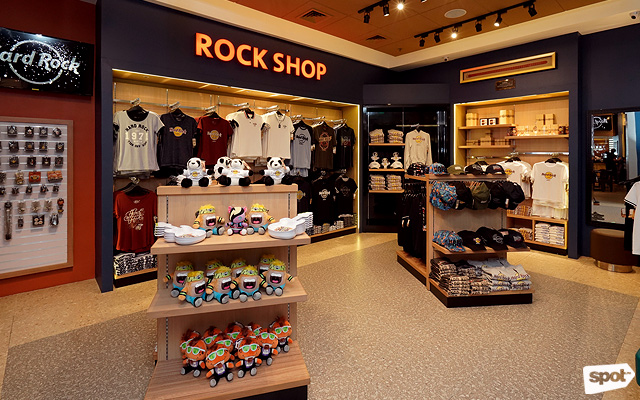 You'll first notice the bartending station and the shop once you enter, and we can't blame you if those adorable Hard Rock Café stuffed toys suddenly come to mind. Back then, the toy bears looked like they had joined the cutest biker gang there is, all dressed up in tiny leather jackets, with some—if our memory serves us right—even sporting a bandana and some sunglasses. The new café has some stuffed toys, but with an updated look. The shop is filled with a ton of items that collectors and casual customers will want to take a look at, from magnets, lighters, T-shirts, and apparel.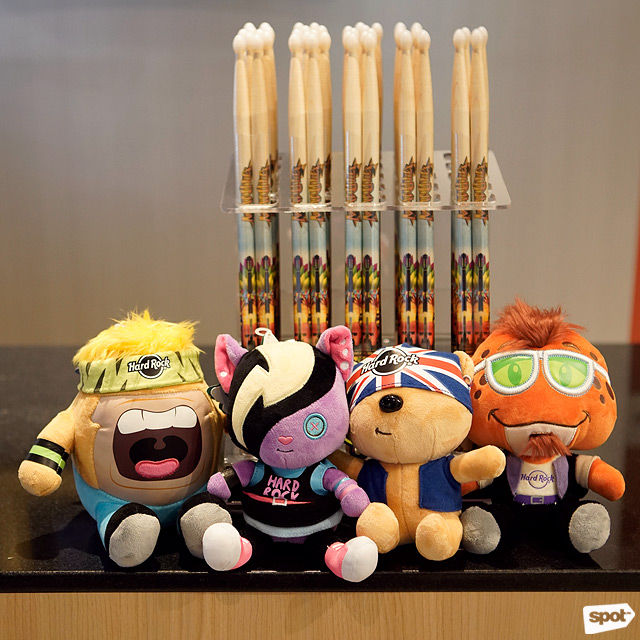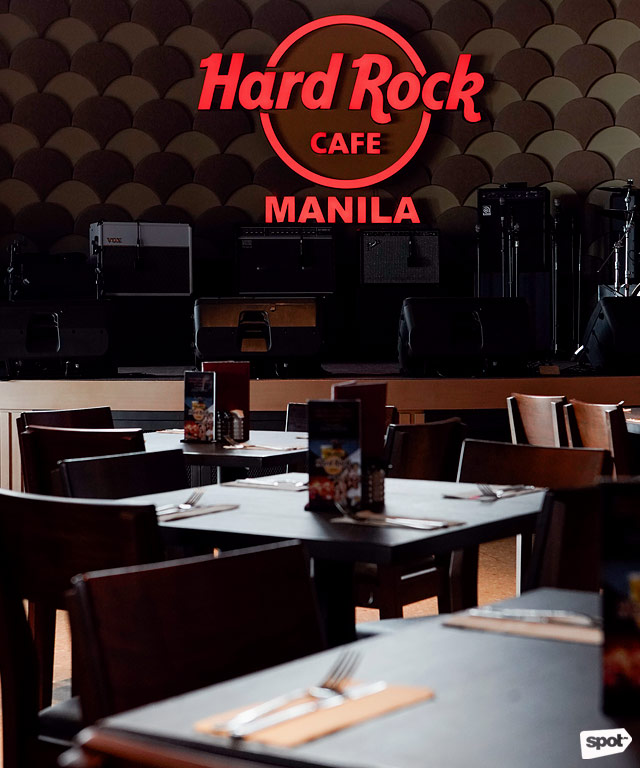 Brian Peck, General Manager and Director for Operations at Hard Rock Café takes us around the main hall, displaying a multitude of rock-and-roll memorabilia. You can spot animation cels of Pink Floyd by Gerald Scarfe, a soundwave piece by Time Wakefield from the Black Keys song "Just Got to Be," and even a pair of stylish shoes from Linkin Park. Peck explains that the displayed pieces rotate across the branches around the world, so expect to see more on display soon at the S Maison branch.
ADVERTISEMENT - CONTINUE READING BELOW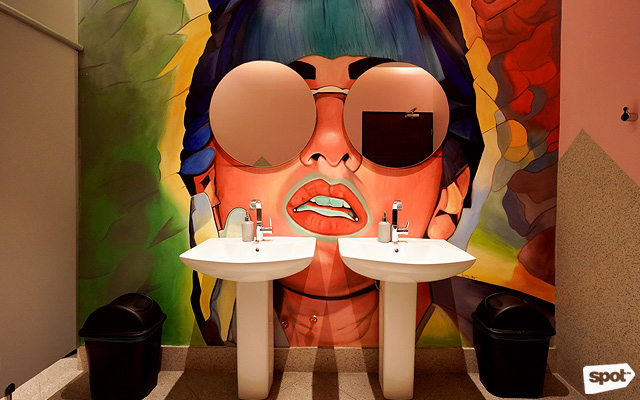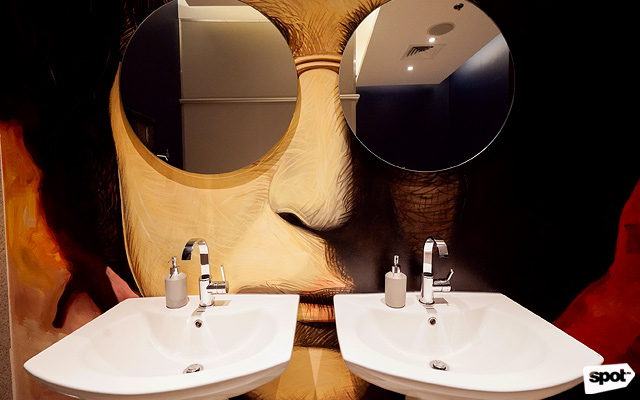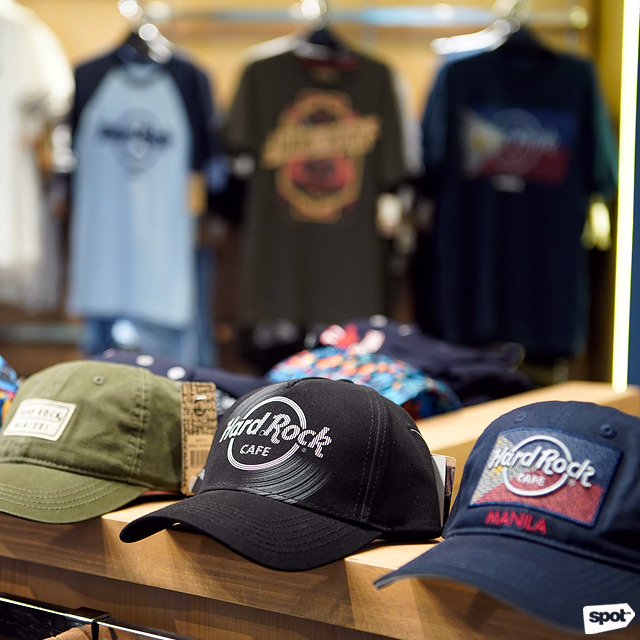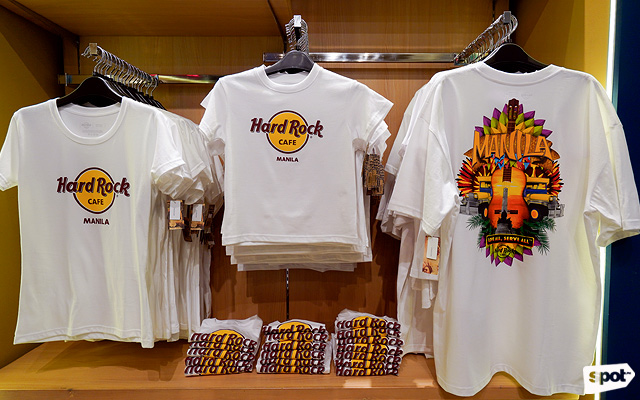 Peck describes their new spot as a booming and thriving area for Filipinos and foreigners alike. Its proximity to the airport and the convention area is key to bringing in guests who may want a good hot meal and a blazing rock song. And amidst the drum sets hanging from the ceiling in the back dining area, it seems that it's not just simply a venue for live performances, but also a family dining place, with a good number of people bringing in their kids for lunch at the time of our shoot.
ADVERTISEMENT - CONTINUE READING BELOW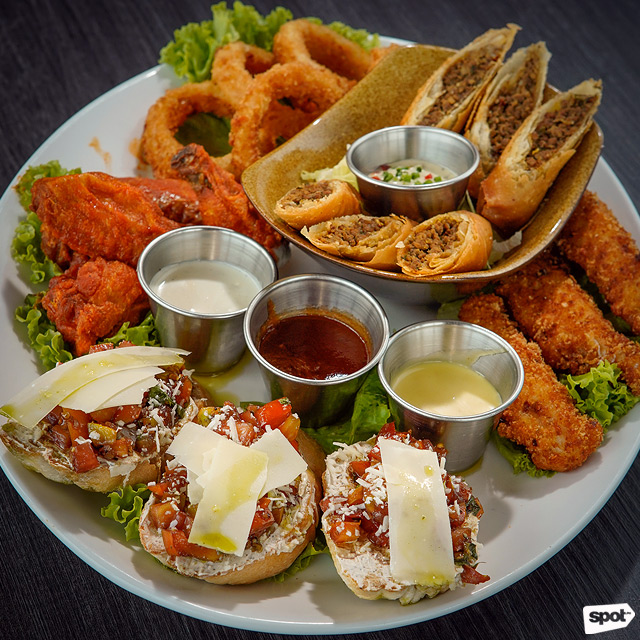 The items on the menu are meant for sharing, so best to bring your friends or family. The Jumbo Combo (P995) is a fair example of "Please don't eat this by yourself, for the love of god." For this appetizer, you've got their signature wings, onion rings, Tupelo chicken tenders, Asian spring rolls, and bruschetta served with homemade honey mustard, hickory barbecue, and blue cheese dressing.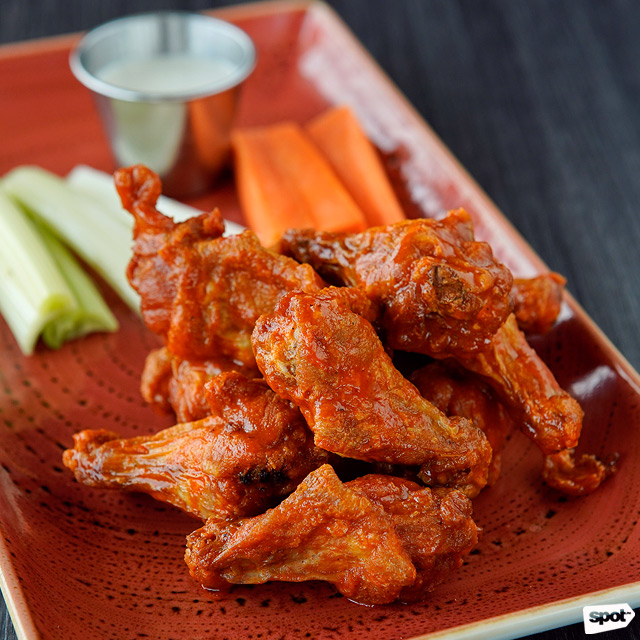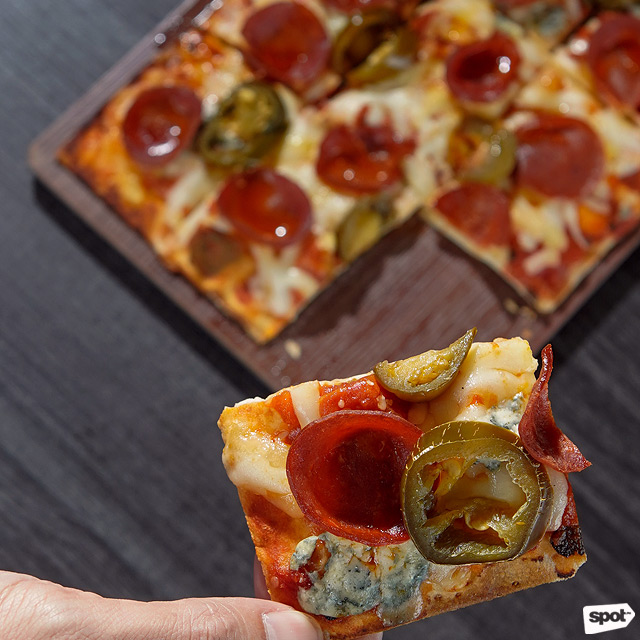 If you're not feeling like a Viking warrior and want to start small, the best option is to have some Rockin' Wings (P375/regular; P595/large). It's their take on the classic Buffalo-style jumbo wings coated with their signature smoked dry rub with bleu cheese, carrots, and celery sticks on the side. They have some heat on them, but we bet you'd have a couple more wings until your lips and throat cry bloody murder. Now if you want something less spicy but just as savory, go for the Pepperoni Flatbread (P325), a crispy flatbread topped with melted mozzarella cheese, pepperoni, jalapeños, and dried oregano. 
ADVERTISEMENT - CONTINUE READING BELOW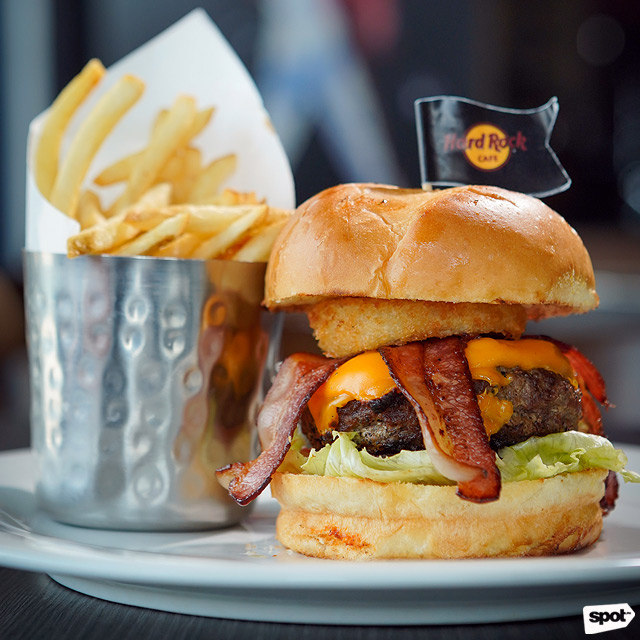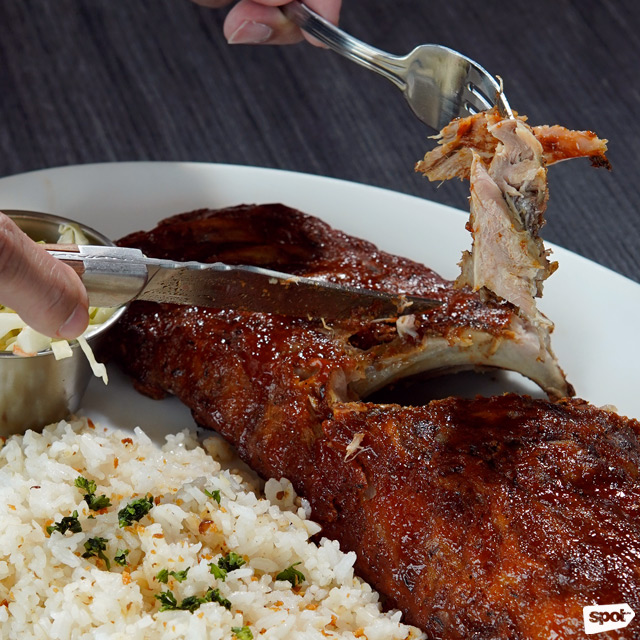 If you want to get straight to the meat of the matter, then you'll want to sink your teeth into the Original Legendary Burger (P595). According to the menu, it's the burger that started it all. Once you see this towering bun of beefiness topped with smoked bacon, melted American cheese, a fried onion ring, with some fresh crisp lettuce and vine-ripened tomatoes, you may end up scrambling with your companions for a bite. But if you're feeling generous enough to share, then you should get the Hickory-Smoked Ribs (P895/regular; P1,695/large). These tender BBQ pork ribs are rubbed with signature seasonings and basted with hickory barbecue sauce—it's tender, moist, and falls right off the bone.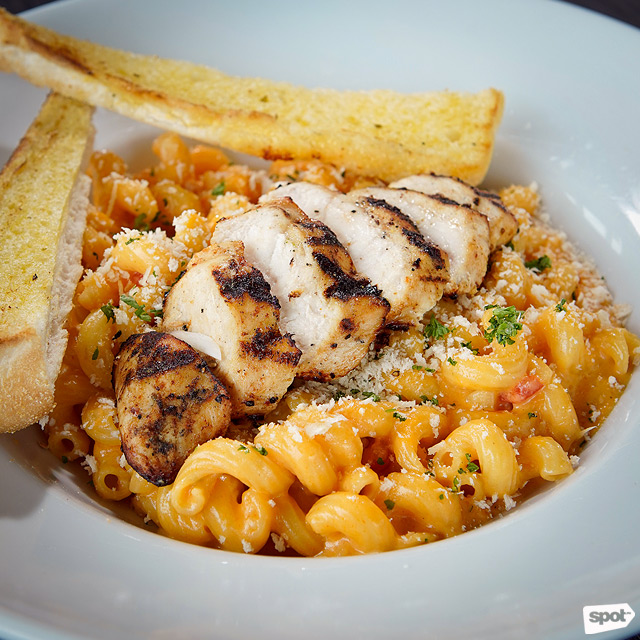 Need to carb up? The Hard Rock Café's Twisted Mac, Chicken & Cheese (P395/regular; P695/large) is what you need in your belly. The dish features Cavatappi macaroni tossed in a three-cheese sauce with roasted red peppers, Parmesan parsley bread crumbs, and slices of grilled chicken breast. 
ADVERTISEMENT - CONTINUE READING BELOW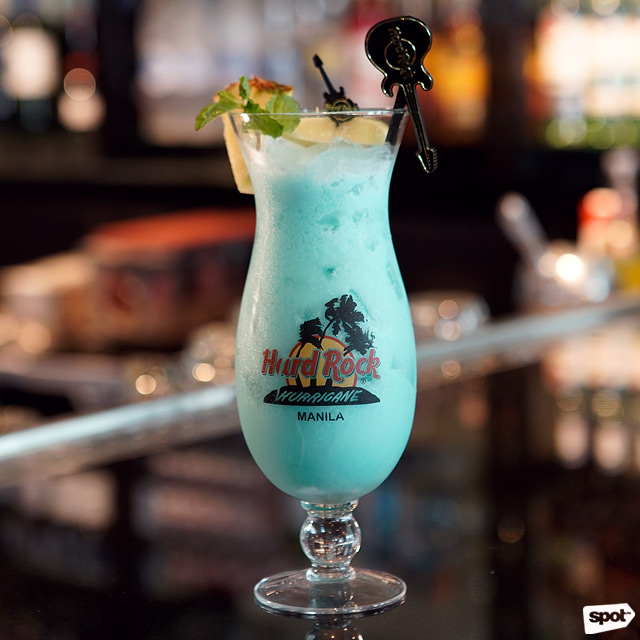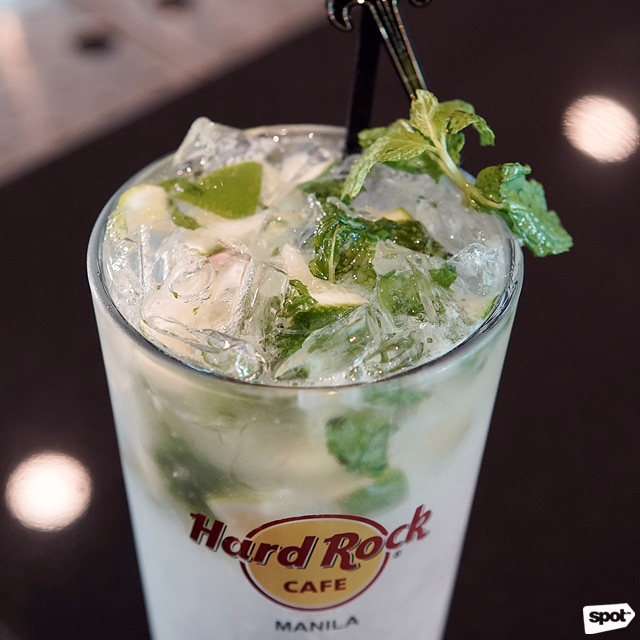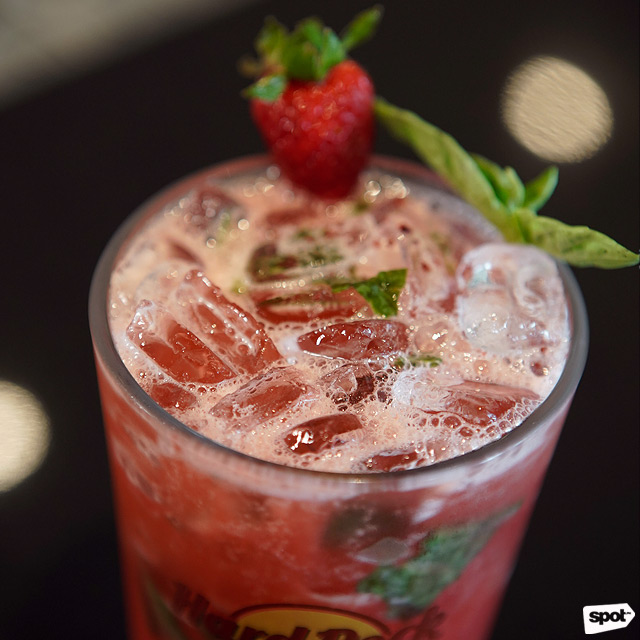 If it's a couple of drinks you need after work or you want to enjoy a cocktail, you can rely on the bartenders at Hard Rock Café to give you the drink you need. You can try one of their signature cocktails, the Big Kablue-na (P295), a Malibu Coconut Rum with blue curacao, piña colada, and lime juice. You can also cool yourself off with a Mojito Mojo (P295), which combines rum with fresh mint, lime, and Sprite. If you want something more festive and fun, there's the Margarita (P375), which they serve with Triple Platinum Margarita Jose Cuervo Gold, Cointreau Orange Liqueur and Grand Marnier. Need to stay sober? They've got you covered with their Alternative Rock (P285), with Monin Strawberry and basil together with lemonade. 
It's arguably not the same Hard Rock Café that we've all come to know in Makati. While the location may be a little further down south, it retains that rock joint feel that's surprisingly family-friendly, thanks to their good-for-sharing dishes. 
ADVERTISEMENT - CONTINUE READING BELOW
Photos by Ian Santos
Share this story with your friends!
---
Help us make Spot.ph better!
Take the short survey
More Videos You Can Watch
Load More Stories