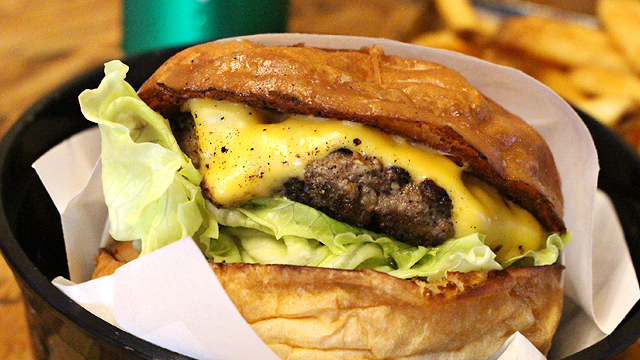 (SPOT.ph) Ah, the humble yet glorious cheeseburger. Not a day goes by without someone out there randomly wishing for one, and it's difficult to deny that the mere visual of a well-constructed burger can send us all straight to Crave Town.
But these days, almost everything is susceptible to getting overdressed and priced for hype, turning what should be a simple, comforting dining experience into a dent in your wallet. And we're with you, that simply isn't fair—so worry not! We've taken everything into consideration: buttery, soft buns, crisp, fresh vegetables, a juicy, beefy patty, the overall flavor of their sauce and cheese, and an X factor that keeps you munching until the last crumb.
ADVERTISEMENT - CONTINUE READING BELOW
All SPOT.ph Top 10 lists are researched, paid for, tested, and selected by the writers and editors. They are discreetly conducted without any notice made to the establishments or their owners.
Here are the 10 best cheeseburgers in Metro Manila right now:
10. Cheeseburger from Pink's Hot Dogs (P290)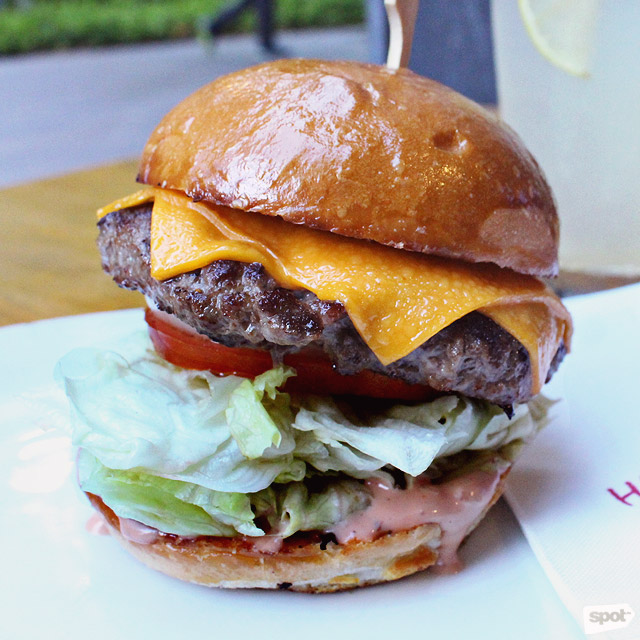 For some, having to practically unhinge your jaw to get a decent bite is part of the fun. Pink's quarter-pound creation features the tangiest secret sauce on this list (an important factor, don't think it isn't) and a buttery bun that, in spite of the sheer height of the sandwich, remains proportional to the thickness of the patty. And two beautifully wilted slices of good old American cheese? Yes, please.
Pink's Hot Dogs is at G/F Shangri-La at the Fort, Bonifacio Global City.
9. Cheeseburger from NoKal (P295)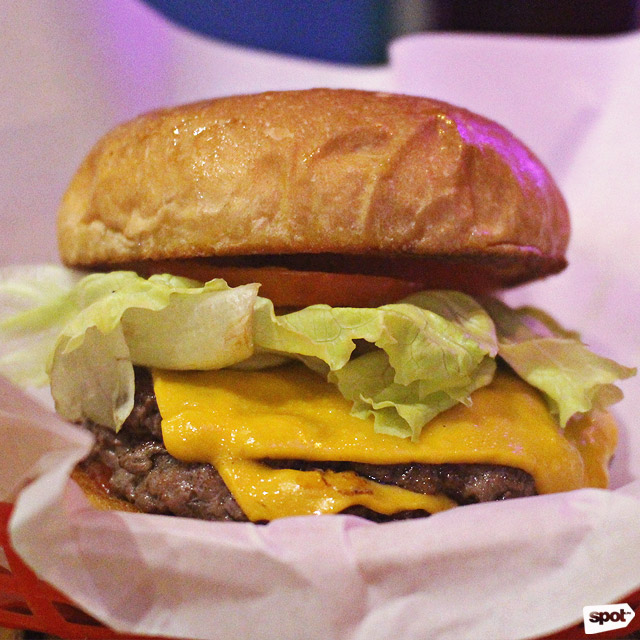 ADVERTISEMENT - CONTINUE READING BELOW
We're not asking you to schlep your butt over to Poblacion every time you crave a decent burger—unless you're insane. But this one from NoKal is, nonetheless, a very good burger if you're already in the area. The double-patty situation (and the location, probably) ups the price but it is the right amount of juiciness to justify it. The bread has just enough buttery-ness to it to add a sense of decadence to the whole affair.
NoKal is at 8464 Kalayaan Avenue, Poblacion, Makati City.
8. Grilled Bacon Cheezeburger from The Snack Shack (P130)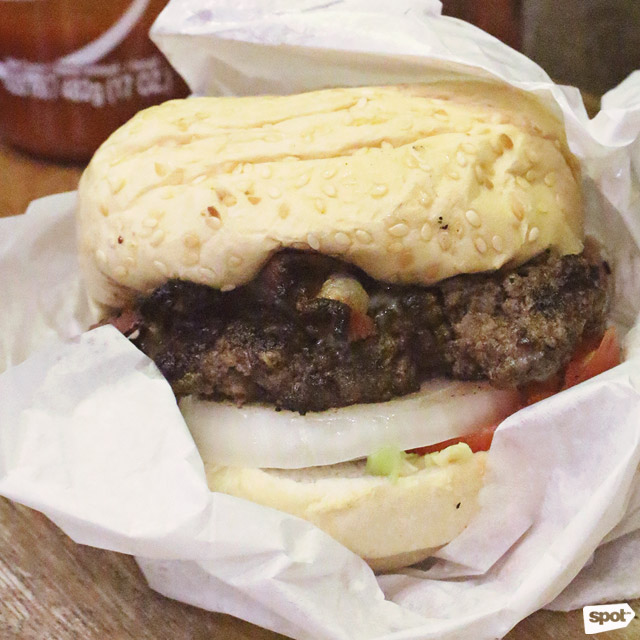 ADVERTISEMENT - CONTINUE READING BELOW
This street-side sweet spot has withstood the tests of time and inflation.  They've gotten by this long with very little sit-down space, and with good reason. We'd go so far as to say that the Grilled Bacon Cheezeburger might be the best thing on the menu, and here's why: The burger itself is perfectly succulent and smoky, while the bacon doesn't fight with you—in fact, it's like it lives in the patty, integrating flavors seamlessly without sliding out of the sandwich with every bite. At that price, we could cry tears of joy.
The Snack Shack has branches at J.P. Laurel, UP Diliman Area 2, Diliman, Quezon City; 109 V. Luna Avenue Extension, Sikatuna Village, Quezon City; and 32 Bayan-Bayanan Avenue, Concepcion Uno, Marikina City.
7. Brothers Burger with Cheese from Brothers Burger (P175 + P20 for sliced cheese)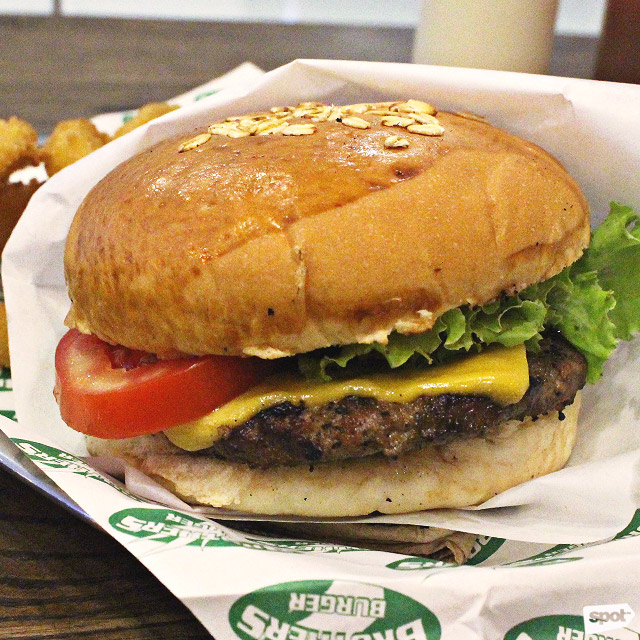 ADVERTISEMENT - CONTINUE READING BELOW
The word "basic" has had a bad reputation over recent years, but when we say this burger is basic, we mean it's the quintessential, no-frills kind. Everything is just right, from taste to size to juiciness of the patty—just enough without making a mess—to size. Overall, it's a great starting point for all burgers. This one's kind of proof that less can be more.
See a list of Brothers Burger branches.
6. Black Angus Cheeseburger from Charlie's Grind and Grill (P250)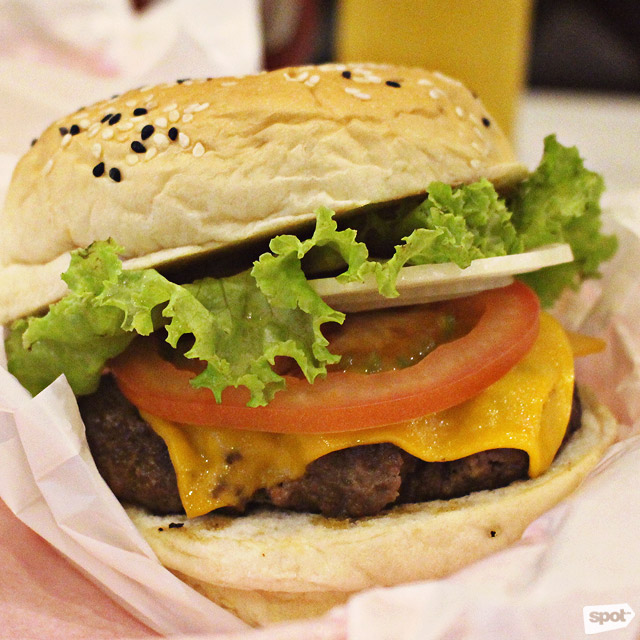 ADVERTISEMENT - CONTINUE READING BELOW
What started out as a sister shop to a carwash has blossomed into its own entity, with the excellent burgers at Charlie's now taking center stage. The smokiness of their Black Angus is more subtle than the others, but what really makes Charlie's stand out is that their burgers are unique to them, in that they're all the perfect vessels for their in-house sauces. Look at it this way: Some people crave burgers, but once you've had this one from Charlie's, you'll crave this burger specifically.
See a list of Charlie's Grind and Grill branches.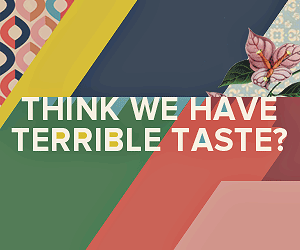 5. 1/3-lb Cheeseburger from Big Daddy's (P155)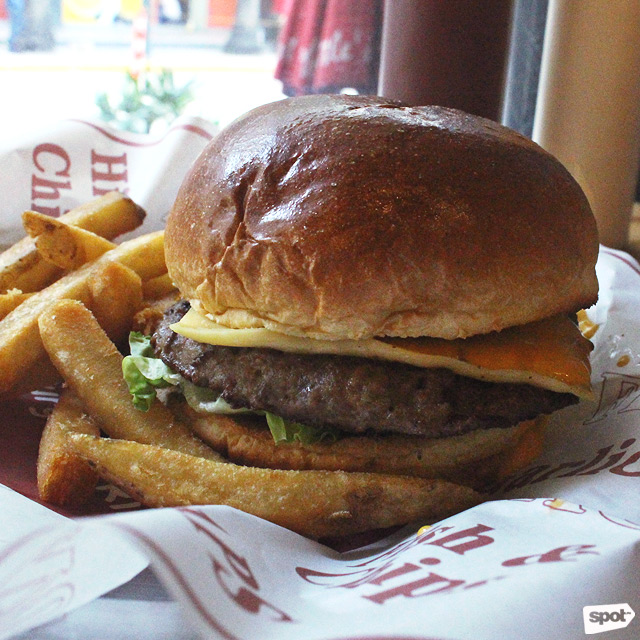 ADVERTISEMENT - CONTINUE READING BELOW
This one is similar to Charlie's—being several steps up from your beginner's burger—but that toasted bun gets serious plus points. And though the patty may not have the same je ne sais quoi as the last contender's, the double serving of cheese—in sauce and in slice—make it a winner. 
Big Daddy's has branches at Ortigas Park Lane, Sapphire Road, Ortigas, Pasig City; 121 Kalayaan Avenue, Diliman, Quezon City; Timog corner Mother Ignacia Avenue, South Triangle, Quezon City; and JB Tan Street, BF Resort, Talon, Las Piñas City.
4. Backyard Cheeseburger/Secret Menu Burger from Pound (P249)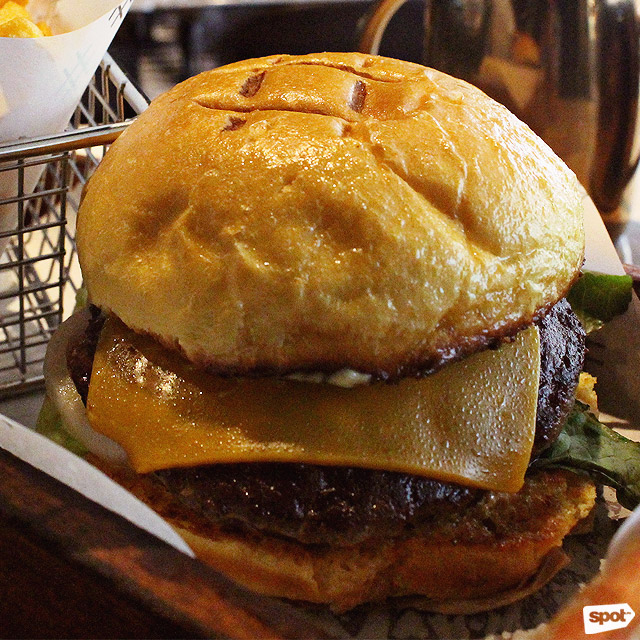 ADVERTISEMENT - CONTINUE READING BELOW
In spite of its moody atmosphere, Pound's menu tends to lean towards cure-for-a-bad-day territory, and for that, we are grateful. This burger is perfect for mopping up tears with its toasted, buttered bun and juicy beef patty—the juice even runs down into the bottom half of the bread! As if that weren't enough, this one comes with crunchy fries and a classic iced tea.
See a list of Pound branches.
3. Cheeseburger from 8 Cuts (P 195)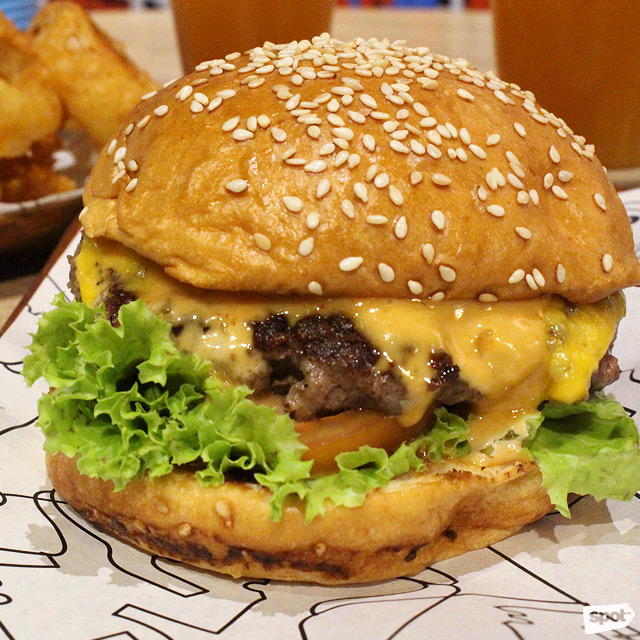 ADVERTISEMENT - CONTINUE READING BELOW
Just look at it. What a beauty. What an absolute unit. A classic sesame seed bun makes you think of all those cartoon burgers you wished you could eat through the television, and even that is only the vehicle for a near-flawless, deeply flavorful burger. The thing about an 8 Cuts patty is that it can stand perfectly fine on its own—but that doesn't stop them from draping on the extras. The cheese drips like lava, down the edifice of a patty, even gracing the lettuce below. There's just nothing missing from this masterpiece of meat, apart from the signature onion rings and, perhaps, an Arnold Palmer. But that's only us, and we're greedy.
See a list of 8 Cuts branches.
2. ShackBurger from Shake Shack (P250)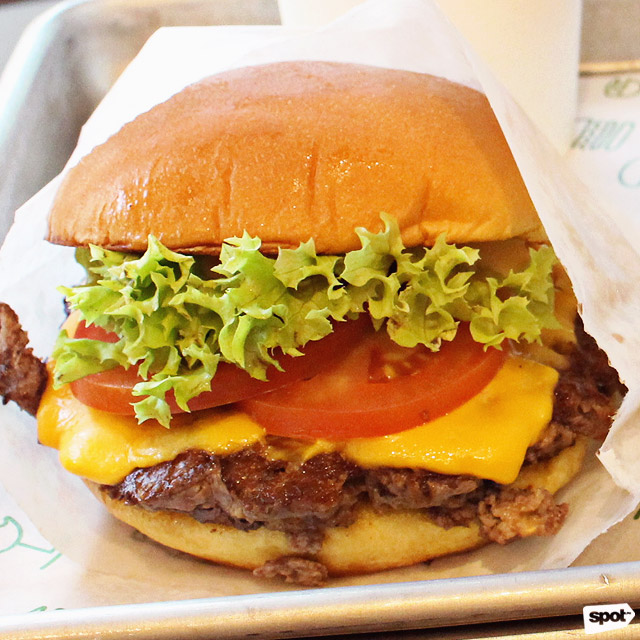 ADVERTISEMENT - CONTINUE READING BELOW
This seems to be yet another great example of the idea that less is more. The potato bun is top-notch, the meat itself is juicy but virtually mess-free, the veggies are fresh and crisp, and the secret sauce is a delightful little echo of tangy flavor rather than a show-stealer. Again, as we move further and further towards the top spot, the thought bears repeating: "Could this be the perfect burger?"
Shake Shack is at G/F Central Square, 5th Street, Bonifacio Global City.
1. Cheeseburger from Sweet Ecstasy (P240)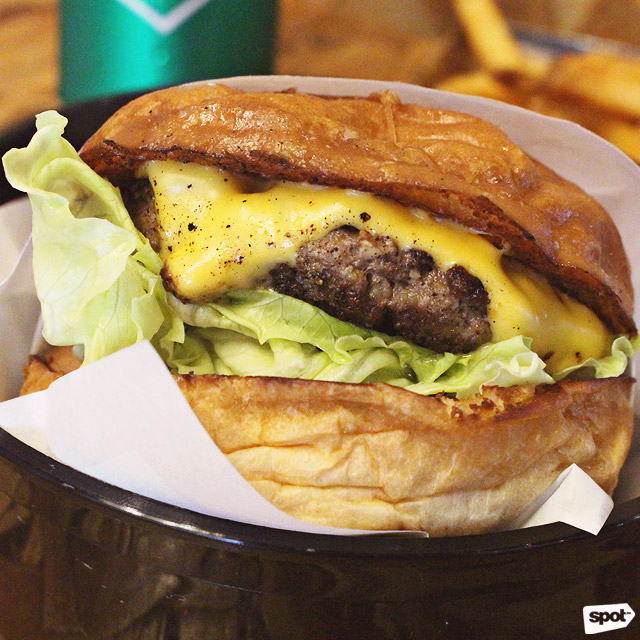 ADVERTISEMENT - CONTINUE READING BELOW
Sweet Ecstasy's burger looks like the dictionary definition of a cheeseburger—and pretty much tastes like one, too. First, you get the pillow-soft buns which have a unique buttery sweetness to them. Then they give way to the cheese that's melted so perfectly it melds with the juicy beef patty, which has that smoky note that lets you know it was grilled to perfection. All that with fresh, crisp lettuce, tomatoes, and onions that you can opt to have grilled. They all work together to make this worth its price tag, but as a bonus, the whole package is the perfect size for a hearty bite. We have to say, Sweet Ecstasy lives up to their name—it's almost impossible not to get even just the slightest bit ecstatic after having this.
Sweet Ecstasy has branches at 10 Jupiter Street corner Asteroid Street, Bel-Air, Makati City; 2/F Uptown Parade, Uptown Bonifacio; and 2/F Ayala Malls The 30th, Meralco Avenue, Ugong, Pasig City.
ADVERTISEMENT - CONTINUE READING BELOW
Share this story with your friends!
---
Help us make Spot.ph better!
Take the short survey
More Videos You Can Watch
Load More Stories